We Decided on Forever 7.7.18
Now that I am officially a married lady, I am so excited to share with you some of the details of our wedding day.  So many people helped make our day perfect and we are beyond grateful for the support of our sweet tribe and our amazing families!
Will and I got married July 7th. Will told me from the moment that we got engaged that he was praying for 75 and cloudy weather for our wedding day. Every time he said this, I'd laugh and roll my eyes saying "July 7th babe…keep praying". You guys… the high on our wedding day was 79 degrees and it was cloudy with a gentle breeze the entire day… the prayers of a righteous man avail much. We truly were blessed with the most beautiful day.
The Morning of the Big Day
Will and I chose to see each other on our wedding day which was such an important part of the day for me. We felt that the focus of our day should be on the covenant we were joining in together and therefore we enjoyed spending a large part of the day together.
Our timeline for the day looked like this-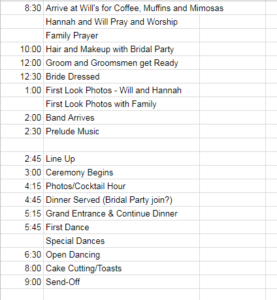 Getting Ready
We started the morning with coffee (of course) and a devotion together at the exact spot we'd say our vows later that day. I showed up make-up free and embraced being present not picture perfect. That time in scripture together was one of my favorite parts of our entire day though I cried the whole way through.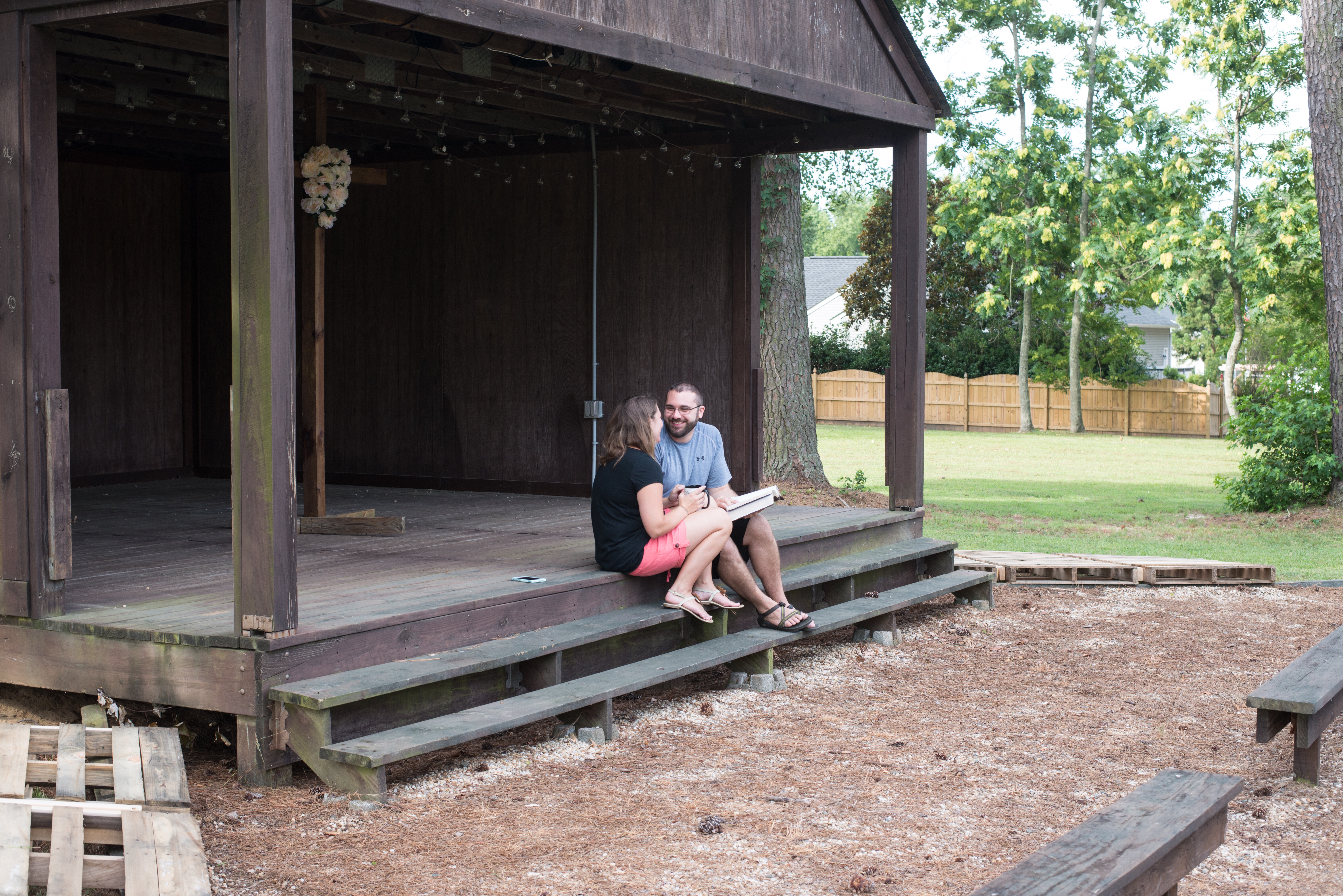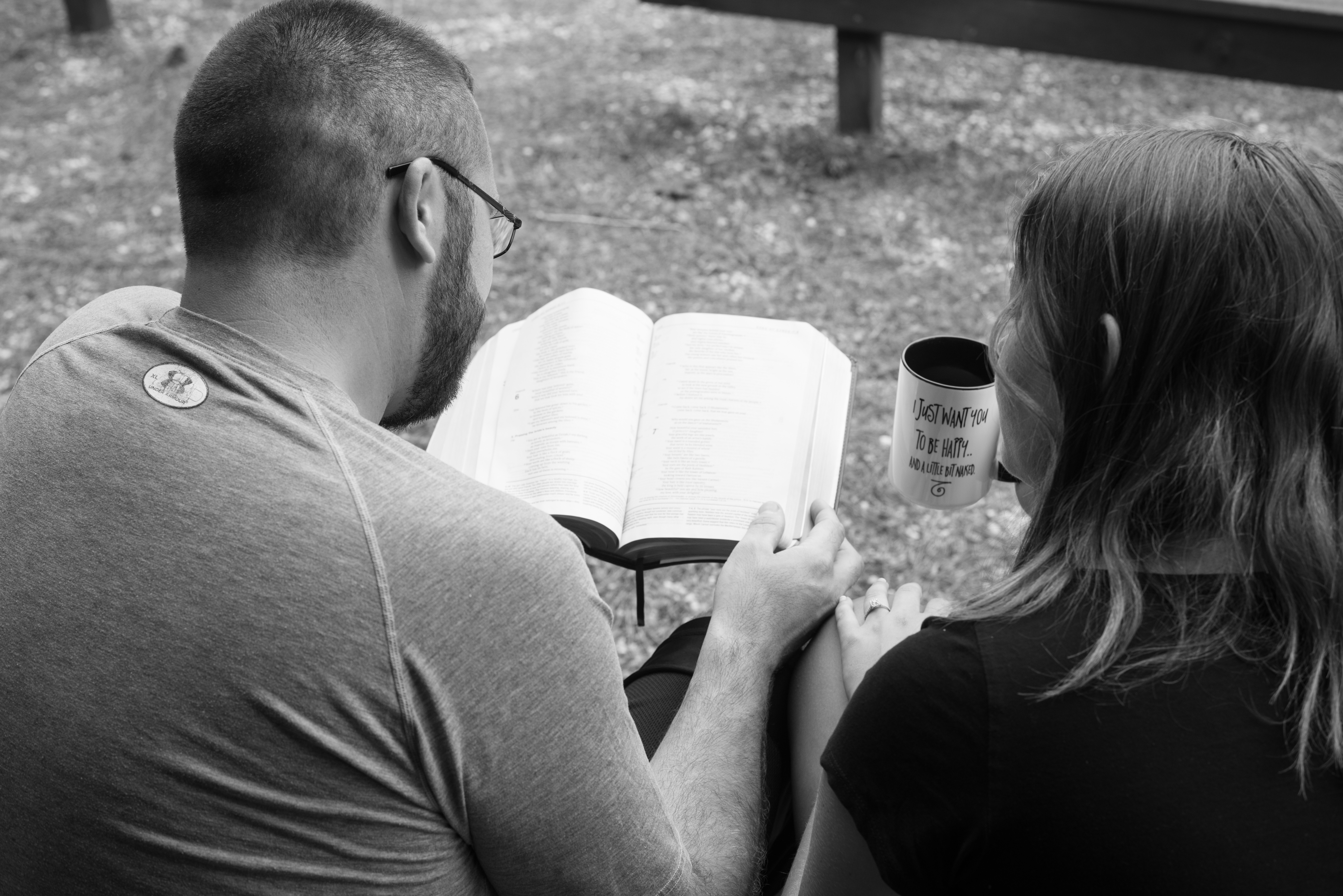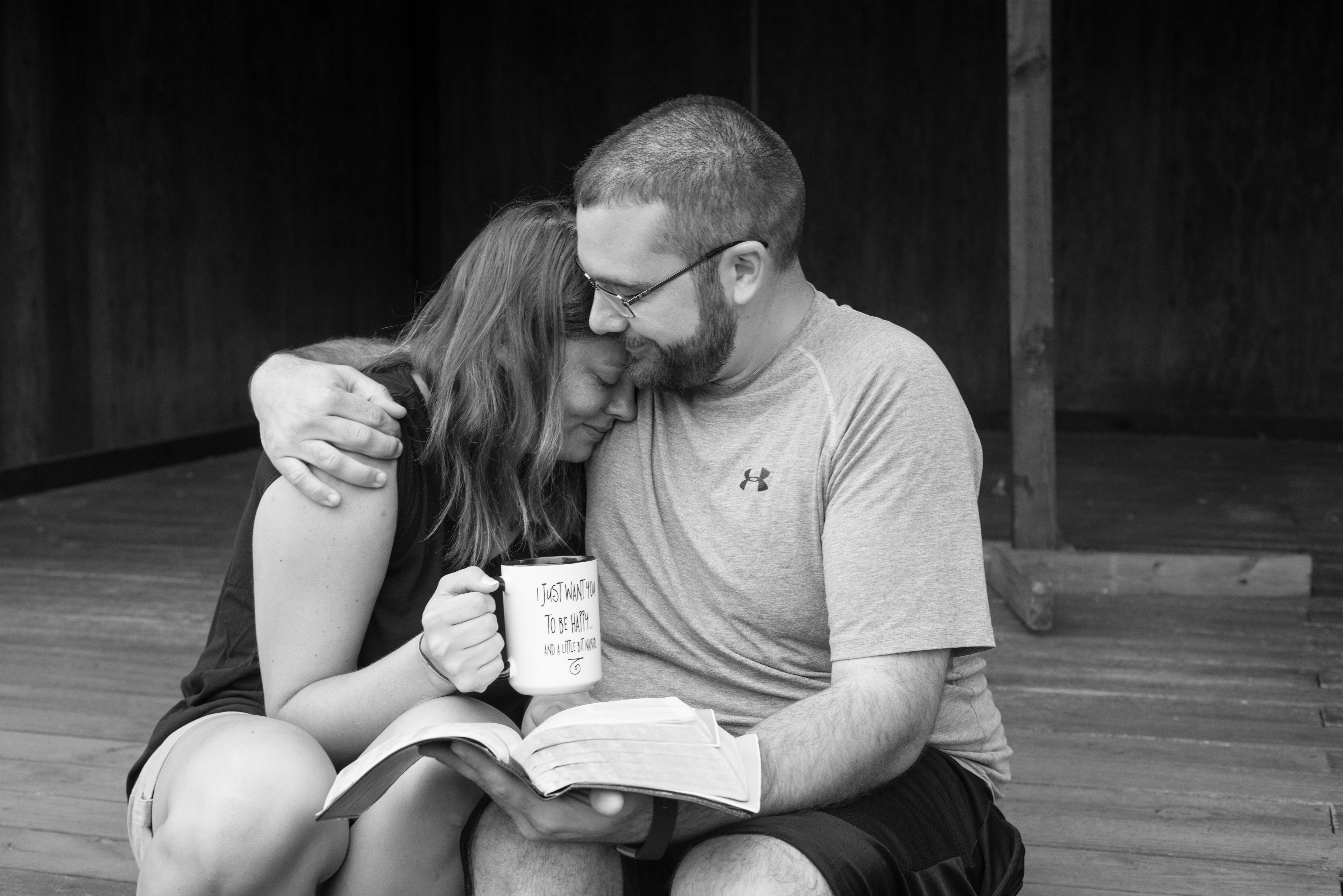 Will read from Ephesians 3 and told me his desires for the future of our marriage and our family. He reminded me of the reason we were making these commitments and vows. Then, he prayed over us and I wept at the goodness of God to exceed my dreams for a husband who would lead our family spiritually.
After Will and I had spent some time alone together talking, reading, and praying, we invited our families to come and join us to pray over our wedding day. We both come from strong Christian roots and we were so grateful to be able to honor our faith and the joining our families together by uniting in prayer.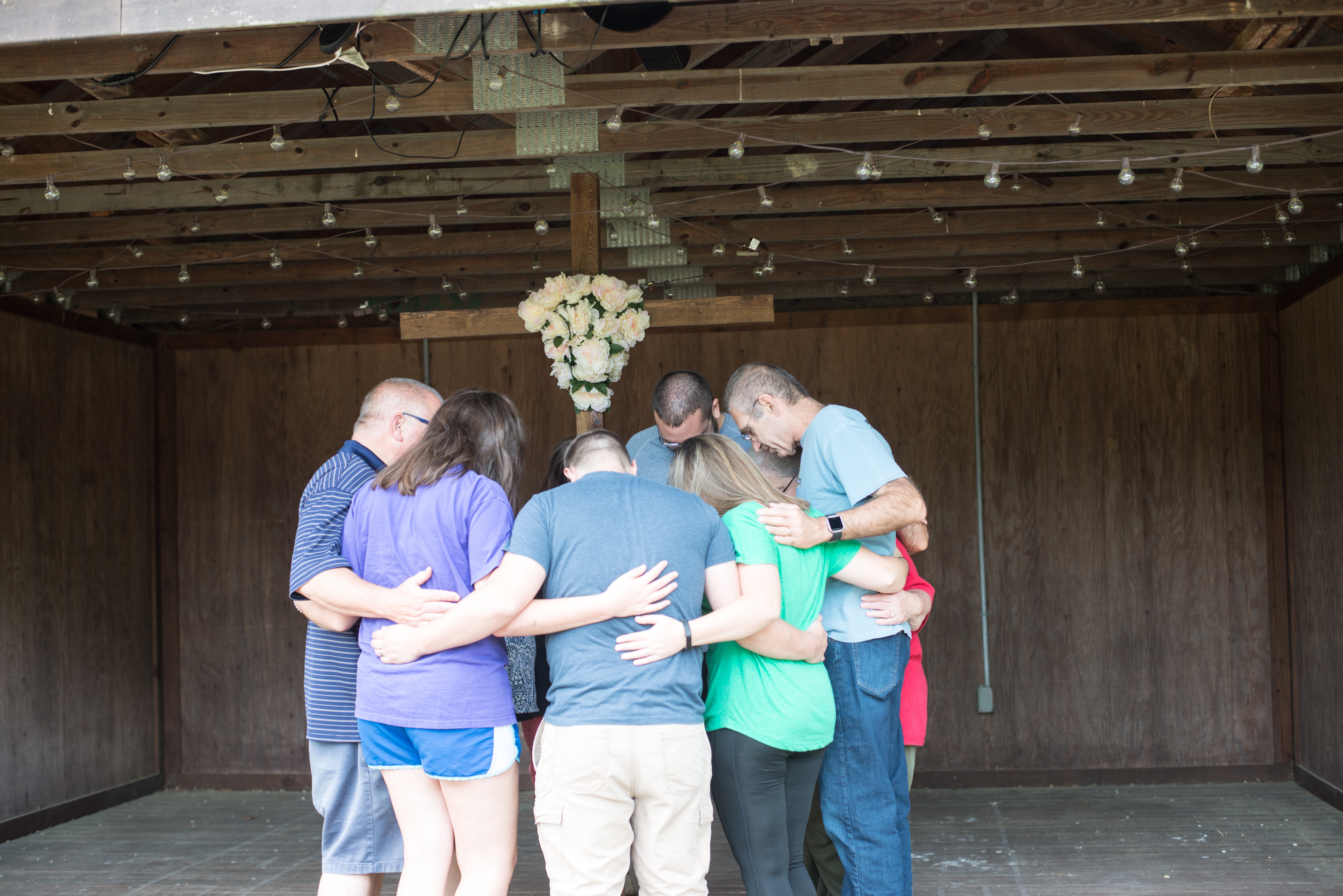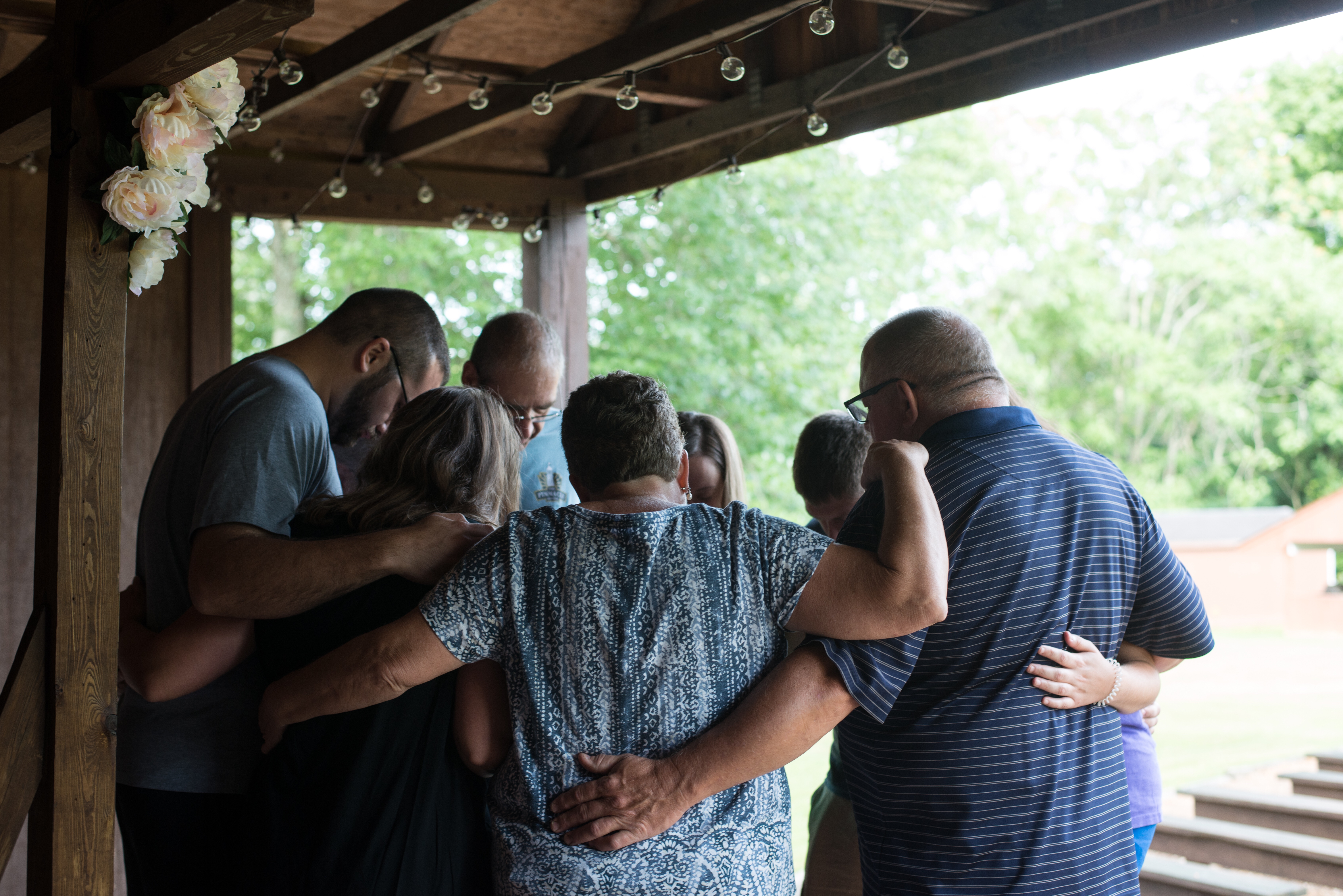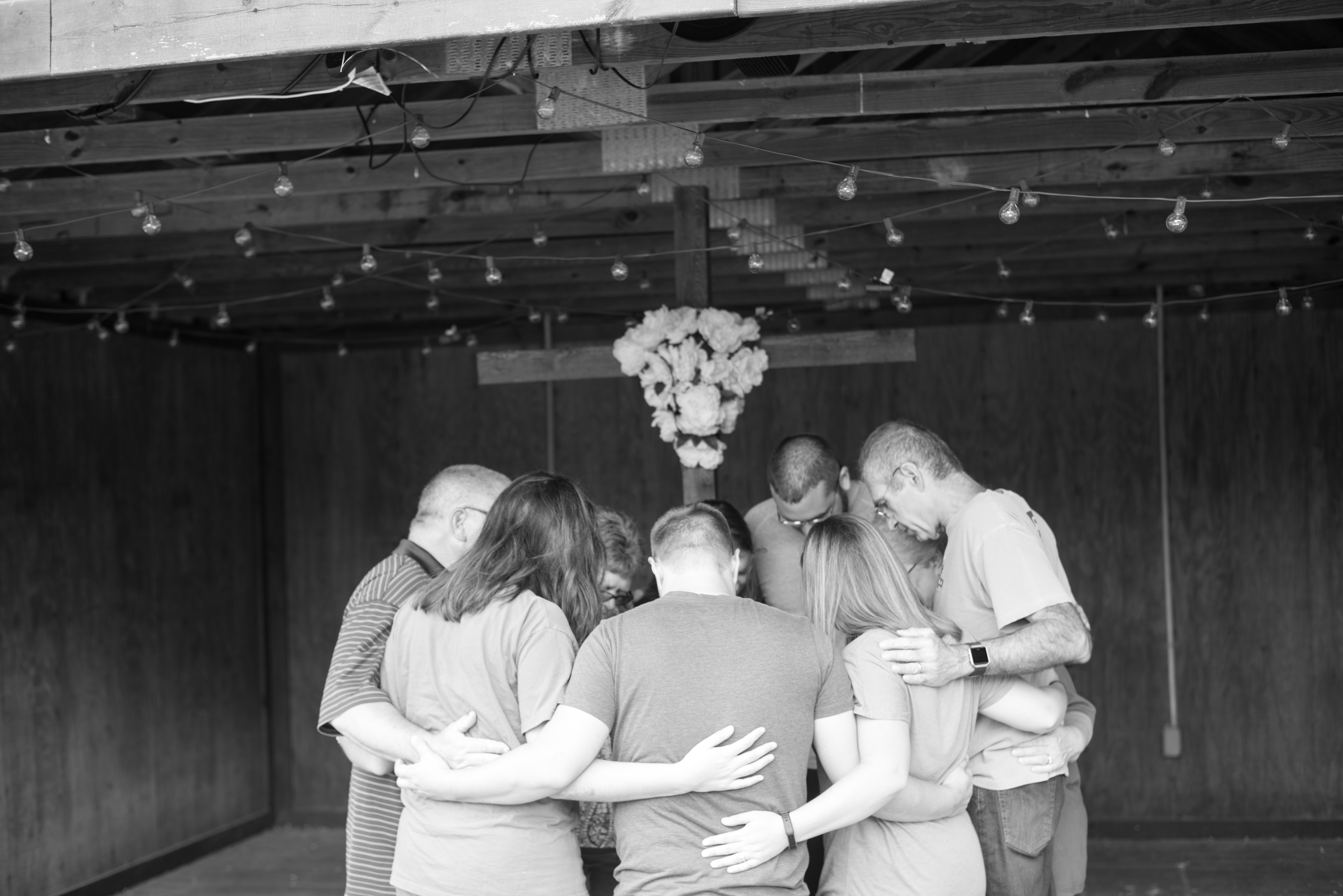 Starting our day focused on the things of true importance set the tone so well for the entire day. Brides- I would highly recommend blocking off some extra hours in the wedding morning to center yourself and start the day on the right note.
After our slow start, the day kicked into gear with hair and makeup. Will and I were super intentional about the people we had involved in our wedding. Every choice we made about hiring someone was rooted in relationships. That was something we valued, but also it made our day super personal and fun because no one was a stranger. A friend from our life group did my makeup and my sweet hair stylist has been following our dating relationship since day one. This made the getting ready process so much more fun!
I grabbed a bunch of snacks a few days before the wedding to make sure we'd all eat something before the ceremony and we left this cute snack bar up in the room the girls got ready in most of the day.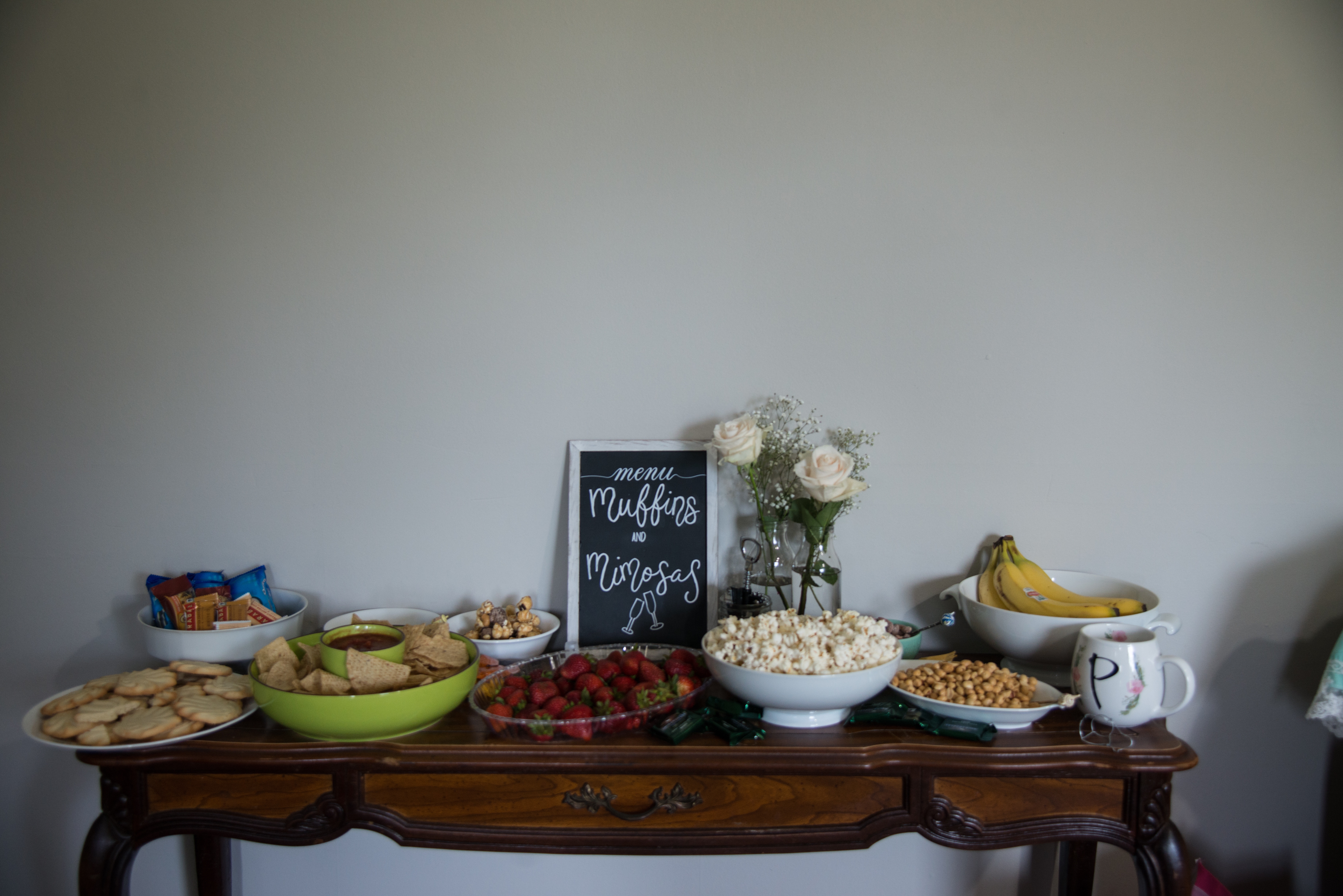 During our getting ready time, my tribe had a few surprises for me. My sweet bridesmaids had each written me a letter. They know that words are my love language so reminiscing on our relationships in this way was incredibly meaningful to me. They certainly had me in tears, again lol.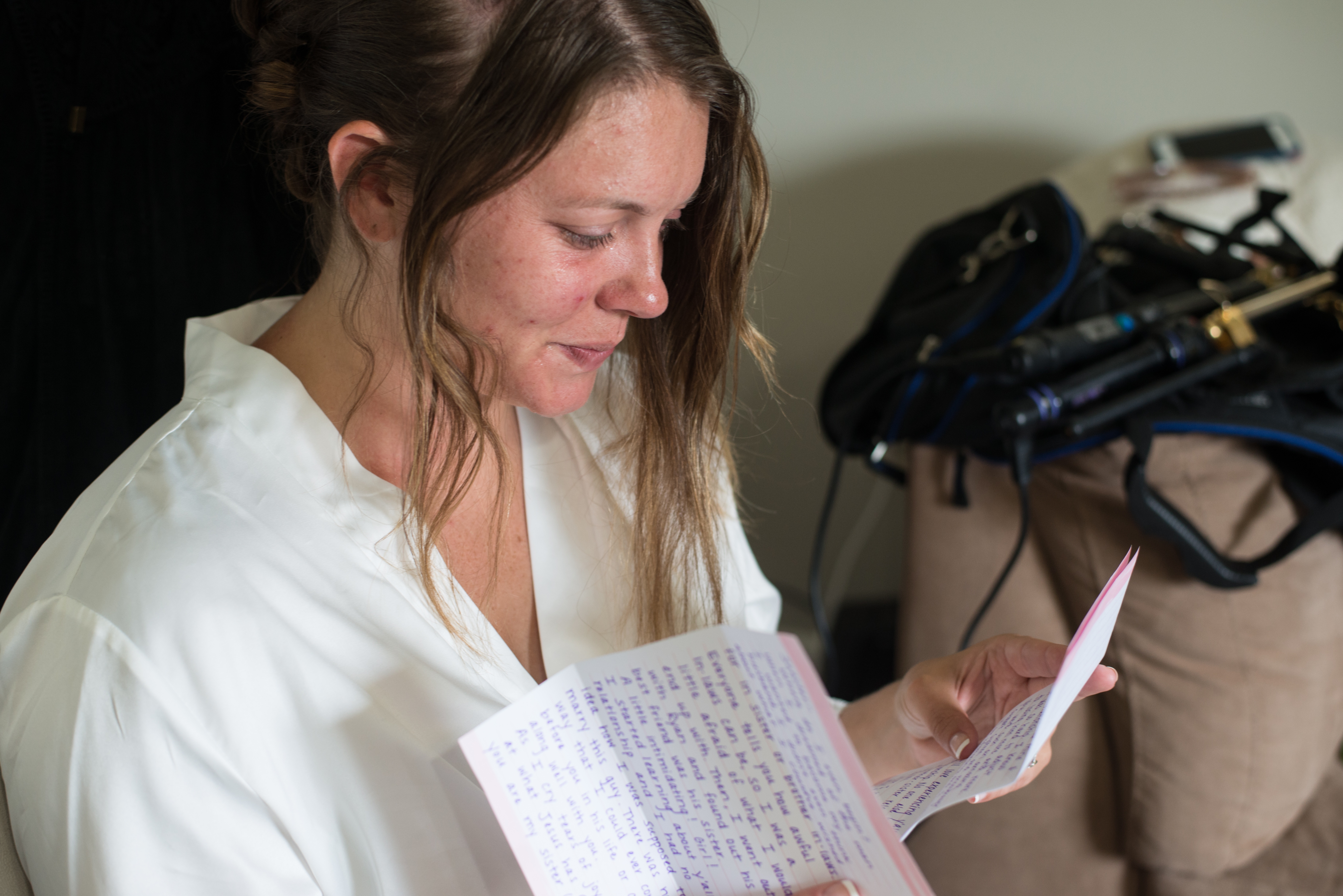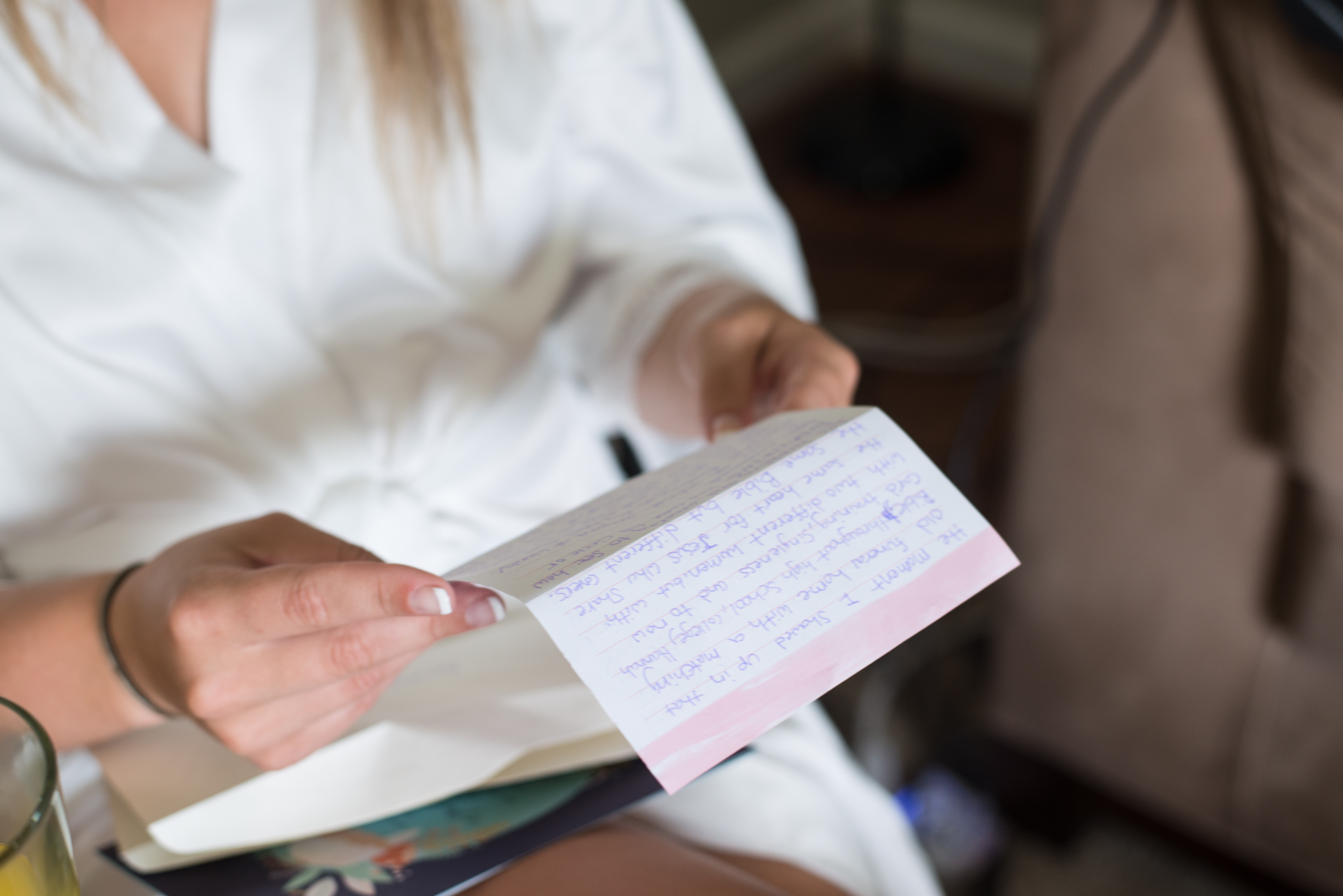 My bridesmaids weren't the only ones who had a few tricks up their sleeve! Will had each of the groomsmen deliver me a gift with a note from him throughout the day, from flowers, to a "wifey" tank top, and chocolates. He did a great job of including thoughtful gifts and notes throughout the day.
First Look
Will and I chose to do a first look for several reasons. We wanted to eliminate the stress of trying to not see each other throughout the day, but we wanted to maintain the surprise and excitement by sharing in several special moments just the two of us. We were a little tighter on time than I expected since we needed to be ready so much earlier, but it was well worth it to us. In addition, we wanted to spend our time after the ceremony with our guests at the reception. We knew a first look would cut back on the amount of time we needed after the ceremony for photos.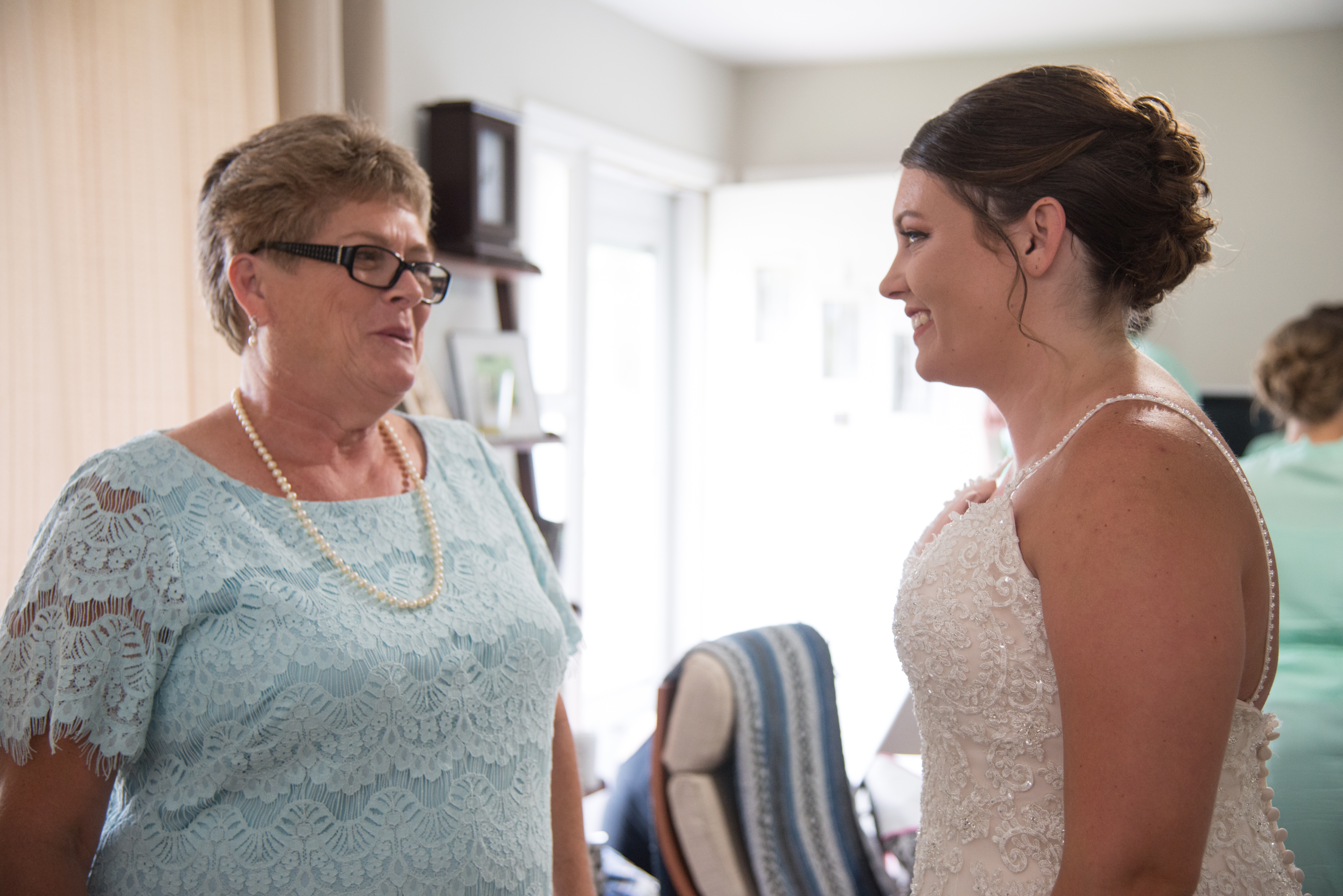 The moments leading up to the first look were the only moments of the day where I was a bit stressed. We were in a pinch for time and I started to feel the pressure a bit. As soon as I started the walk towards Will, however, my heart slowed and I remembered the real reasons for the day.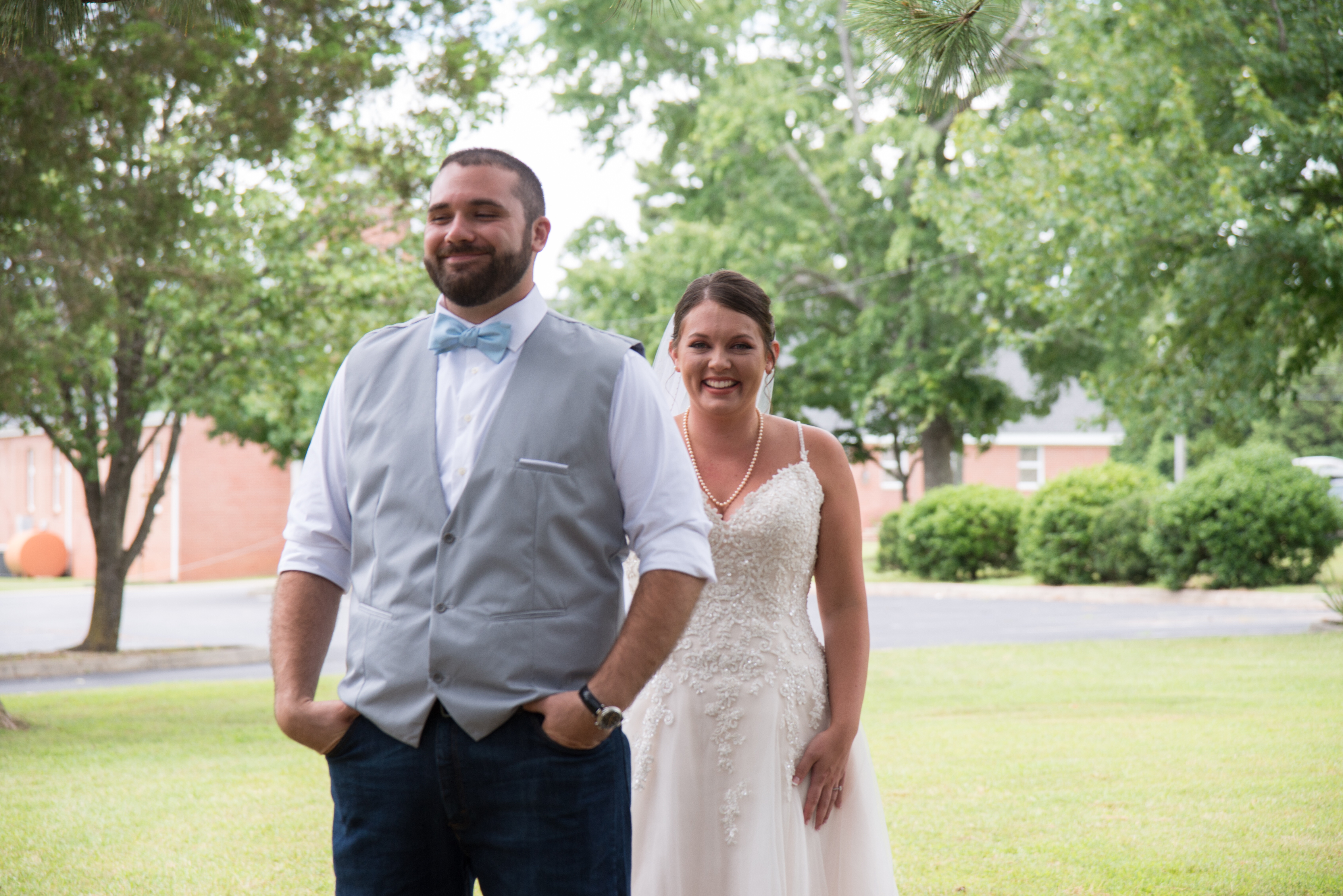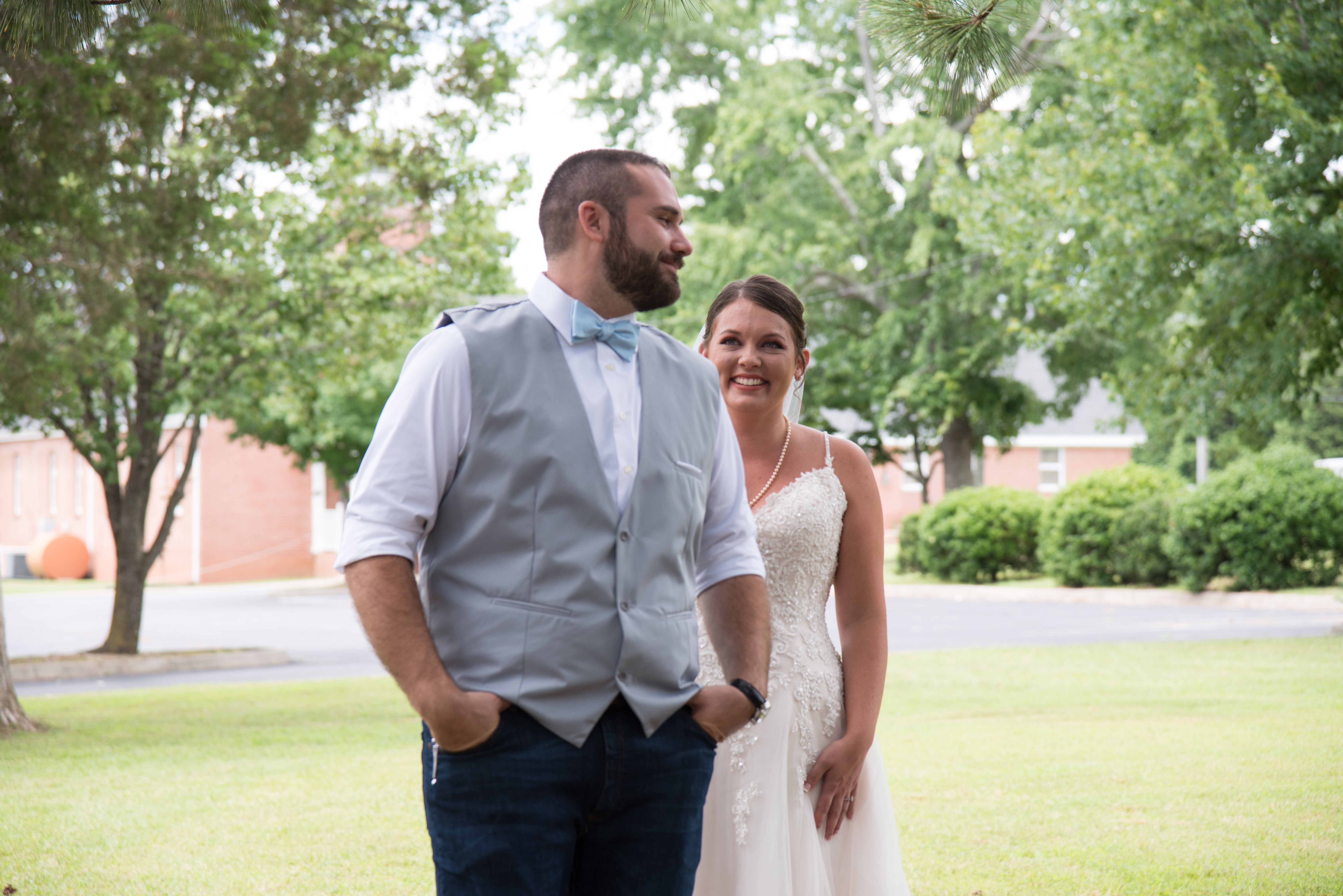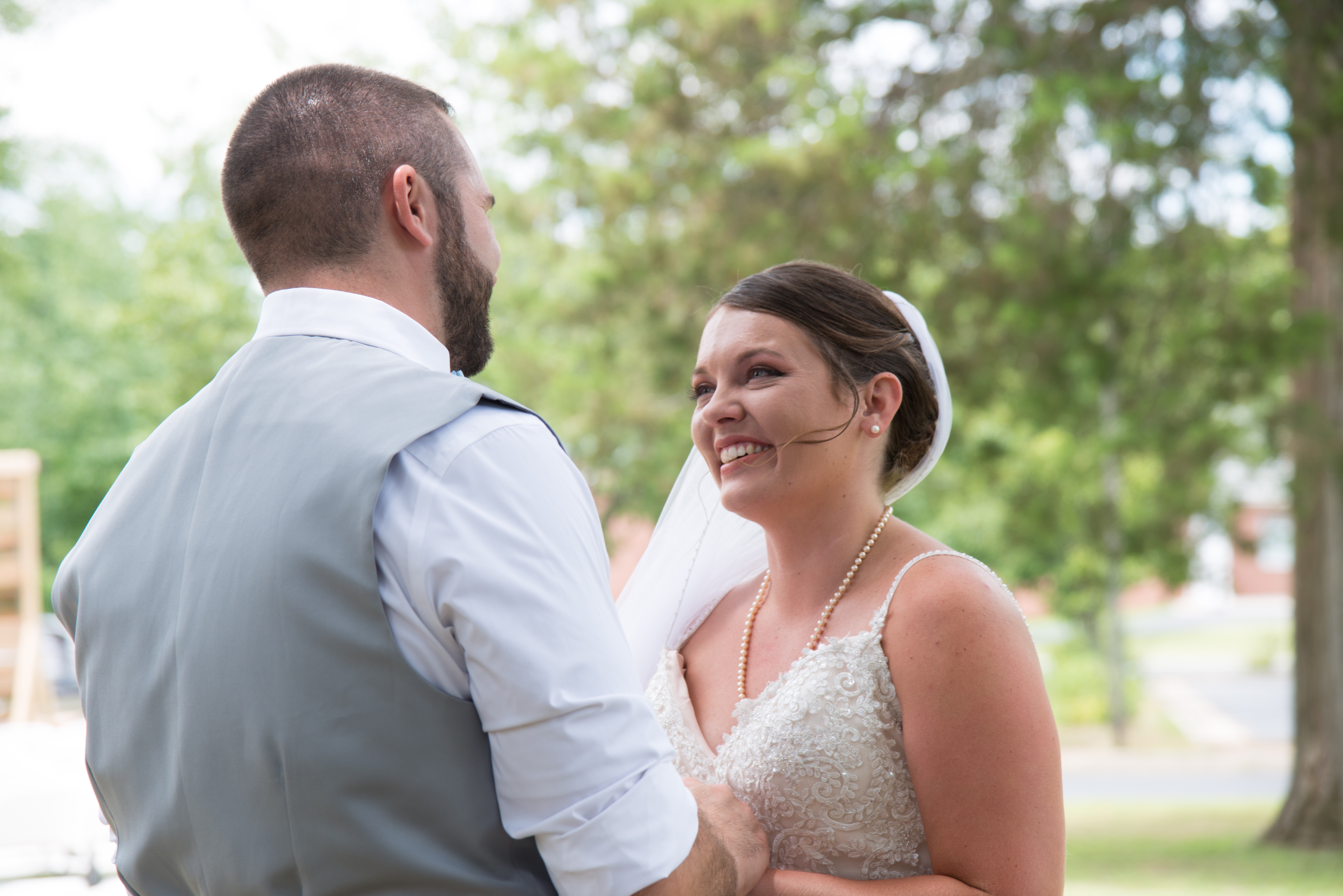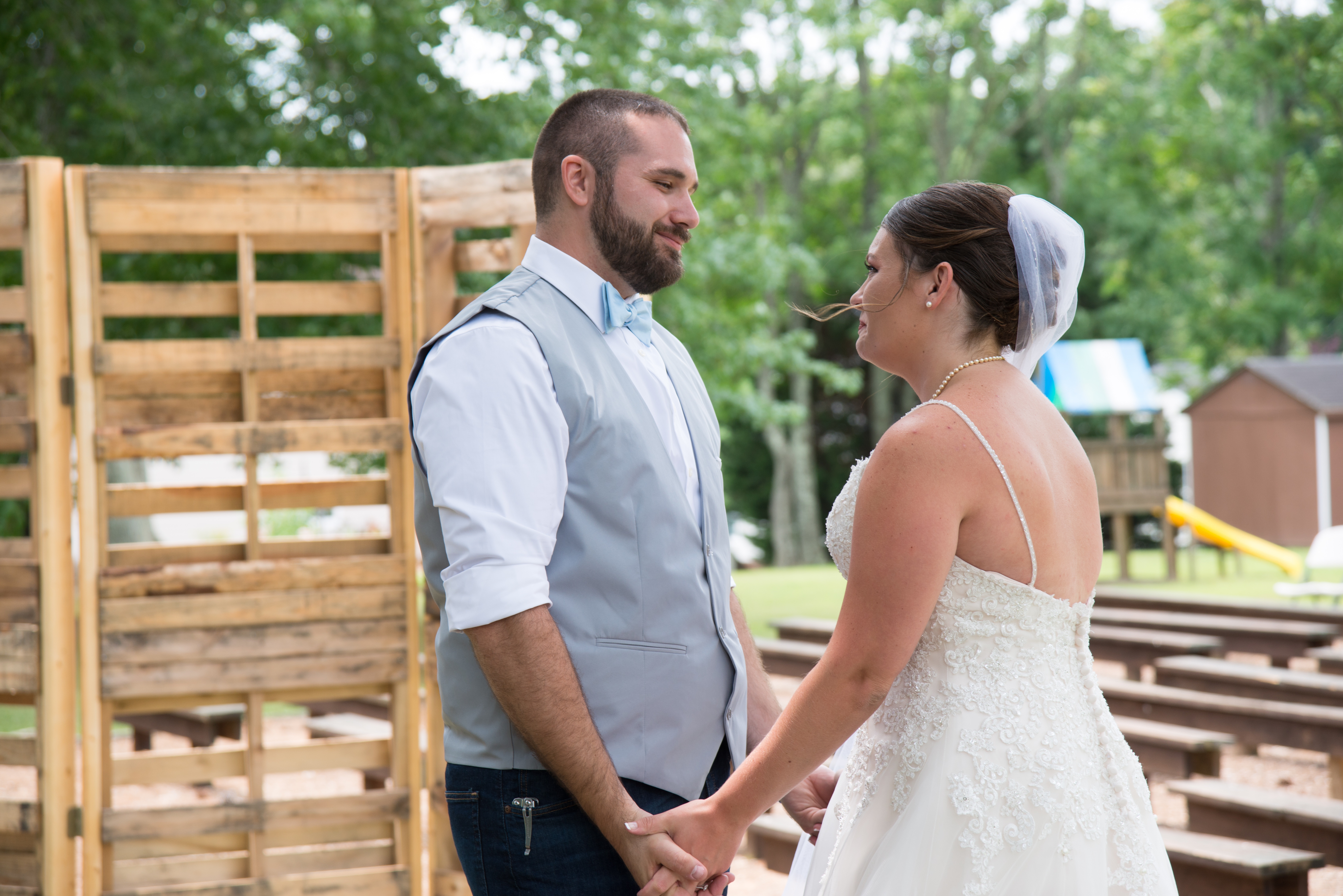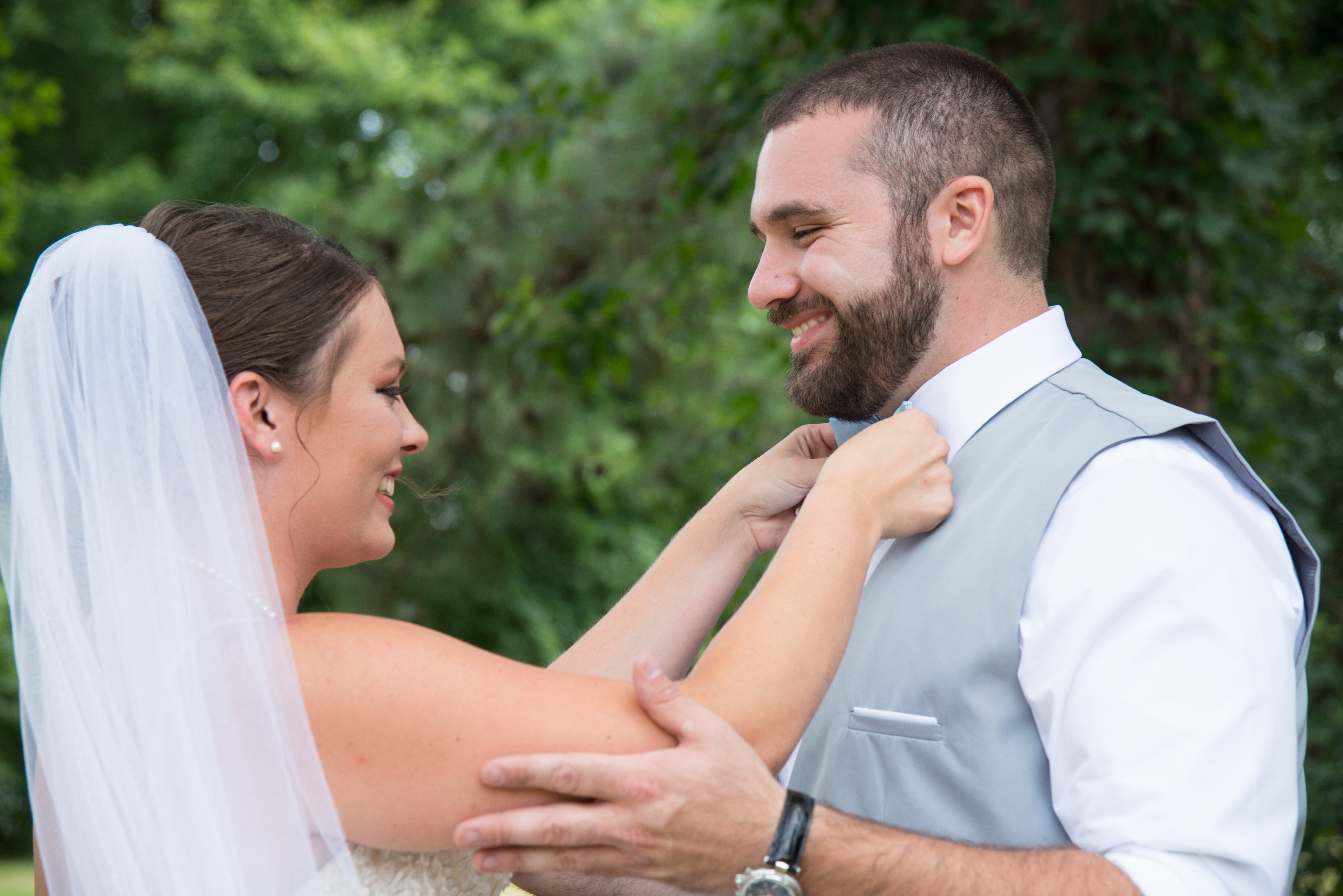 Foot Washing Ceremony
In addition to a first look, Will and I did a foot washing ceremony. We both wanted this to be a part of our day, but with an already long ceremony in the heat of July, we thought it might be best to do this beforehand. In the end, it was very special to have this intimate moment together to remember the importance of serving one another. I think it worked better to do it in advance, just the two of us. There was something so special about humbling myself to my knees in what is likely the most expensive dress I'll ever own and washing my husband's feet and then watching him do the same. It was a beautiful metaphor of humility and service in a marriage.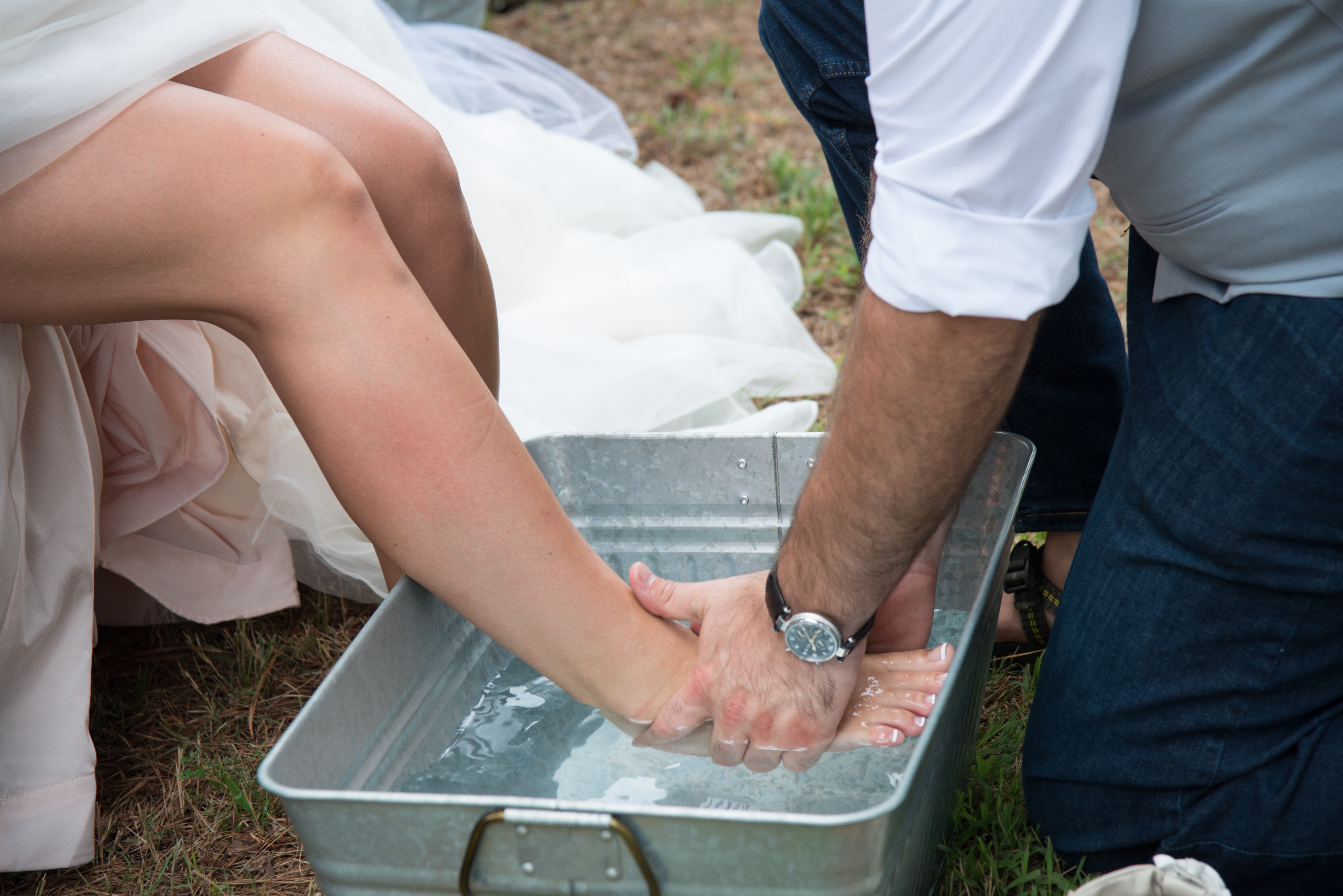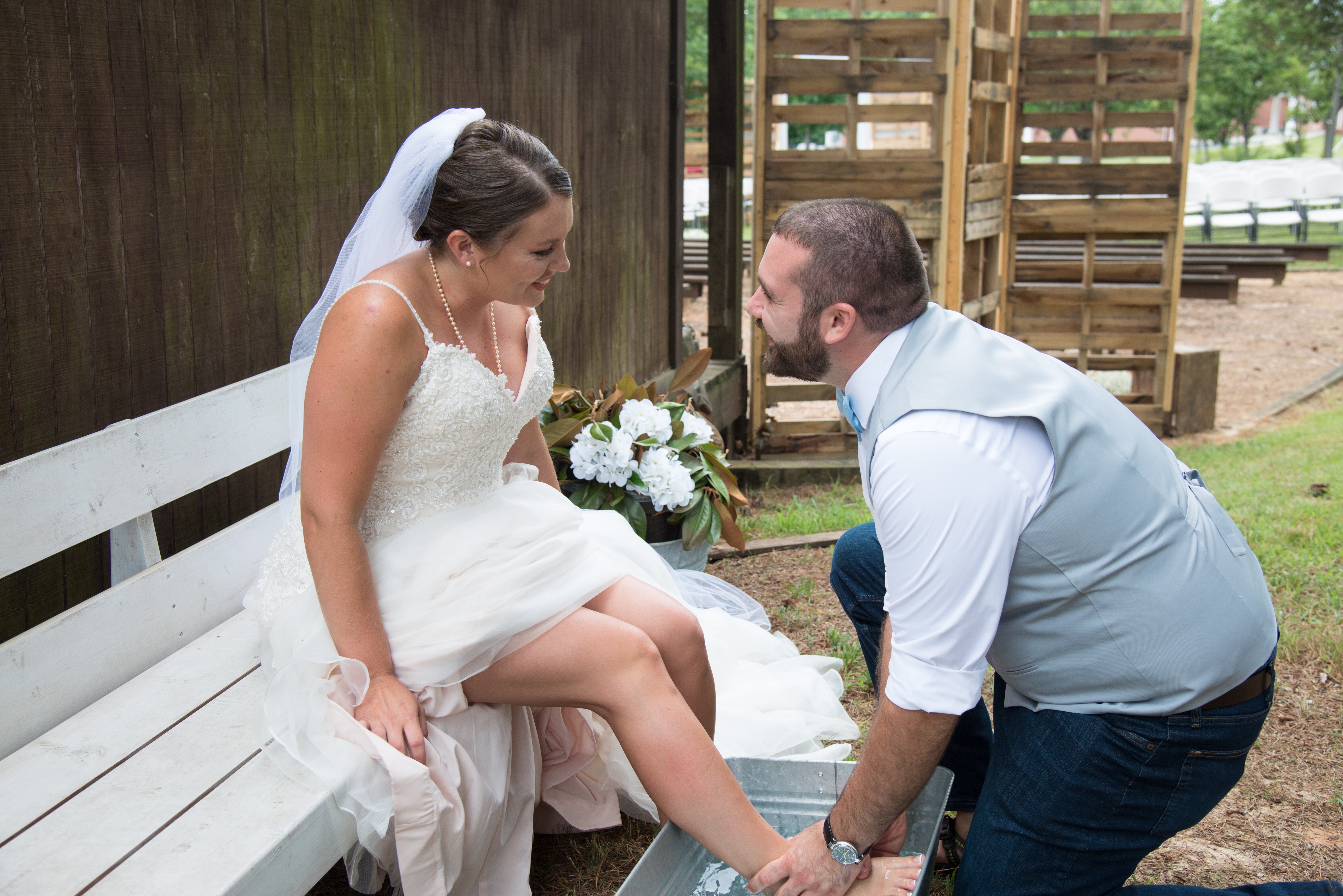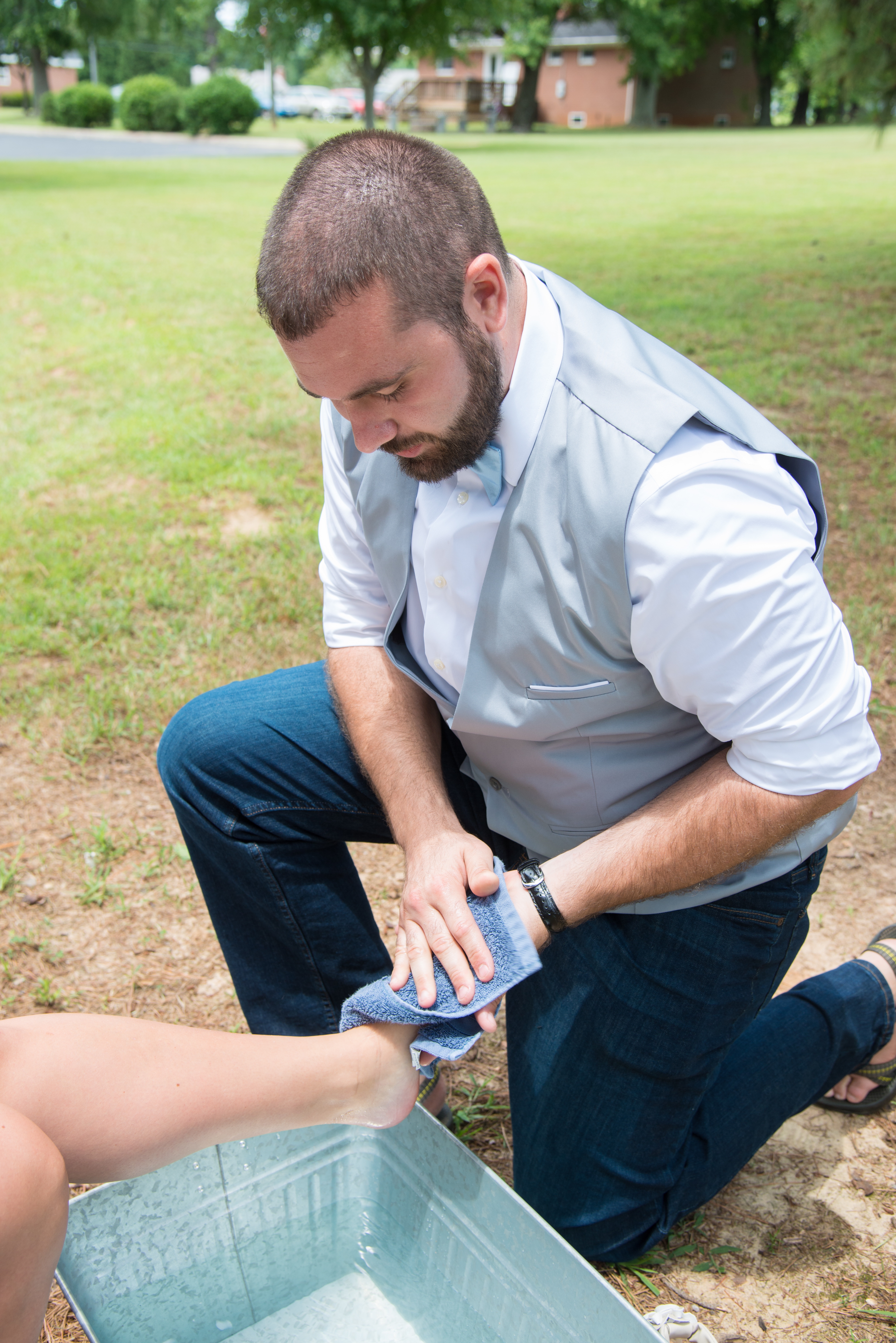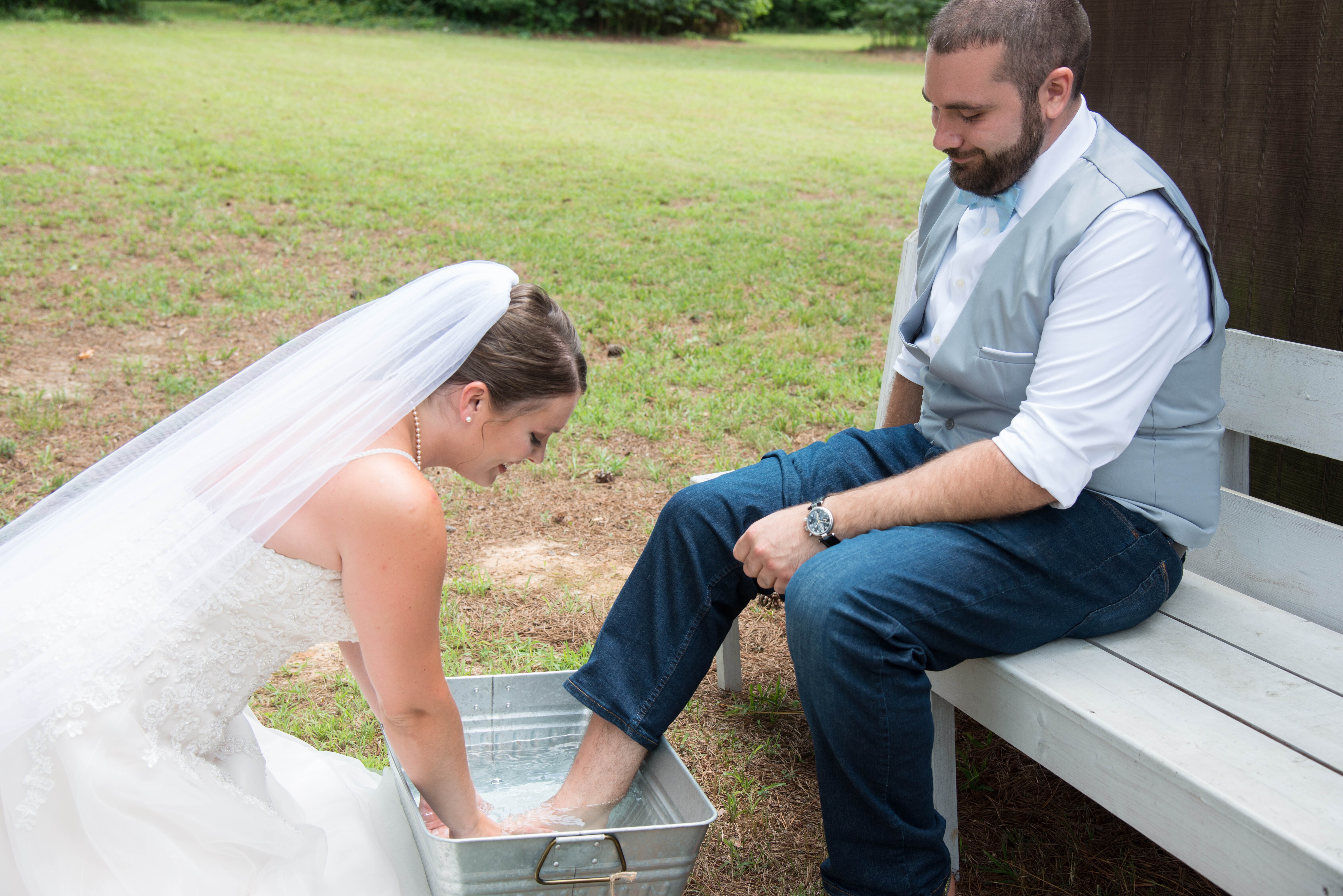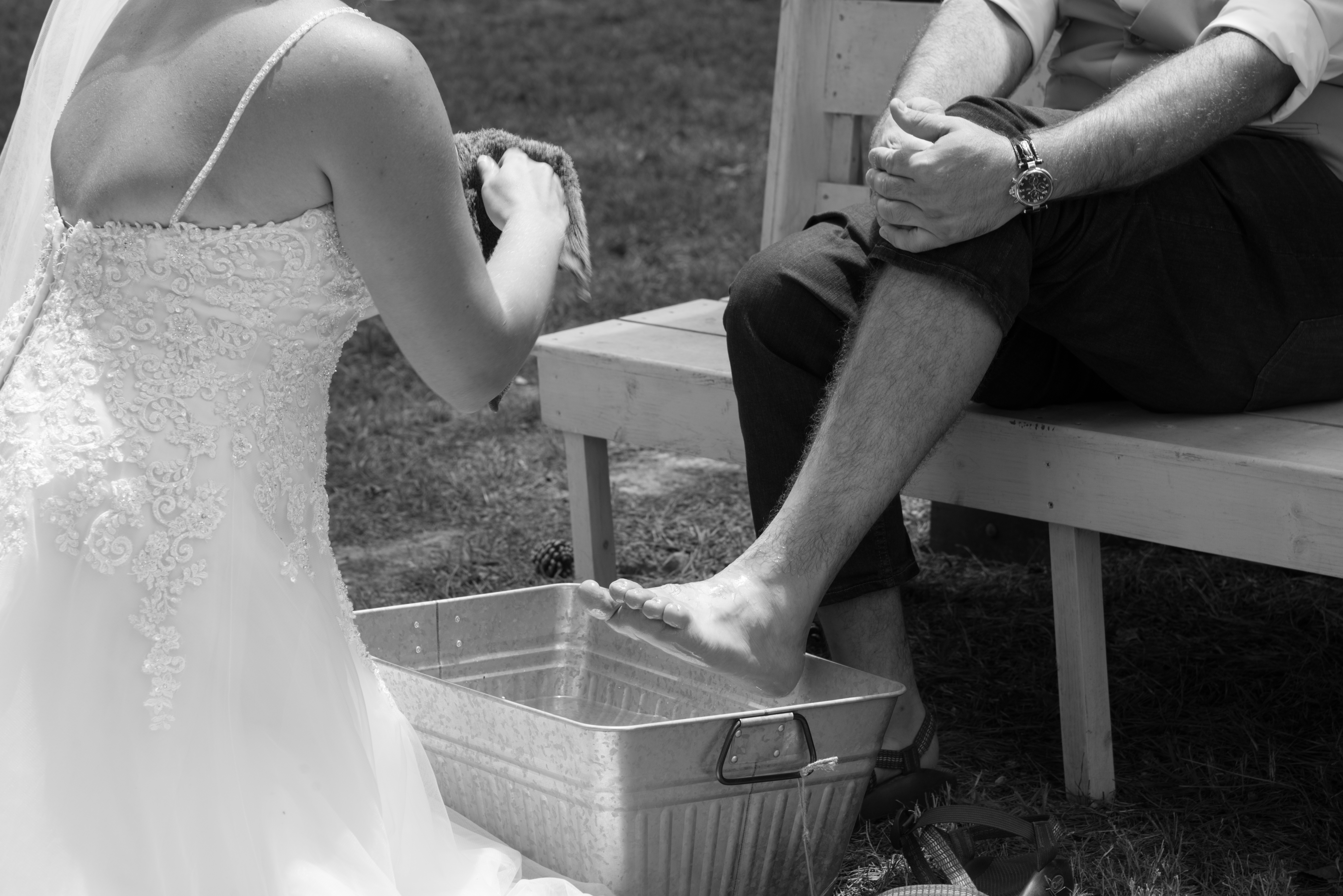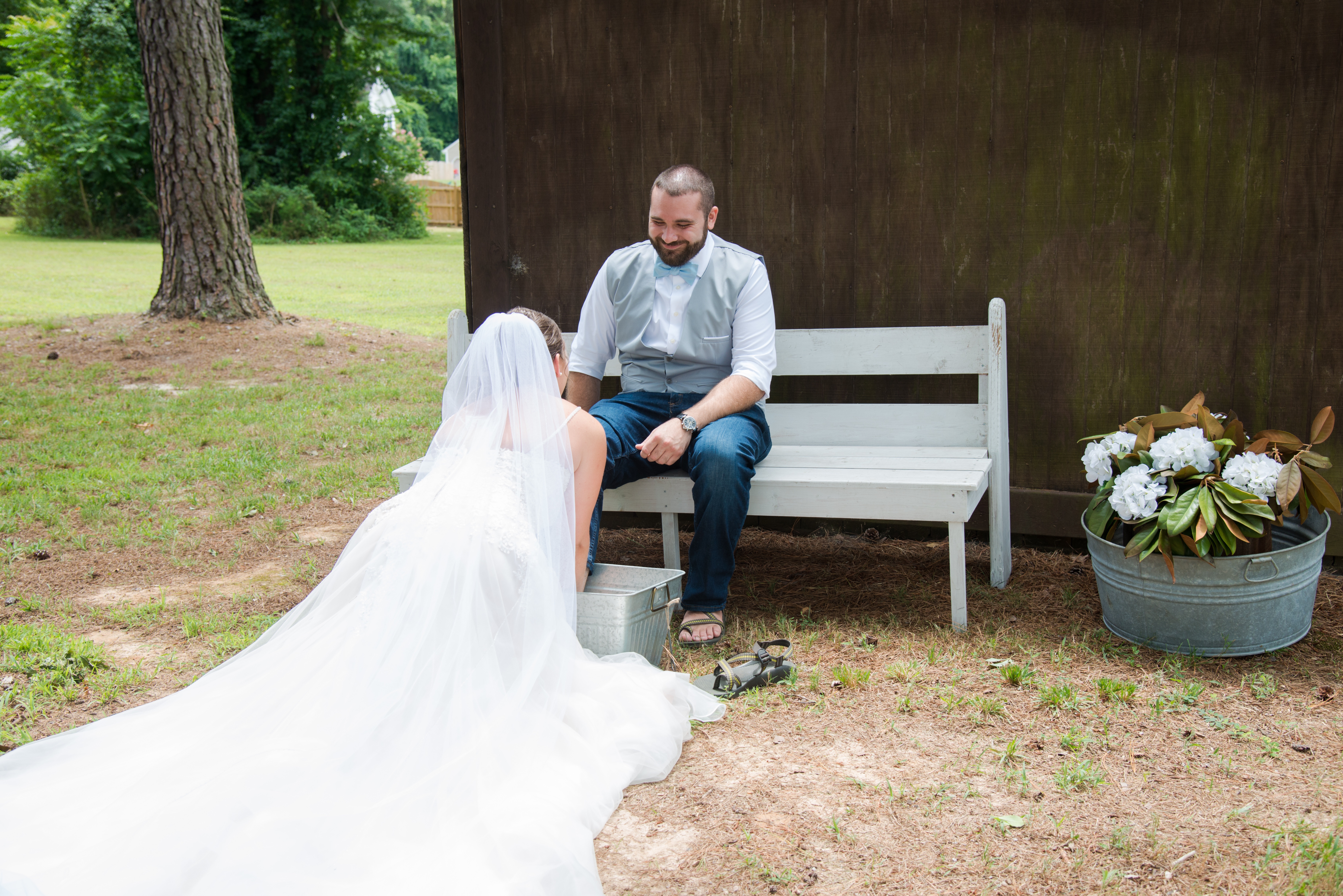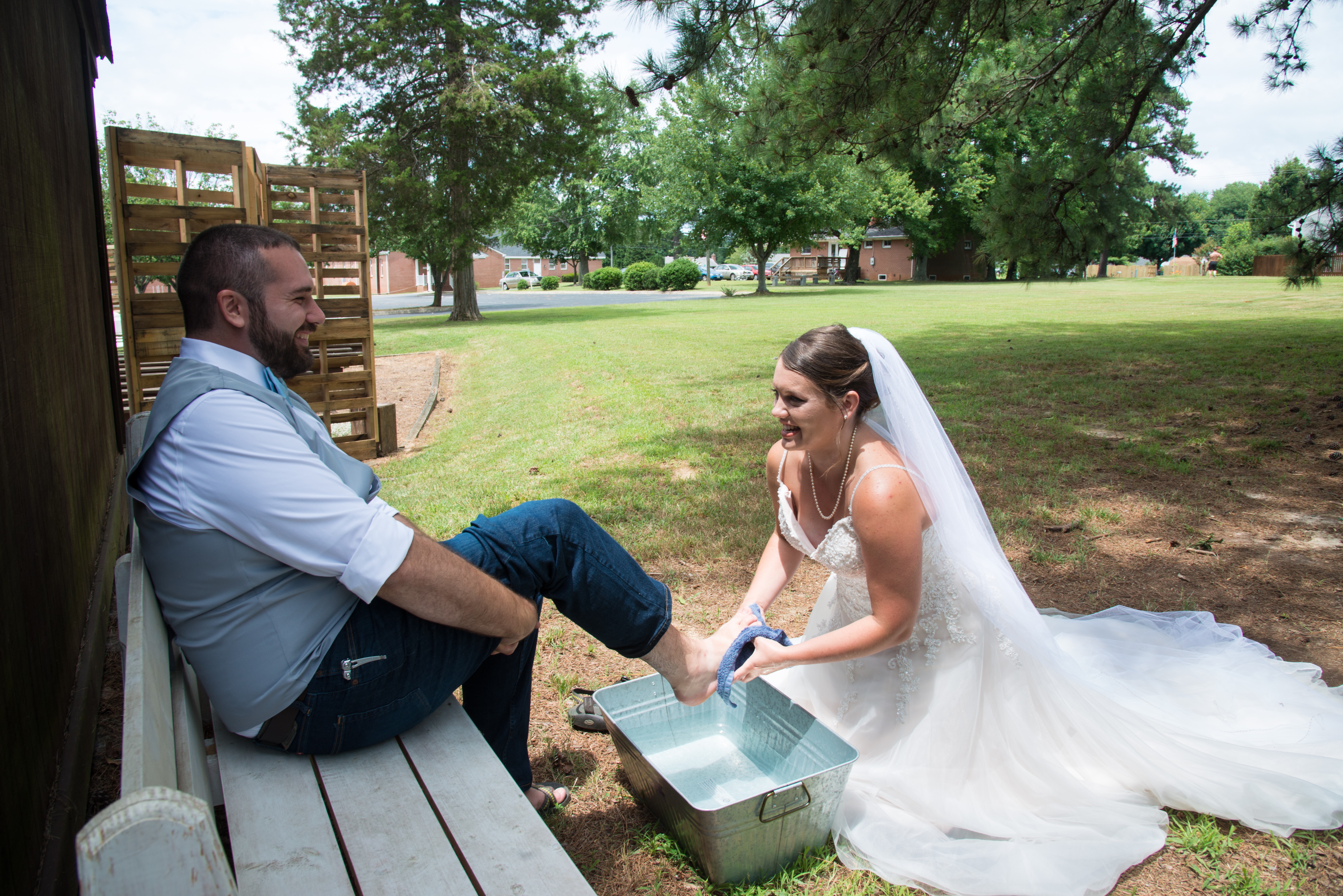 I also chose to do a first look with the other two important guys in my life, my dad and my brother.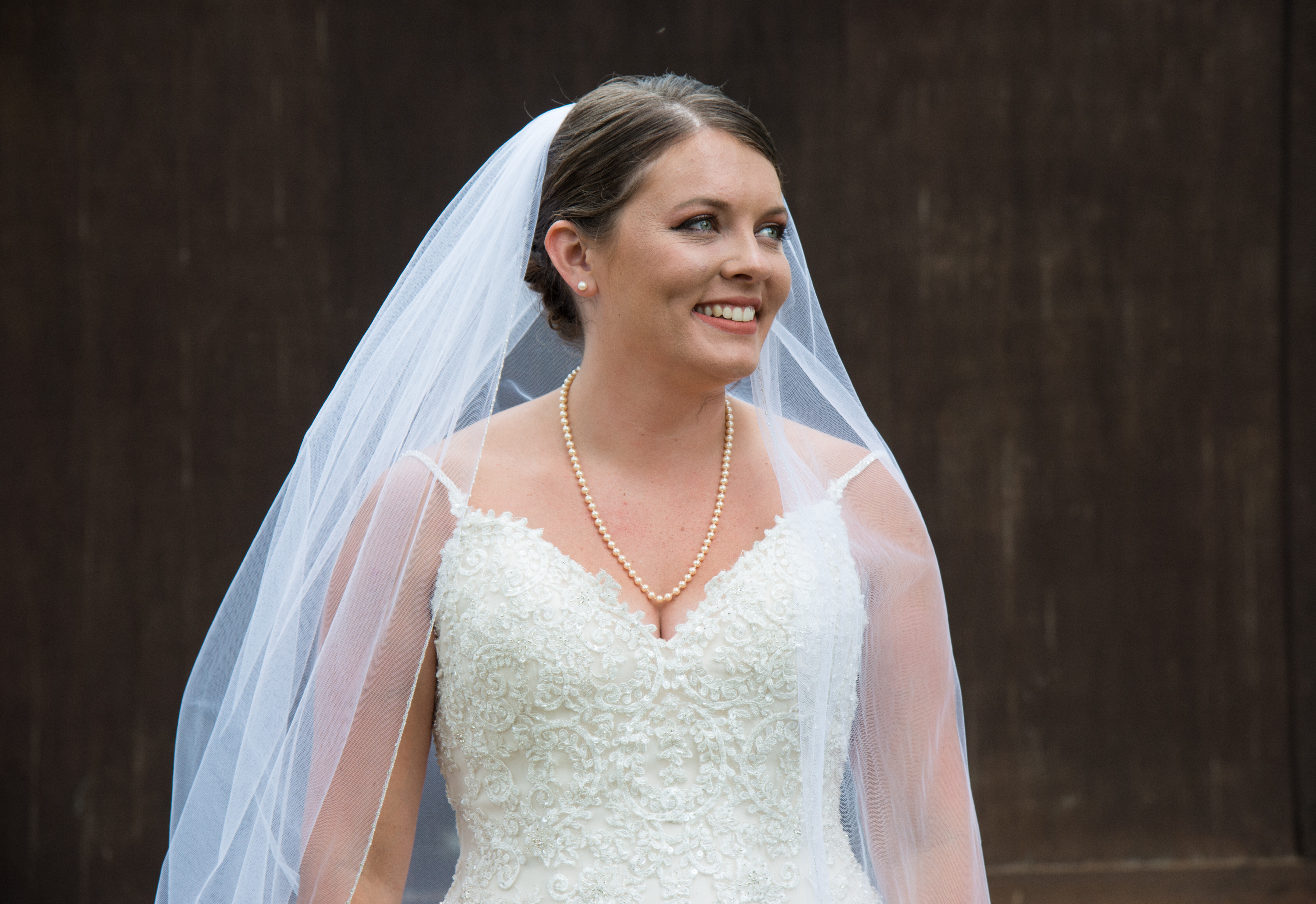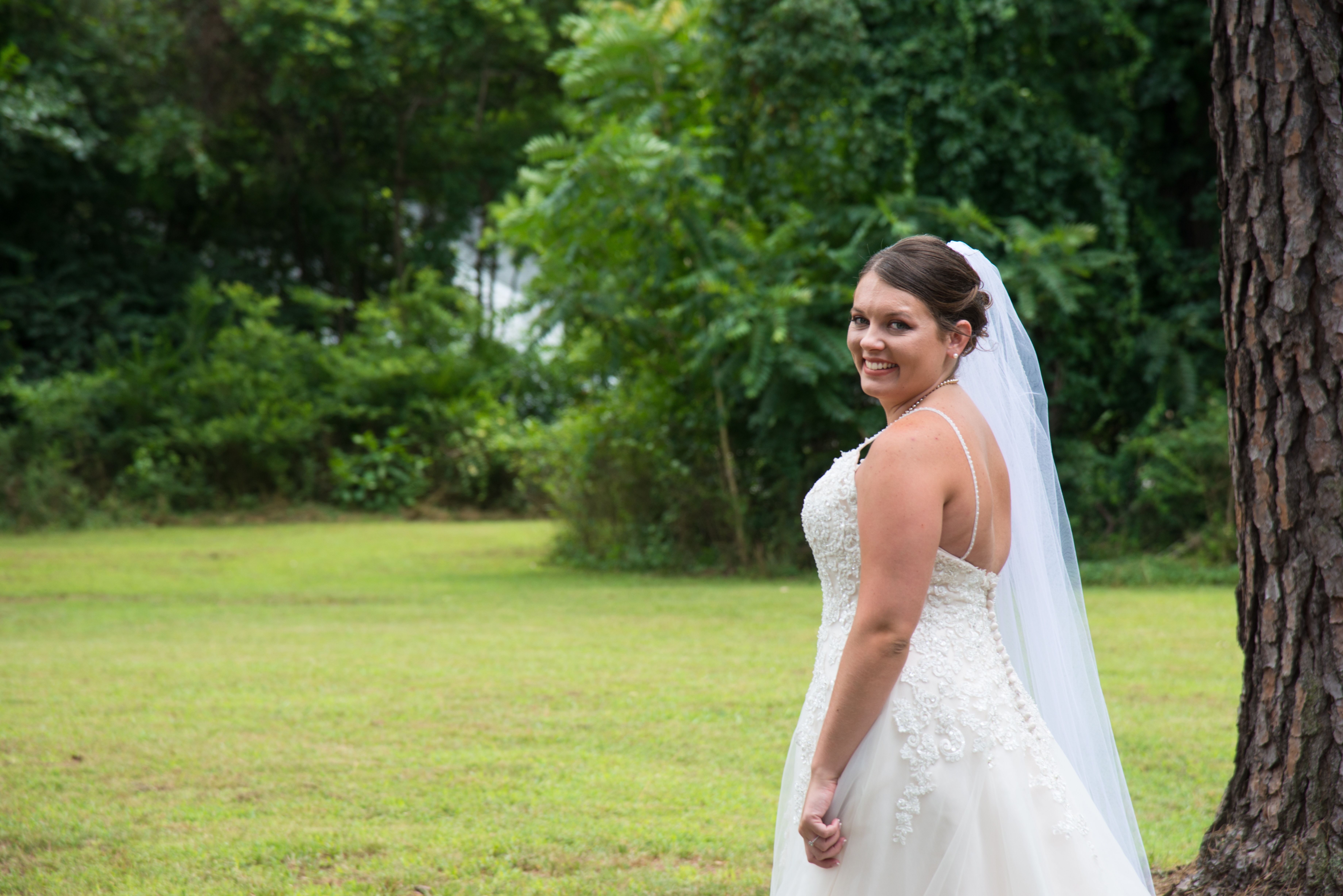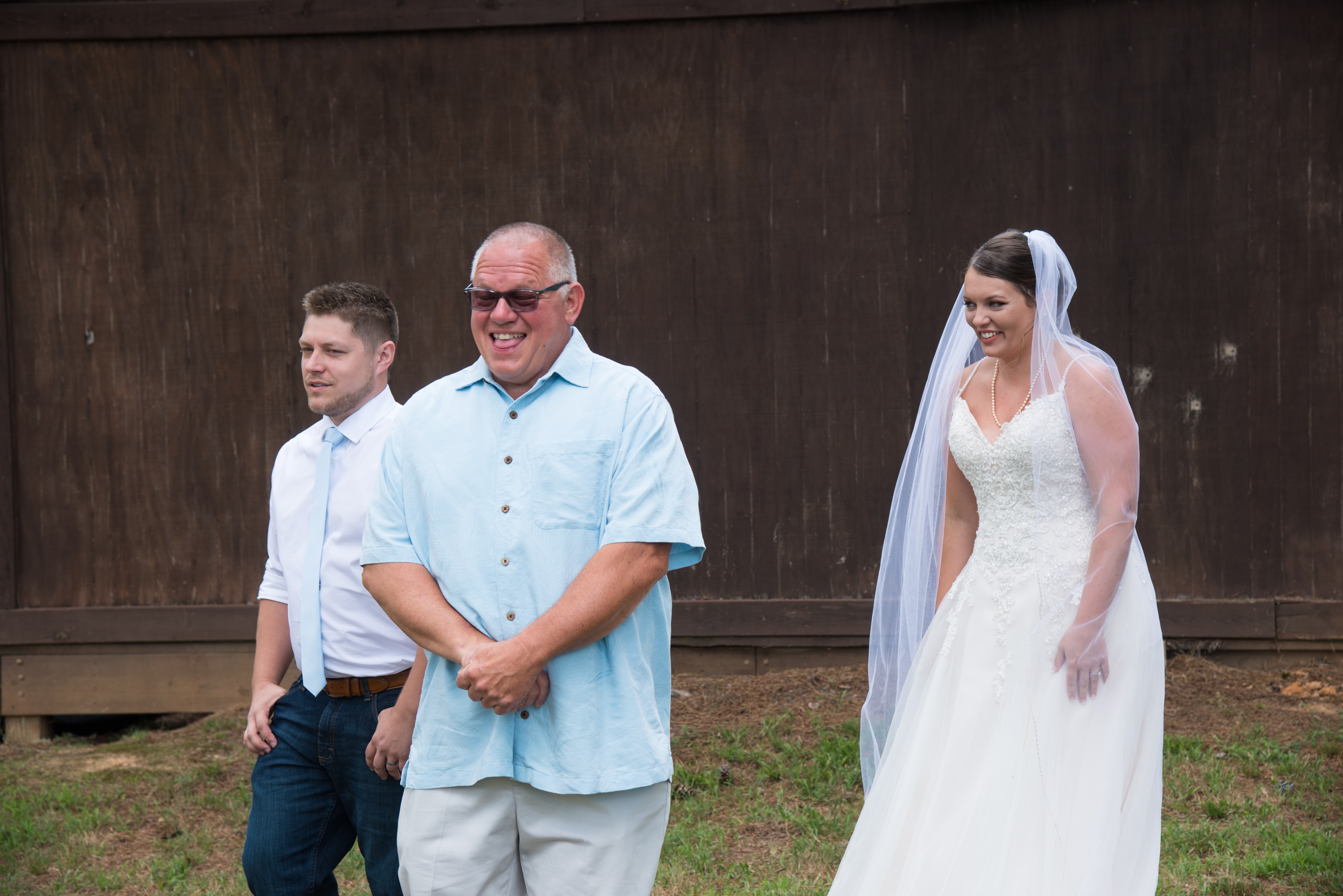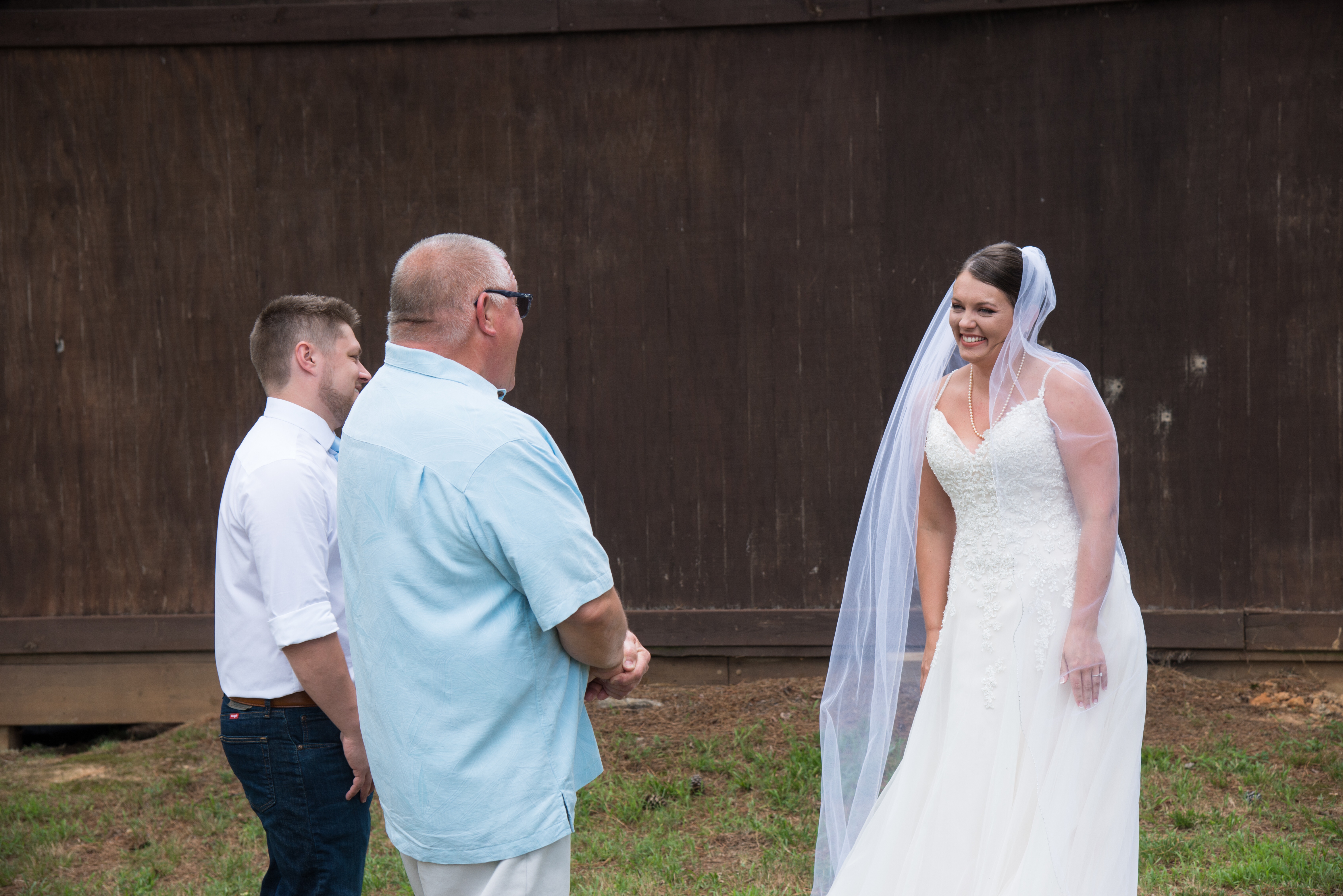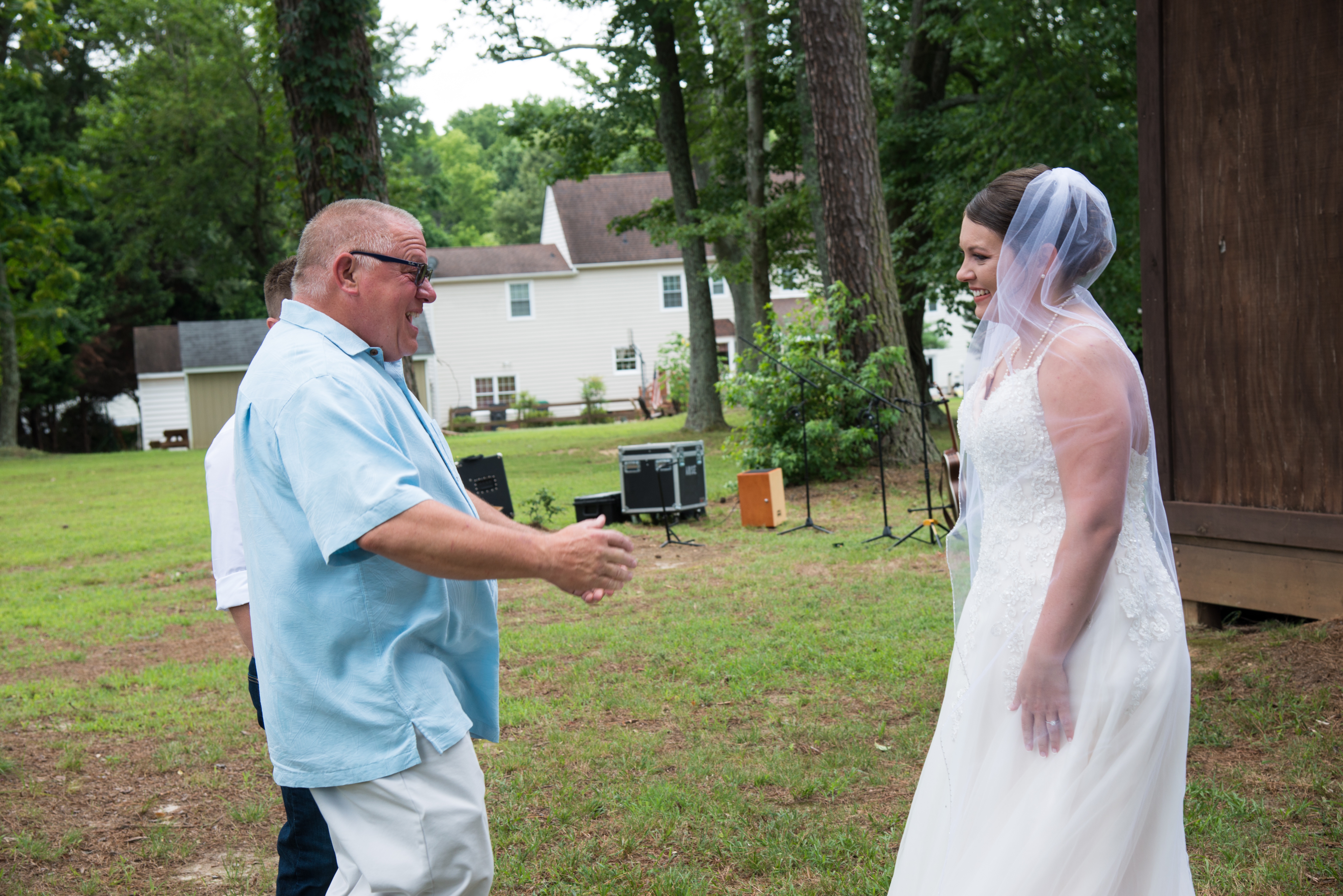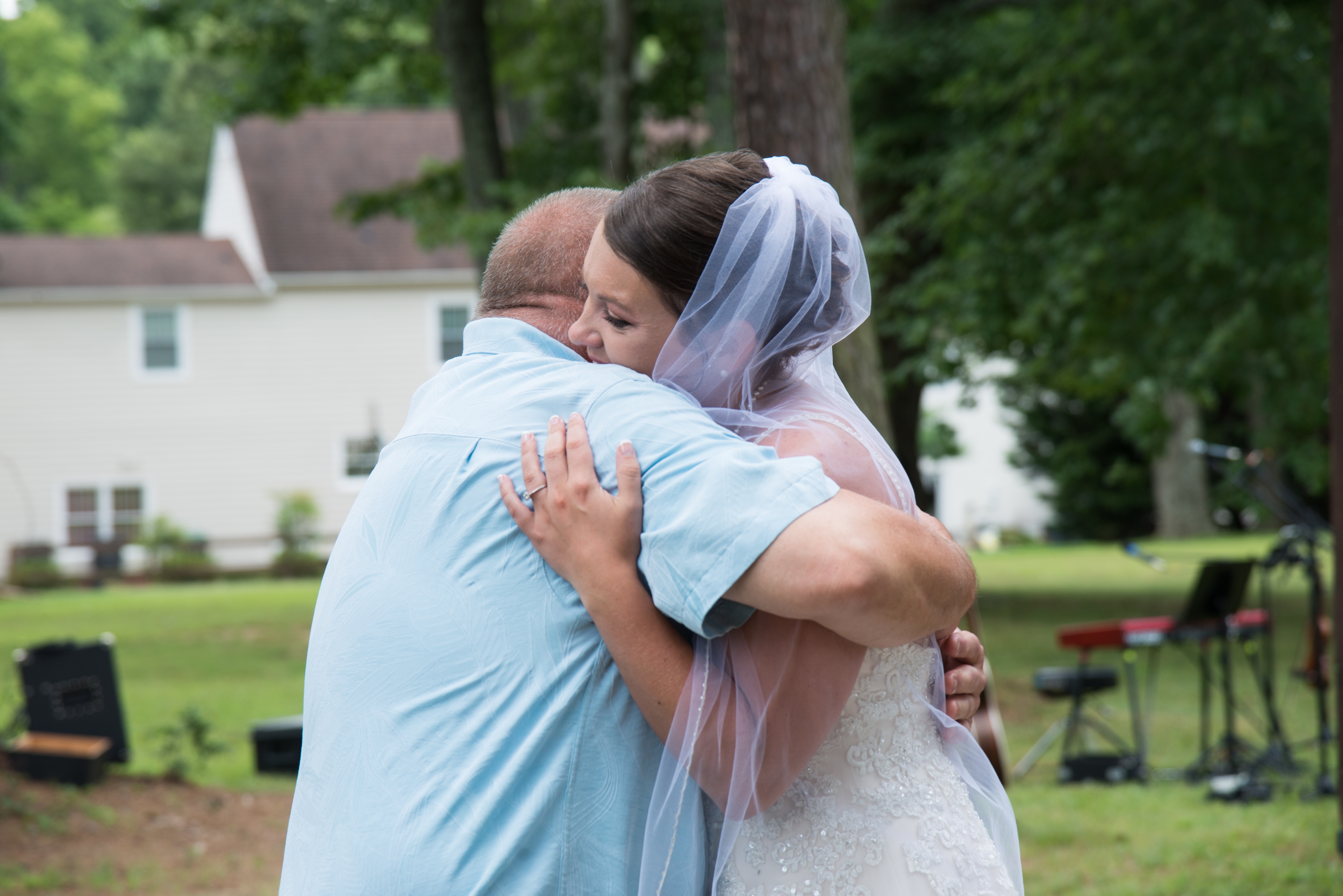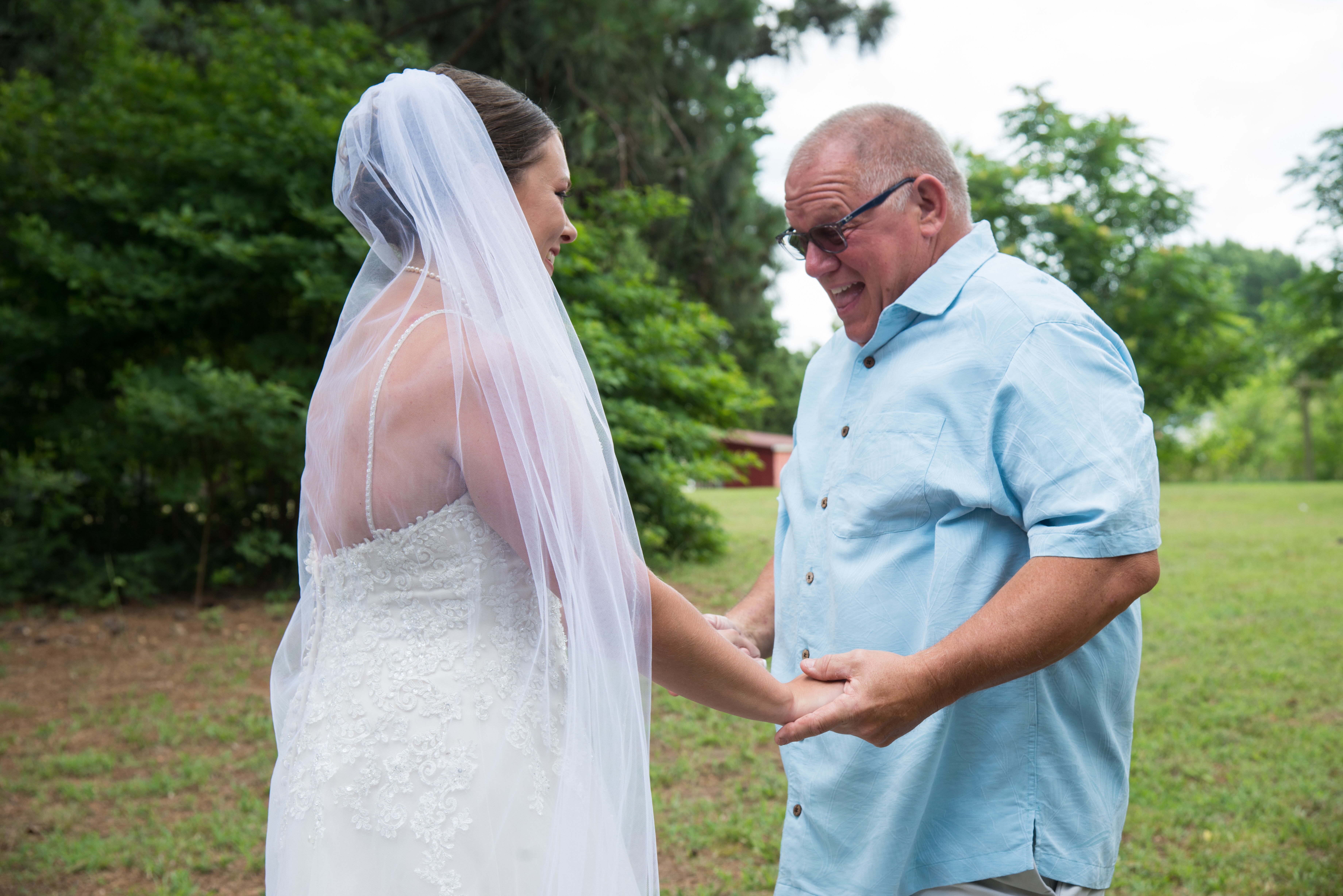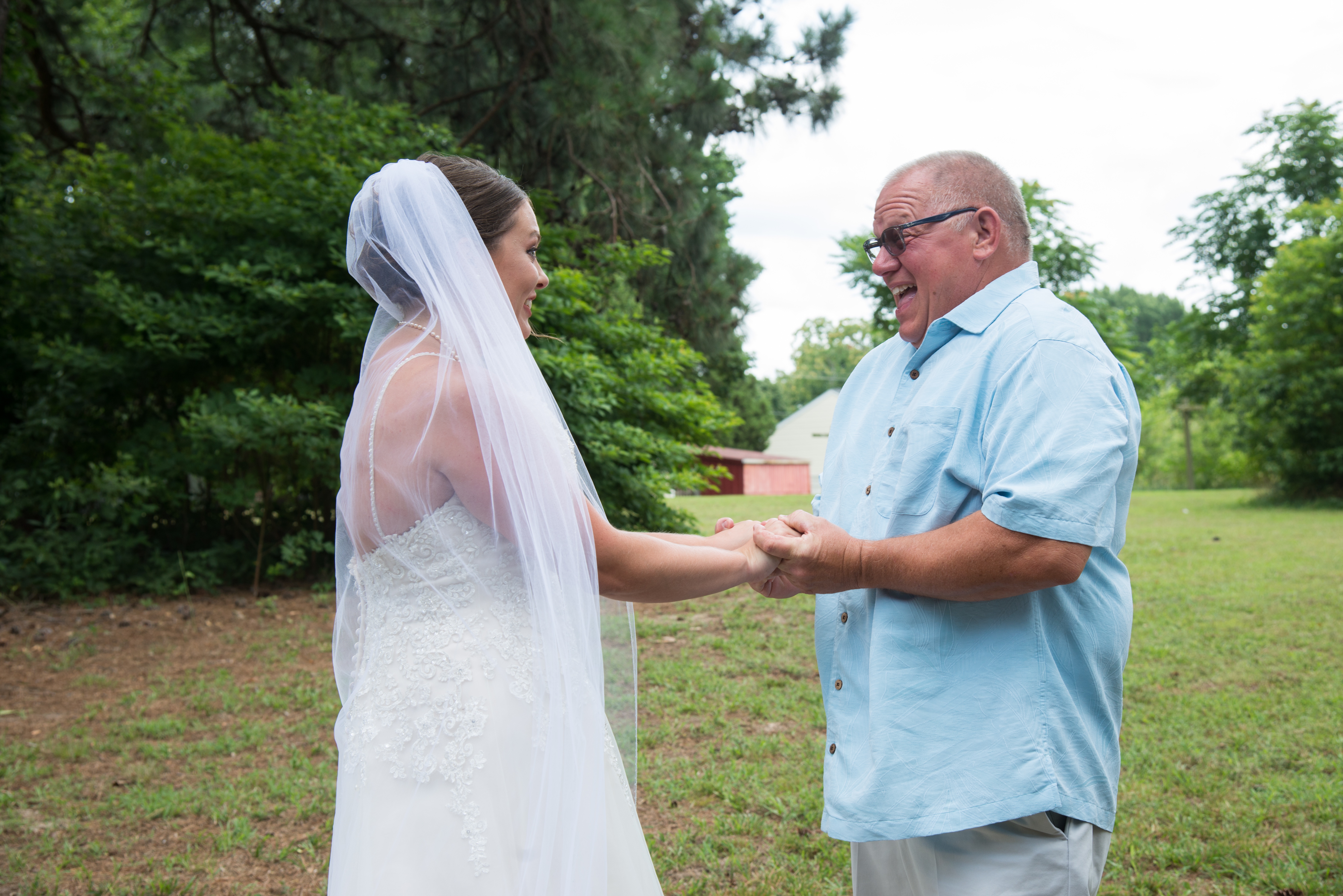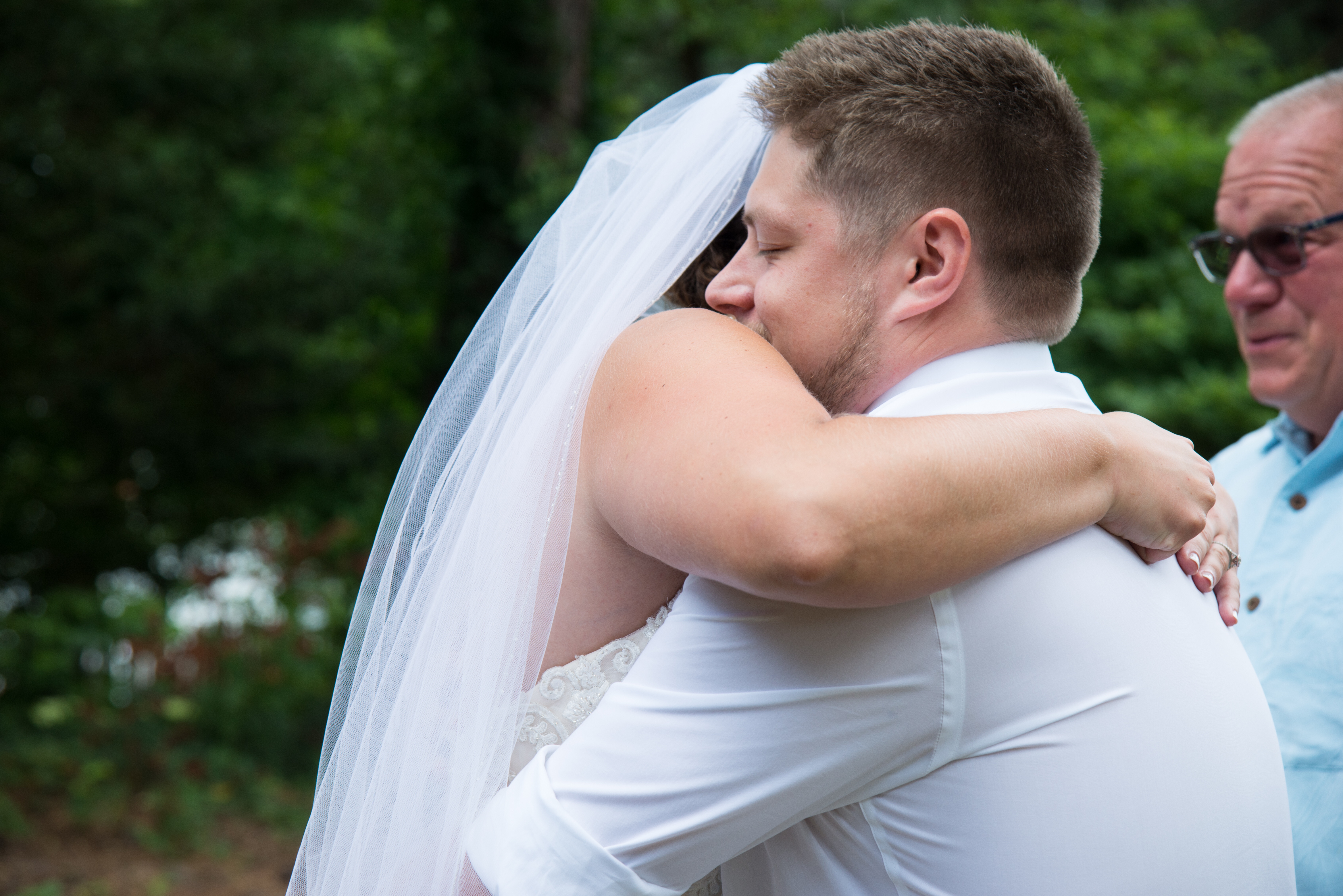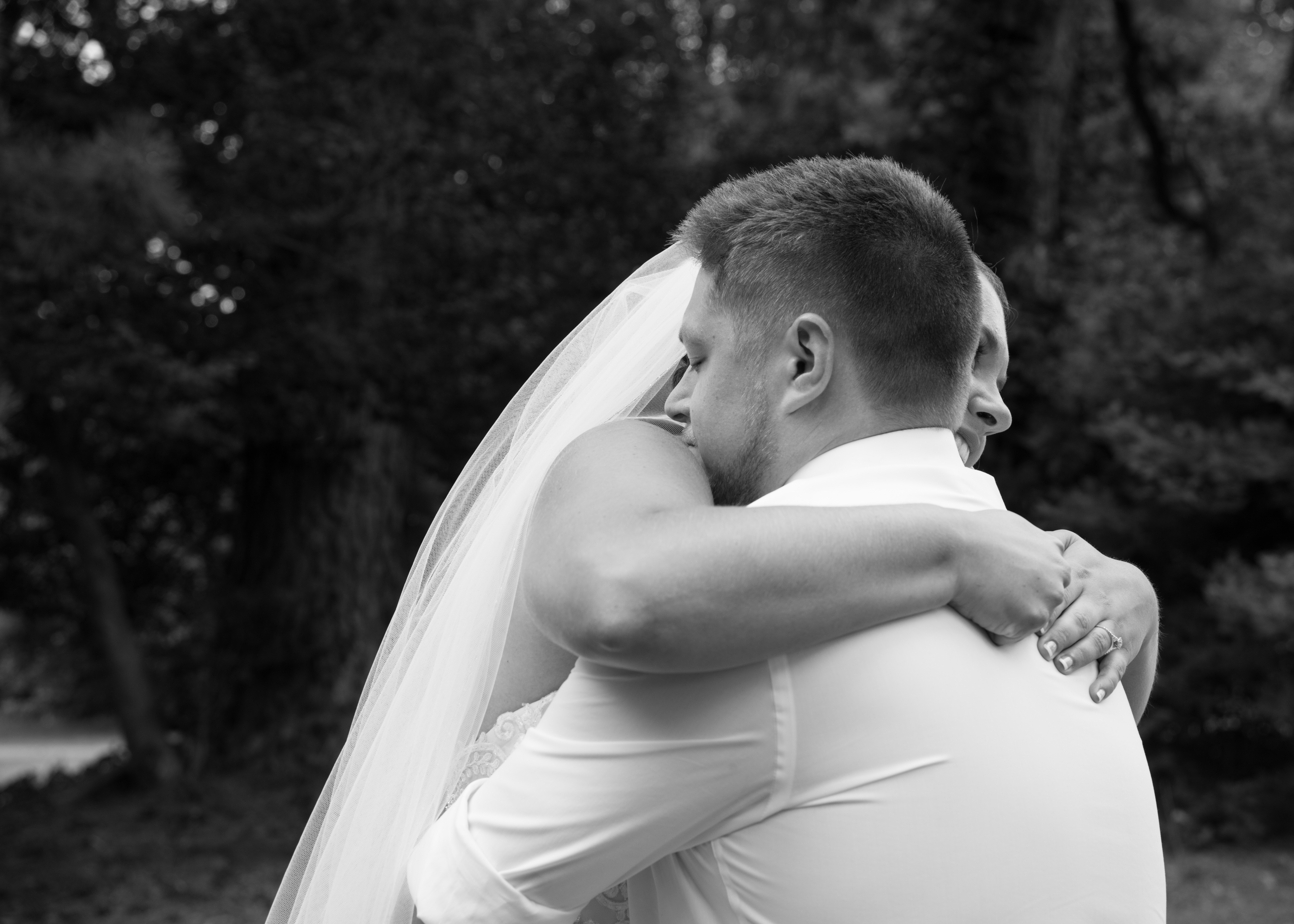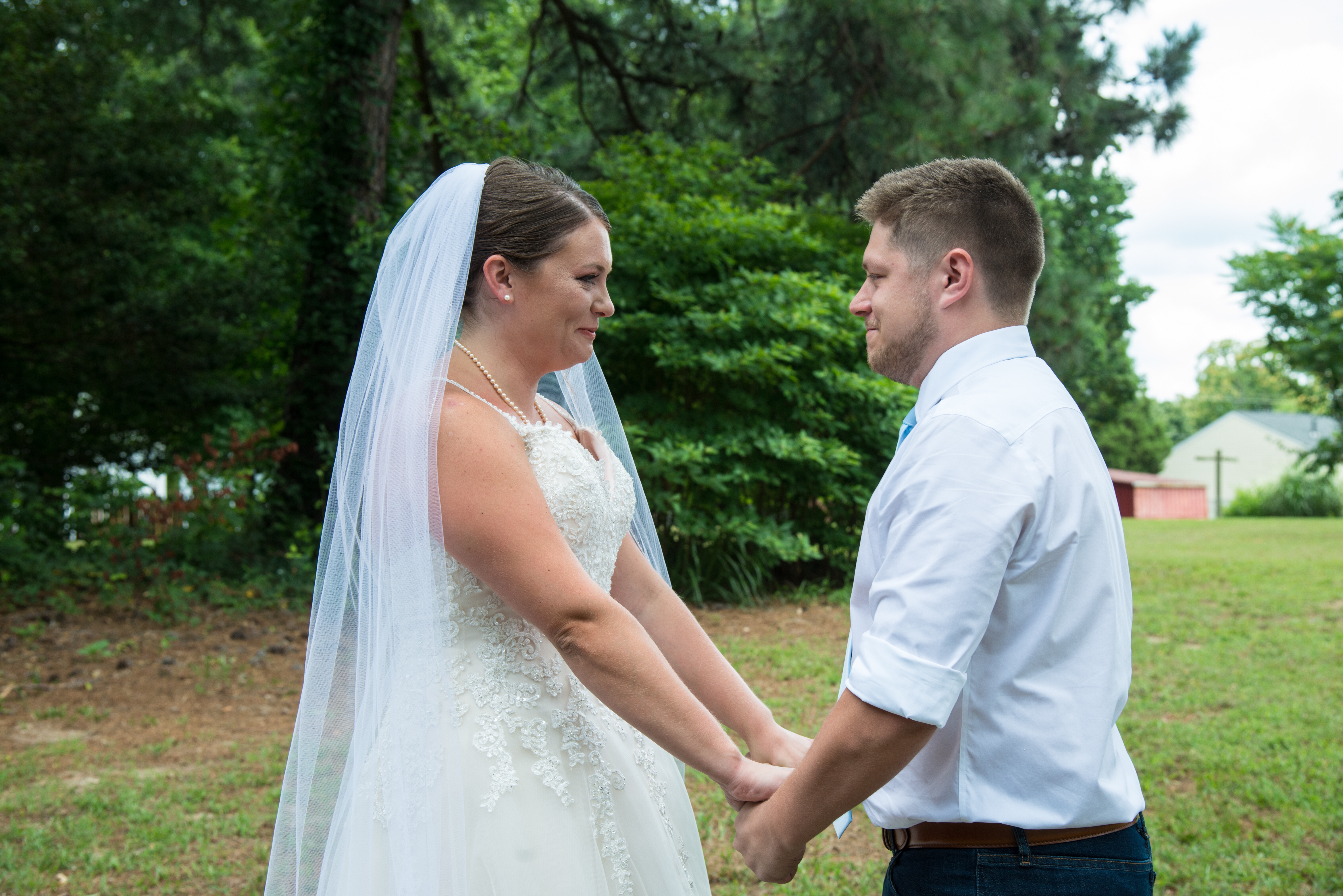 After first looks, I went back to the house to touch up my makeup from all the tears and snag a few more pictures before the day was in full swing!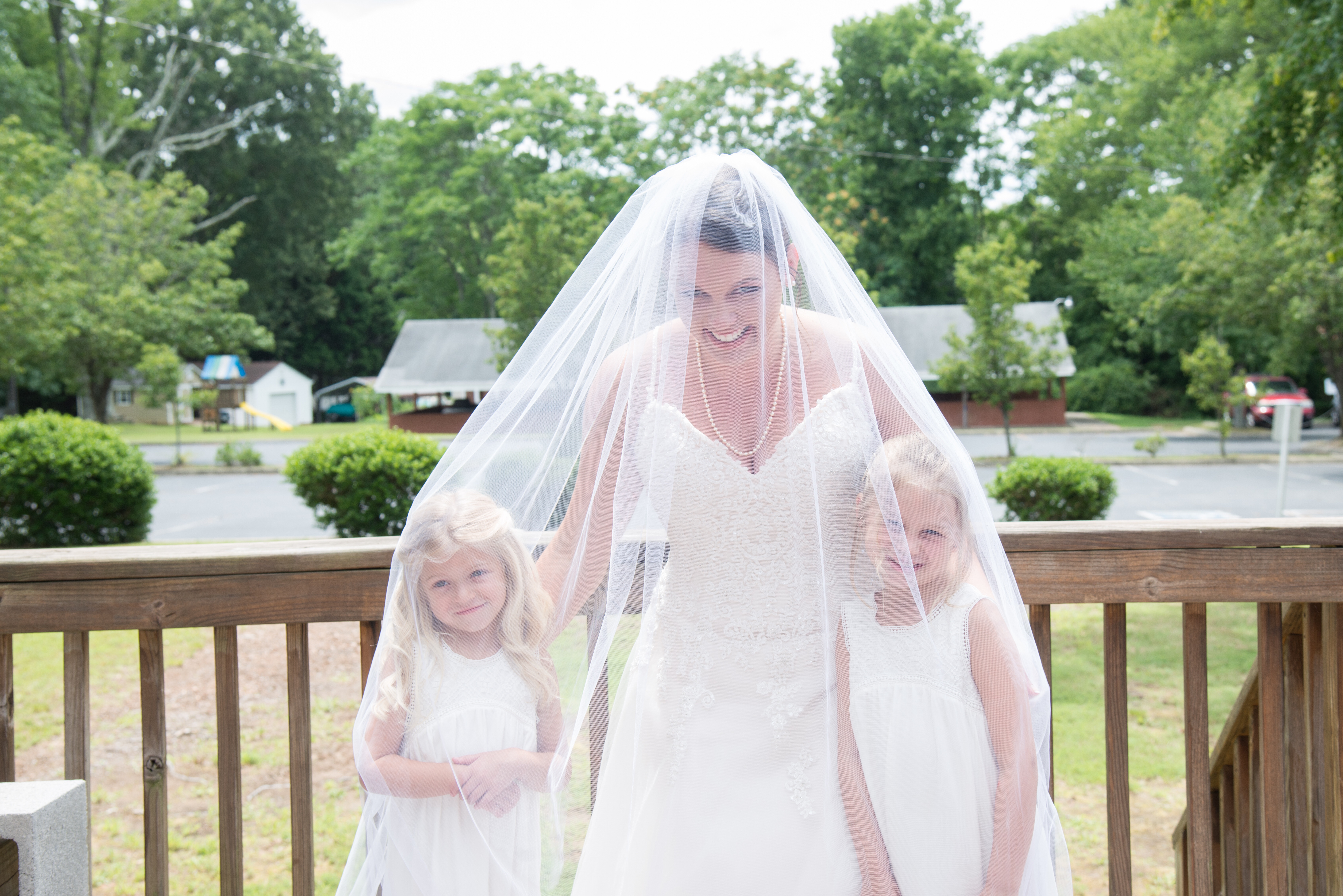 At the very last minute before the ceremony, we realized that the wedding party needed to walk from the church instead of the house. This caused a hilarious moment of moving the fully dressed bride across the parking lot without any guests seeing. My fabulous bridesmaids and friends saved the day with a comical sprint, stopping traffic and holding up a blanket.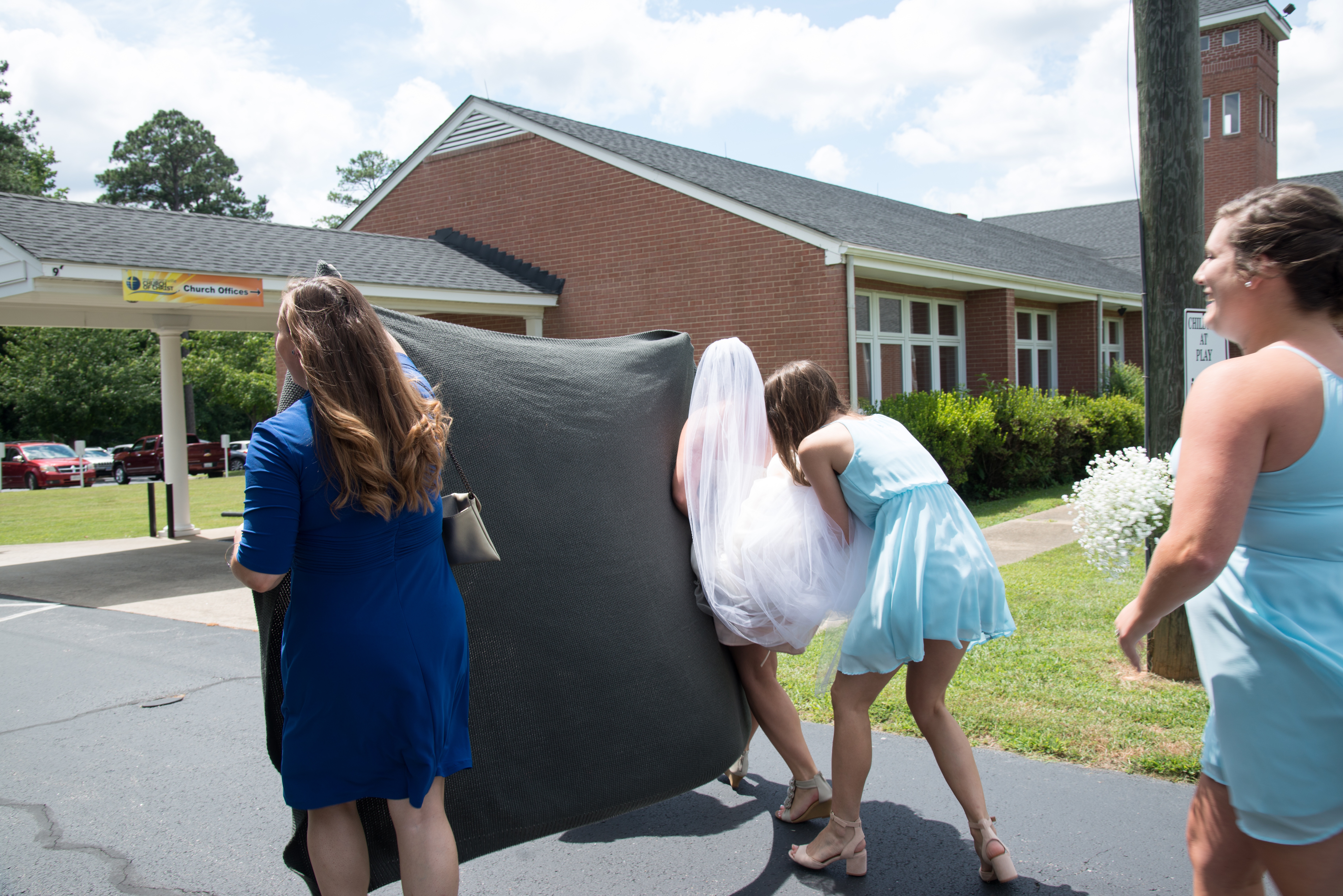 The Ceremony
The ceremony was by far the most important part of the day to me. In general, weddings are trending towards much shorter ceremonies, but I really wanted our ceremony to be the focus of our day. I planned many unique elements in our wedding ceremony to keep us focused on the important part of the day!
Our prelude playlist was comprised of some of our favorites playing as guests arrived:
Take the World by Johnnyswim
Love Never Fails by Brandon Heath
From this Moment On/You're Still the One by Caleb and Kelsey
Powerful Stuff by Sean Hayes
Marry Me by Train
Our very talented friends, The Arise Band, played for most of our ceremony music.
Our violinist and pianist played an instrumental version of Say You Won't Let Go by James Arthur for the seating of the family.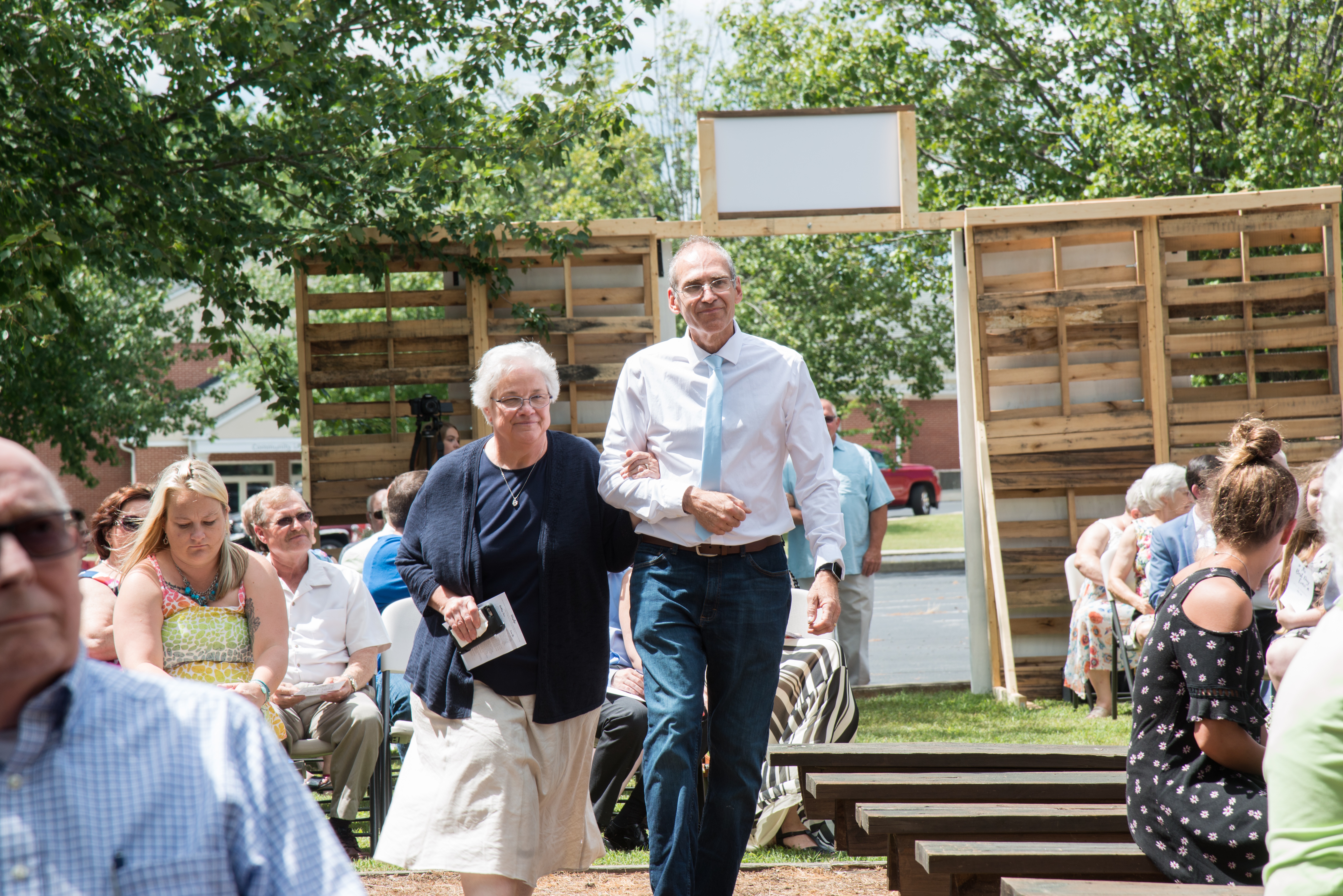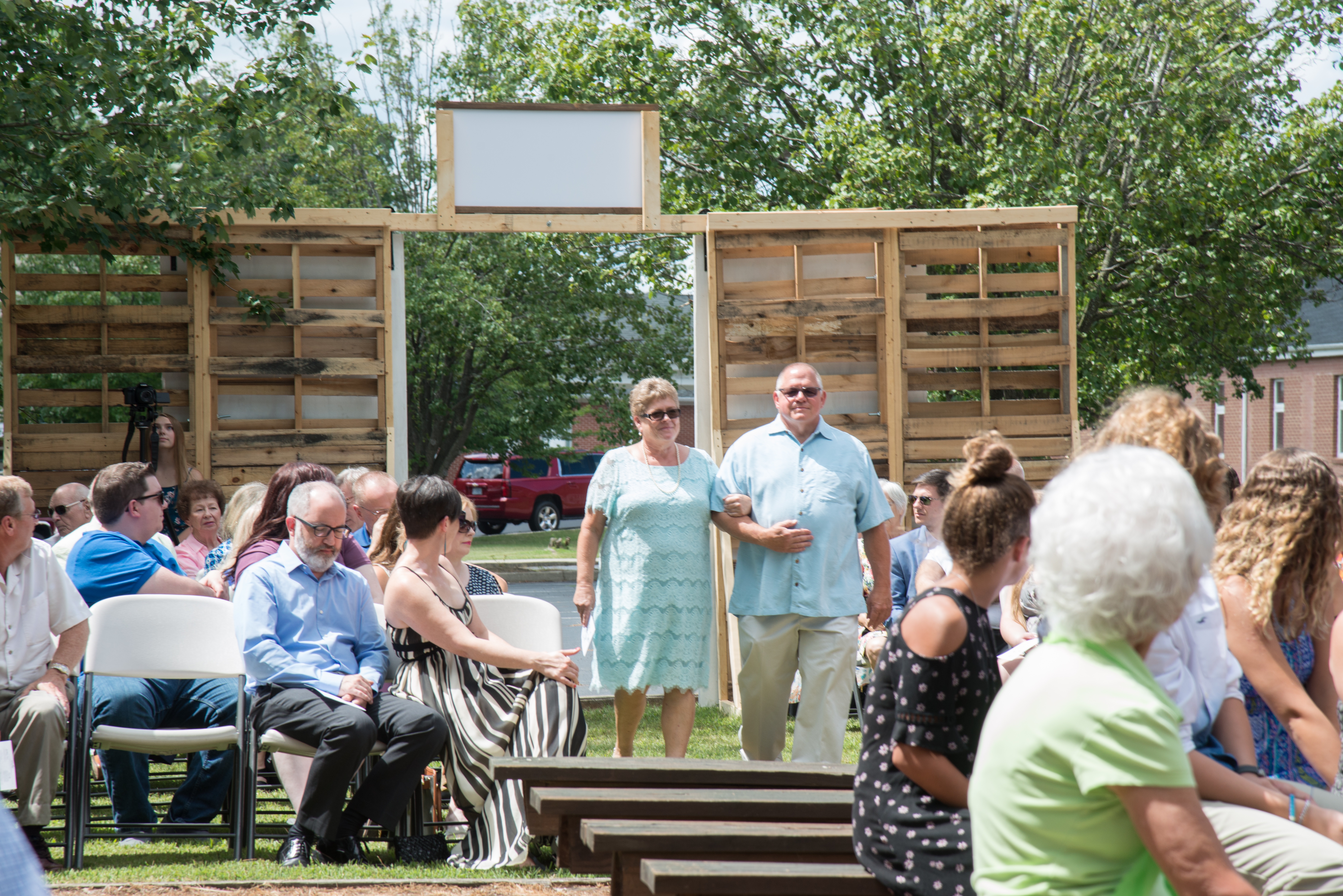 We asked our officiant to emphasize to the guests the importance of our ceremony being unplugged. We had a sign at the ceremony entrance, but we also asked him to read this quick statement. It was important to us that our guests be fully present and our day not be overwhelmed by technology.
Will and Hannah invite you to be fully present today for their ceremony. In the interest of an unplugged ceremony, in which we get to see your faces and not your phones, we ask that you put away and silence all devices.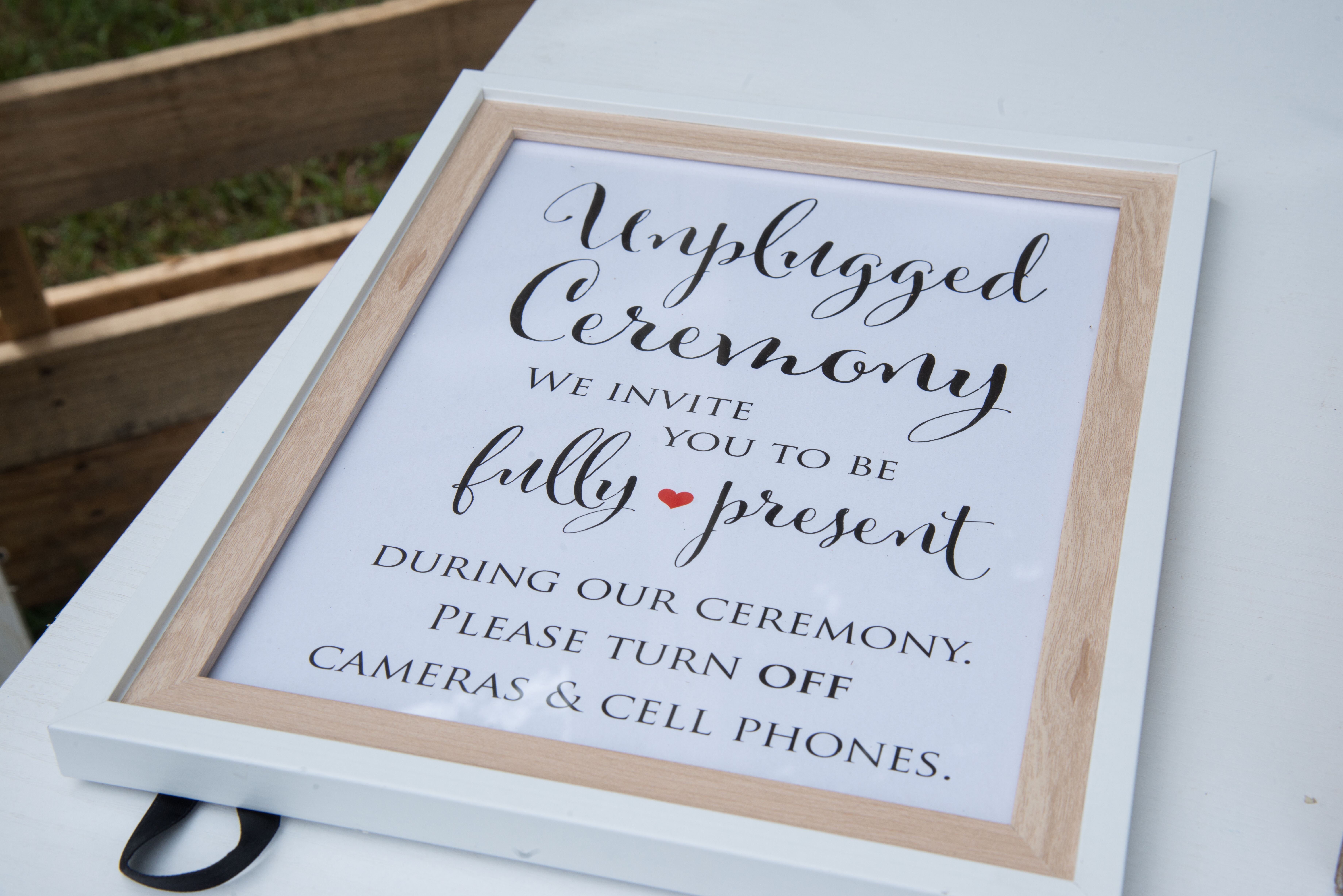 For the wedding party processional, the violinist and pianist played an instrumental of Perfect by Ed Sheeran.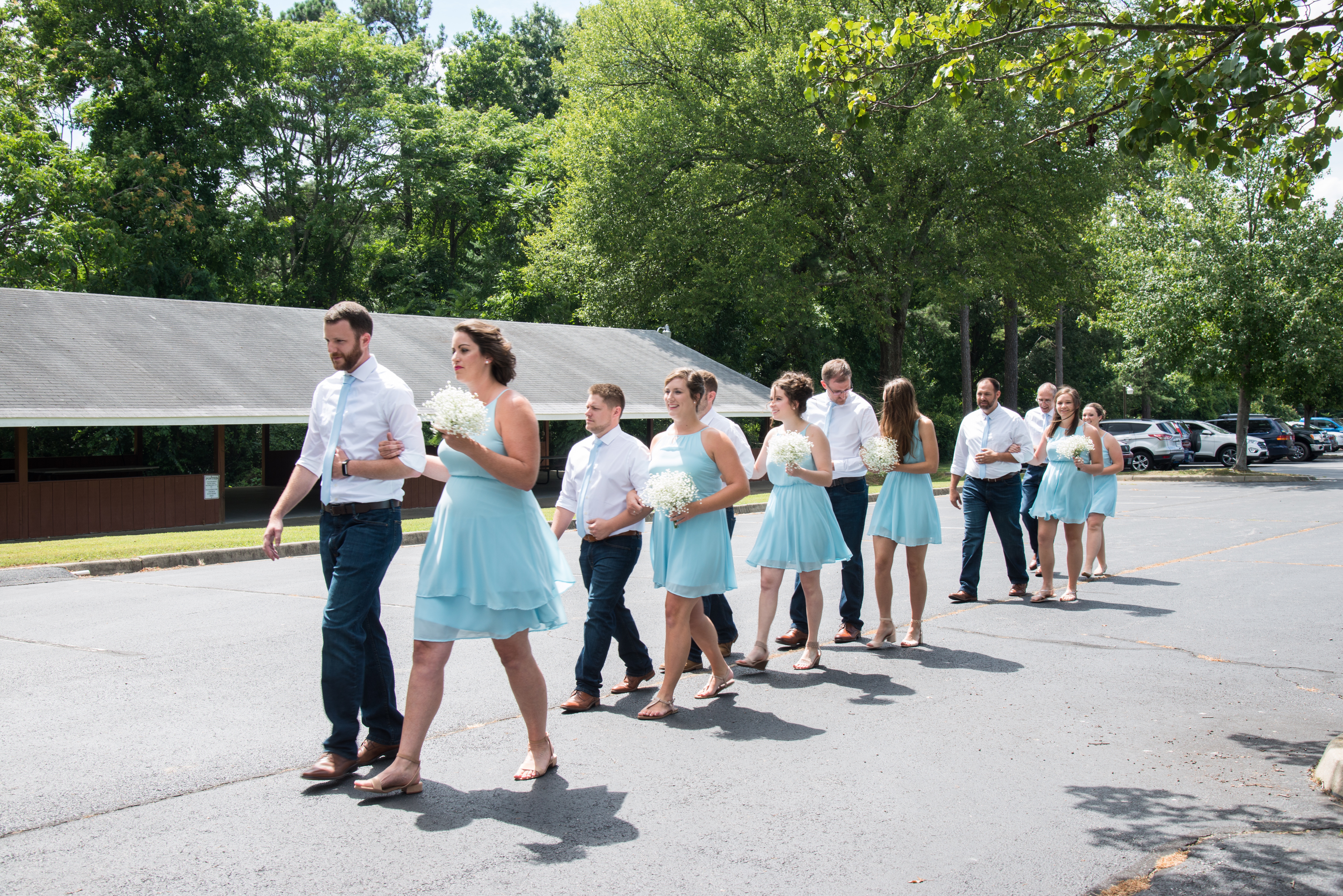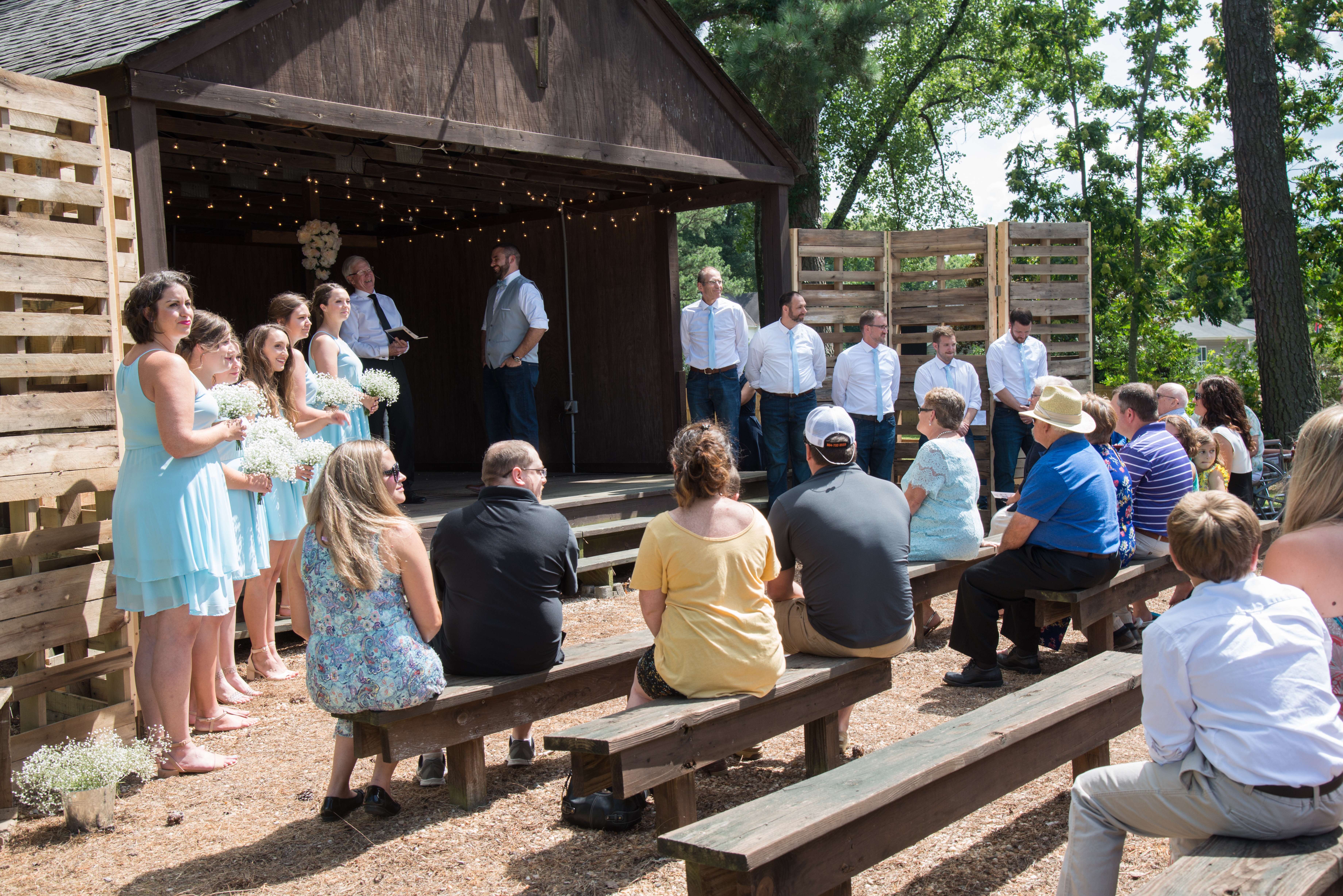 You guys… How cute are our sweet flower girls?
Will's sweet pup Sky had to be a part of the ceremony. You can't see it here, but she wore a sign that said "I Loved Him First."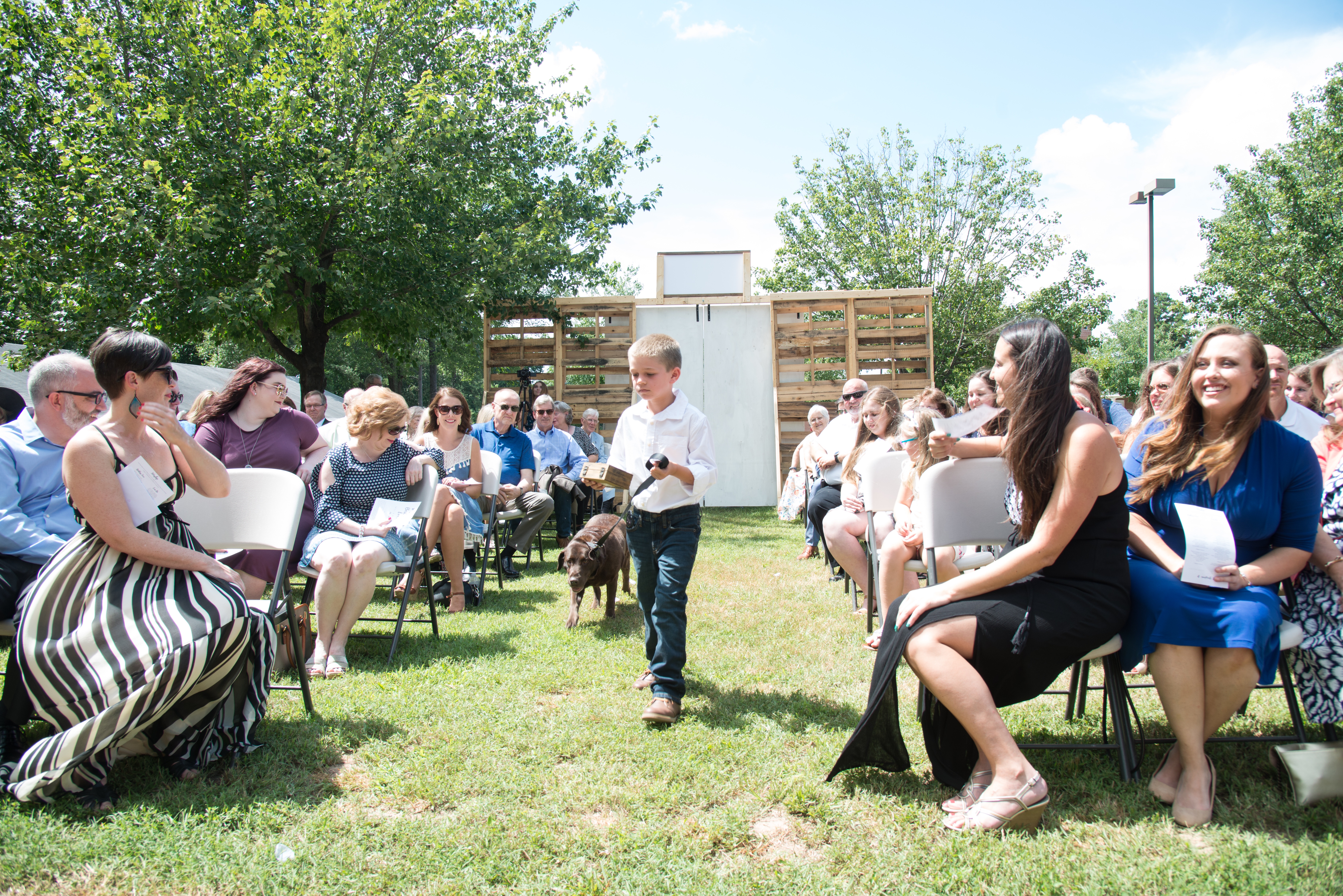 By far my favorite piece of décor of the day was the sliding barn doors Will built for our entrance. It was so special to walk through something he had put hours of work into. He did an amazing job and they were beautiful.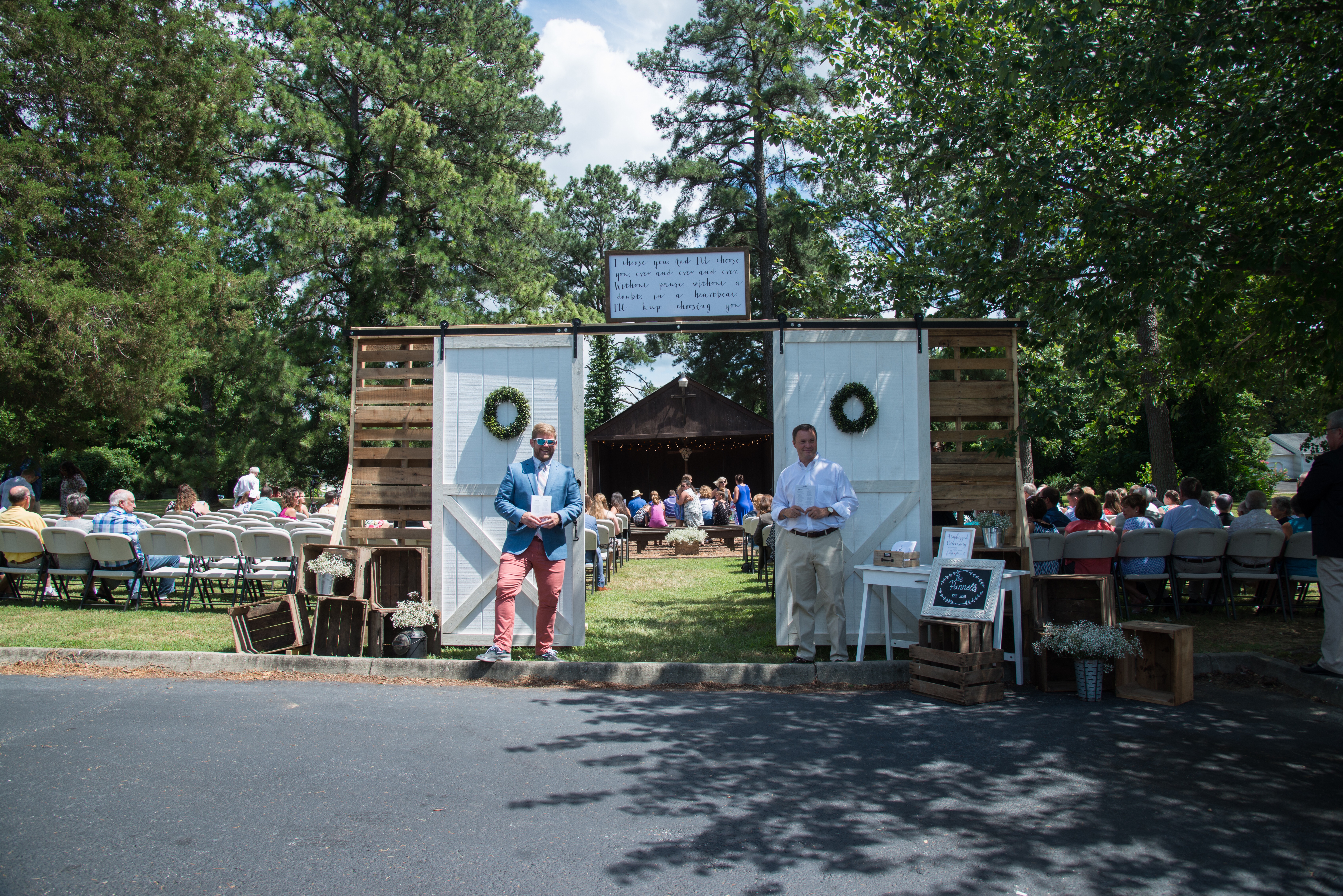 One of the other really special parts of the day was the song I walked down the aisle to. I went a bit nontraditional and had my brother sing a song rather than play an instrumental piece. I wanted the lyrics of this song to be what we both heard as I walked down the aisle. Having my brother be the one to sing it was even more impactful and tear-inducing. Ryan sang When I Say I Do by Matthew West as I walked down the aisle.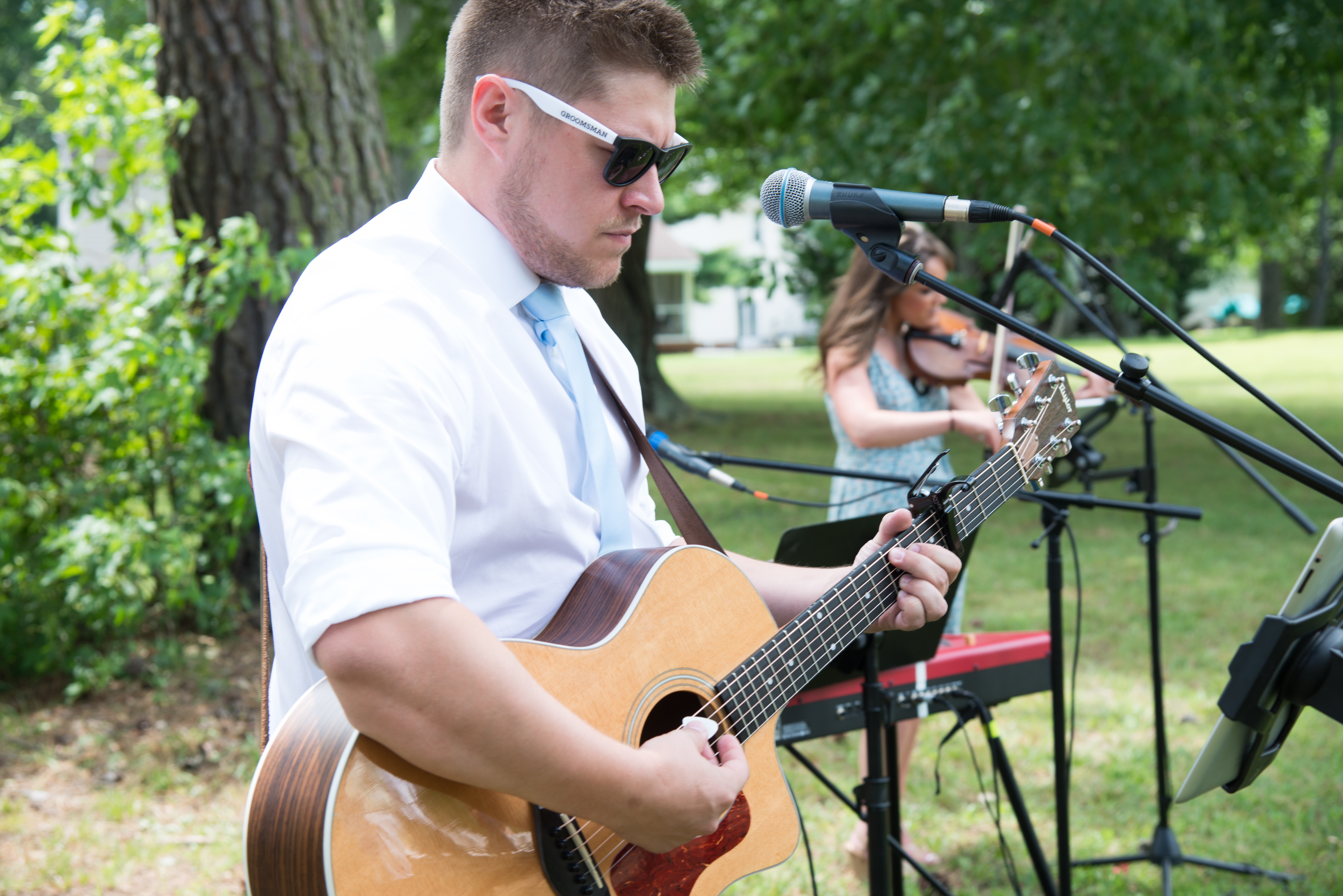 I was fine for all of two seconds after I walked through those doors before I lost it.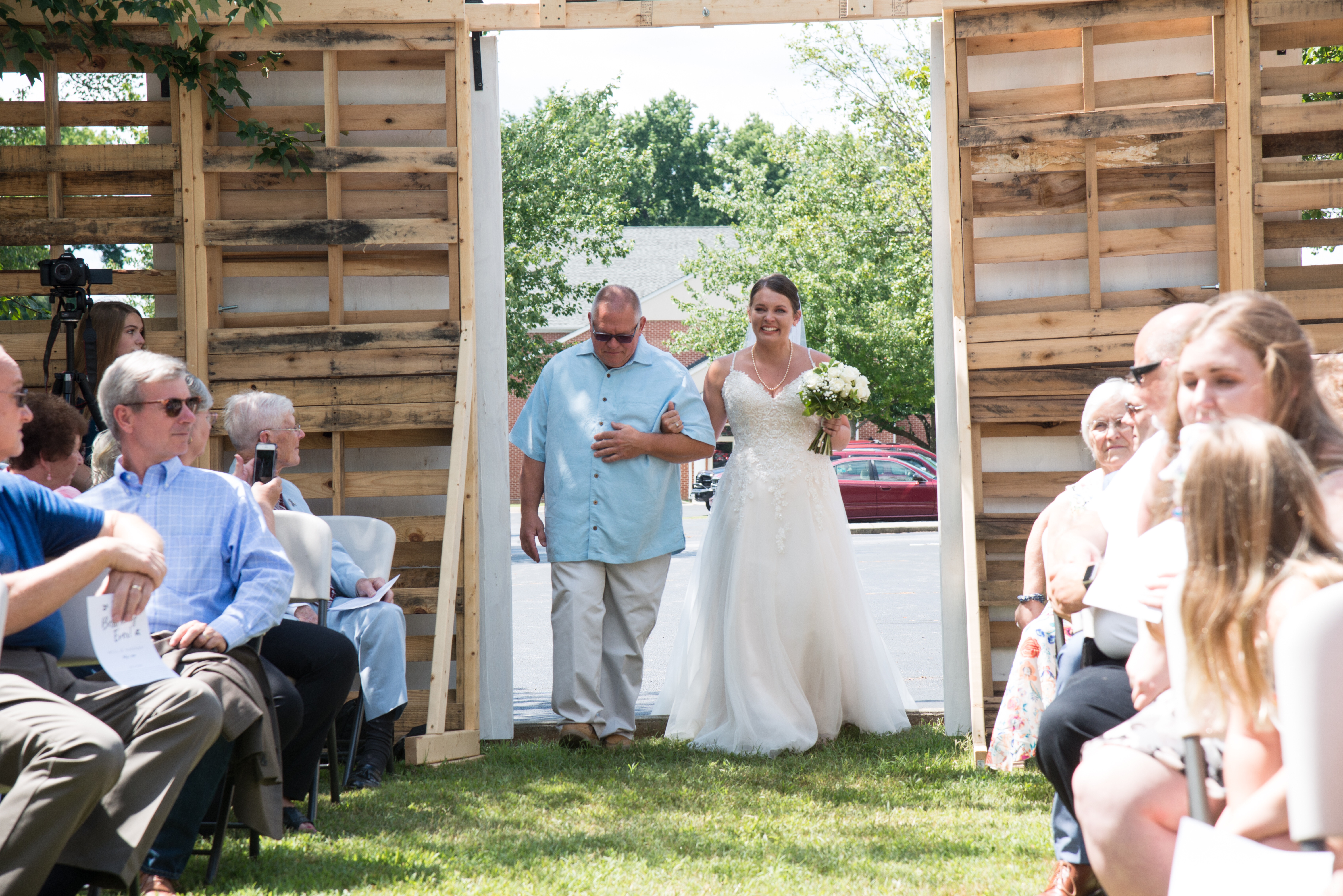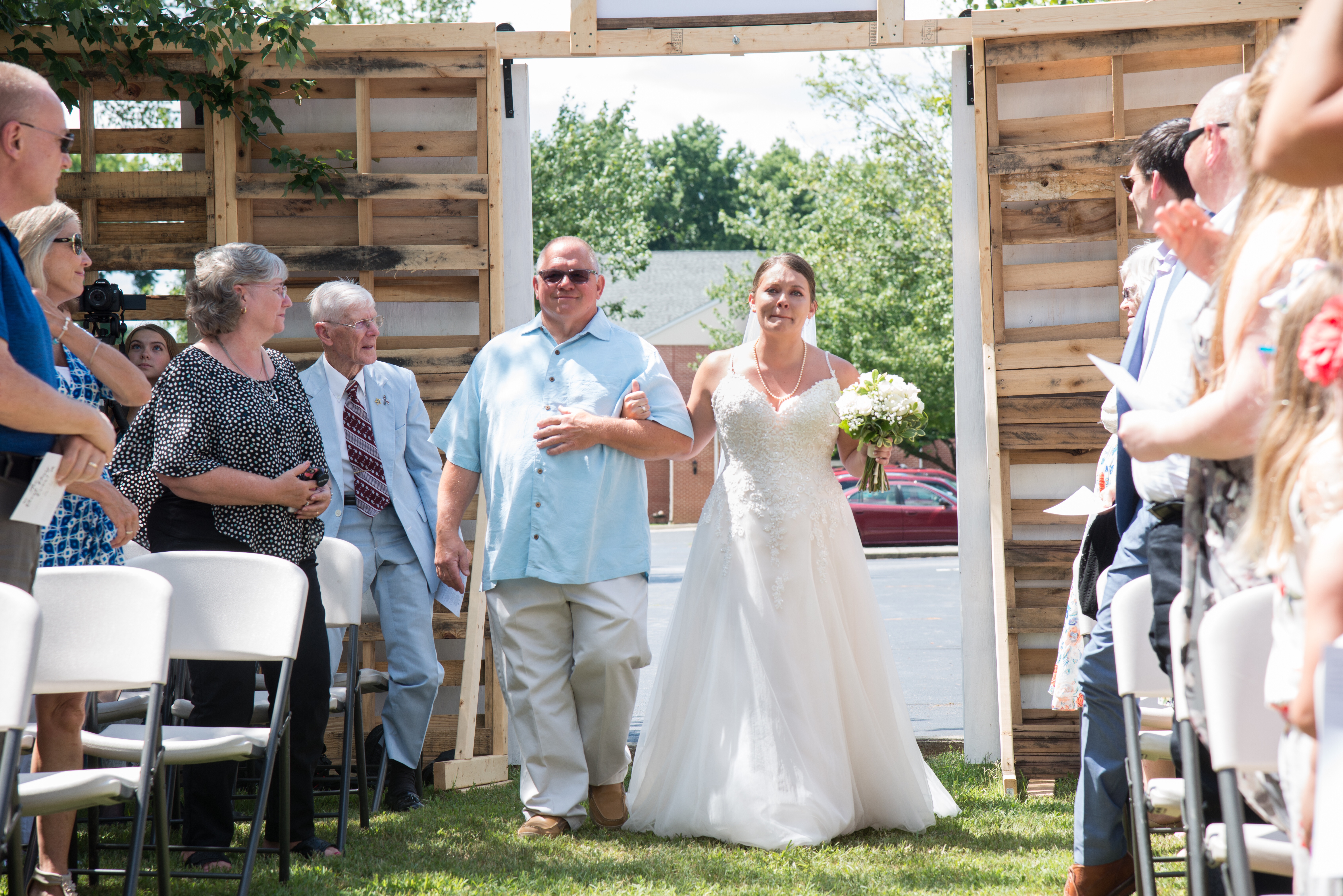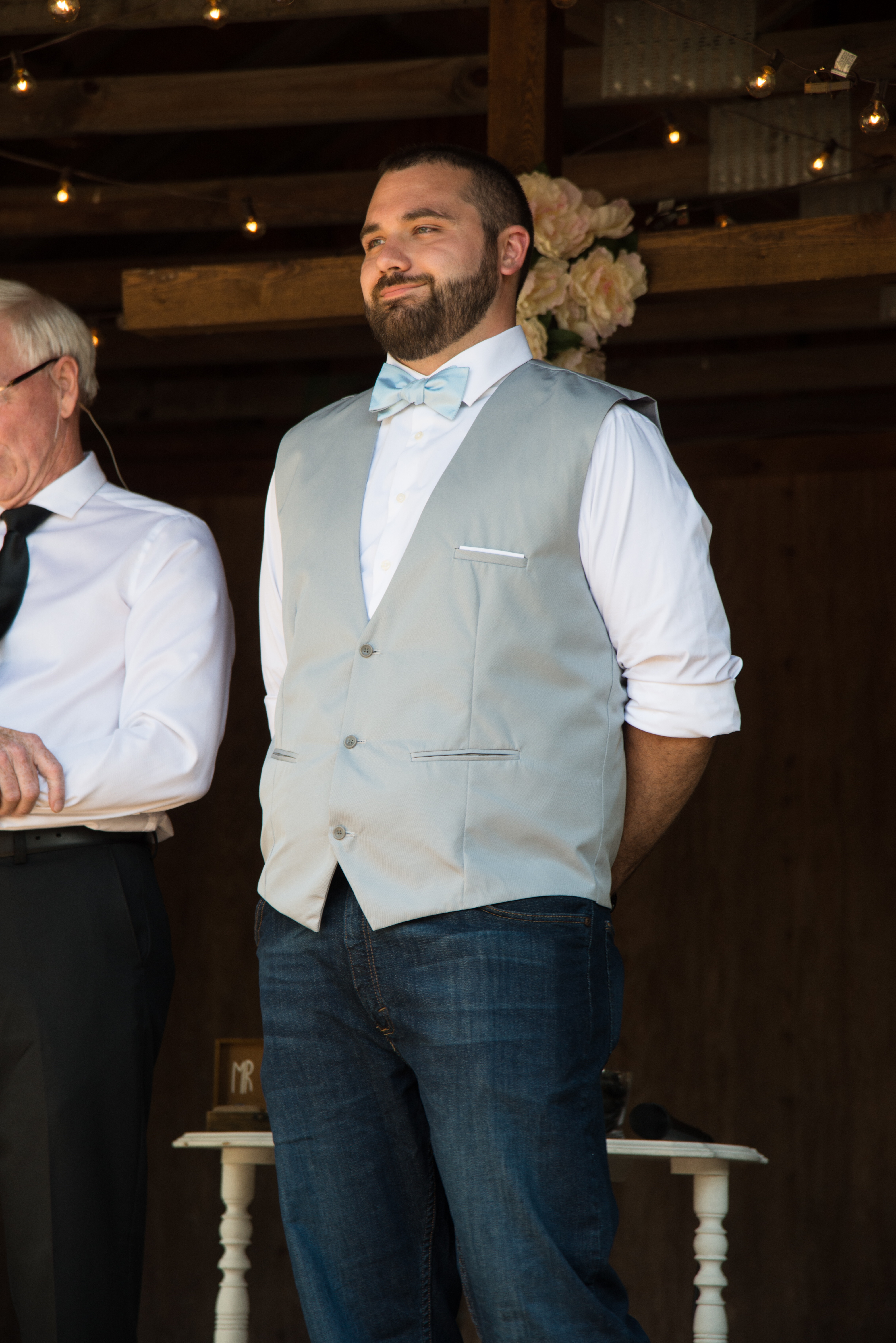 Based off this shot of my bridesmaids, I don't think I was the only one crying! At the last minute right here, my veil caught on the benches and I couldn't move. It was a welcomed break for laughter in a very emotional moment.
Inevitably, something goes wrong in every ceremony, but seeing it as an opportunity to laugh and have a funny memory makes it stress-free!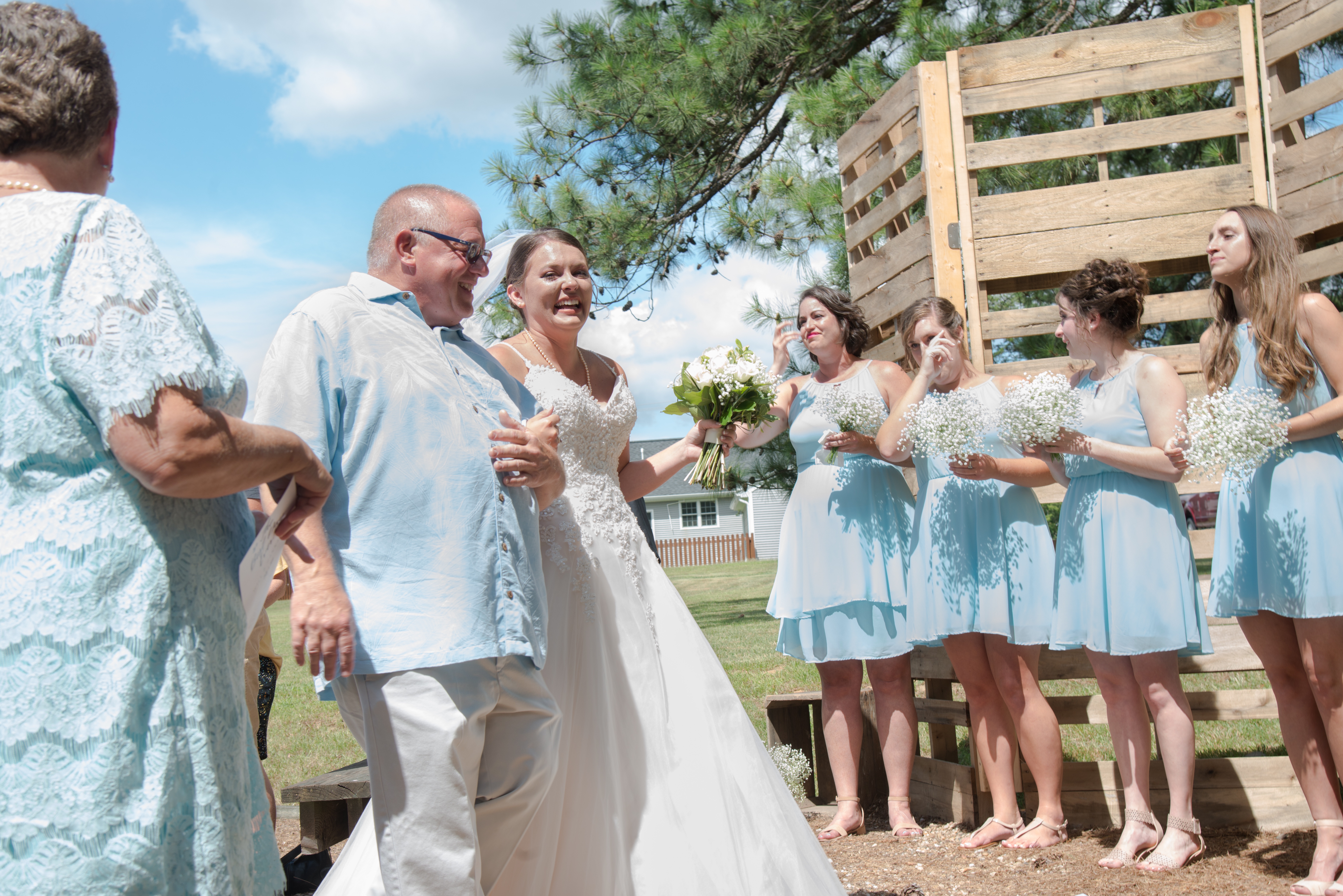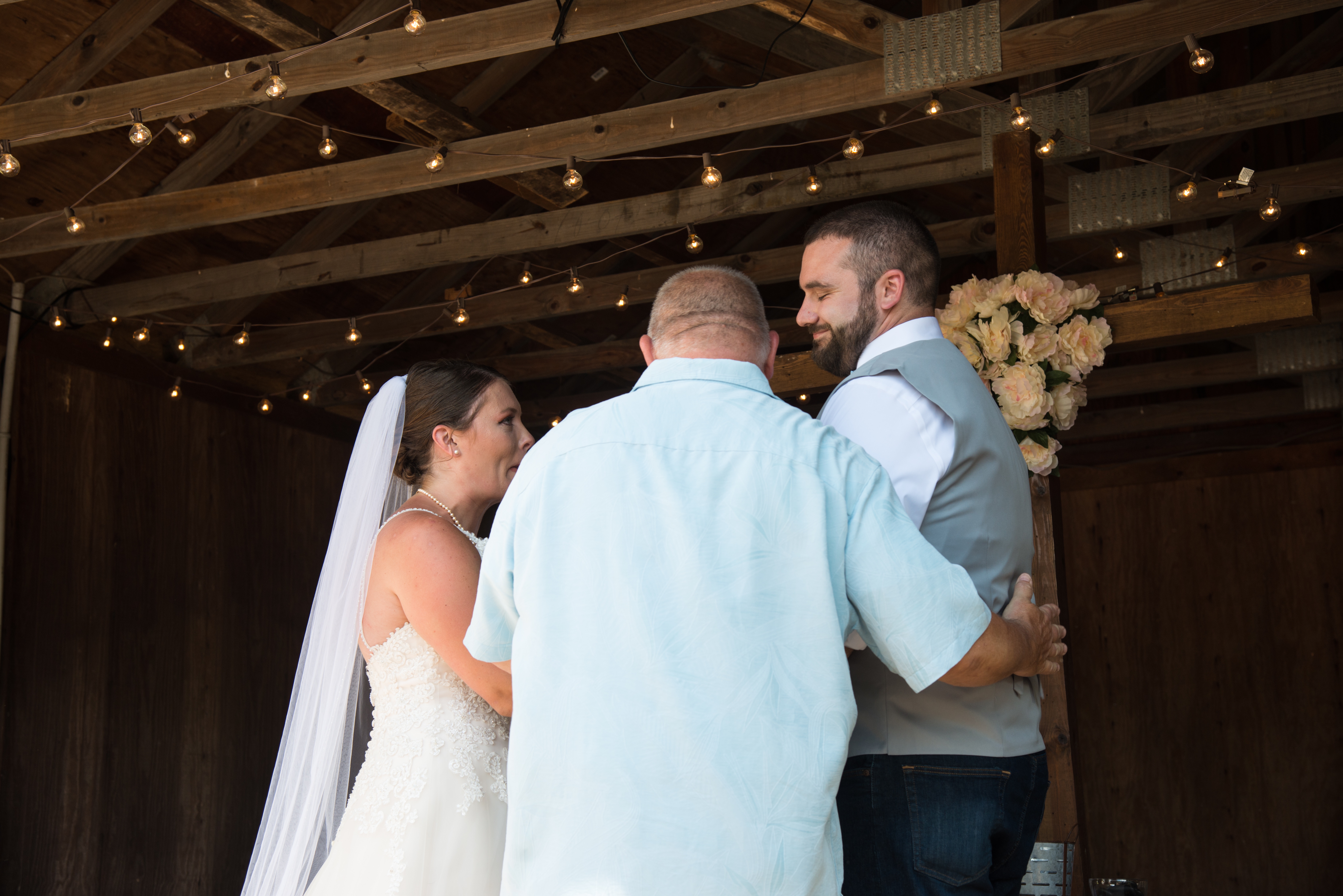 Our officiant was one of Will's college professors, Doc Reece. We asked him to preach on Ephesians 4 and 5 in light of what scripture has to say about marriage.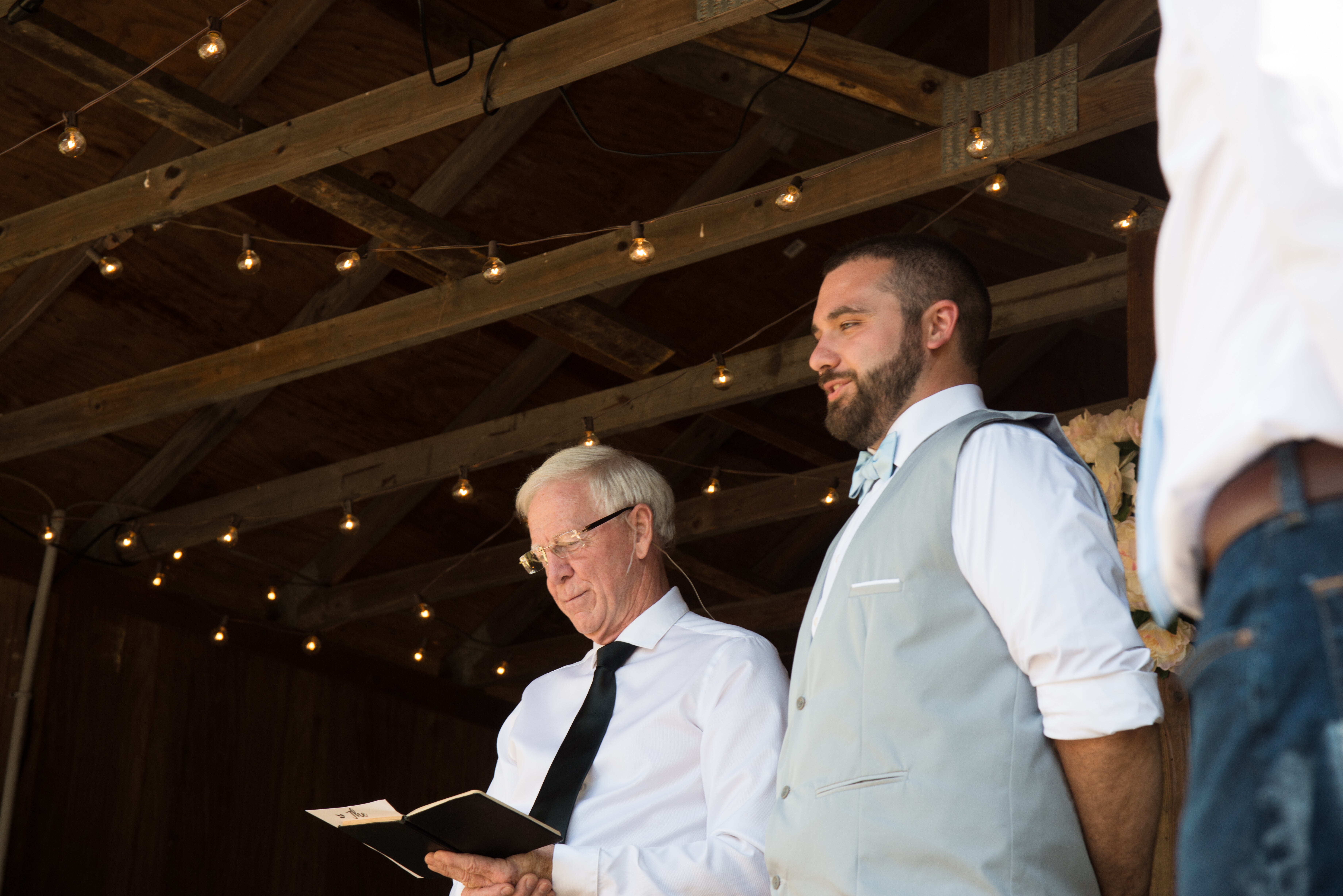 Instead of unity sand or a unity candle, we decided to do something a bit different to symbolize our becoming one. Over the last couple of years, I had been collecting stones and writing significant markers of God's faithfulness on them. I was inspired by the story in Joshua 4 and wrote the following for our ceremony.
In Joshua 4, scripture tells the story of the Israelites crossing the Jordan river. When the entire nation had safely crossed, Joshua called together the leaders of the tribes to take stones and build a symbol of remembrance. Joshua 4:6 says "In the future when your children ask you "what do these stones mean?" tell them that the flow of the Jordan was cut off before the ark of the covenant of the Lord. When it crossed the Jordan, the waters of the Jordan were cut off. These stones are to be a memorial to the people of Israel forever."
The Israelites were being called to mark God's faithfulness in their lives. Today, Will and Hannah have both brought a container of stones. In each container, are stones with stories written on them of the ways God has been faithful in their individual lives. Today, they combine their stones as a reminder for them and for their future children of God's faithfulness. In addition, they will add a stone with today's date as a reminder of God's faithfulness in bringing them together.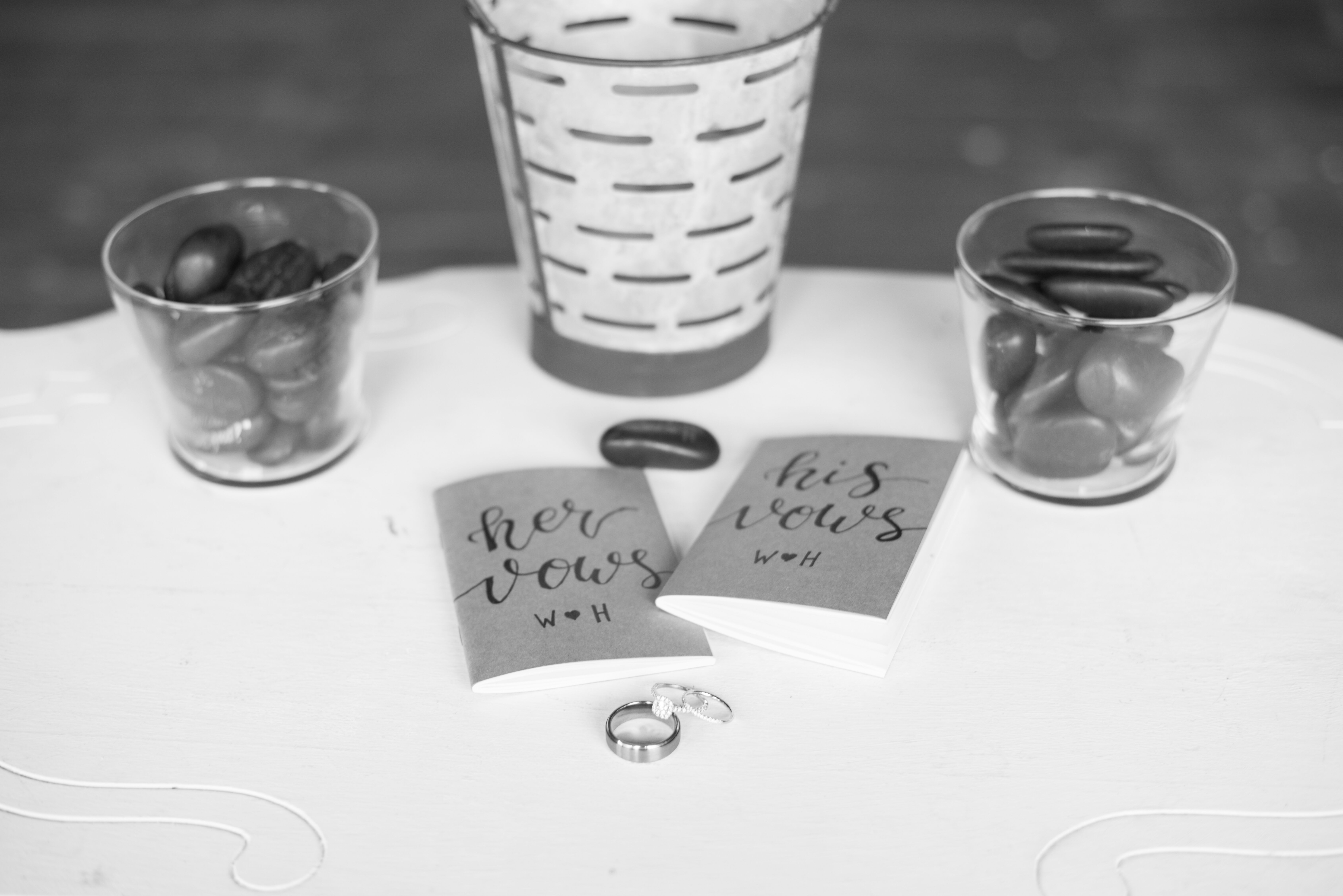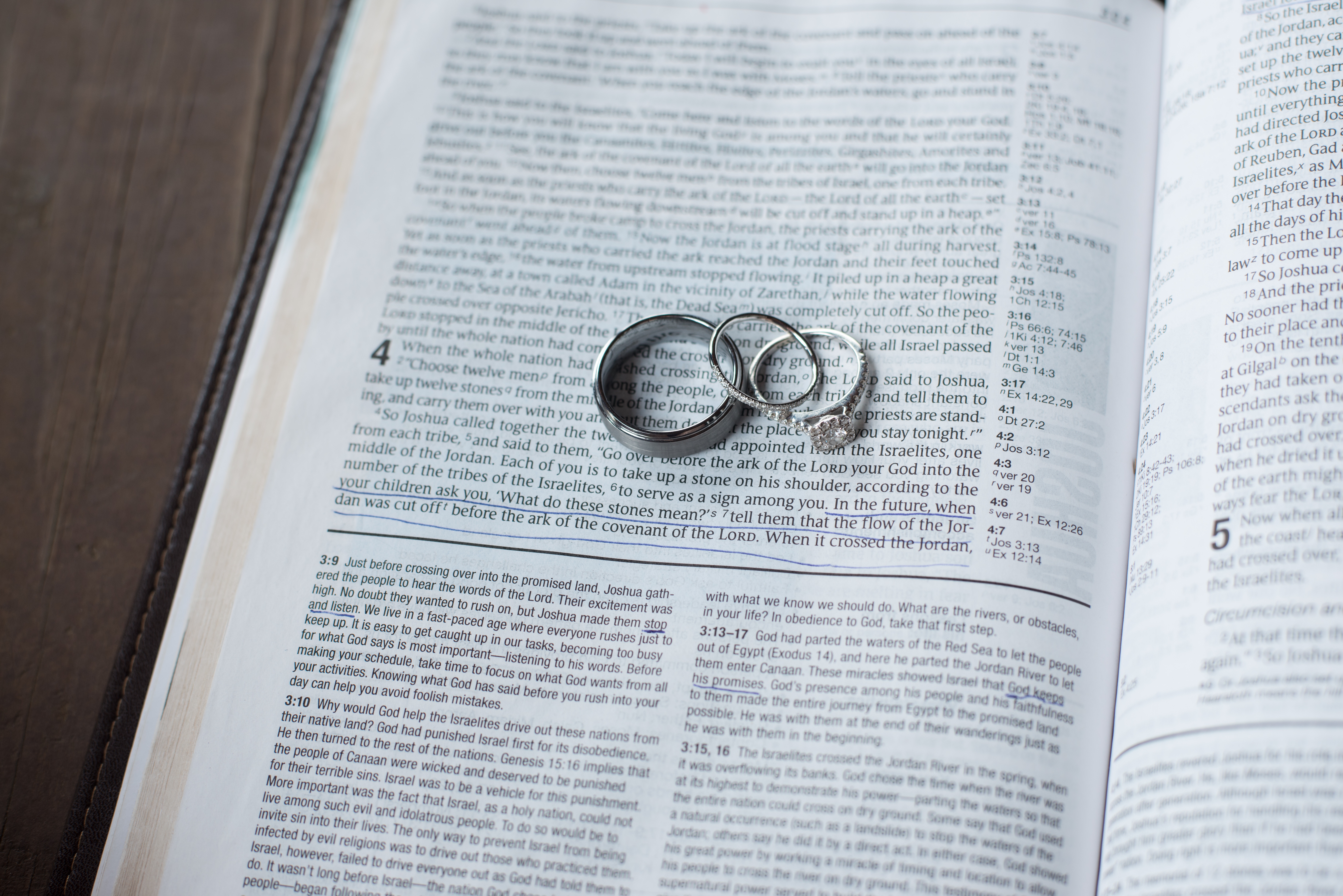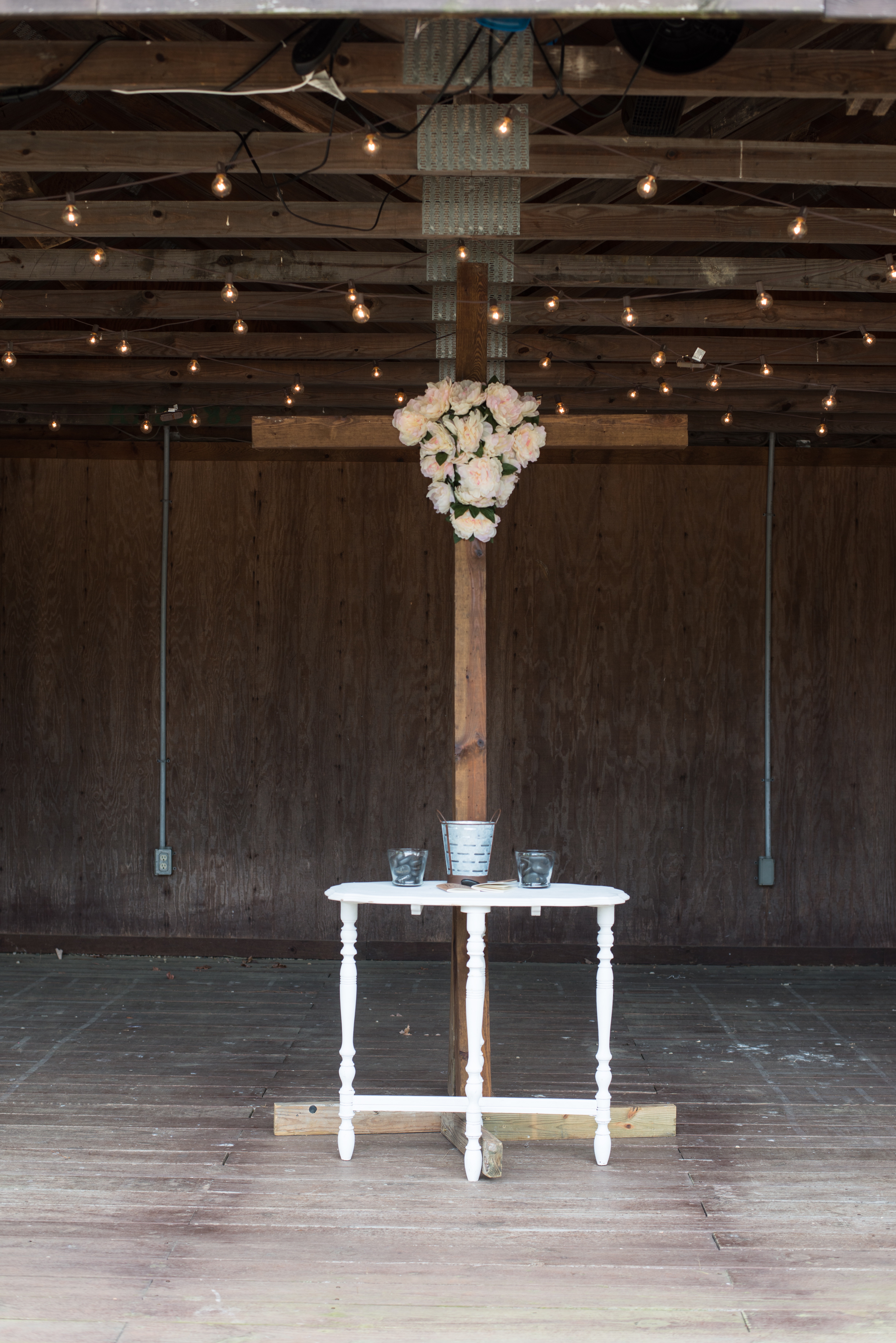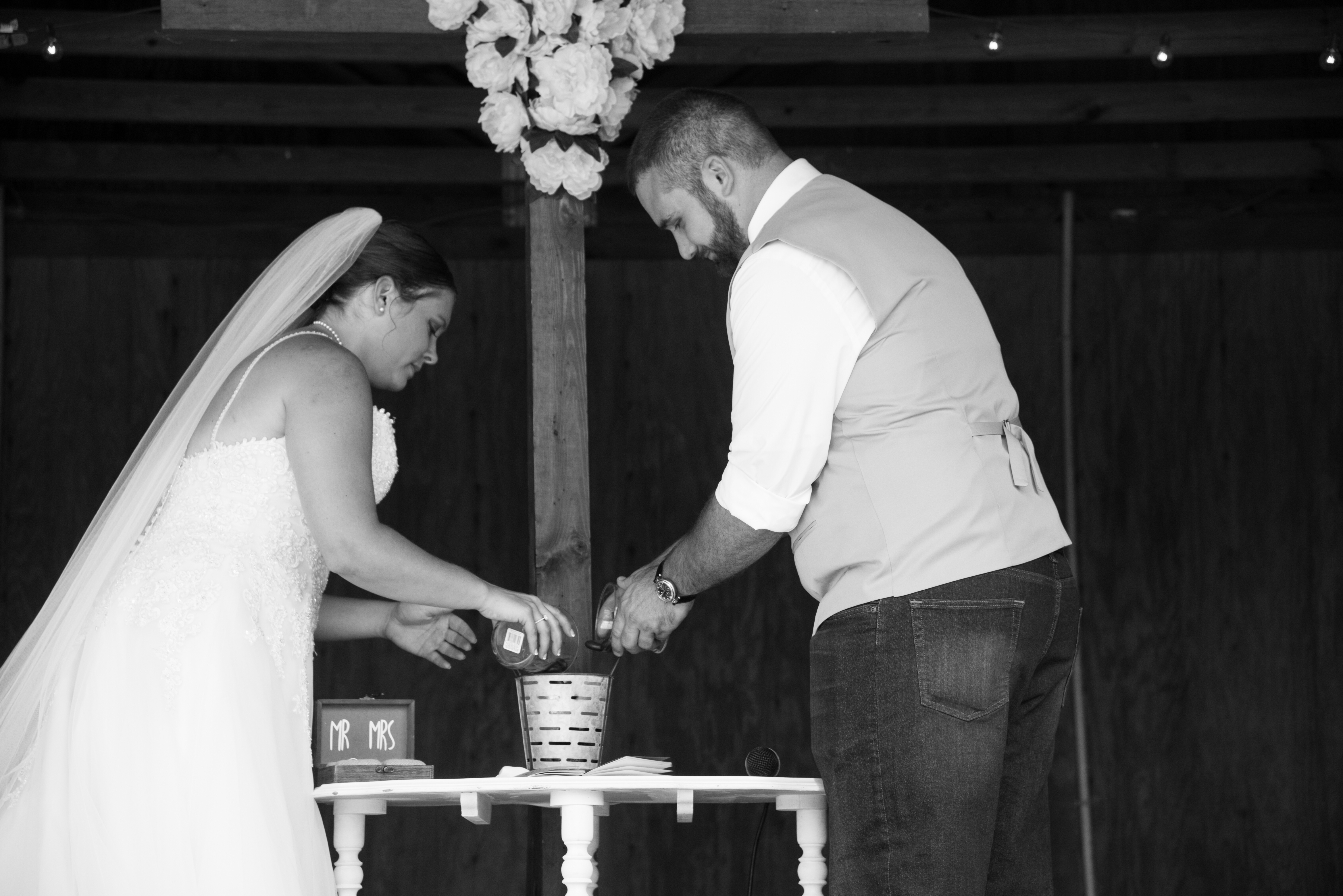 One of the other elements we chose to include in our ceremony was worship. Our faith has been such an important part of our journey and relationship and we wanted to take a moment to honor God's faithfulness together by praising Him. We provided the lyrics on the back of our wedding program and invited our guests to join us in celebrating through worship.
We chose to sing Reckless Love right before the unity symbol and Ever Be right after the kiss, before we were presented to the guests as Mr. & Mrs. Will Pannell. This turned out to be such an amazing way to slow down the day. Choosing to worship brought our focus to the commitment we were making and took away our nerves.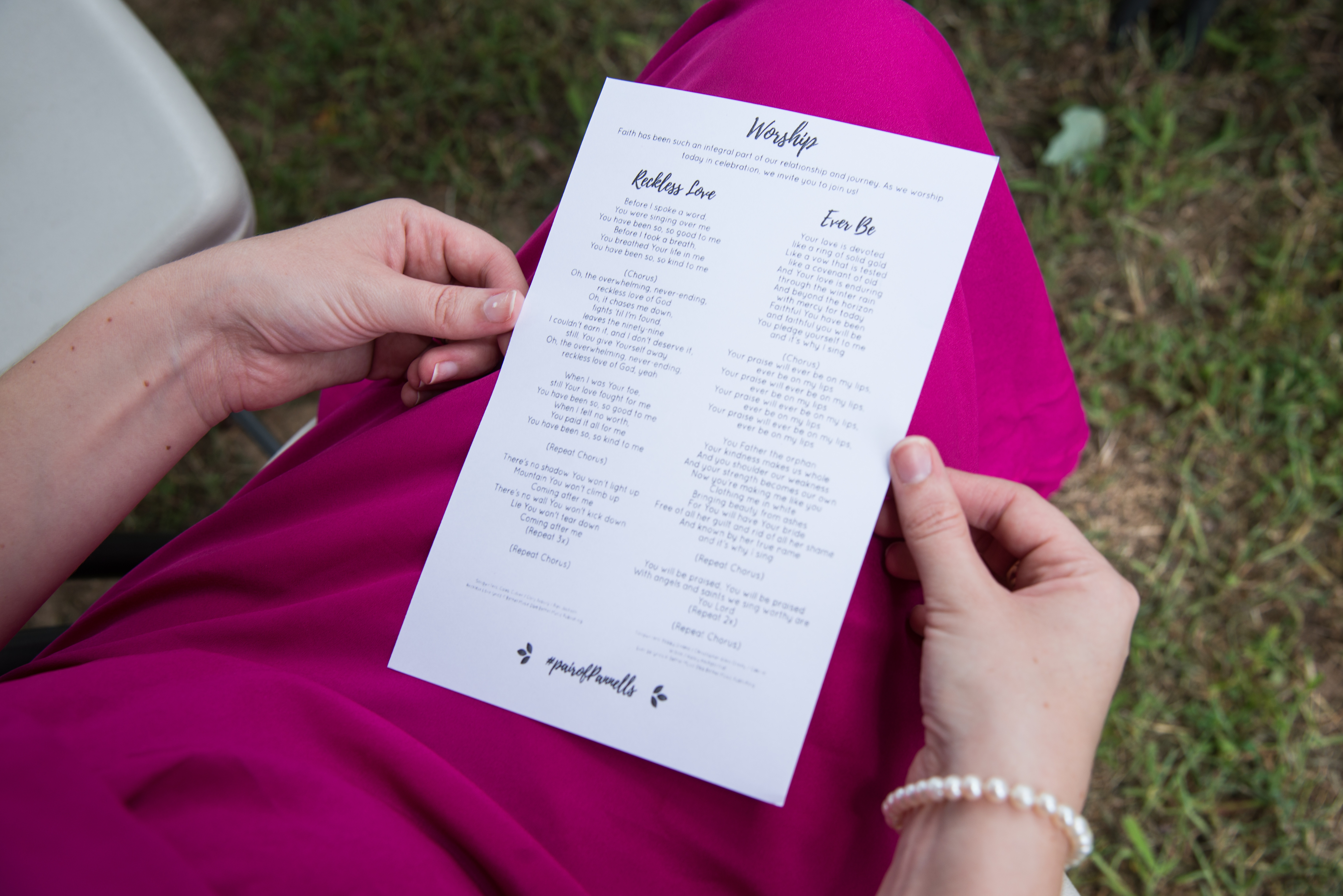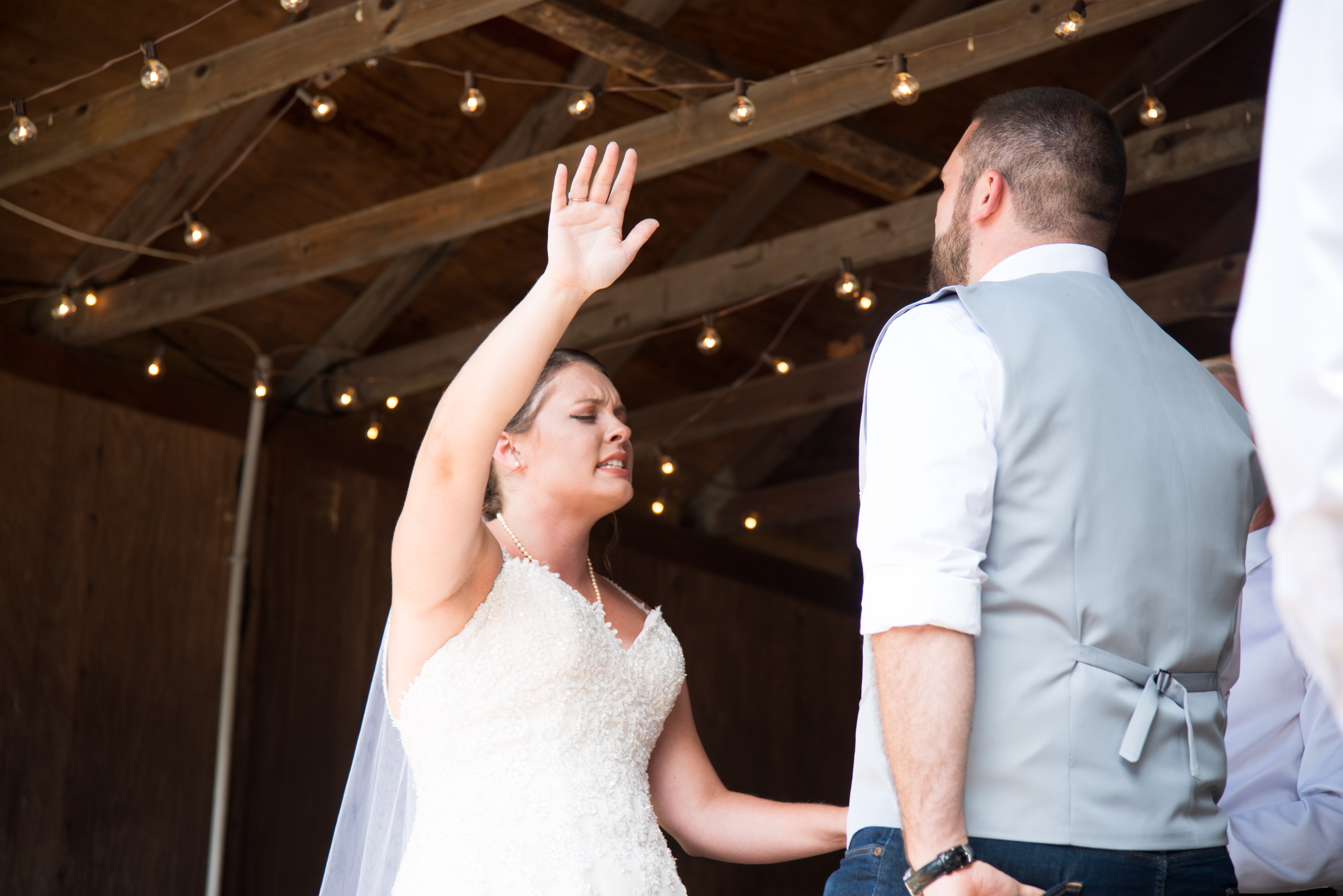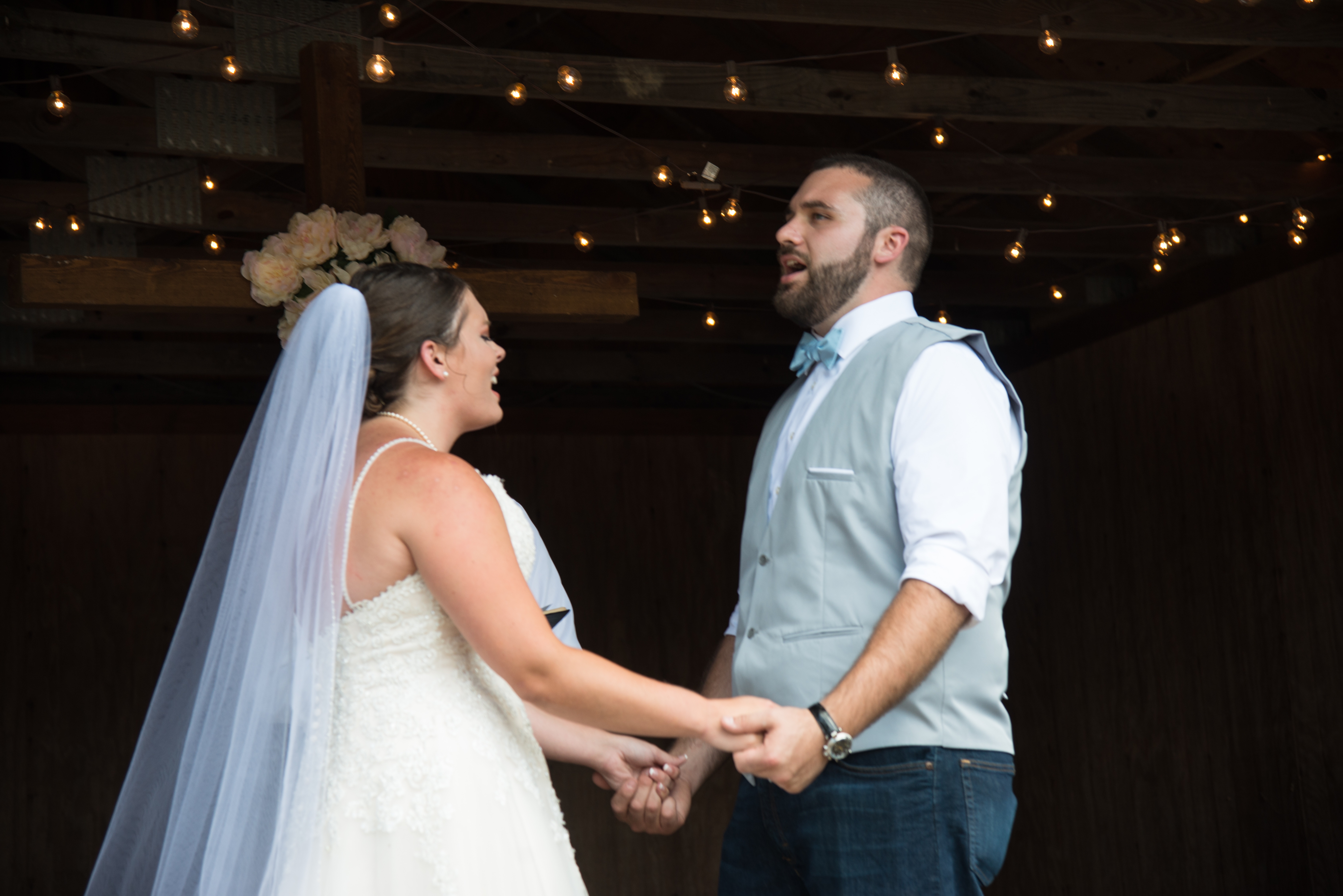 We chose to write our own vows and include congregational vows. We took a day and went to the beach to really focus on writing our vows. We did not read each other's in advance, but we did ask a friend to proofread them and make sure that they blended together well. It was super special to have these personalized promises to read to each other.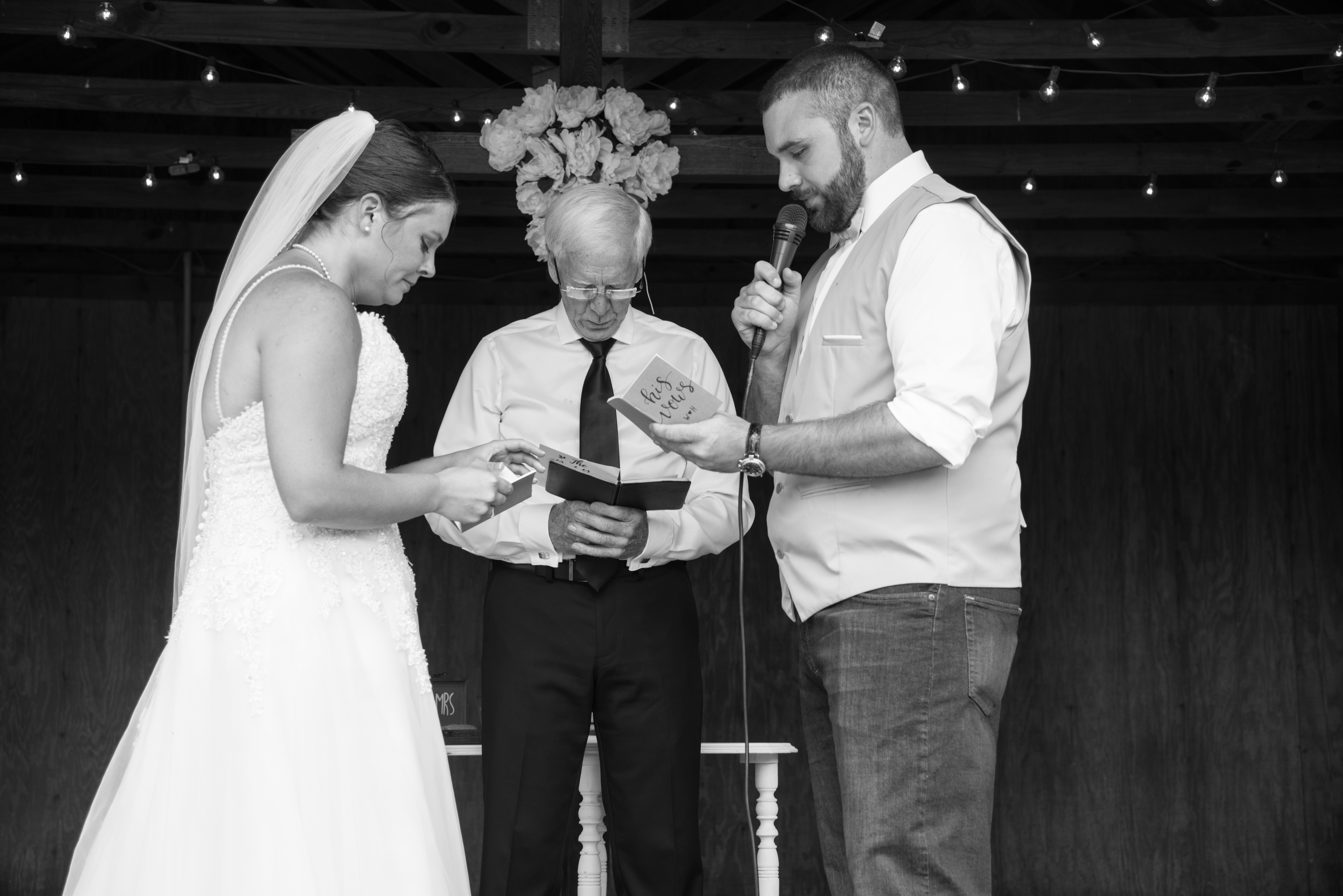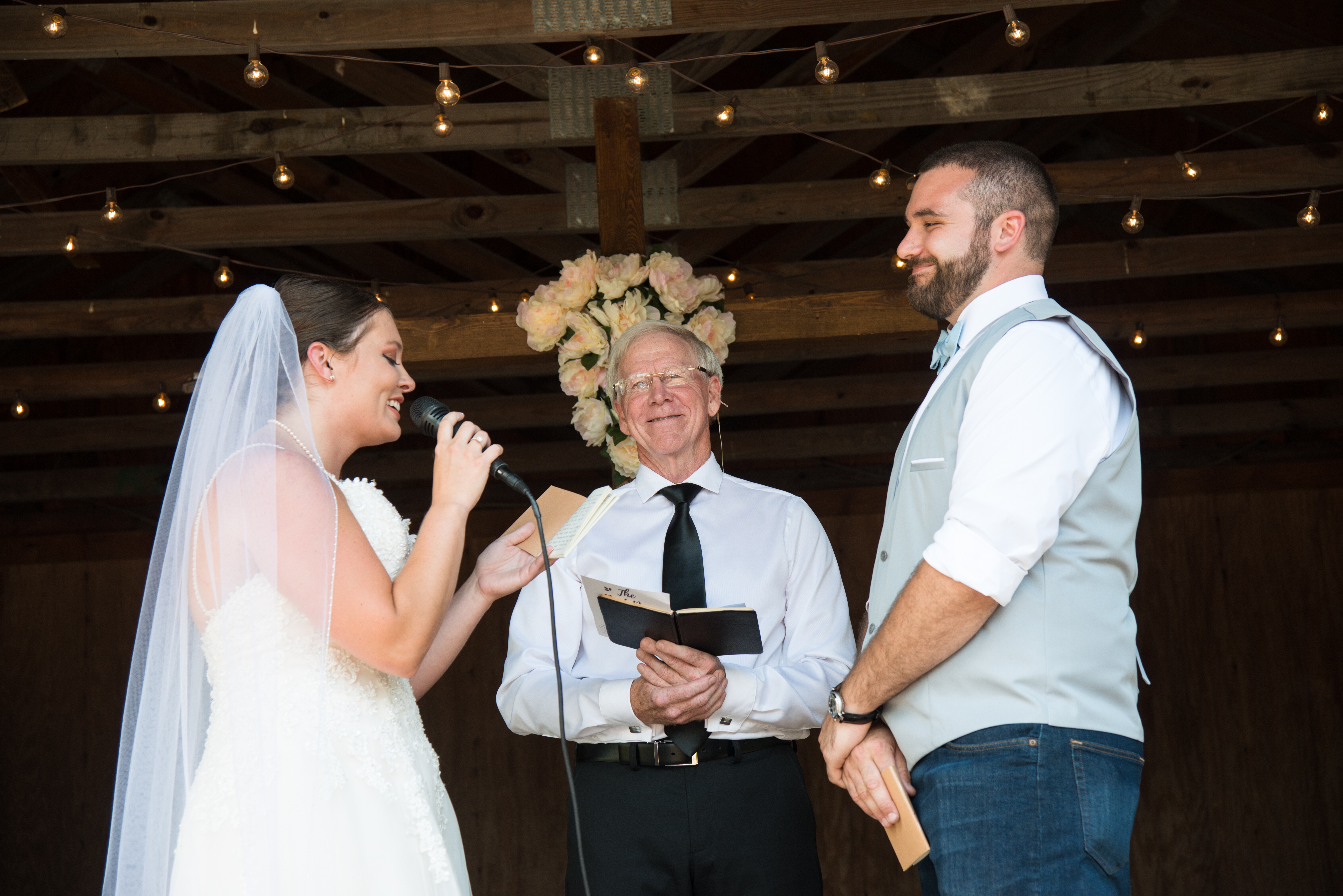 Before we got married, Will and I went through Francis and Lisa Chan's You and Me Forever. The study was a great reminder to us of the eternal impact of marriage. The study reminded us that marriage is about so much more than the two of us and is a beautiful picture of Christ and the church.
After our vows, Will and I chose to include the prayer that is at the back of the book.
Will:
God, help us love you deeply and fear you greatly. Teach us how to love each other for your sake. May the humility of Christ be seen in the way we treat each other. show us how to enjoy each other without neglecting your mission. Remind us of the brevity of life so we share your good news urgently. Remind us of heaven so we will face rejection and trials joyfully.
Hannah:
When we settle down for too long, prod us to run. When we are prone to fight, teach us to fight together, and to fight for you. When we are tempted to run away, bring repentance and renewal. May we spend our married days reminding each other of your glory, your gospel, your love, your power, your mission, and your promise of what is to come.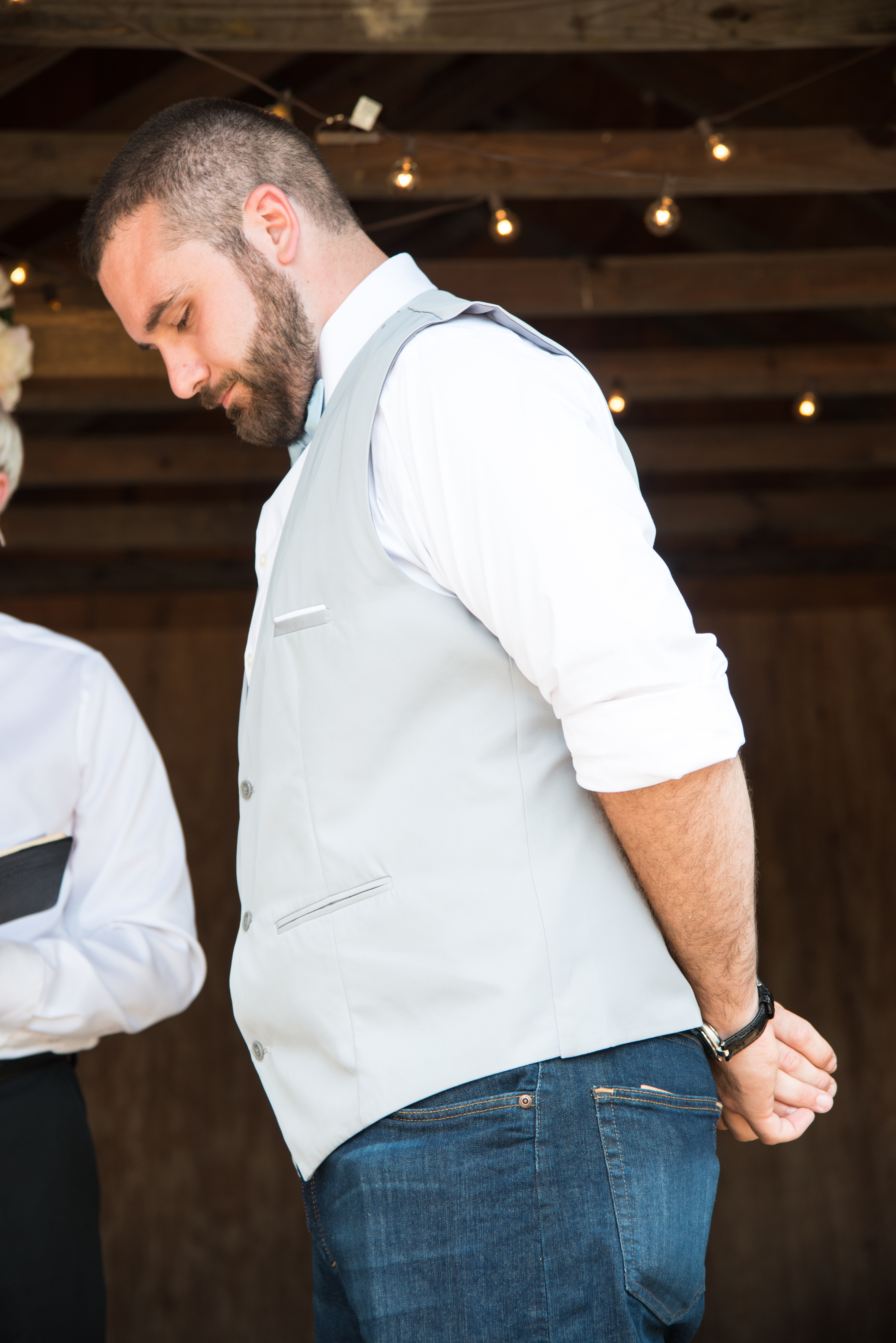 After our vows, we exchanged rings. I found our ring exchange here after doing a whole lot of searching for wording that we liked.
I give this ring to you as a sign that I choose you, and as a reminder that I will always love you. Though I will fail and fall, may this ring stand as a reminder that I will stay faithful as Jesus has been faithful to us.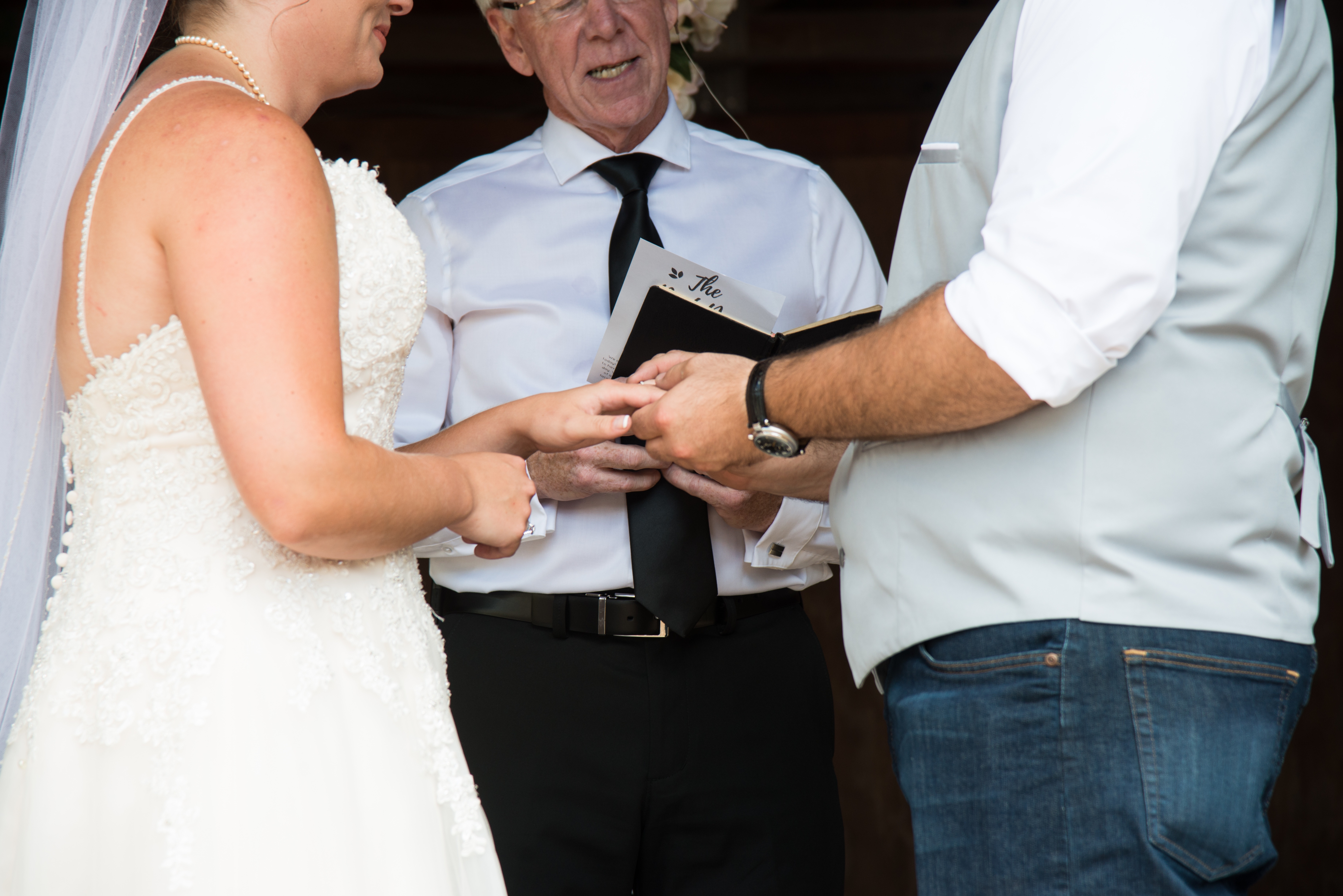 The next part of our ceremony accidentally got left out, but it's something I really wish we had done so I would highly recommend it. I had written in the order of service for our officiant to invite us to look out at the audience and take it all in. I wanted to attribute where I got my inspiration, but I can't seem to find the blog post. I know I found it on Pinterest though and I just tweaked the wording a bit! By the end of the night, I realized that many of our out of town guests left before the reception and since I never really looked out during the ceremony, I honestly had no clue who was there.
Before I pronounce you husband and wife, I have just one more thing I want you to do.  Your wedding day will fly by. It's a day filled with emotion, friends, family, pictures, and dancing.  Many people remember fast their own wedding day flew by. So I want you to take a few seconds to look into each other's eyes.  Think about the happiness that you're feeling in this place, in this moment. Really let that feeling register in your heart and your mind. Now take a moment to look out at your friends and family who have gathered here to celebrate you. Each of them has played a special role in your journey as individuals and will continue to in your journey as husband and wife. Take a moment to take it all in. 
After this chance to look out at our guests, our officiant pronounced us husband and wife and invited Will to kiss the bride. Will and the officiant had planned a little extra surprise here. All of the groomsmen along with Will pulled out  a white flag in surrender. Ironically, I asked every one of them to tuck in whatever was hanging out of their pockets before they walked out and it never occurred to me to wonder what was in their pockets!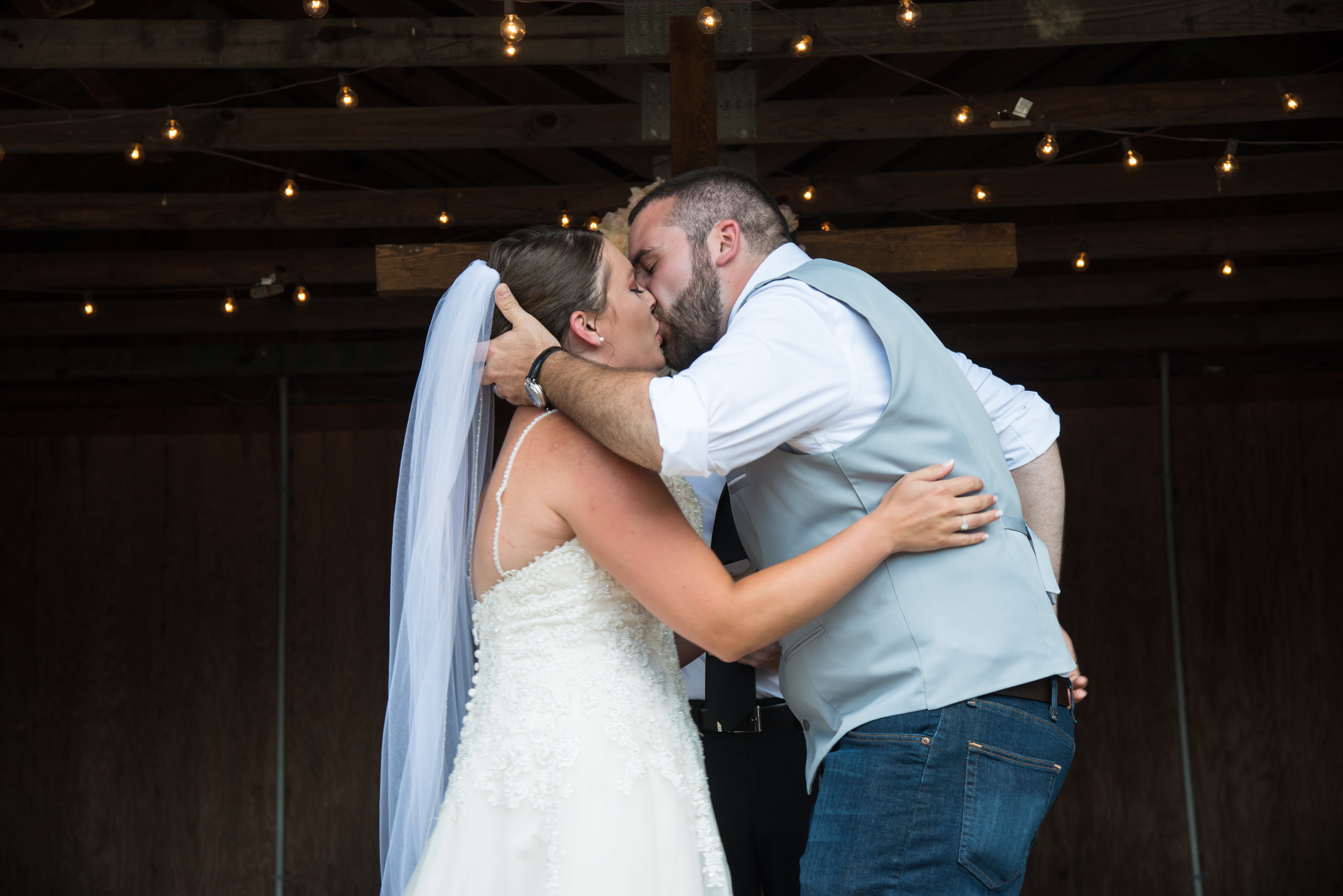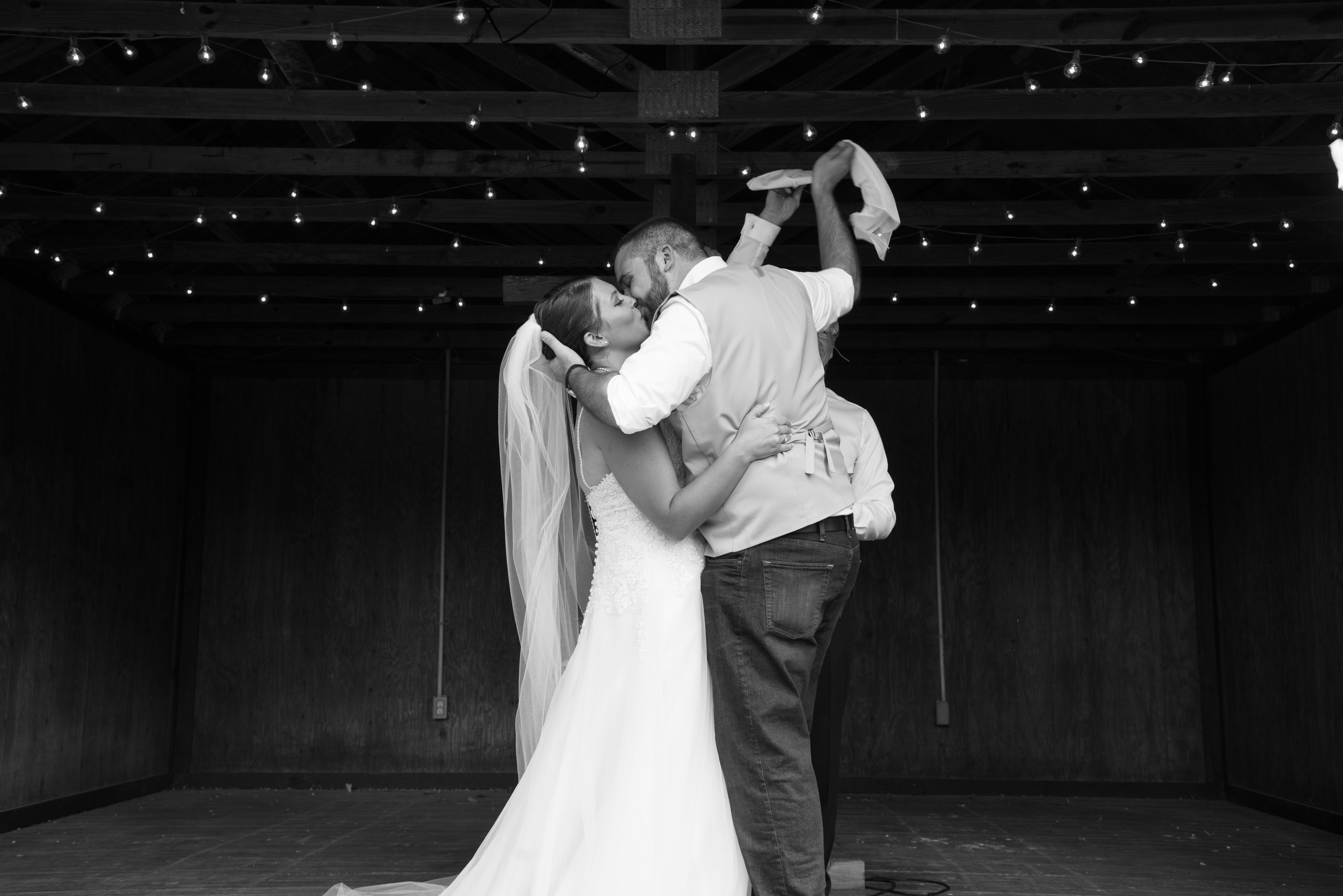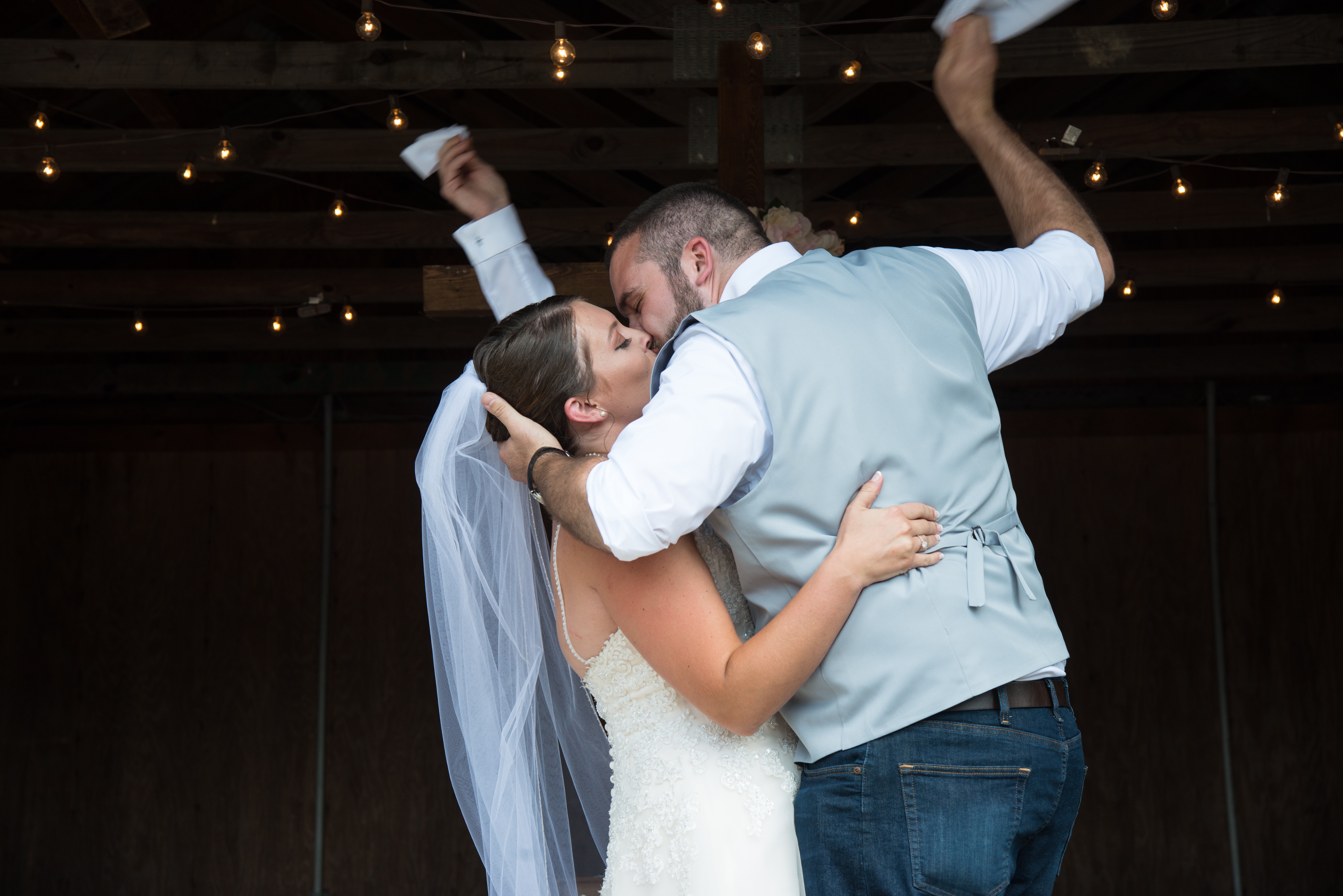 Finally, Will and I were announced as Mr. & Mrs. William Pannell and we walked out to our recessional song You are the Best Thing by Ray LaMontagne.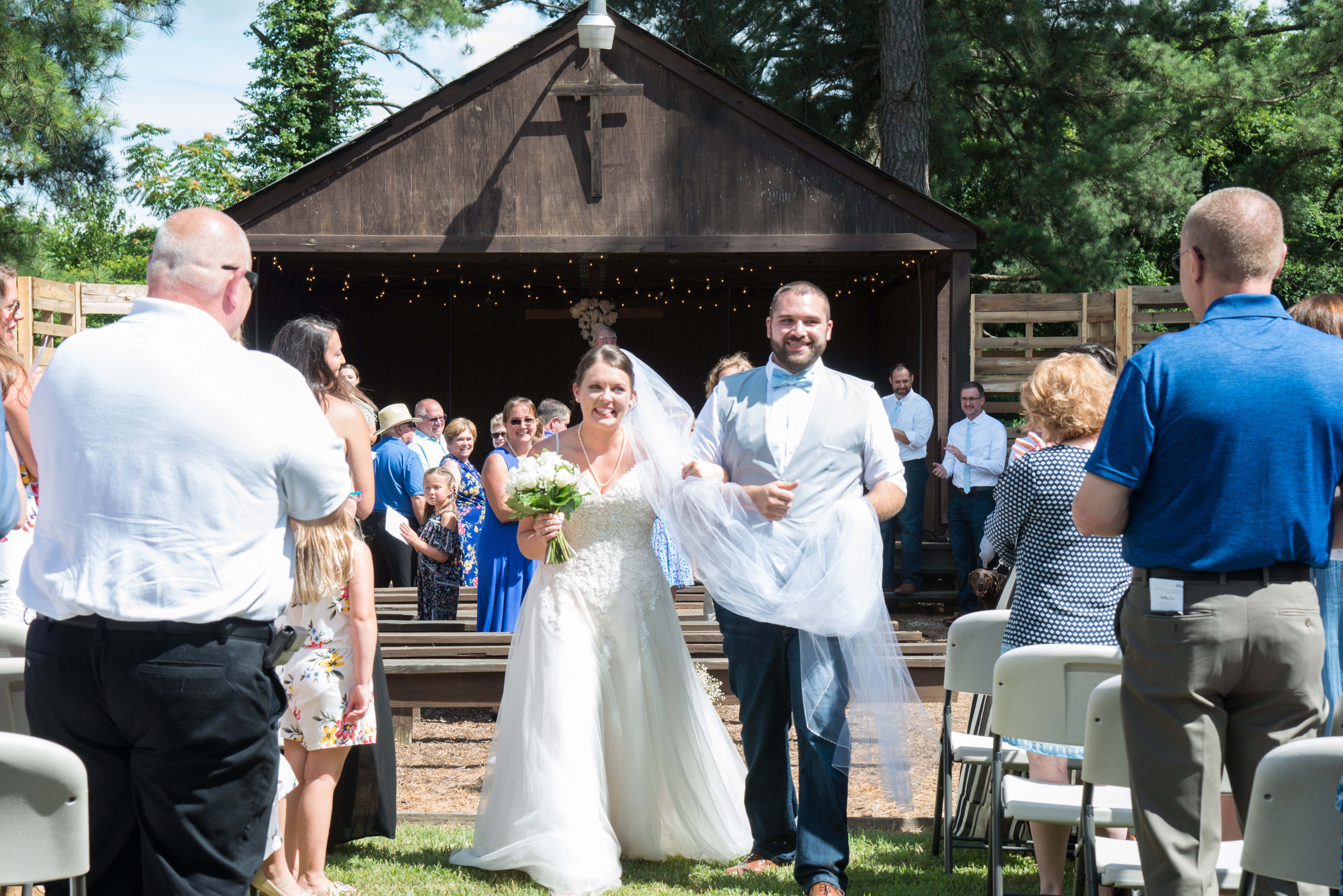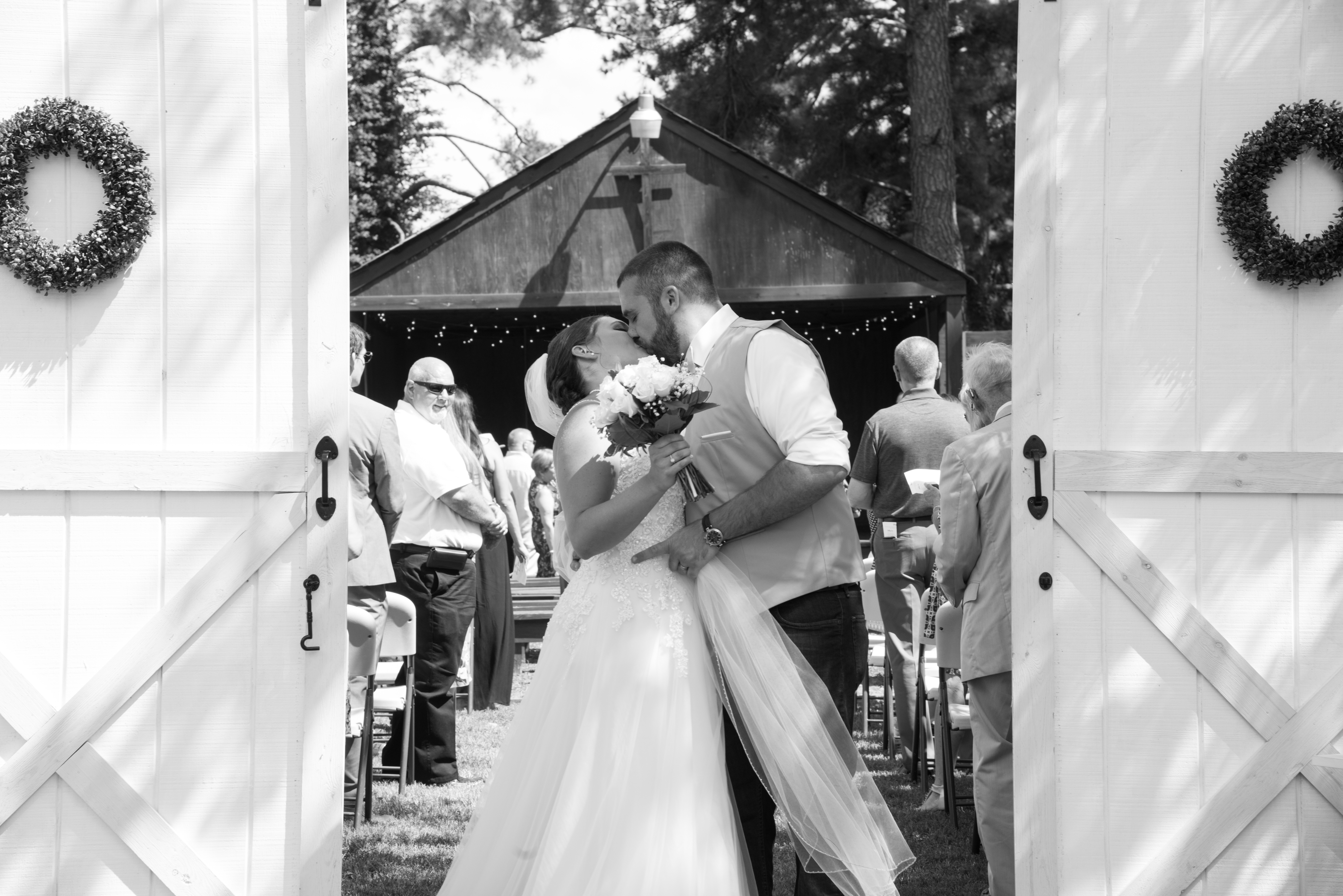 Portraits
We took a bit of time after the ceremony to do photos while everyone enjoyed chips and salsa at cocktail hour. Here's a few of our favorite shots!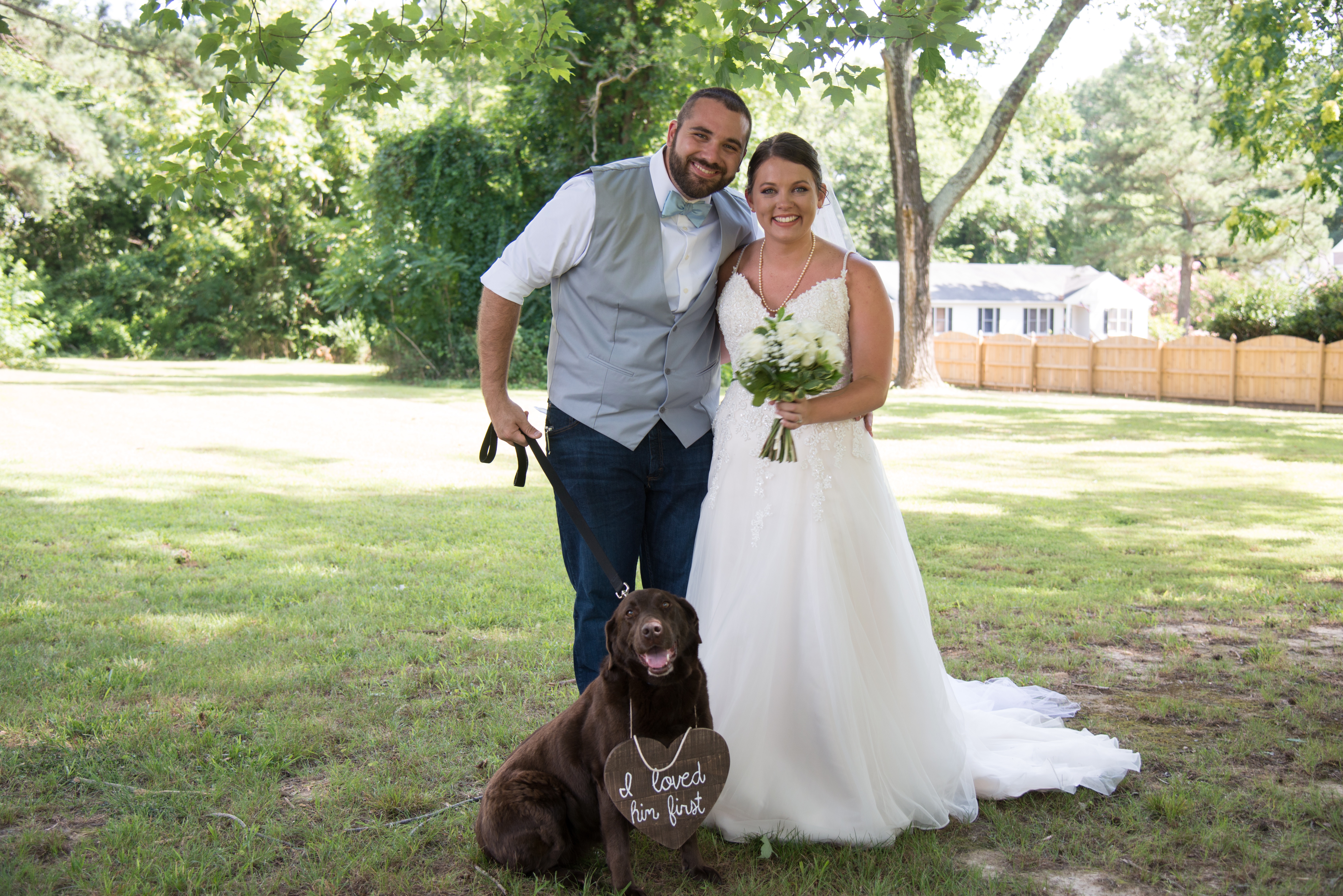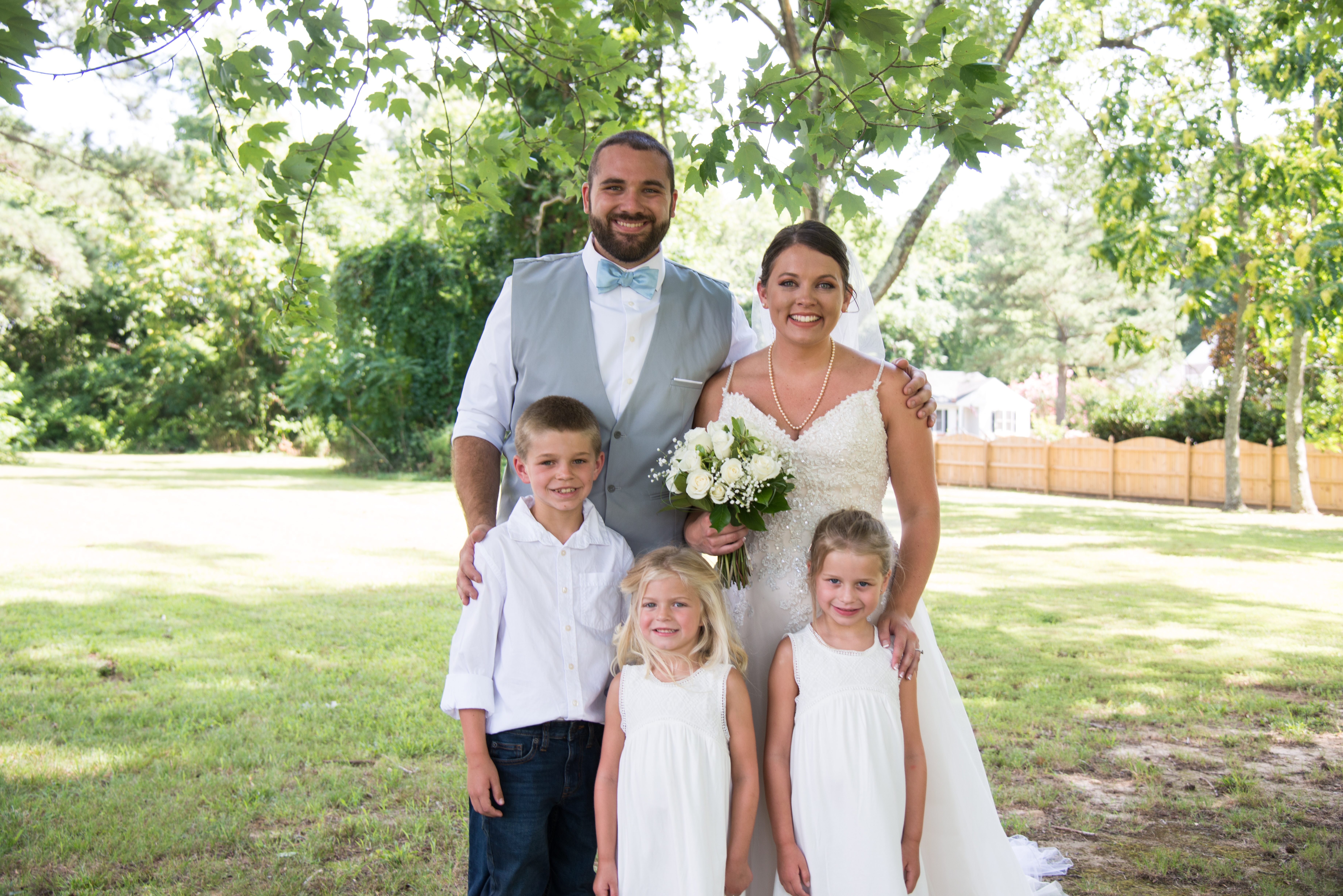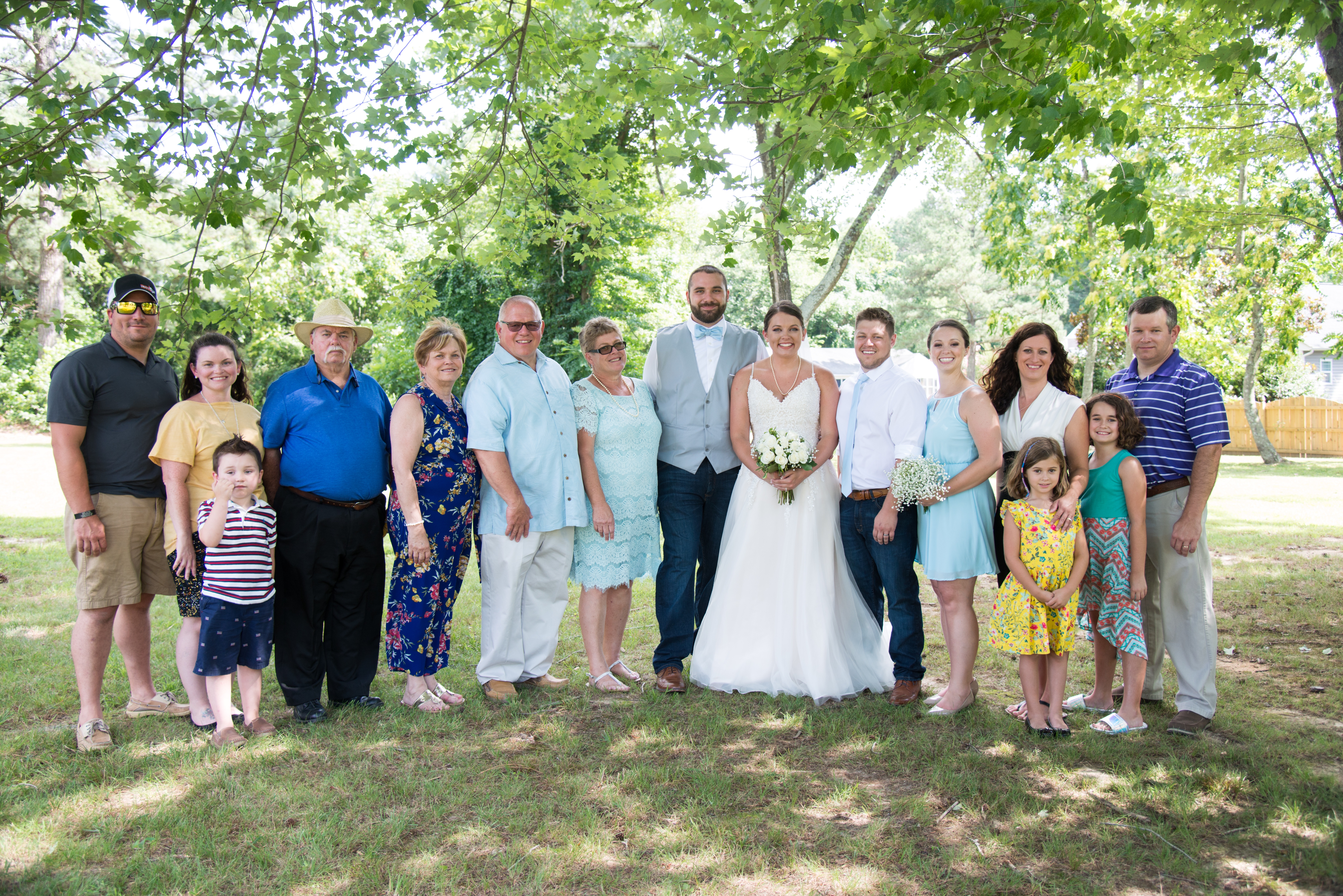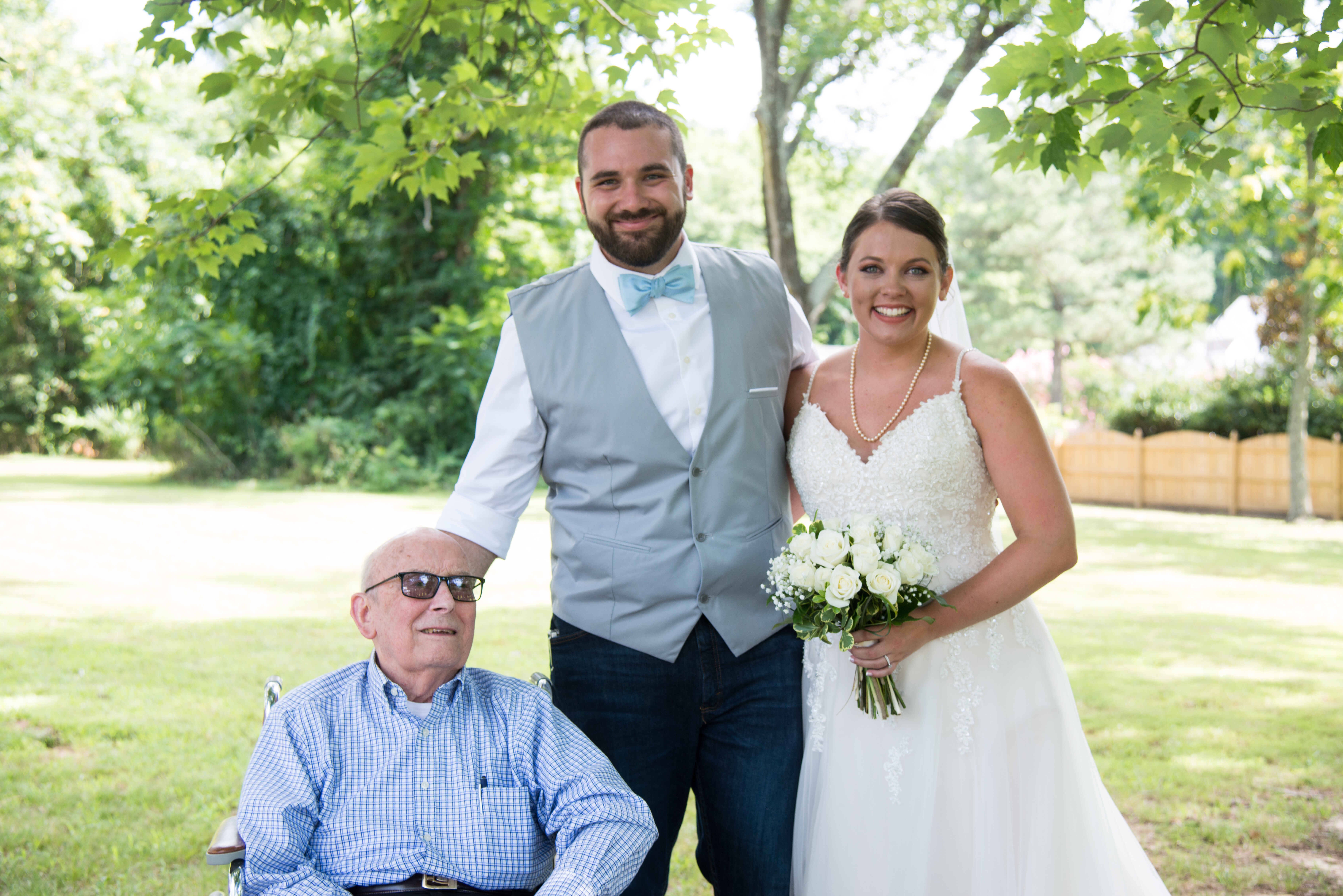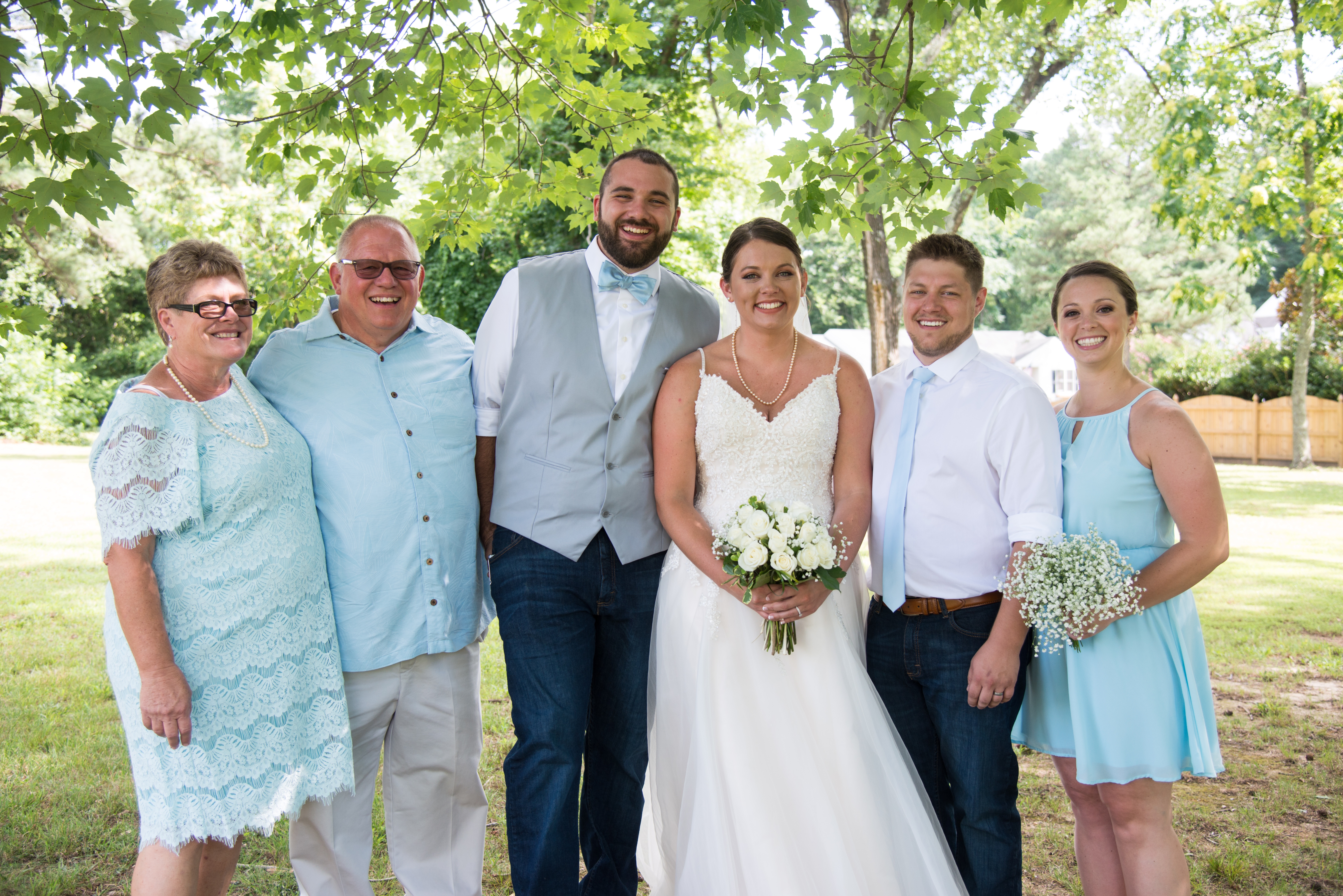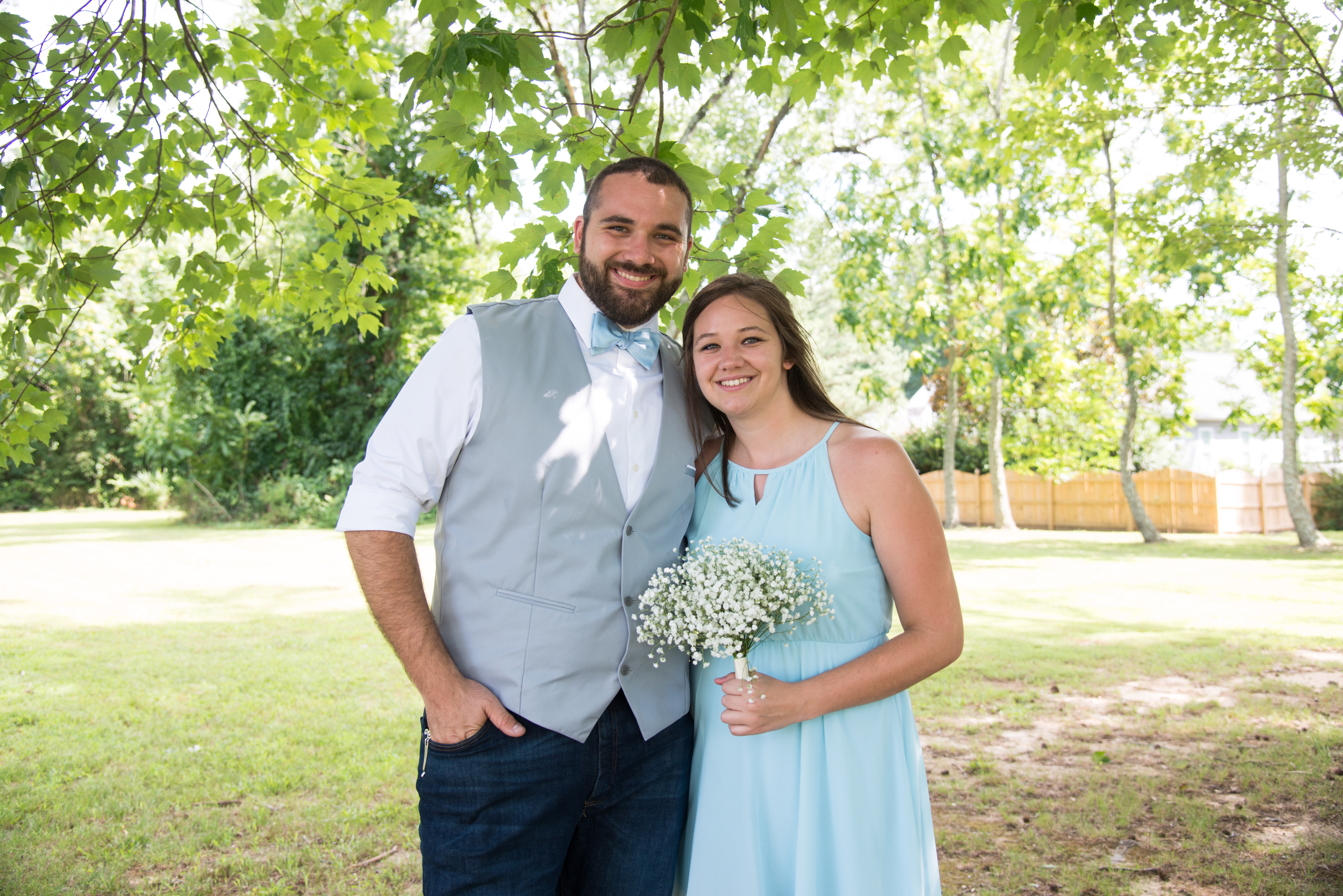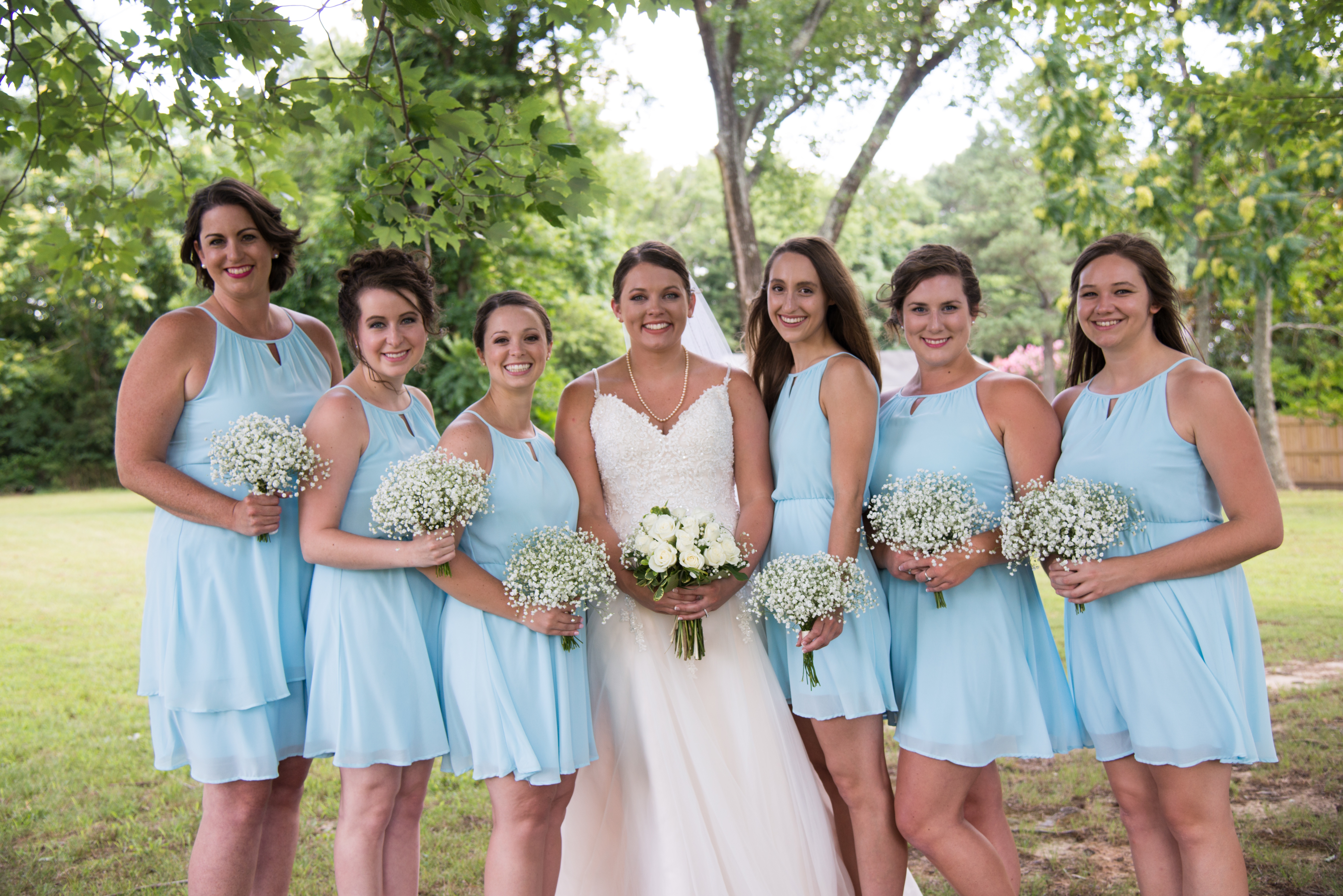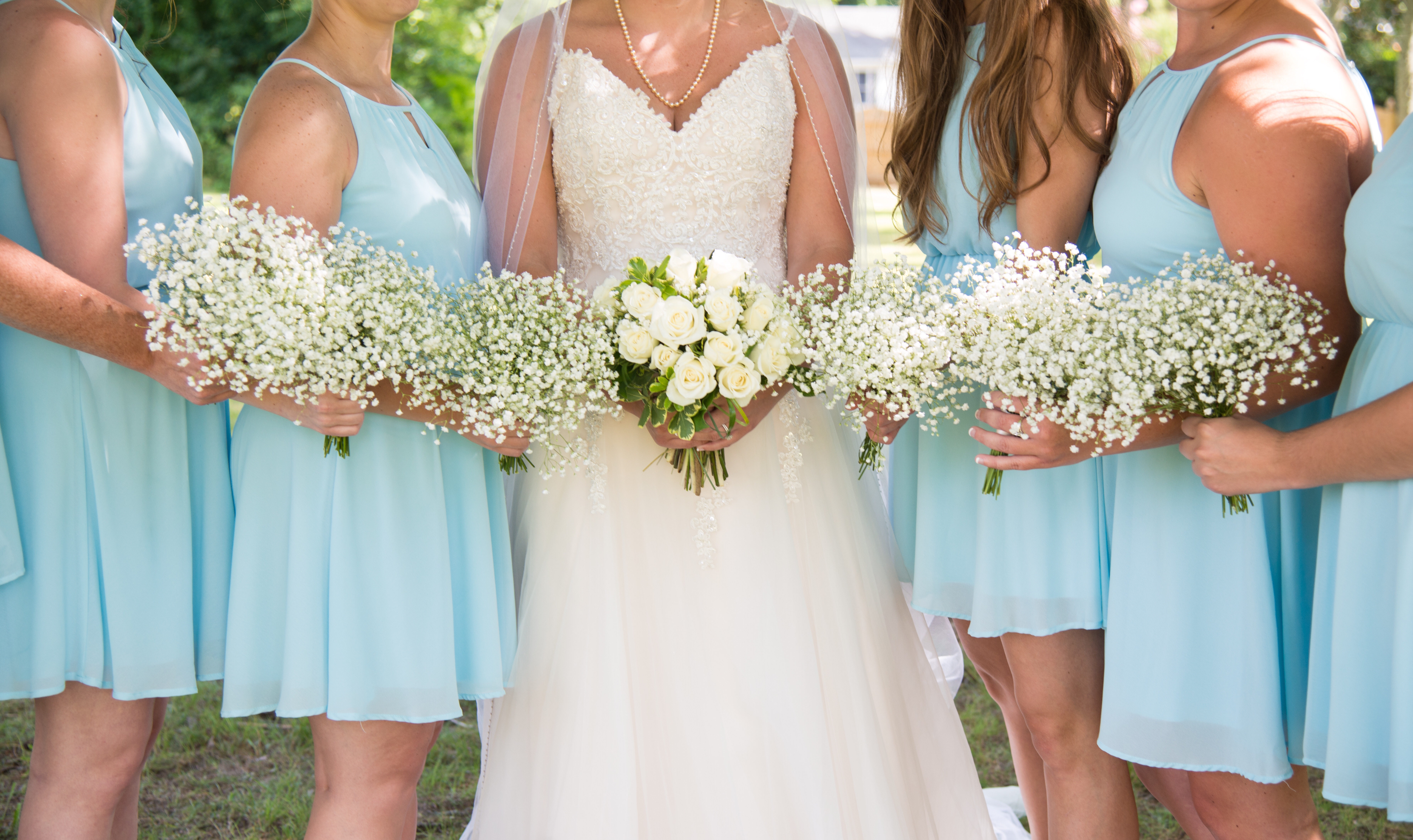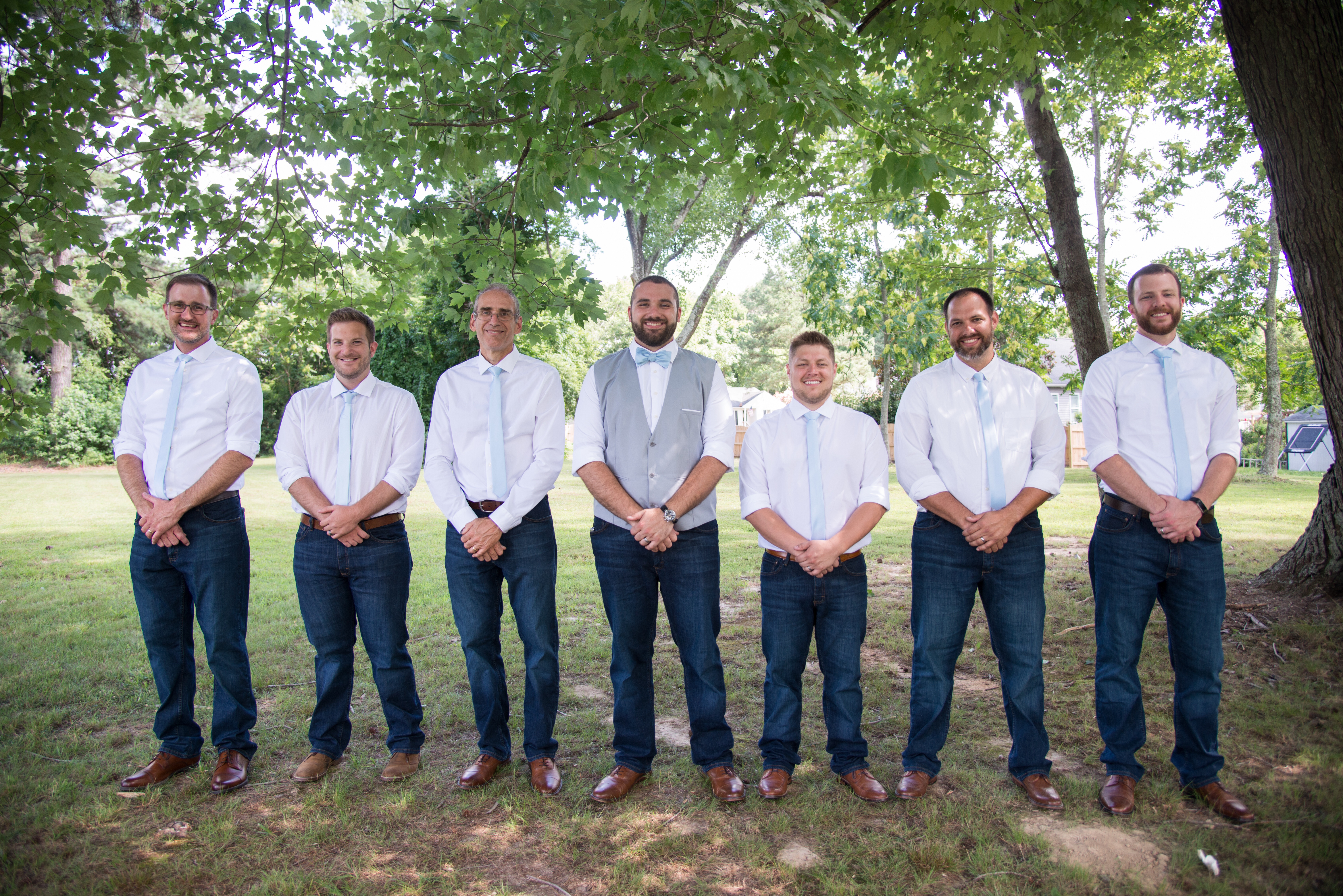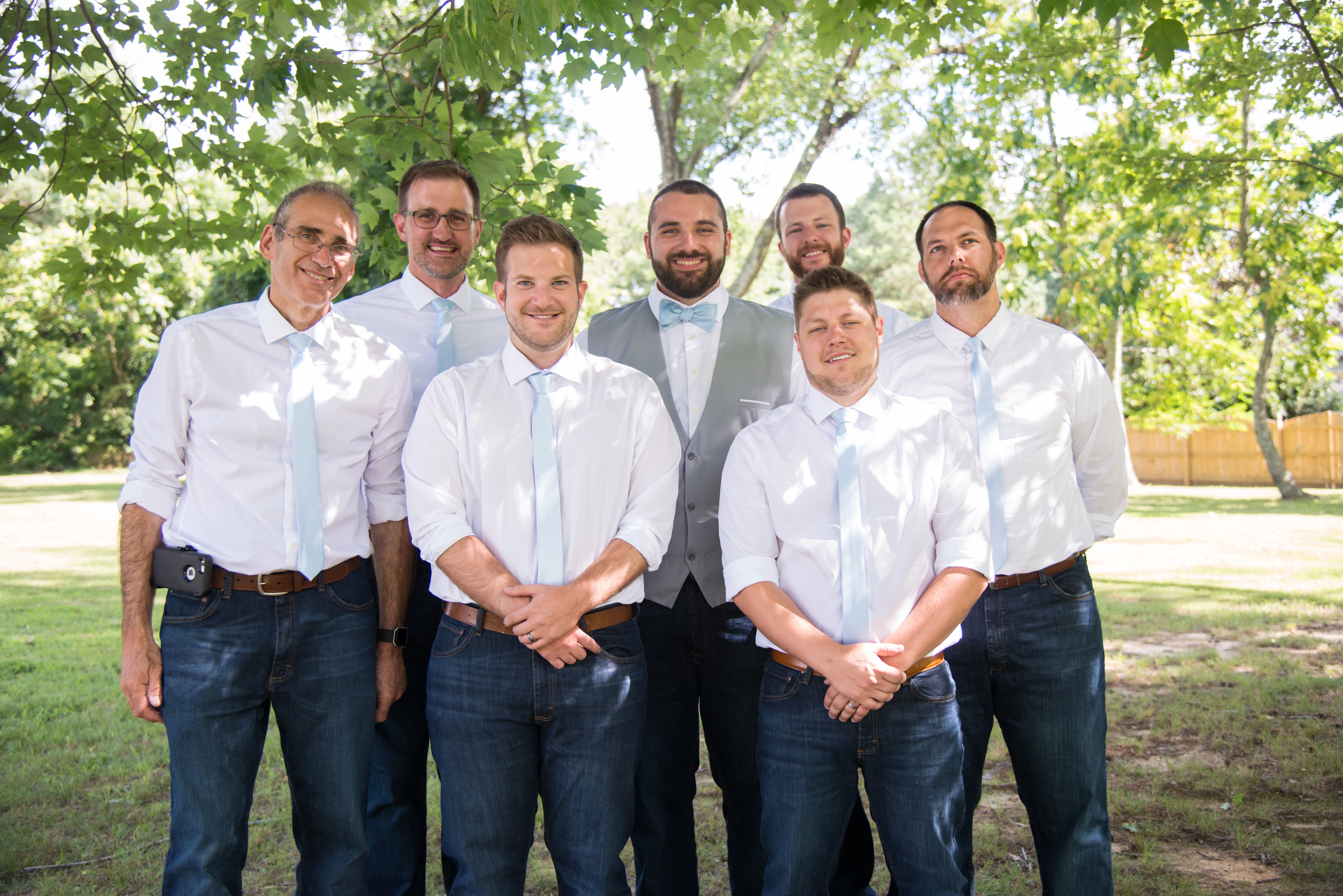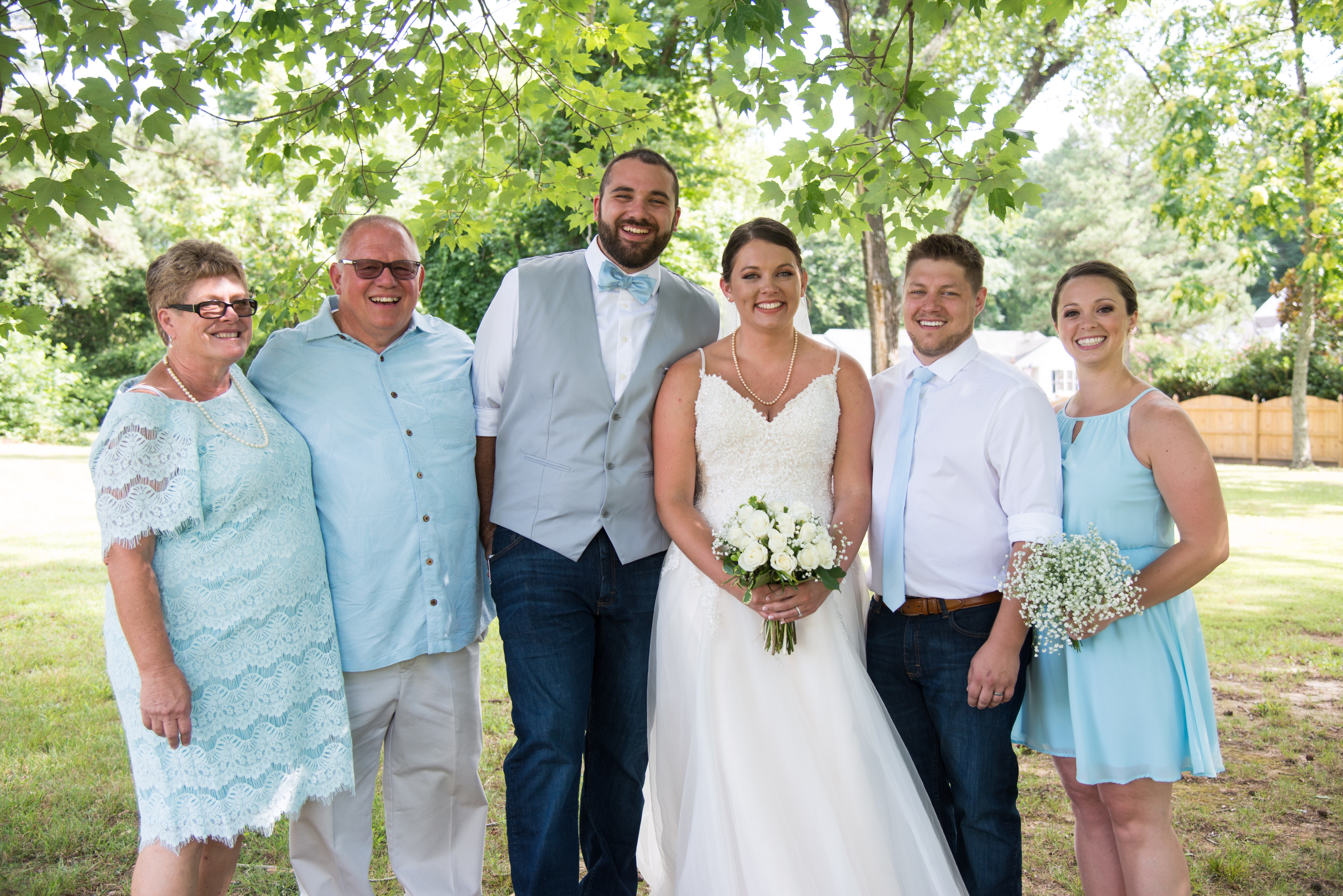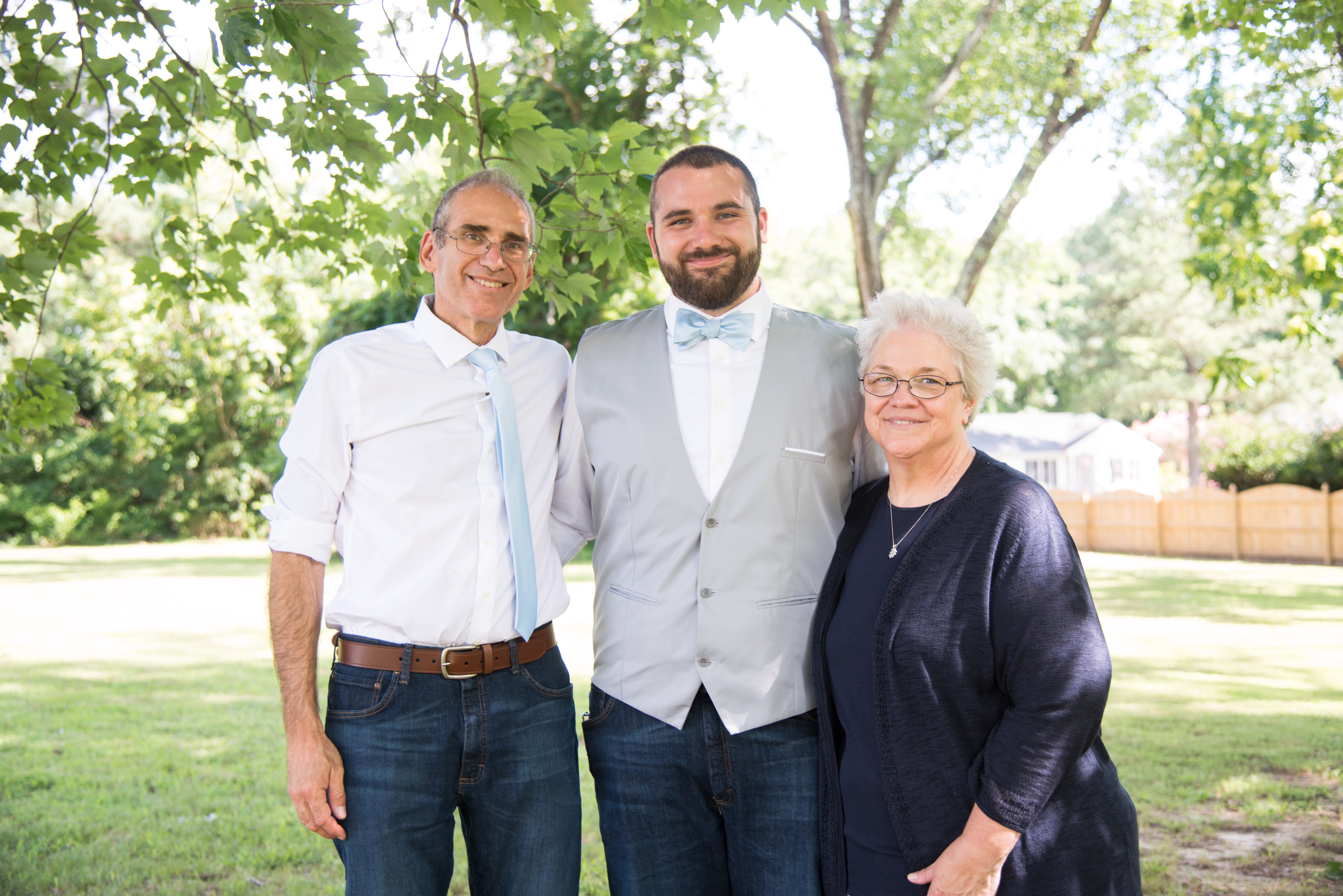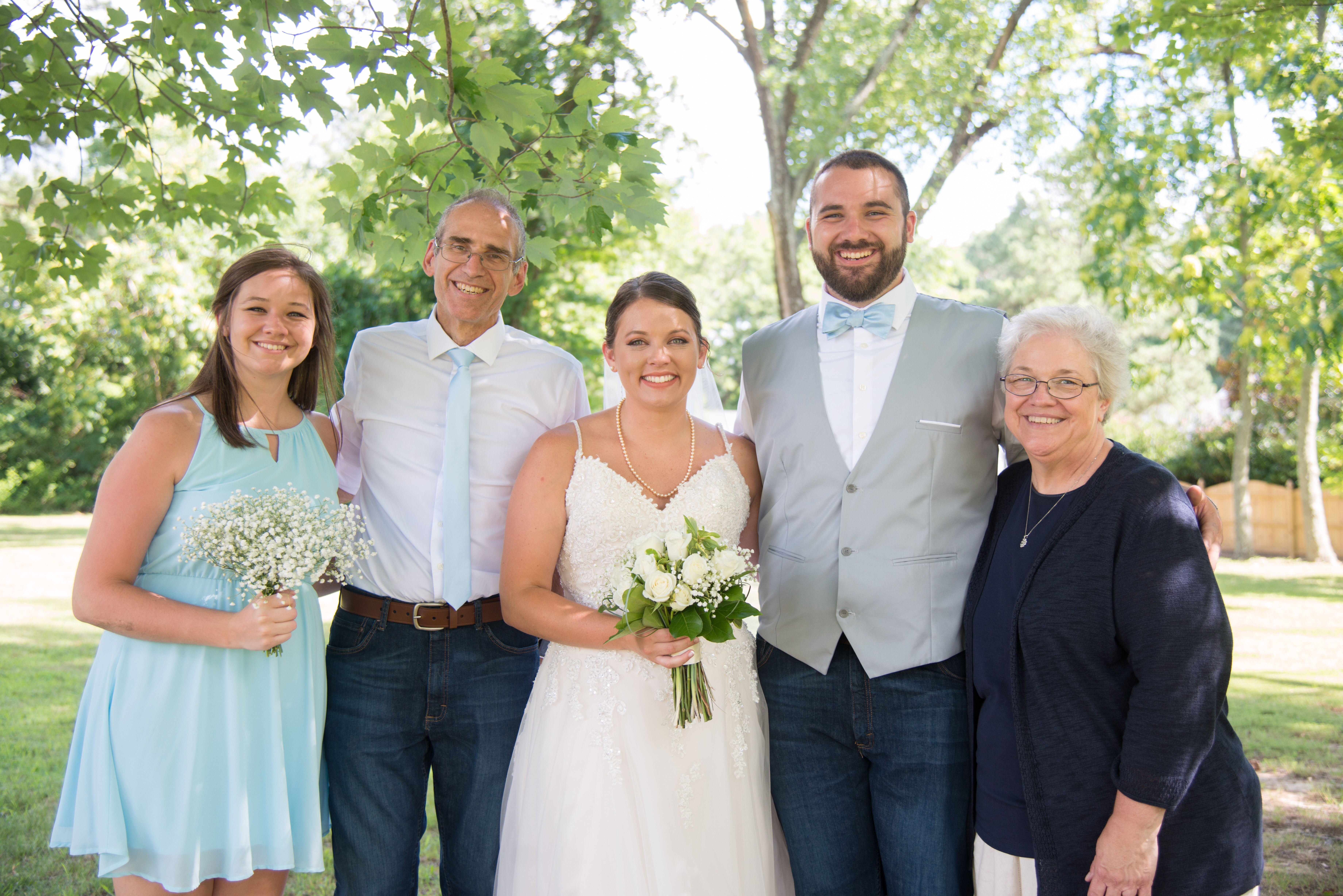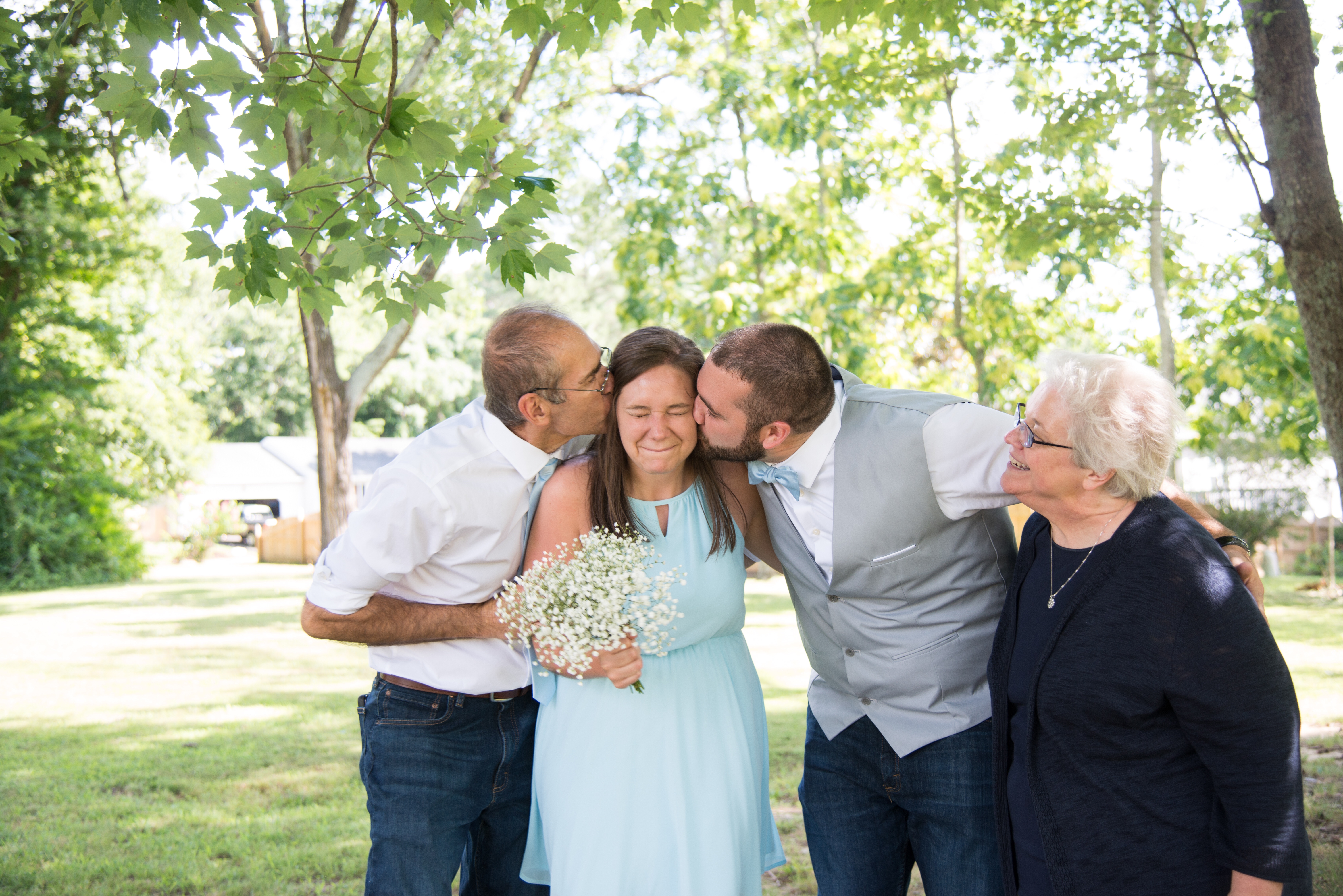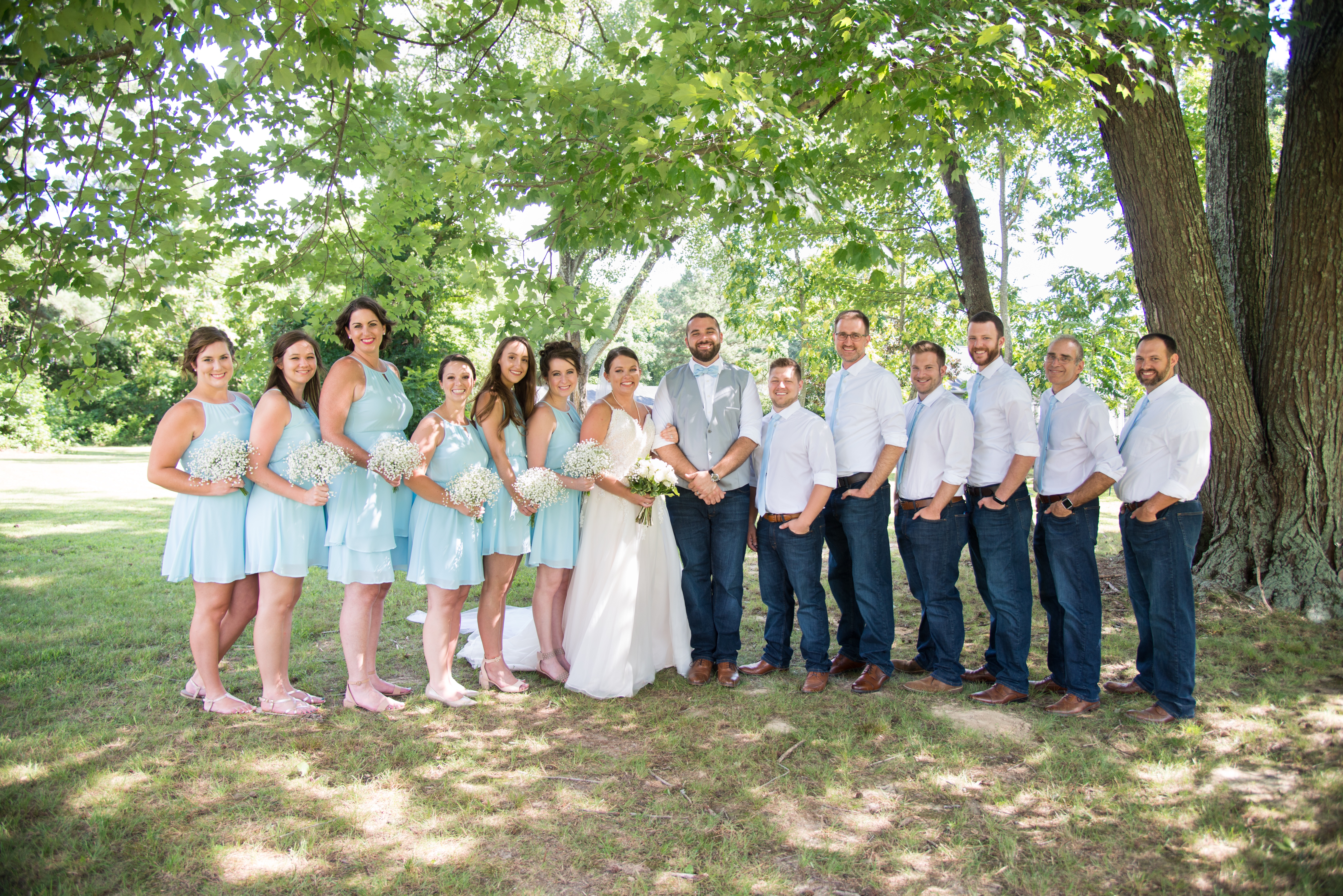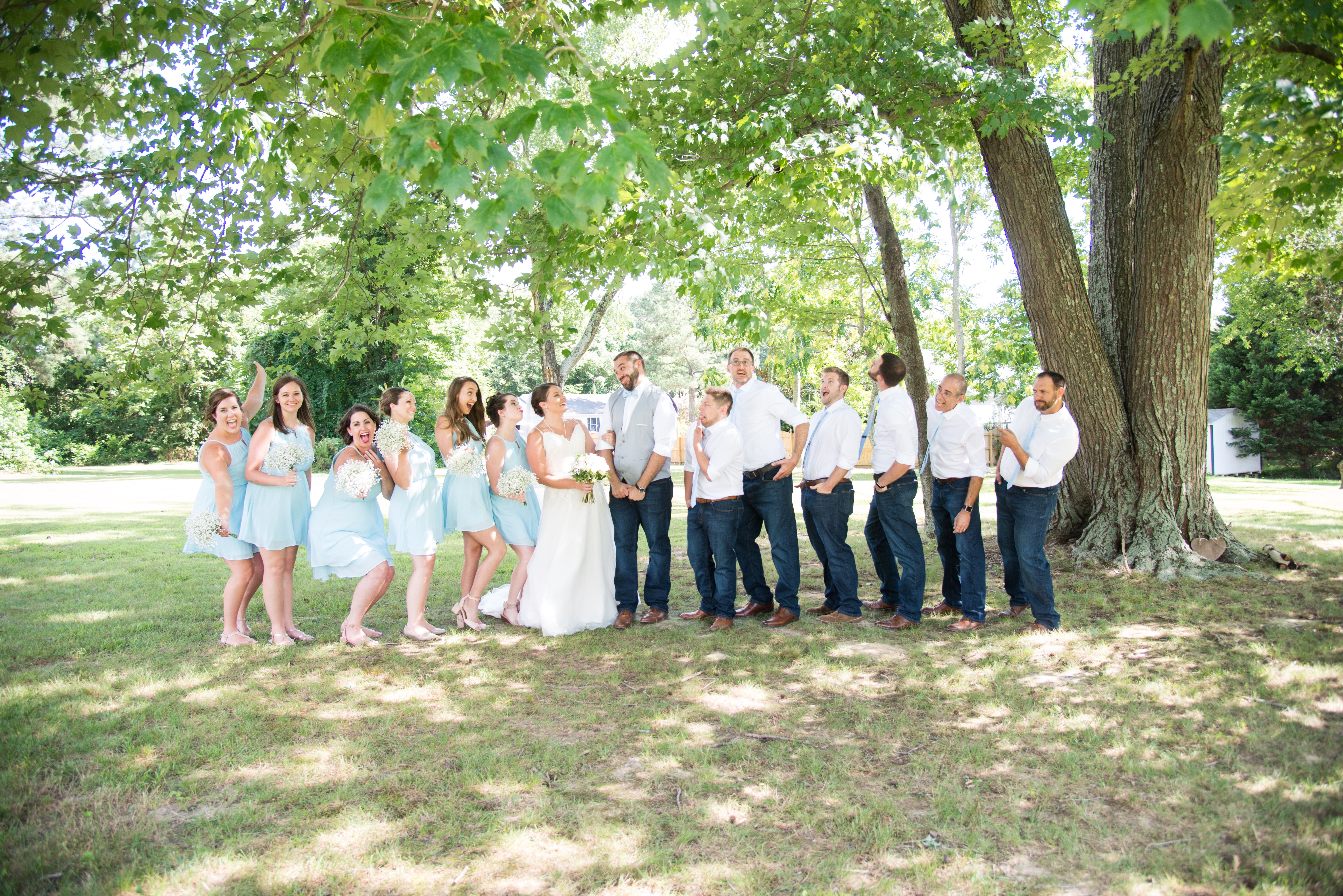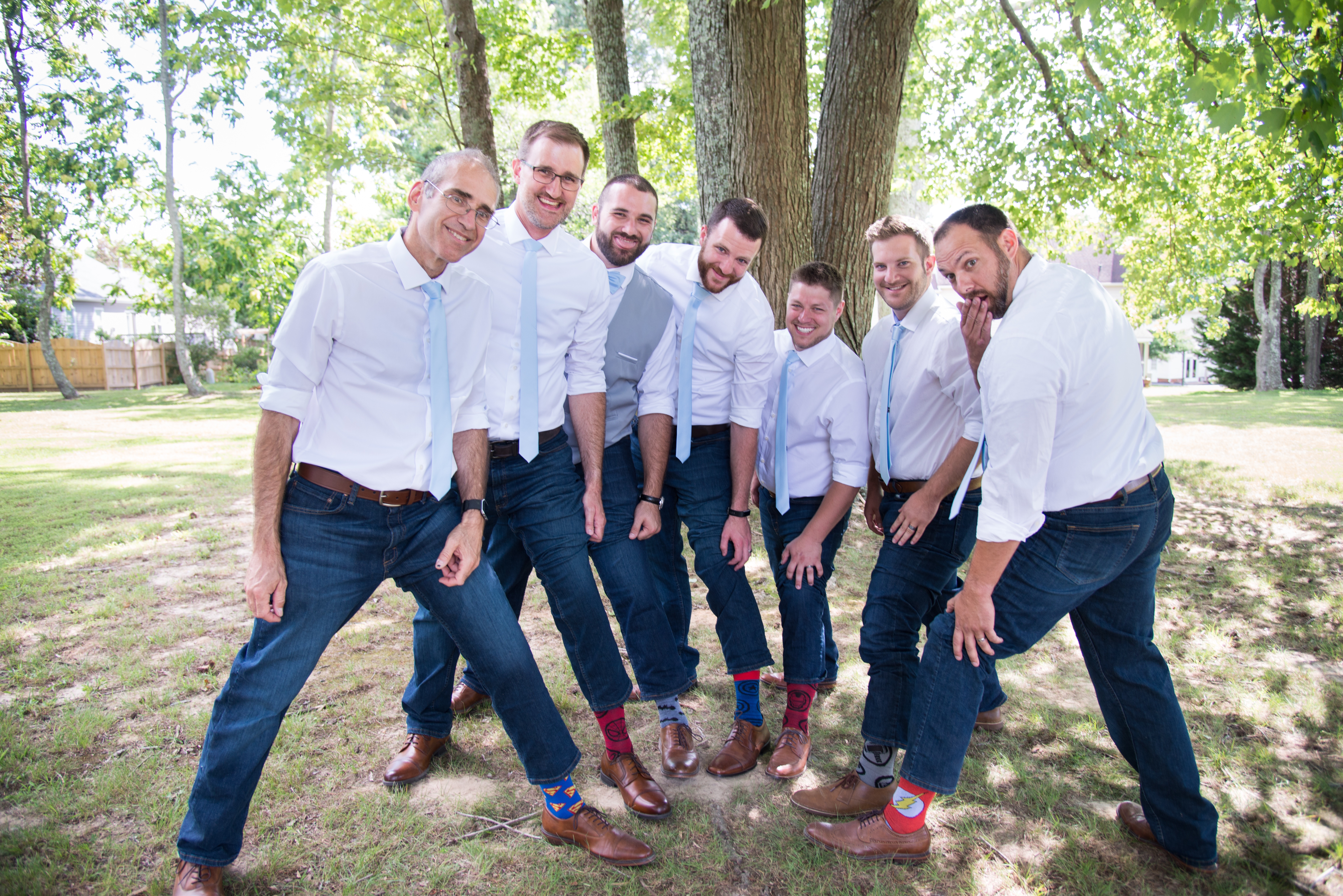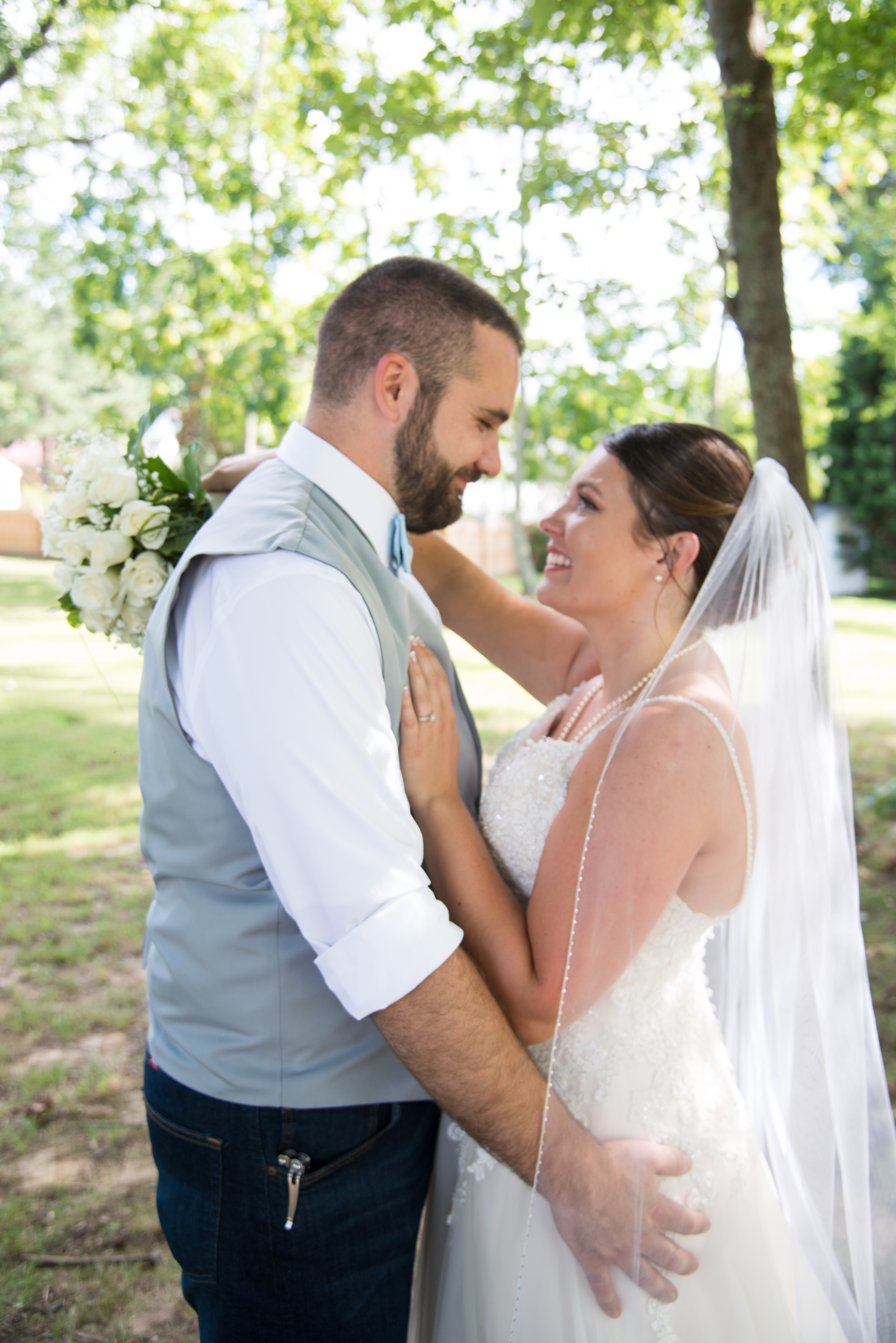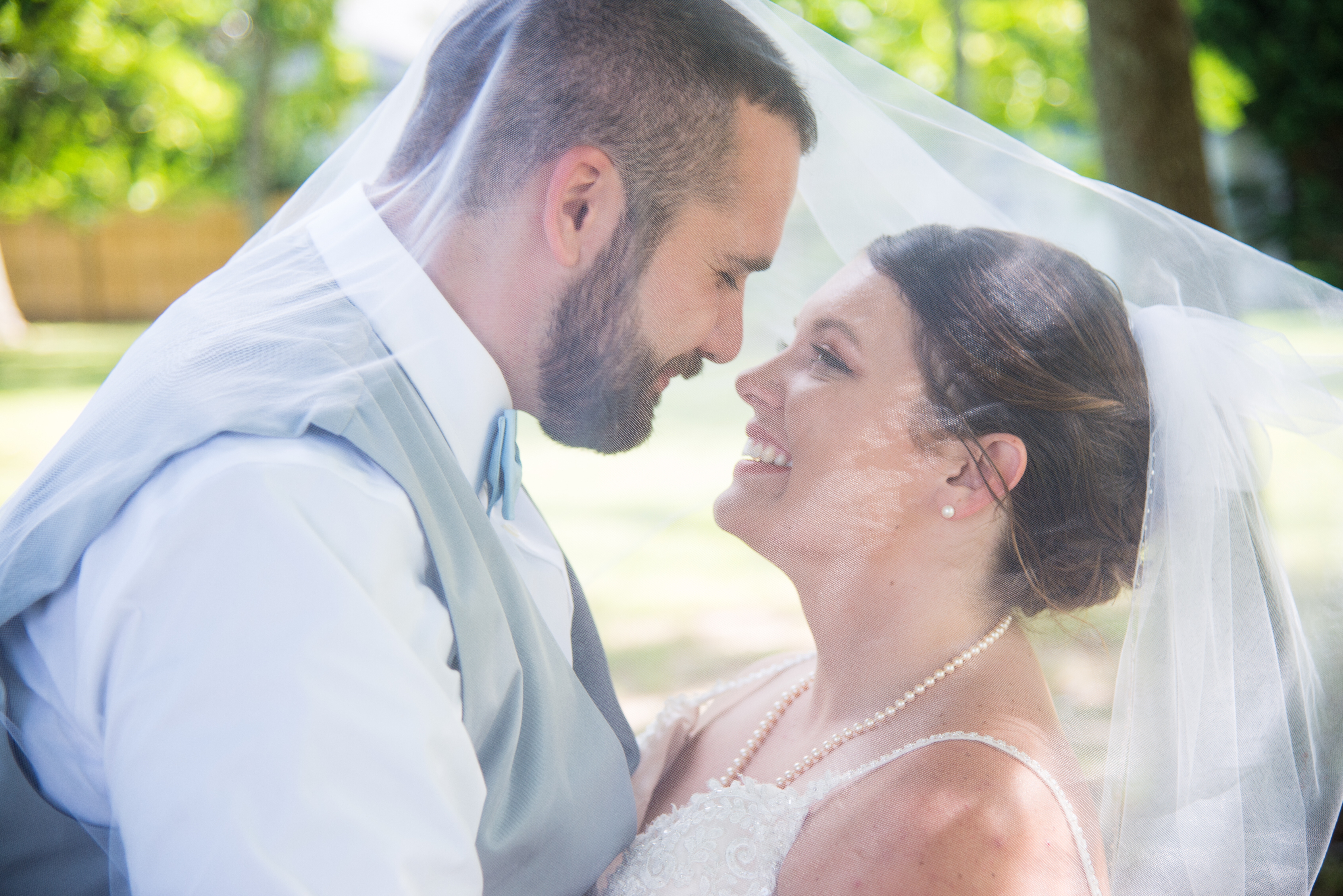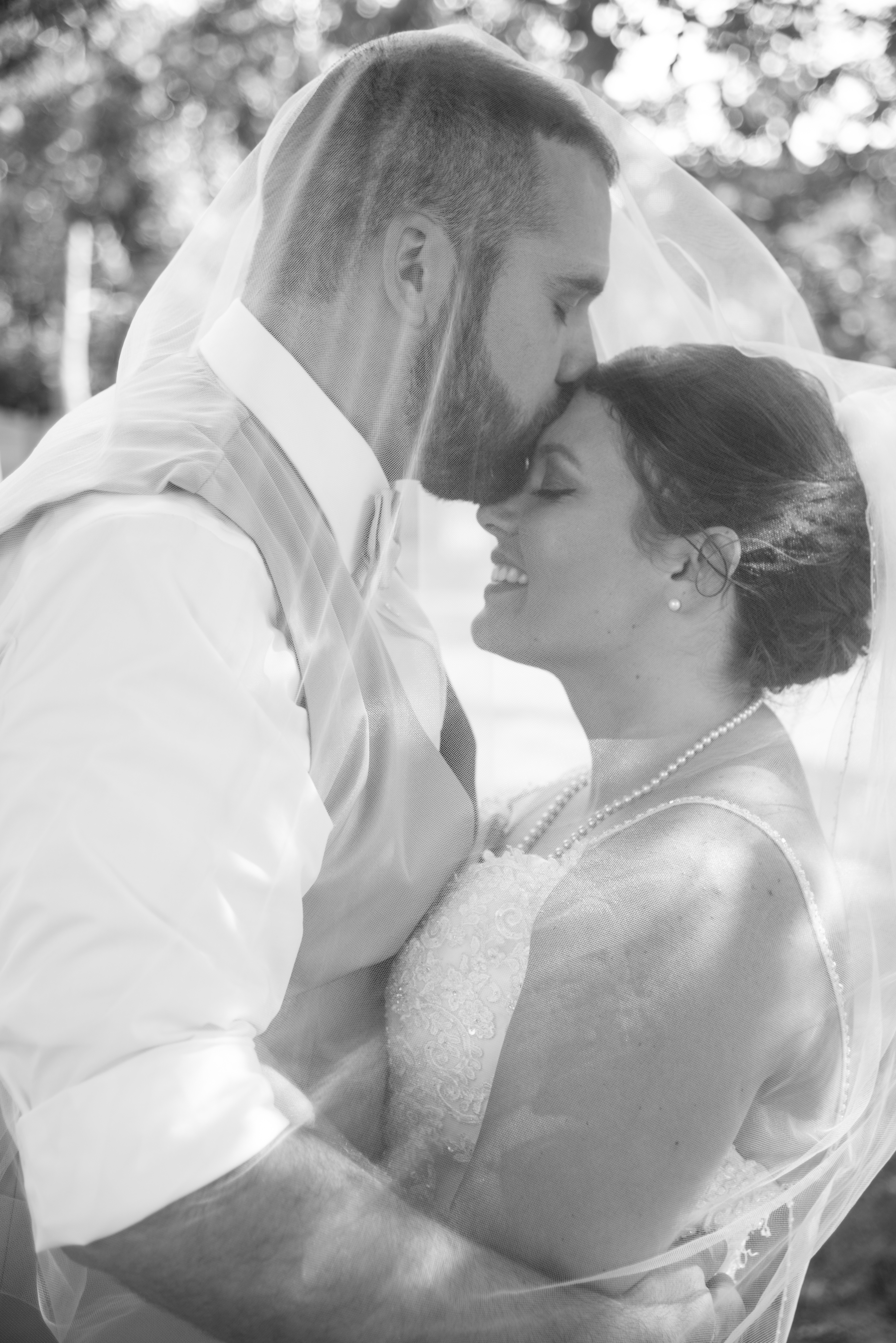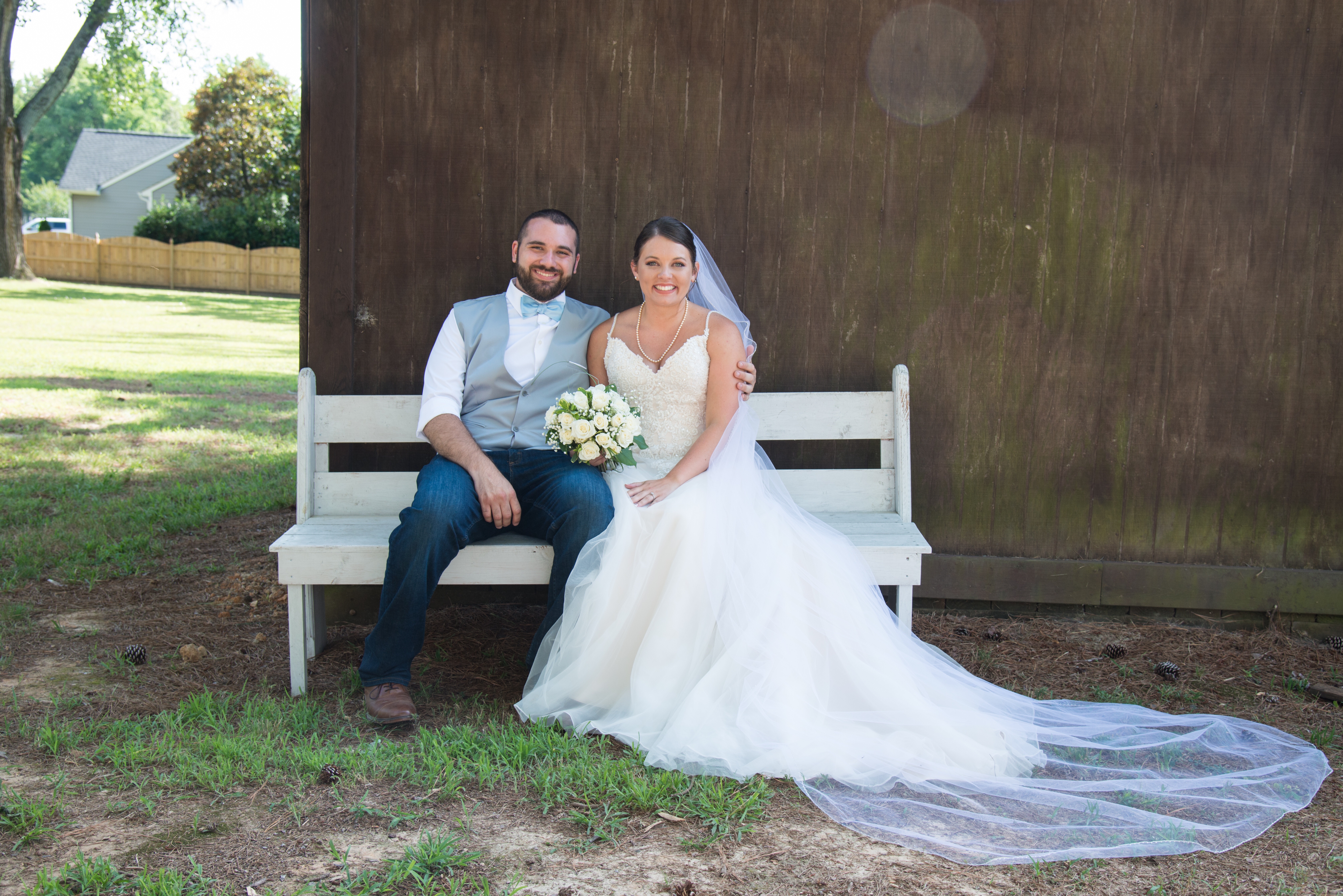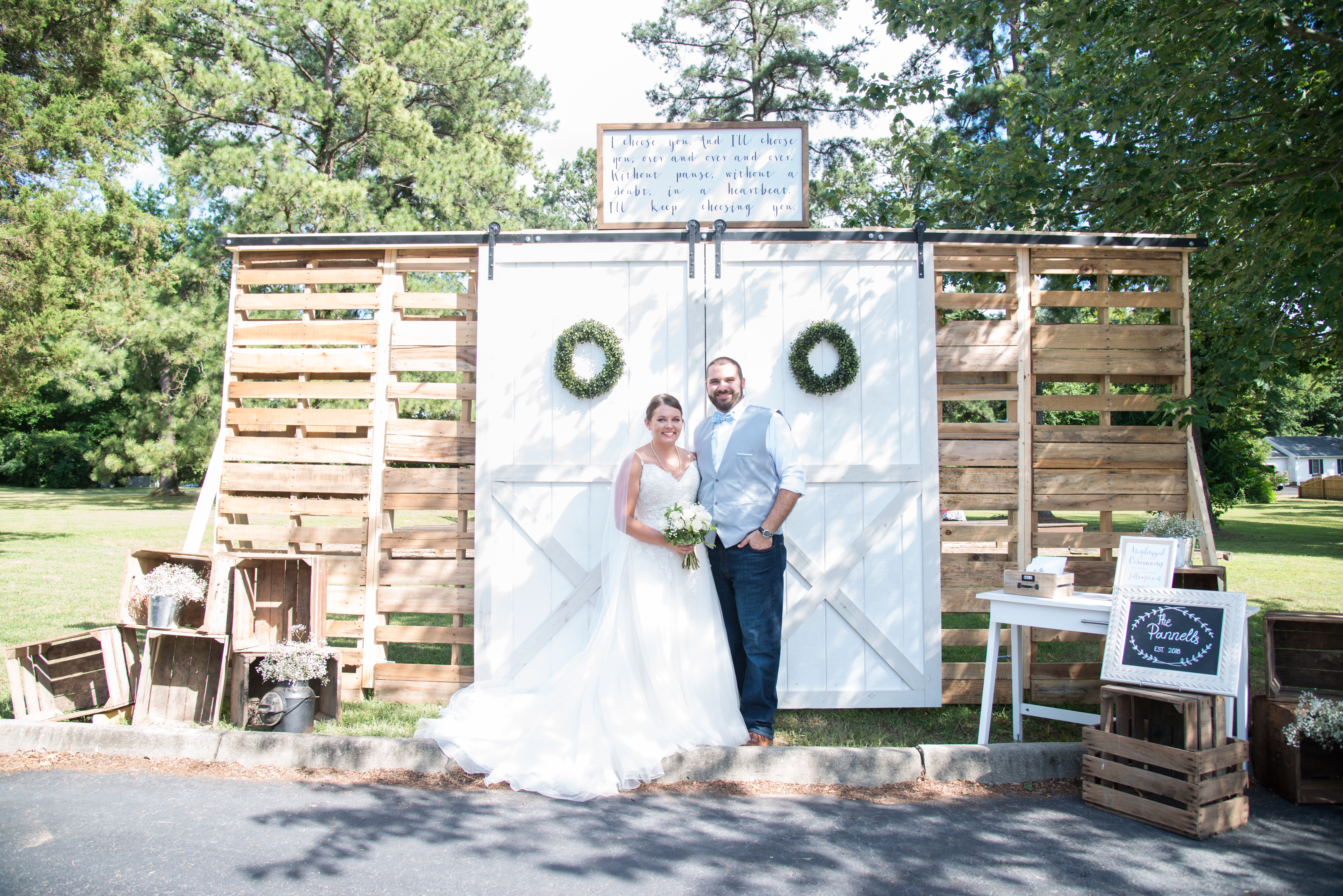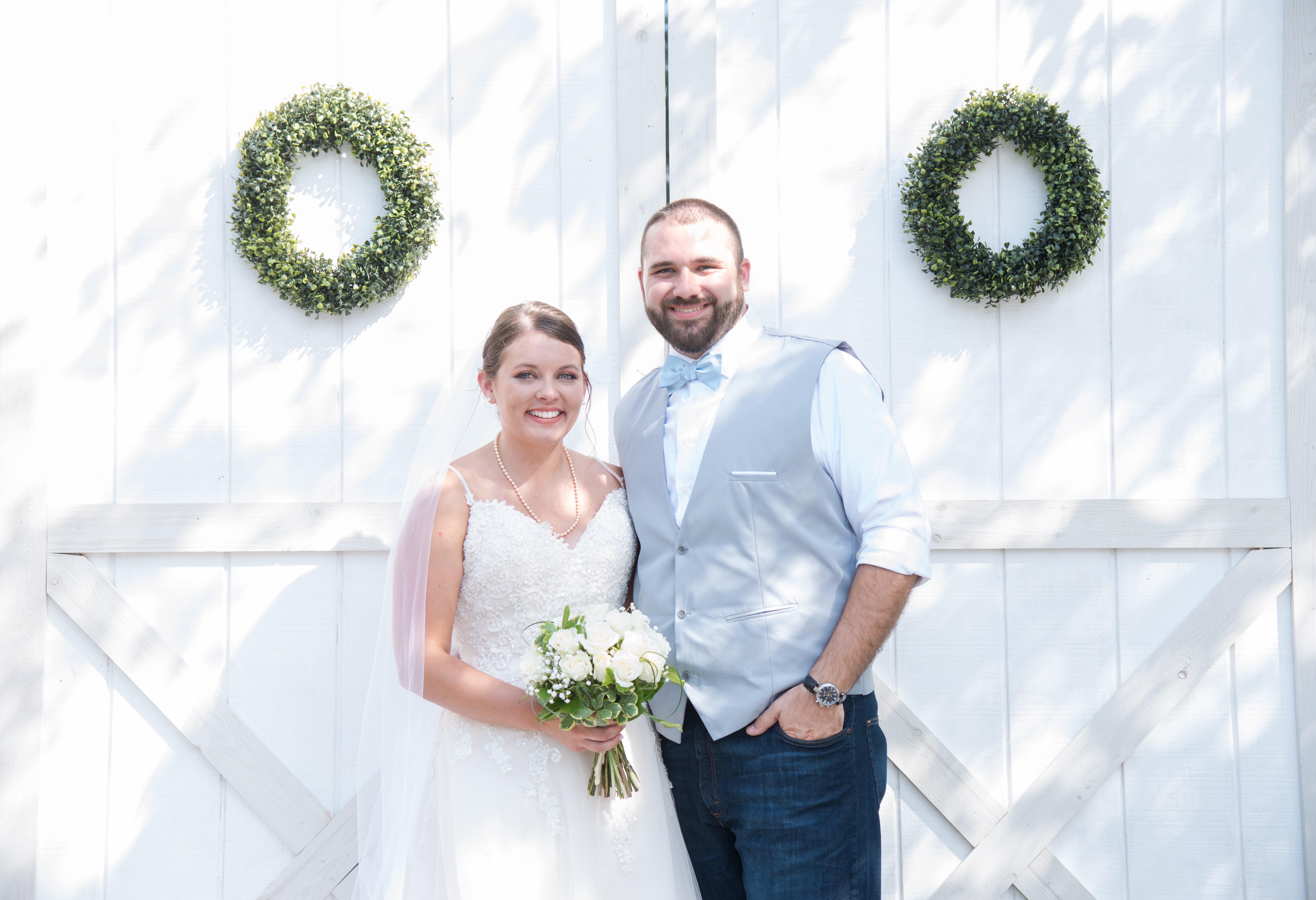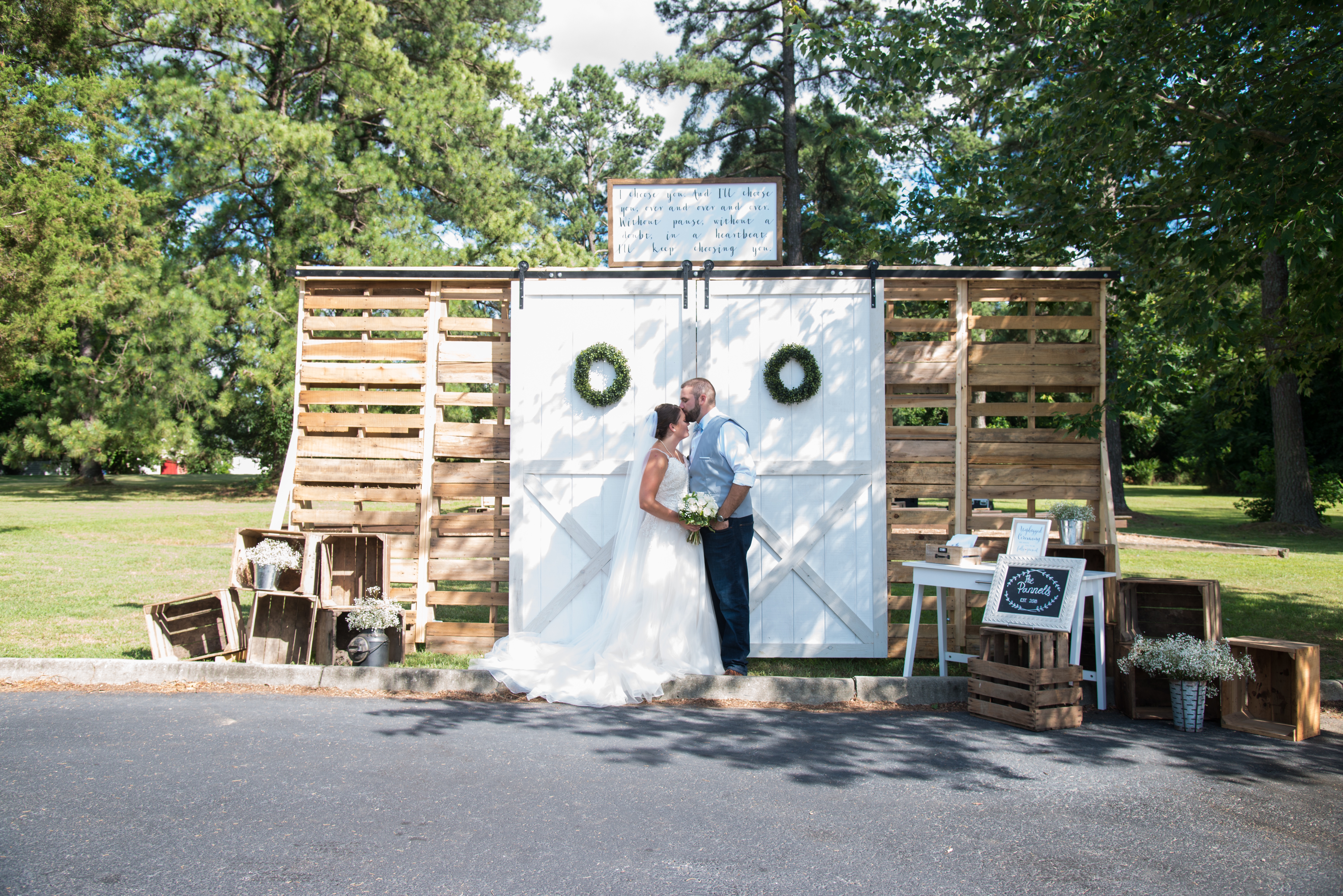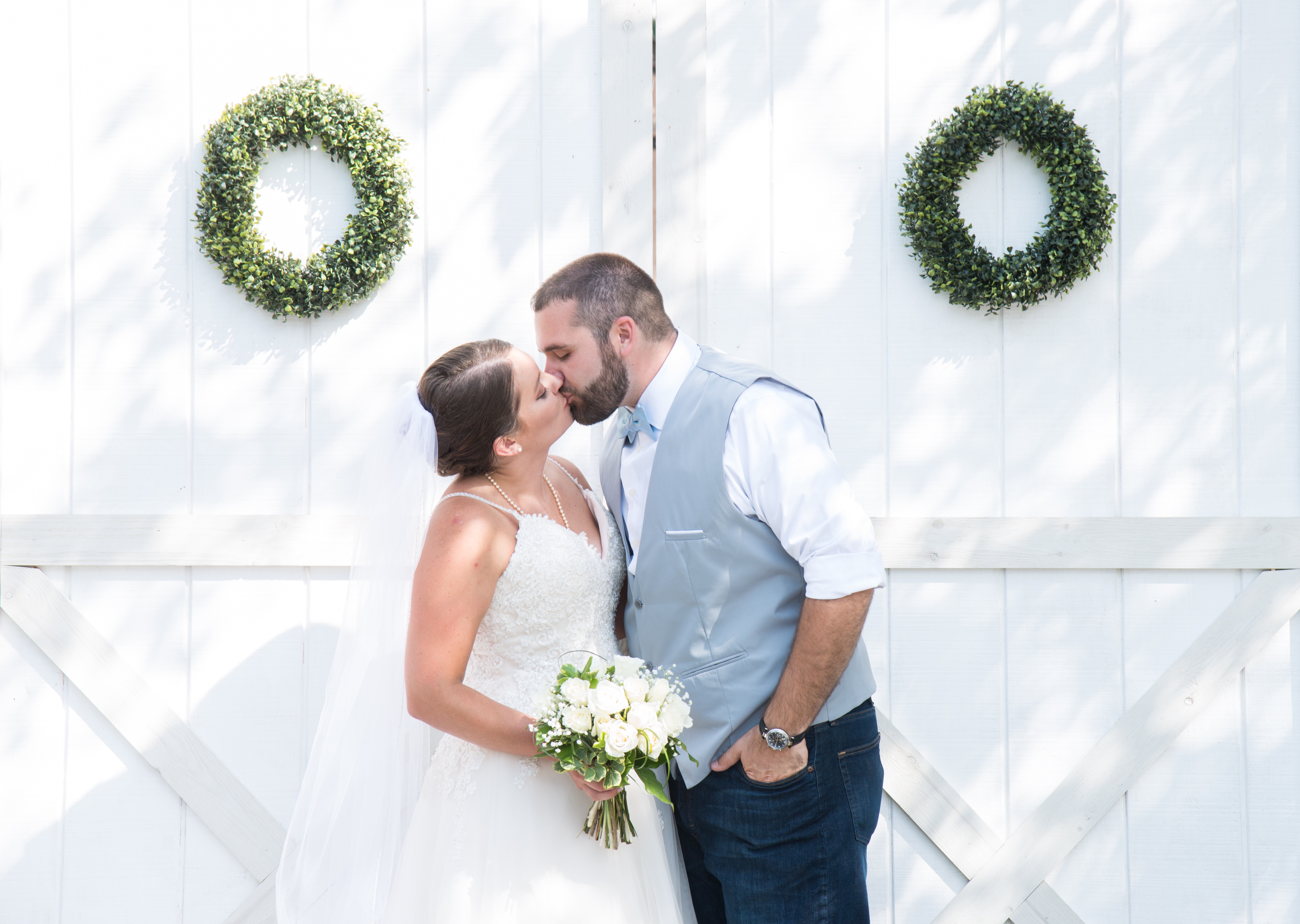 The Reception
Will and I chose to do a taco bar at our reception, both because we love tacos and because it was cheap!
One of the best things we did all day was to have someone make us a plate while we were doing portraits. We had everyone start eating about 15 minutes before we finished portraits. A friend fixed us a plate and set it in the back room. Then, before entering the reception, we ate really quickly and signed the marriage certificate. We heard from so many people that they did not eat at their reception and were starving so we took care of it before all of the greeting and dancing. I was so glad to do it this way because then no one was watching me eat either!
We had the DJ announce the wedding party as we entered and then we gave everyone a few more minutes to eat so that our wedding party wasn't rushed.
When it came time for the first dances, Will and I danced to Perfect by Ed Sheeran and Beyonce.  I danced with my dad to My Little Girl by Tim McGraw and Will danced with his mom to A Song for Mama by Boyz II Men.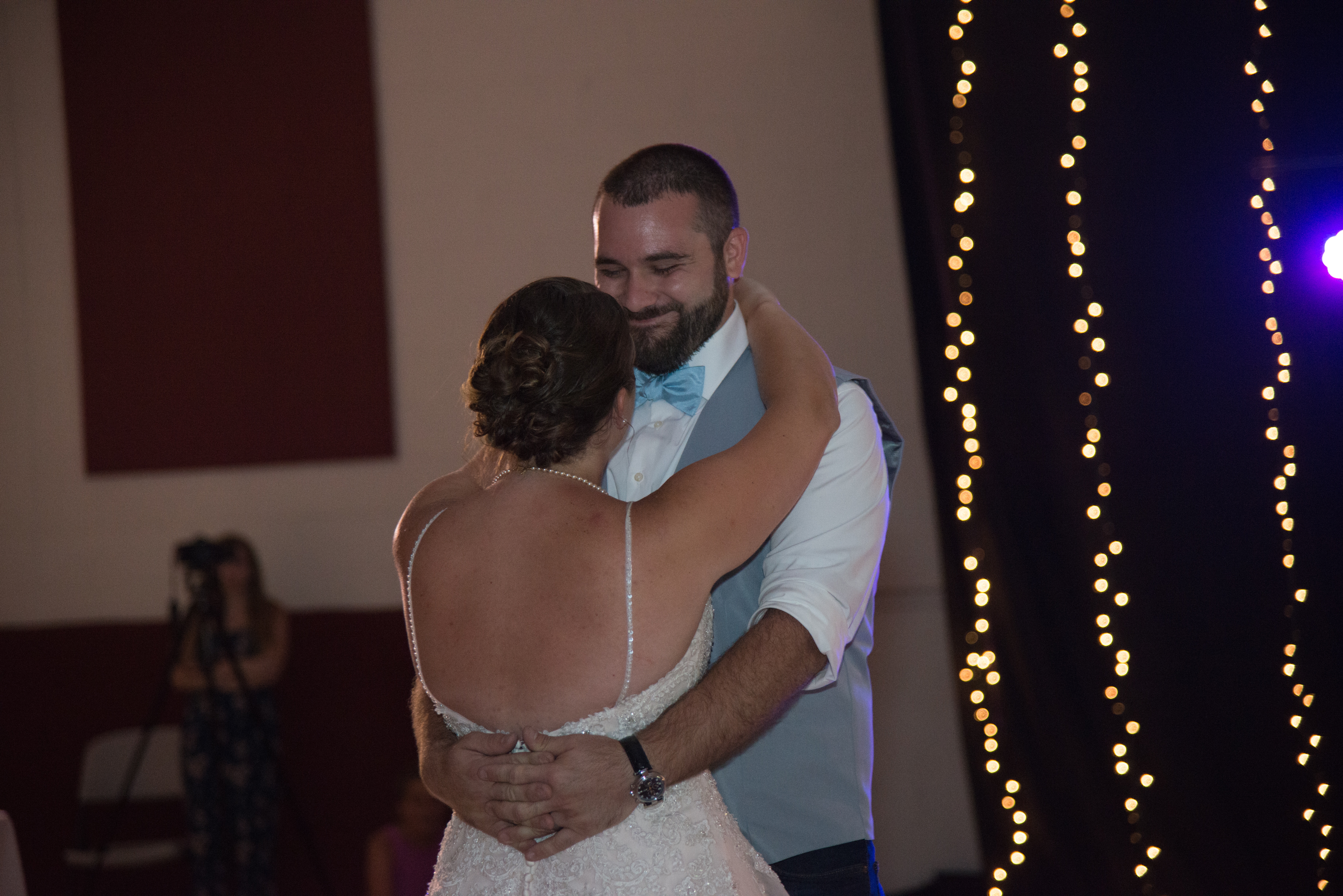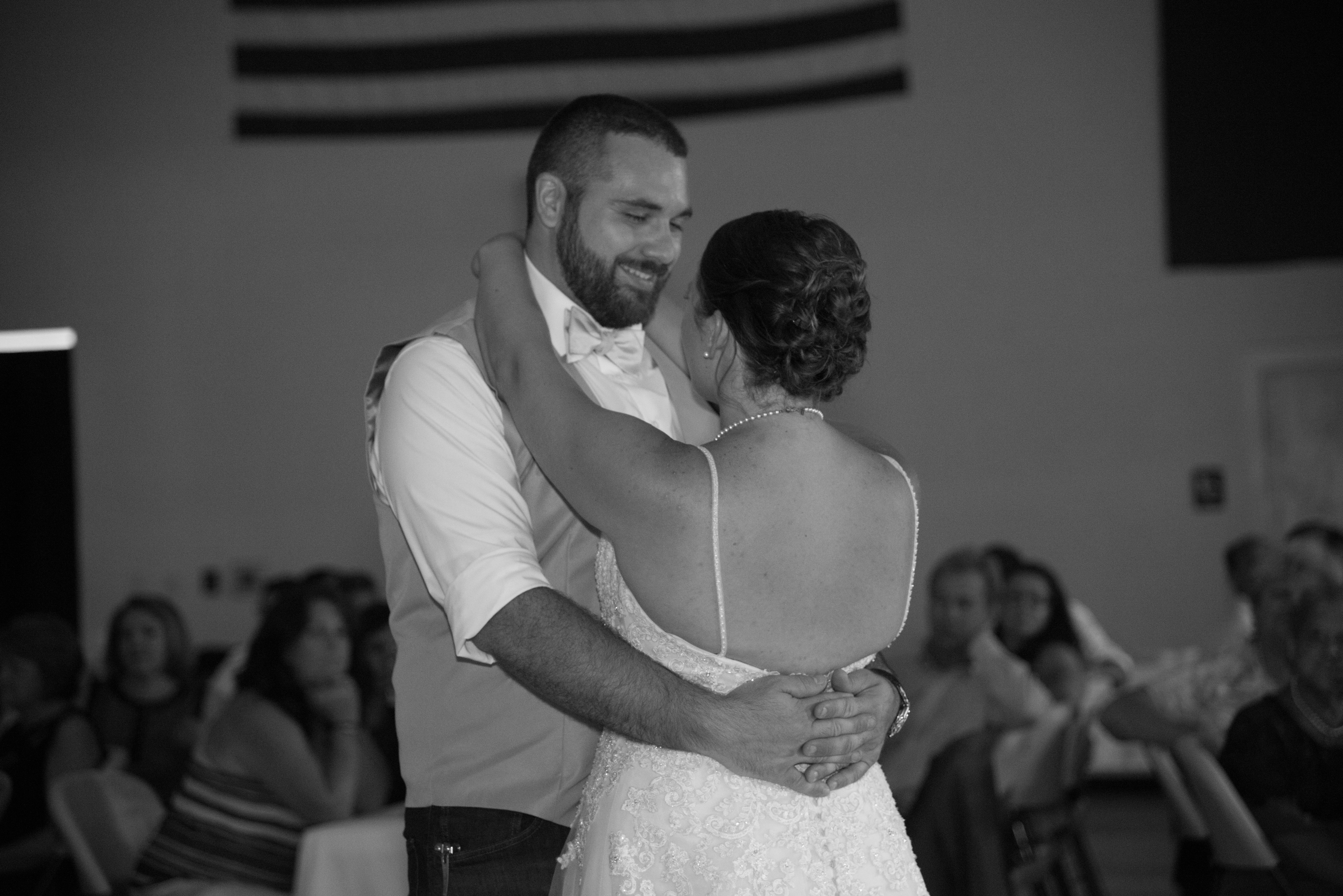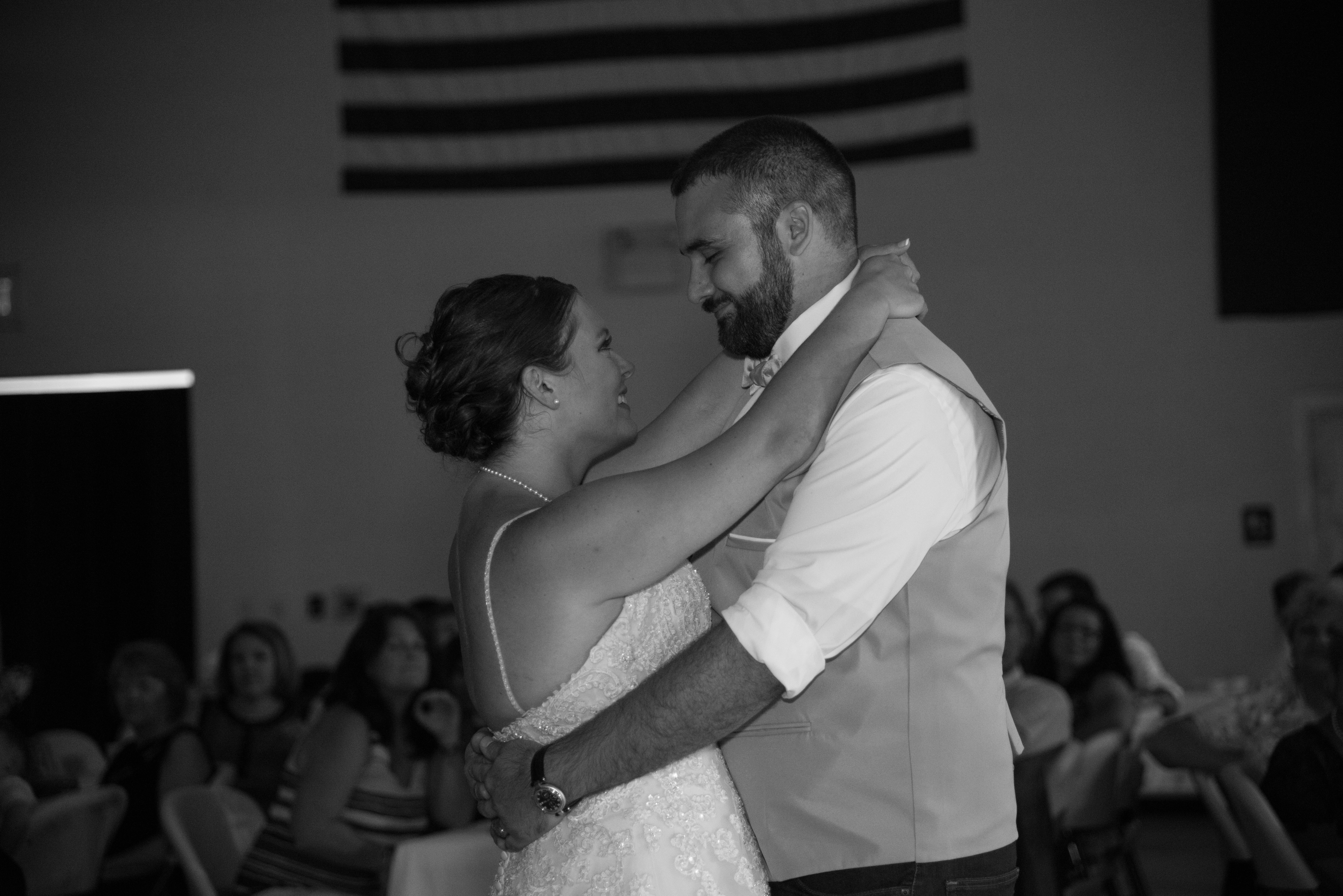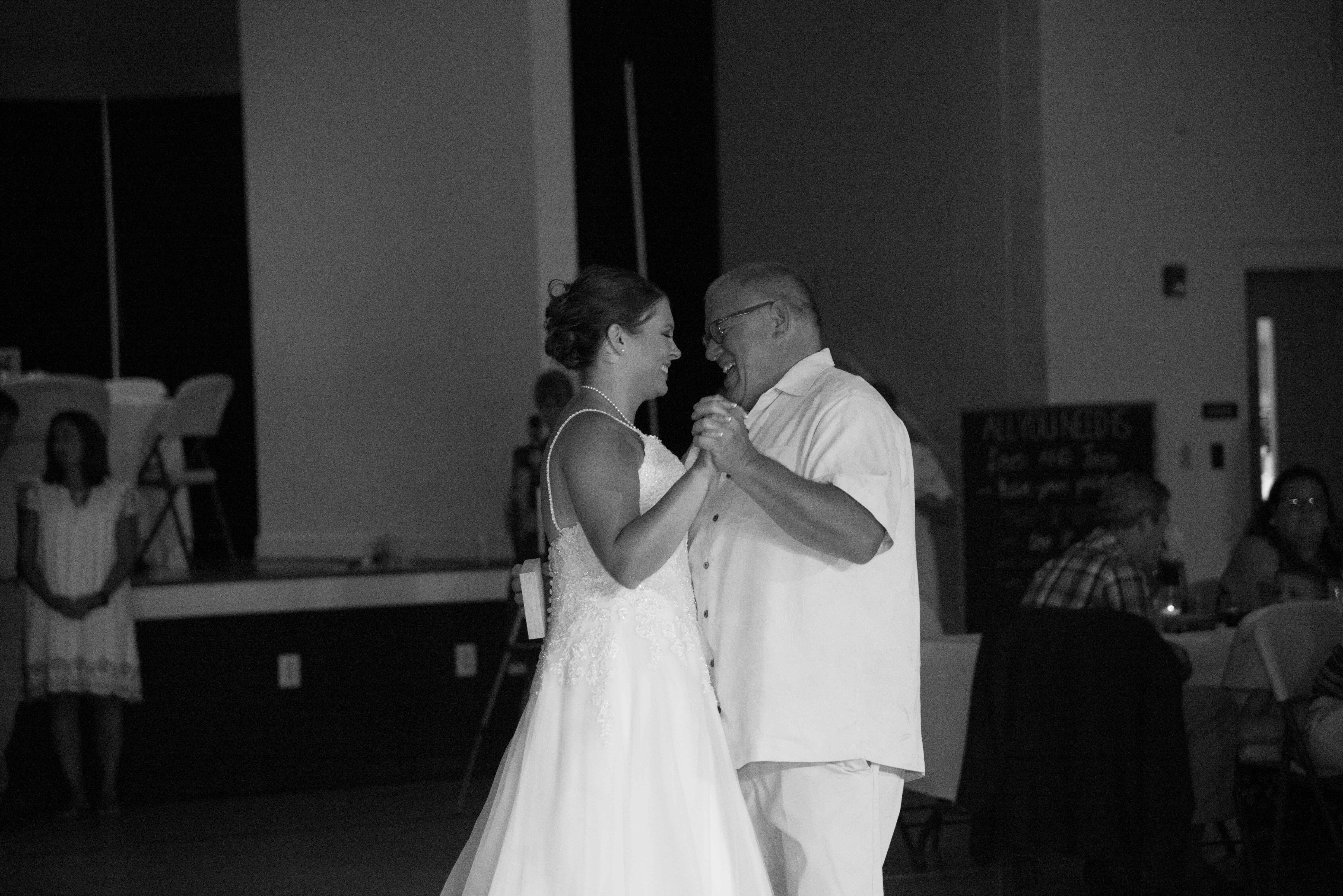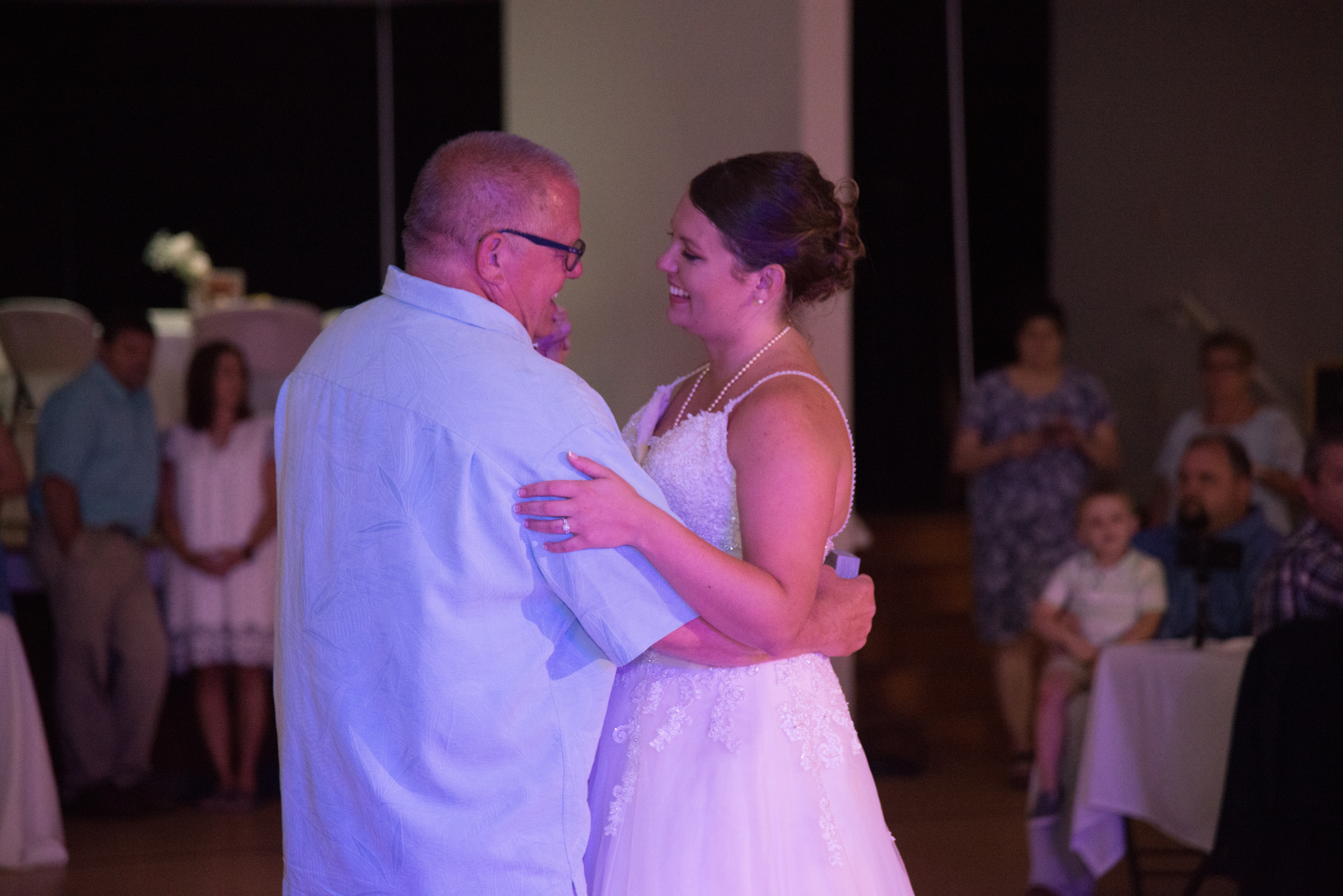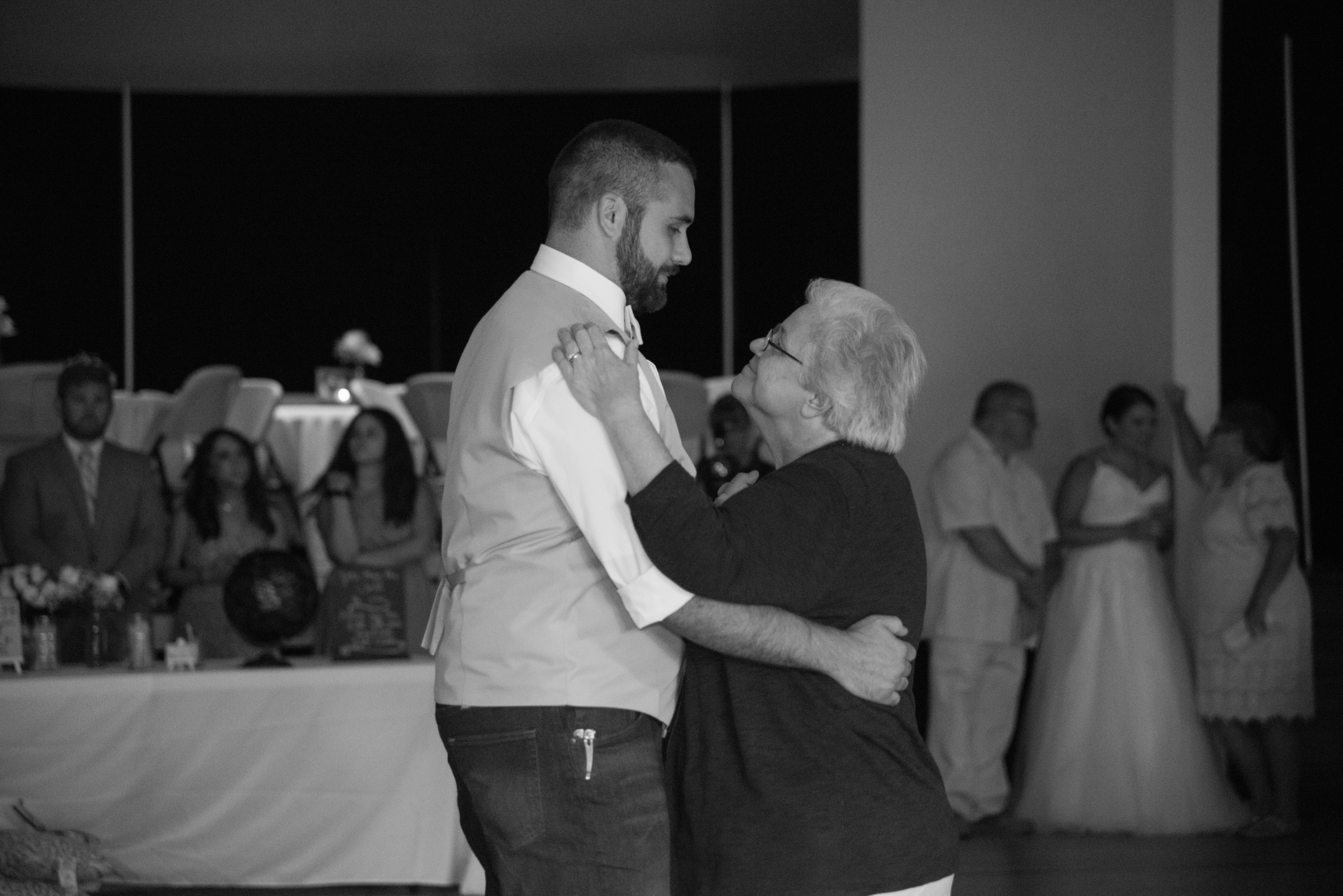 Will and I are both very close to our siblings so we decided to do a first dance with them as well. We danced to Have it All by Jason Mraz.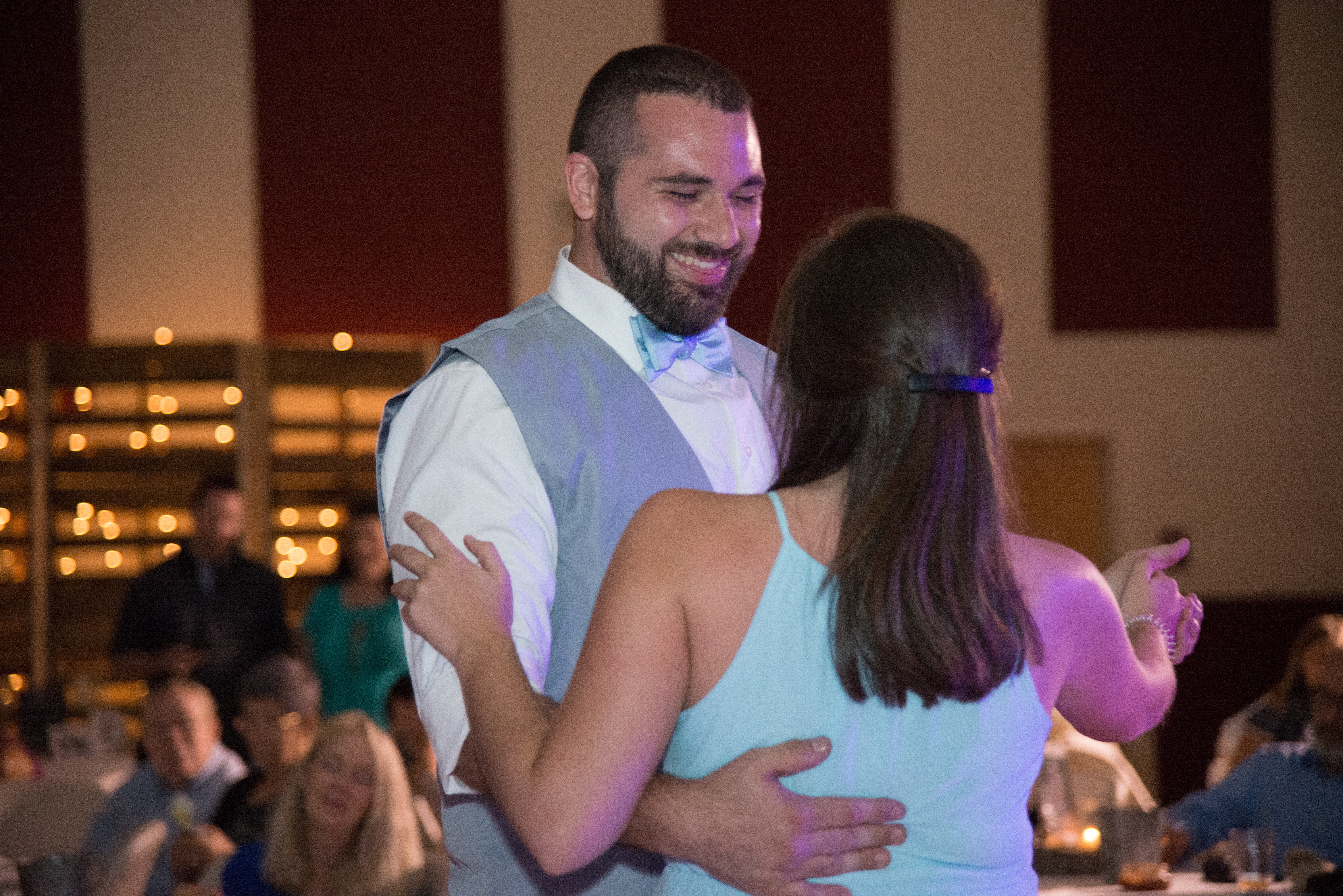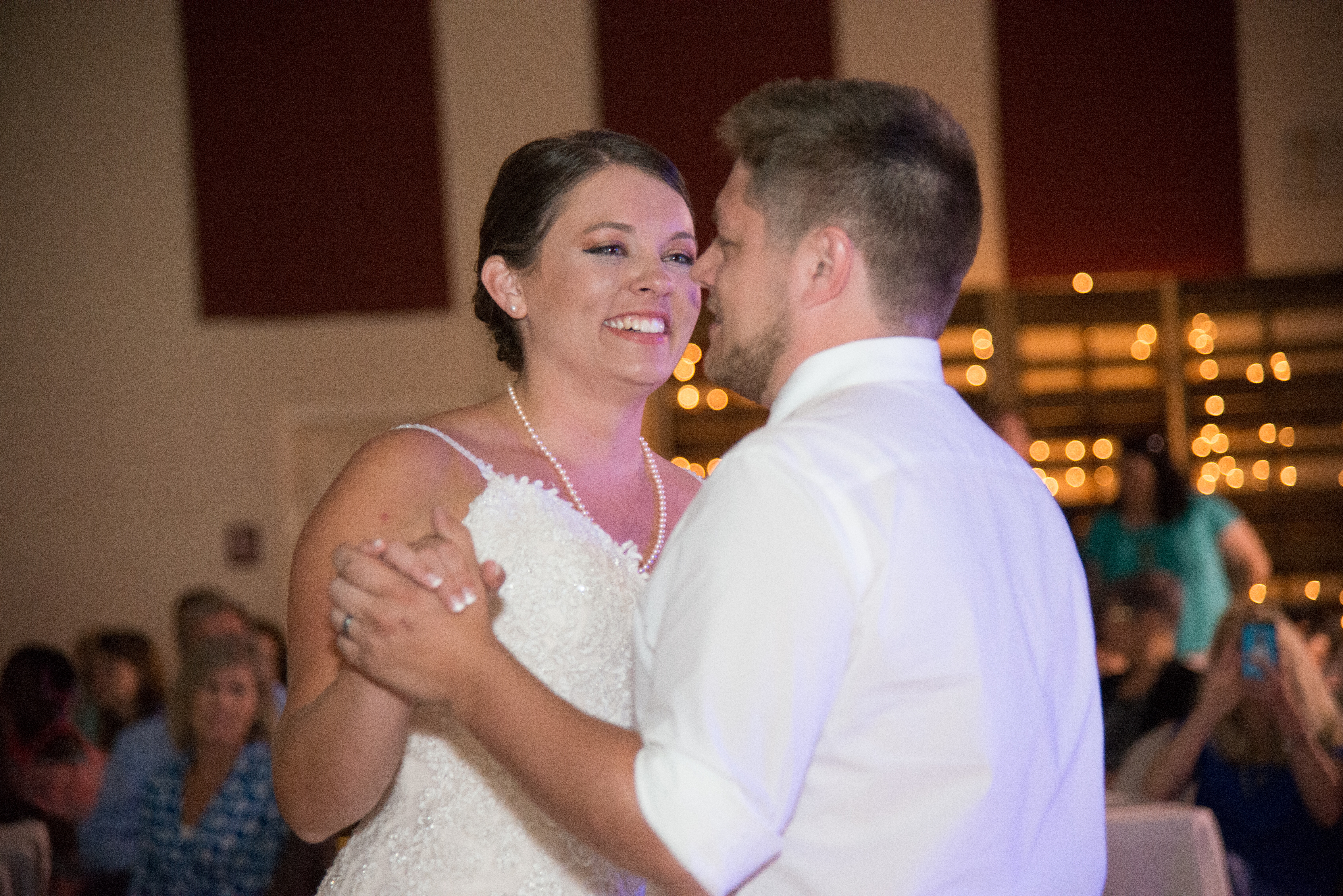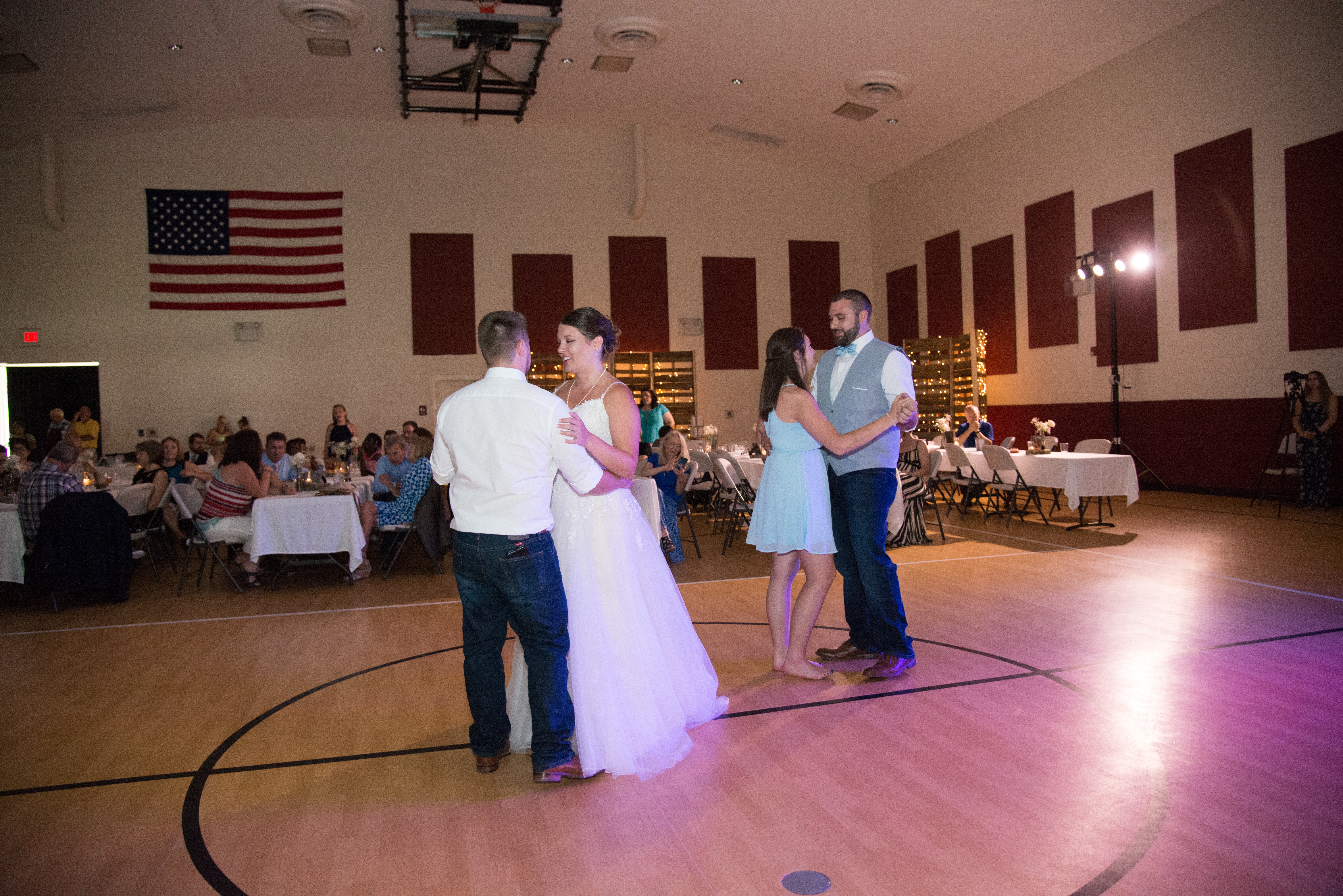 The rest of the night was full of dancing, ice cream, and celebrating!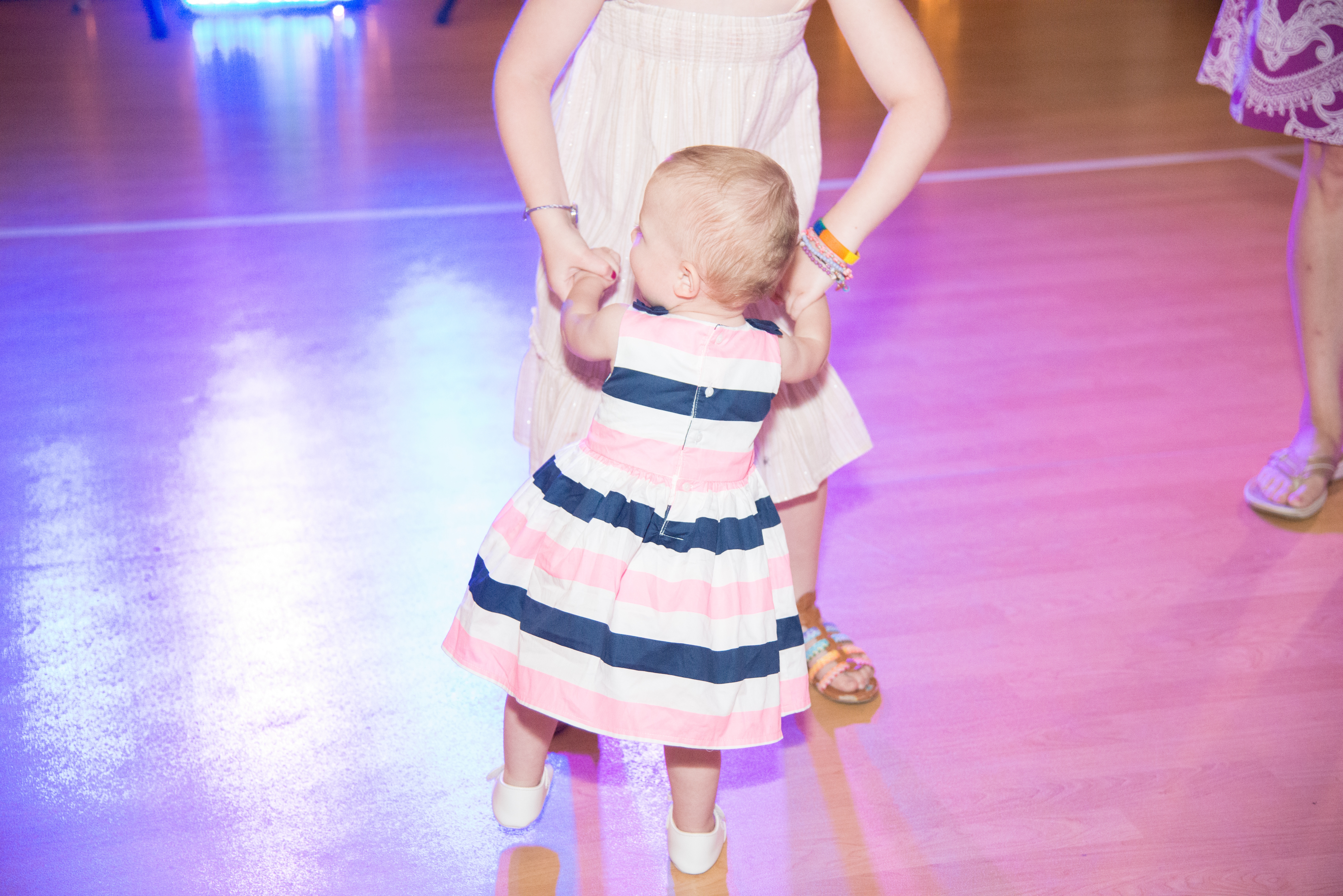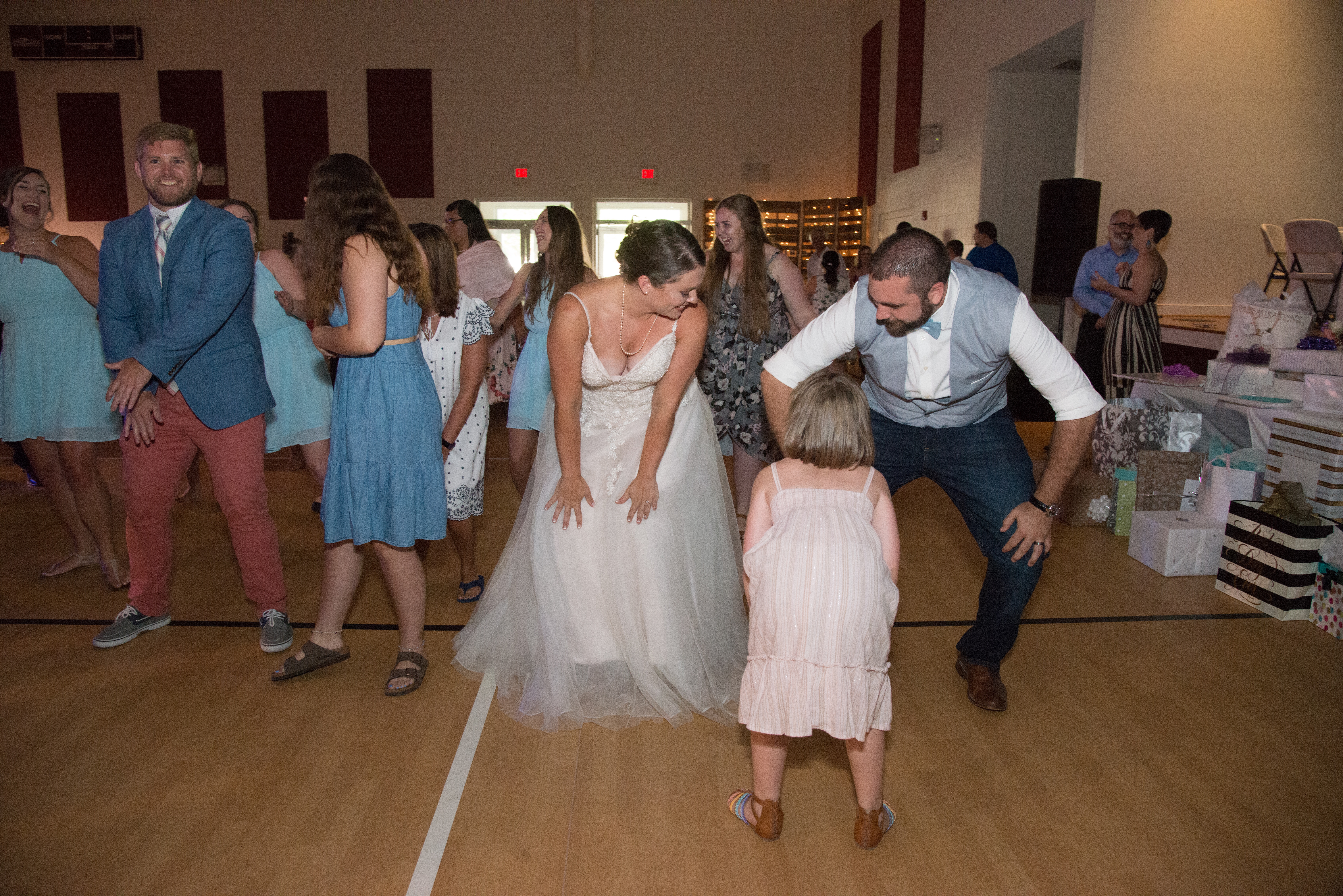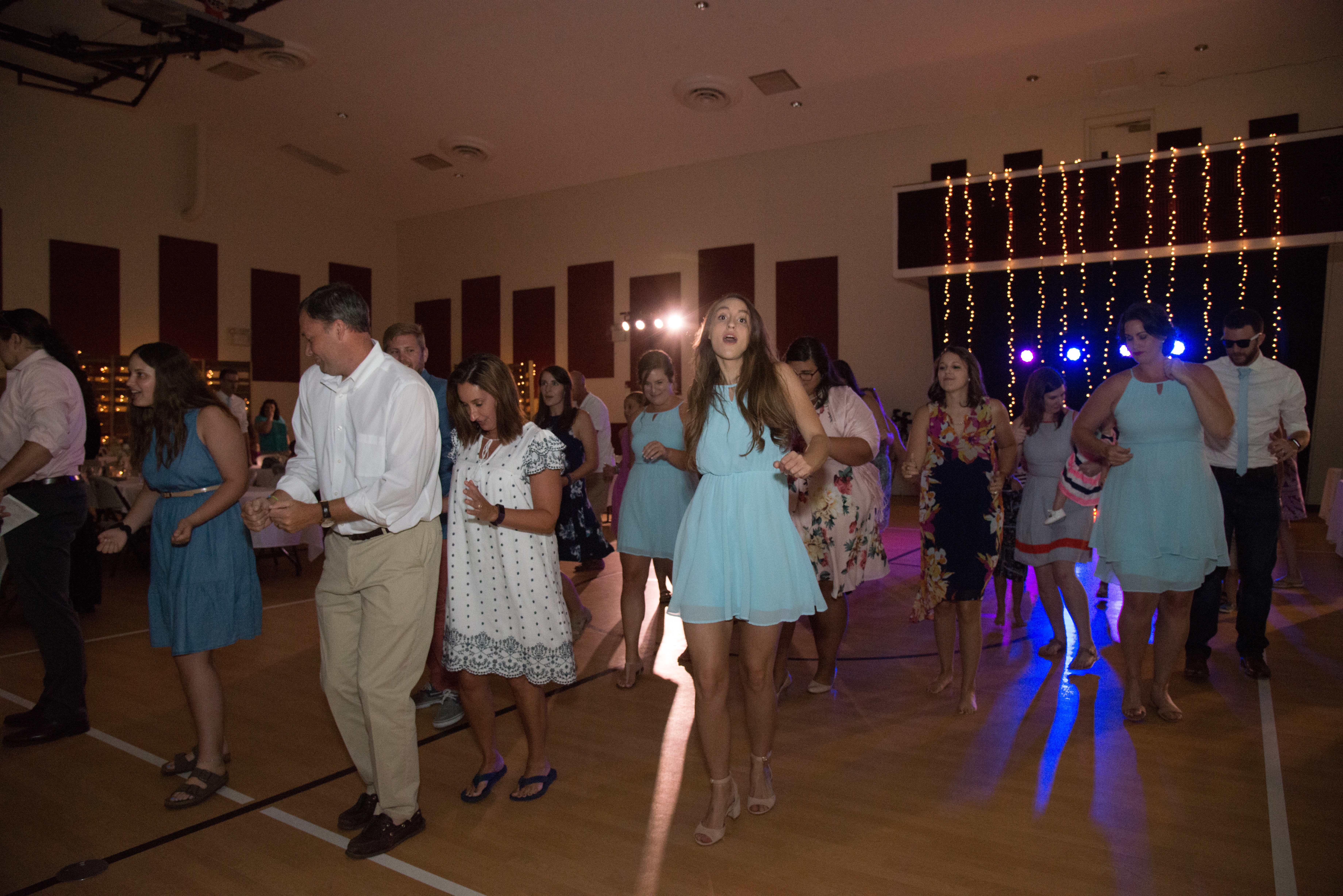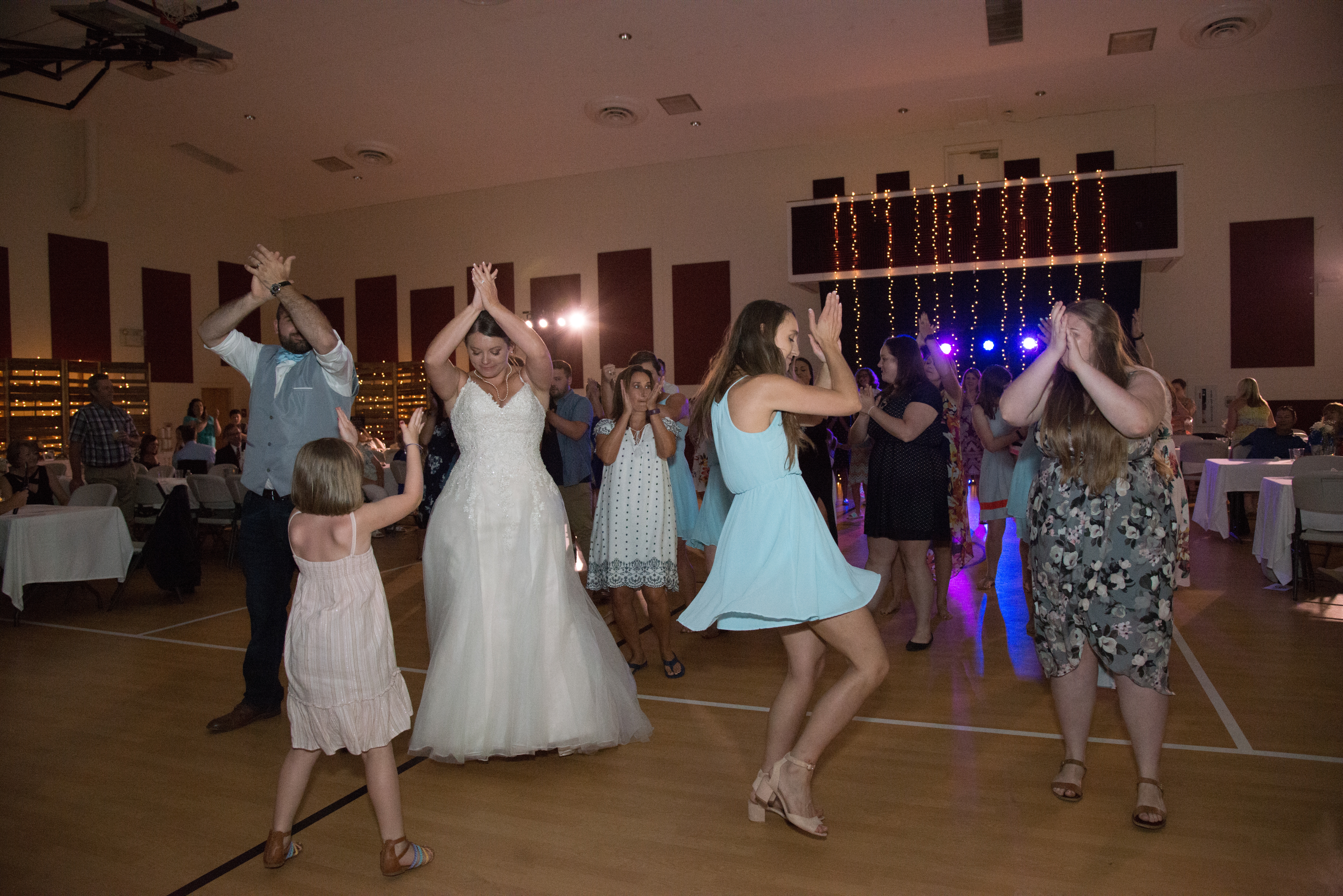 Ice Cream Bar
We chose to do something a bit different instead of a wedding cake. Will and I both love ice cream so we decided to do an ice cream cake for us from our favorite local place, Gelati Celesti, and an ice cream bar for the guests. We also took this opportunity to honor the strong women in our lives in a special way. Each of our moms made a big batch of cookies from a family recipe. Will's mom made White Chocolate Macadamia Nut and my mom made Peanut Butter. Unbeknownst to them, we had collected photos of them and our grandmothers/great grandmothers on their wedding days to display on the dessert table.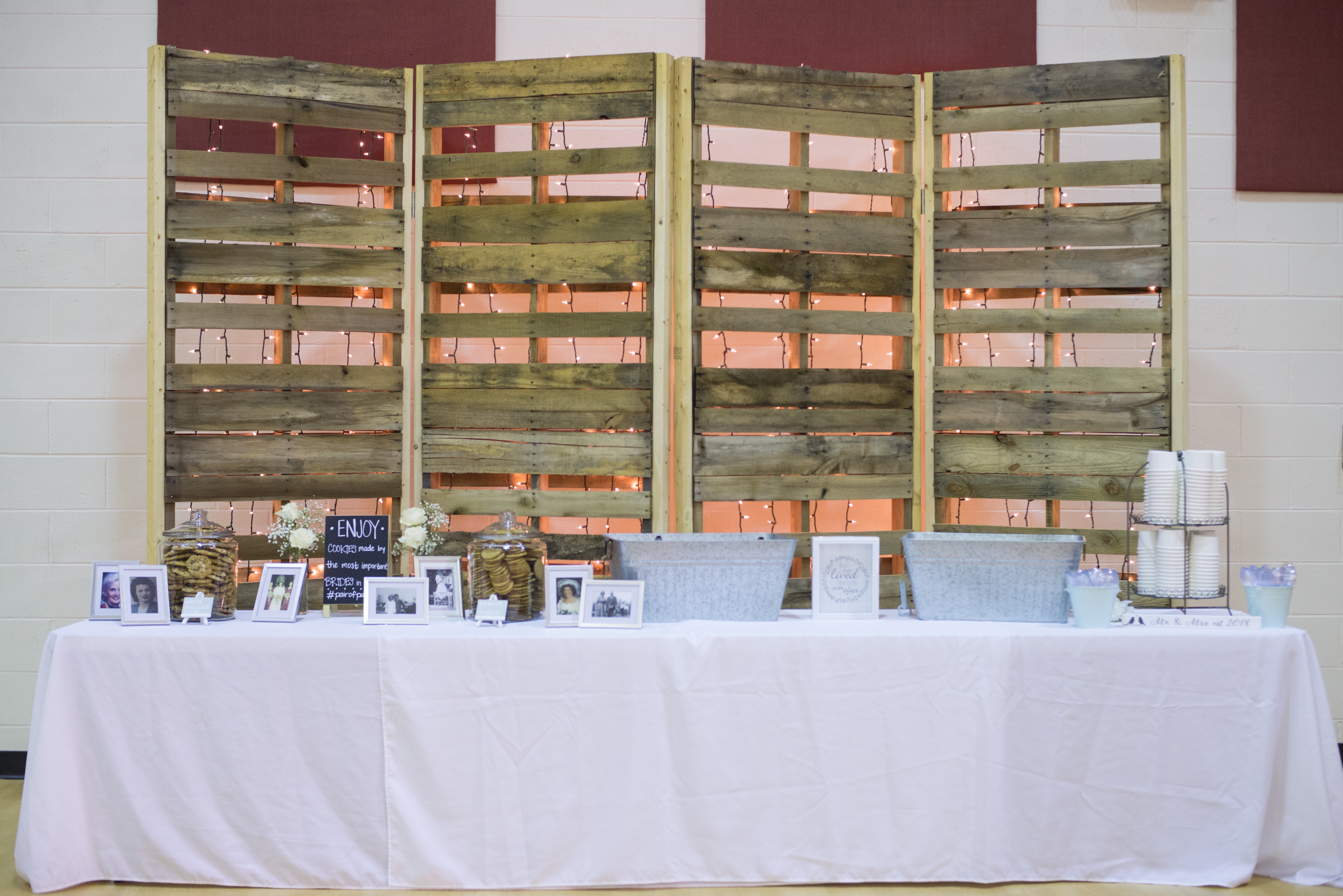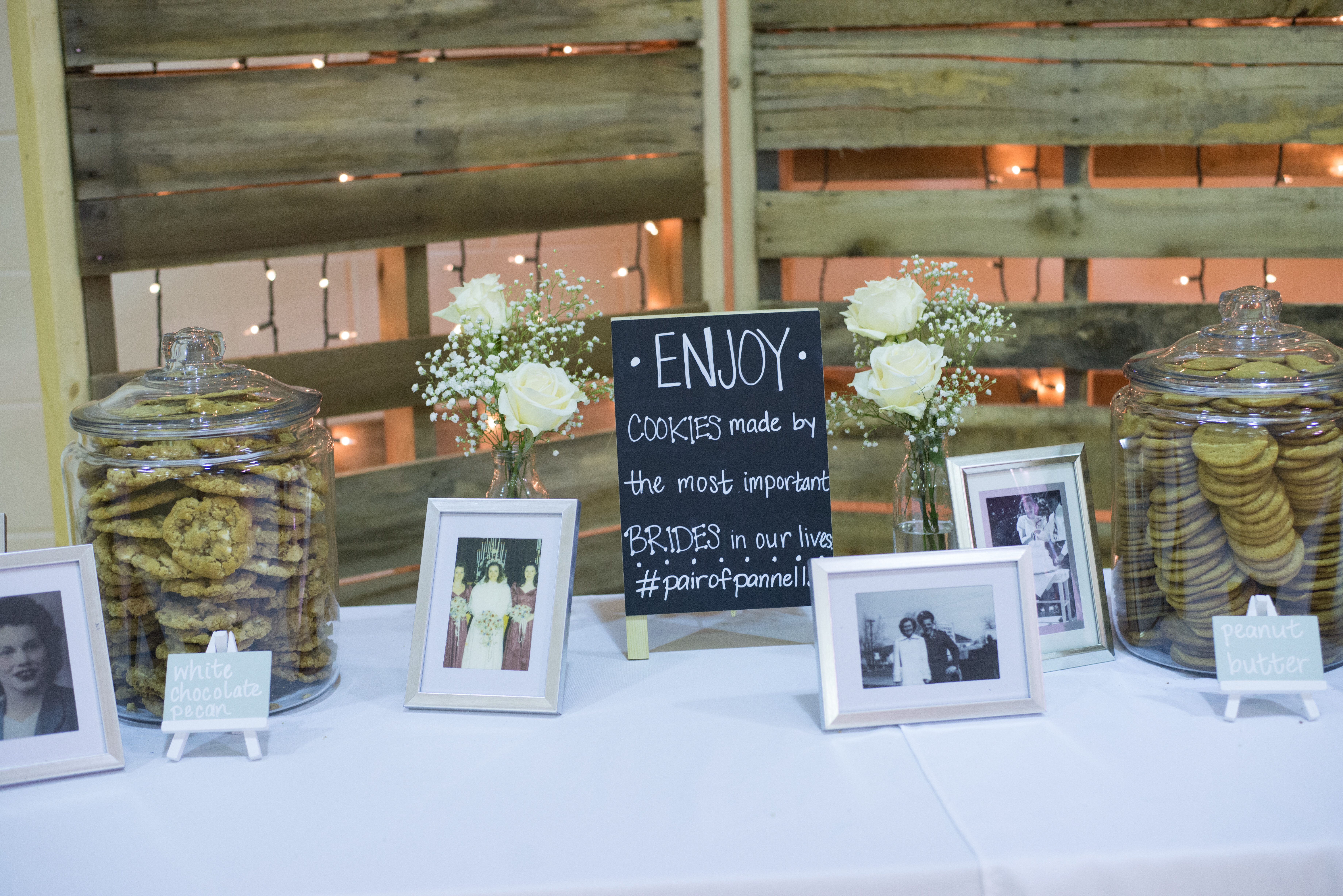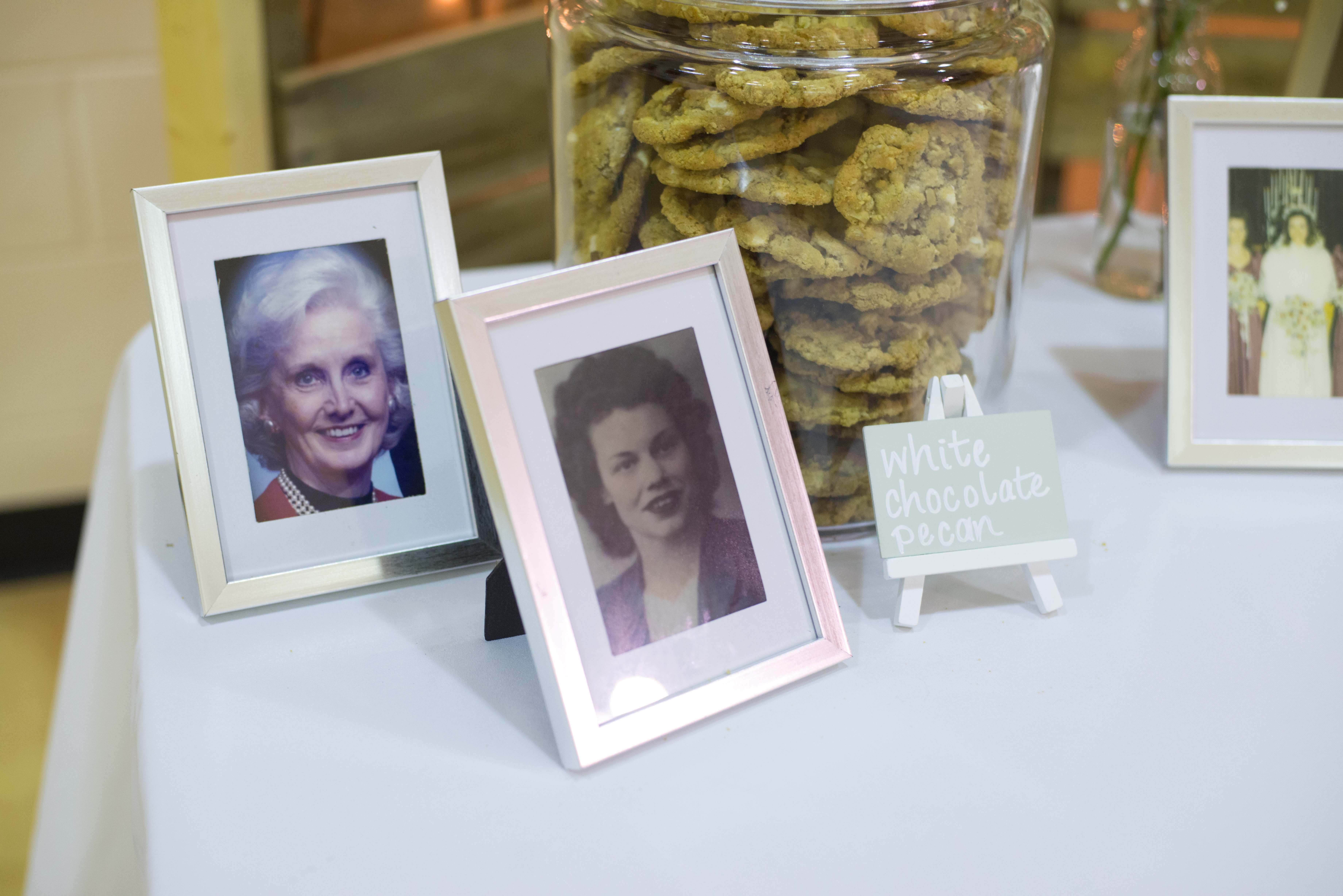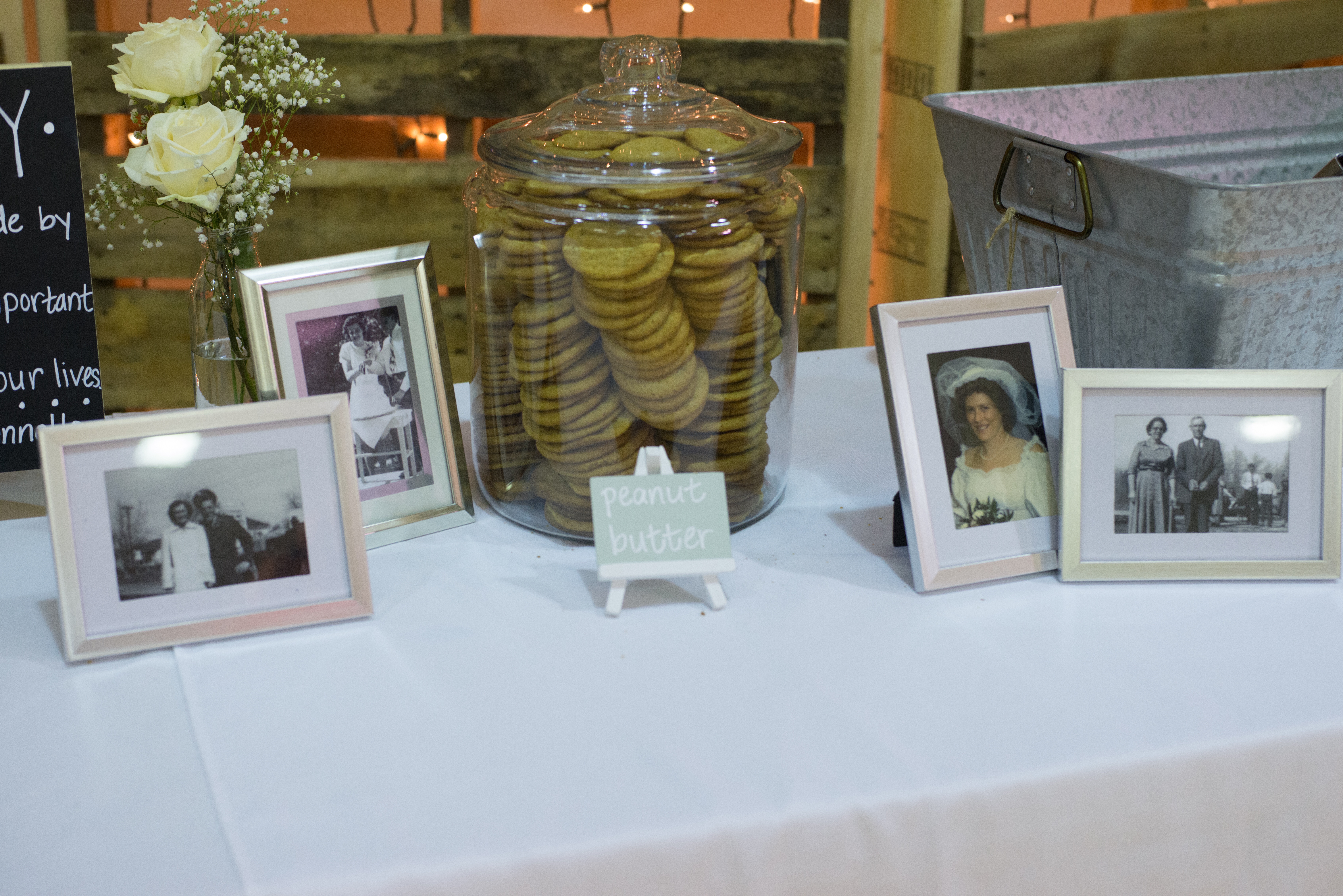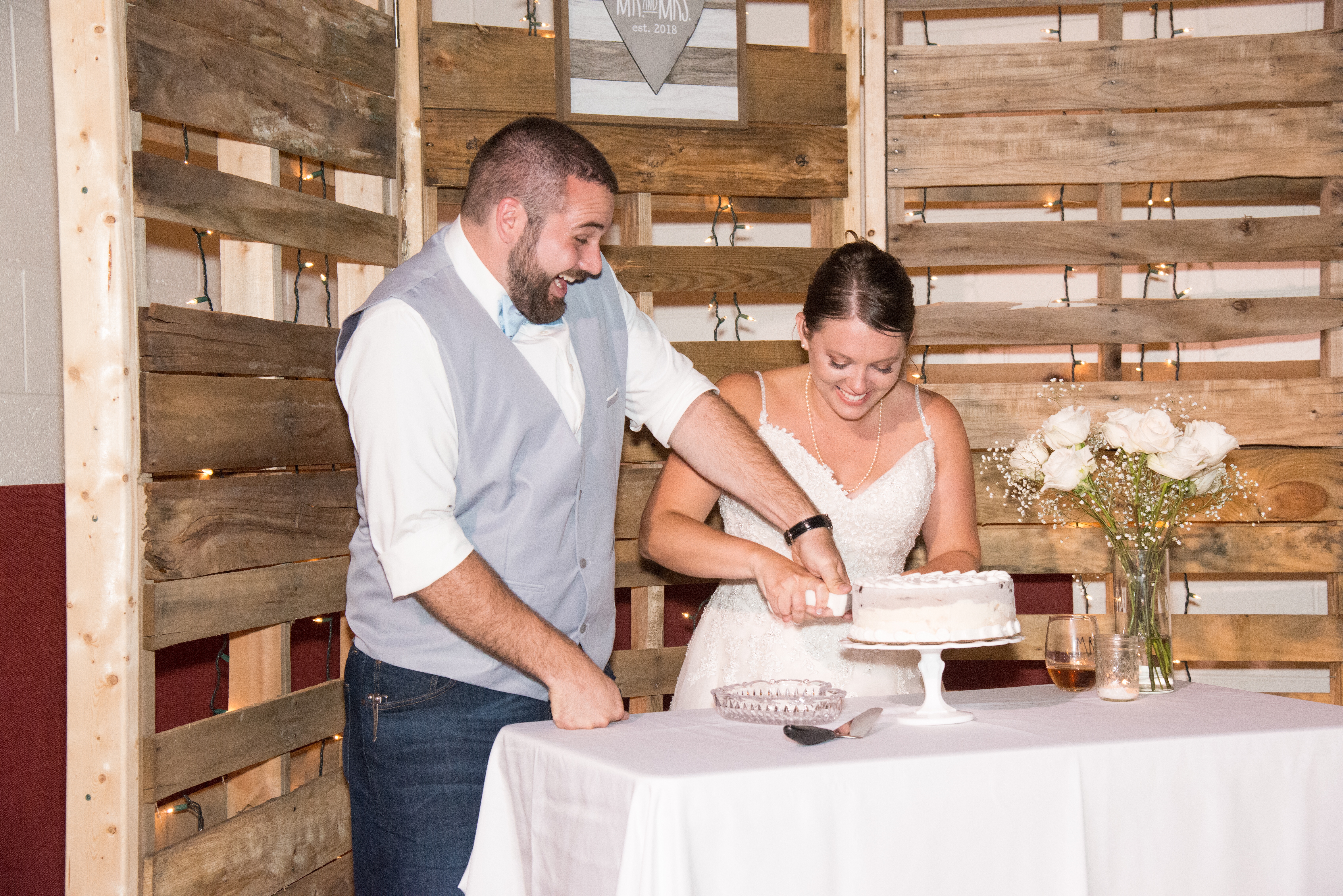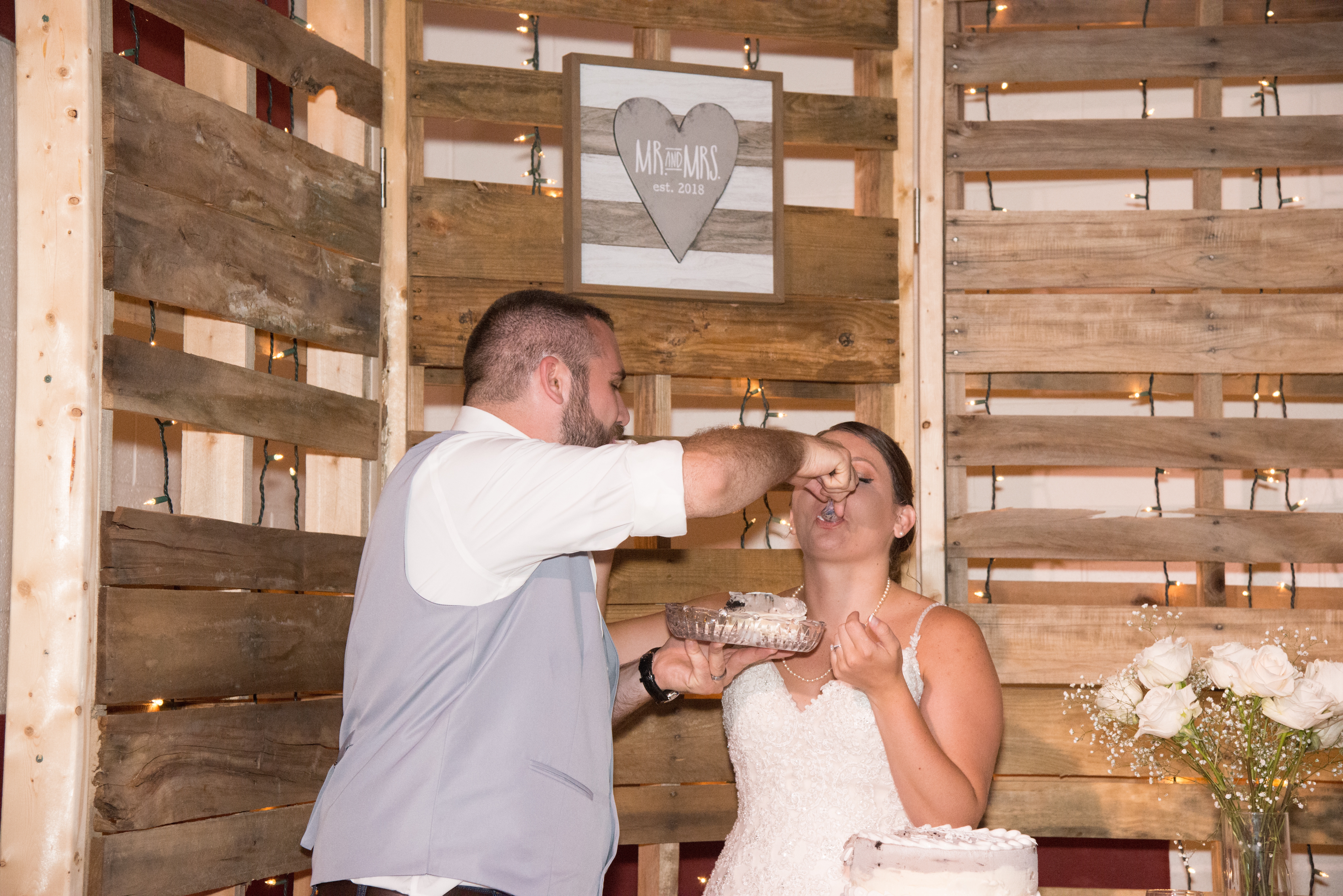 Guest Book
Instead of a traditional guest book, Will and I used a globe for our guests to sign.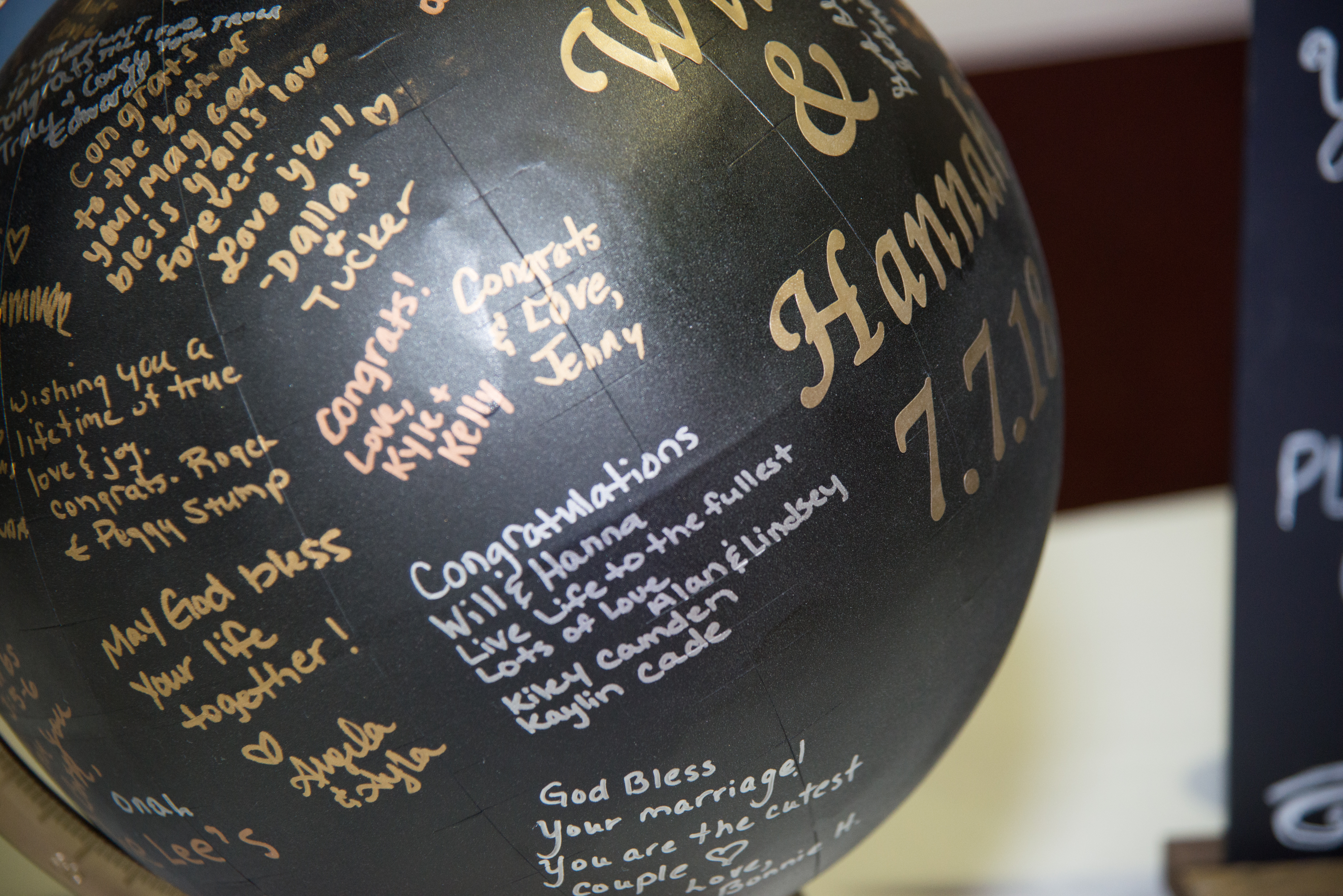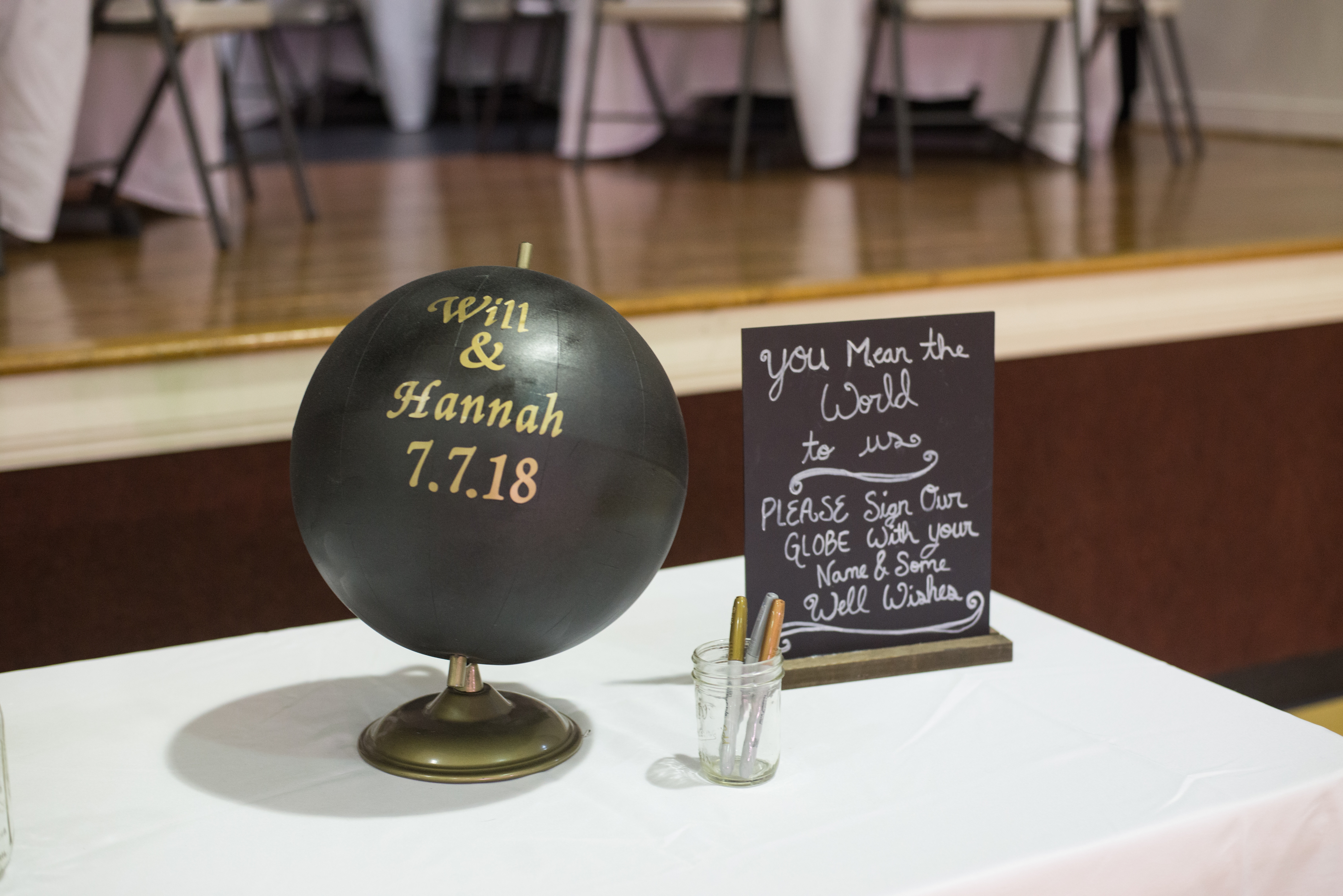 We also had them fill mason jars with date night ideas, bucket list items, and suggested future kid names!
These were so fun to sit around and read after the wedding!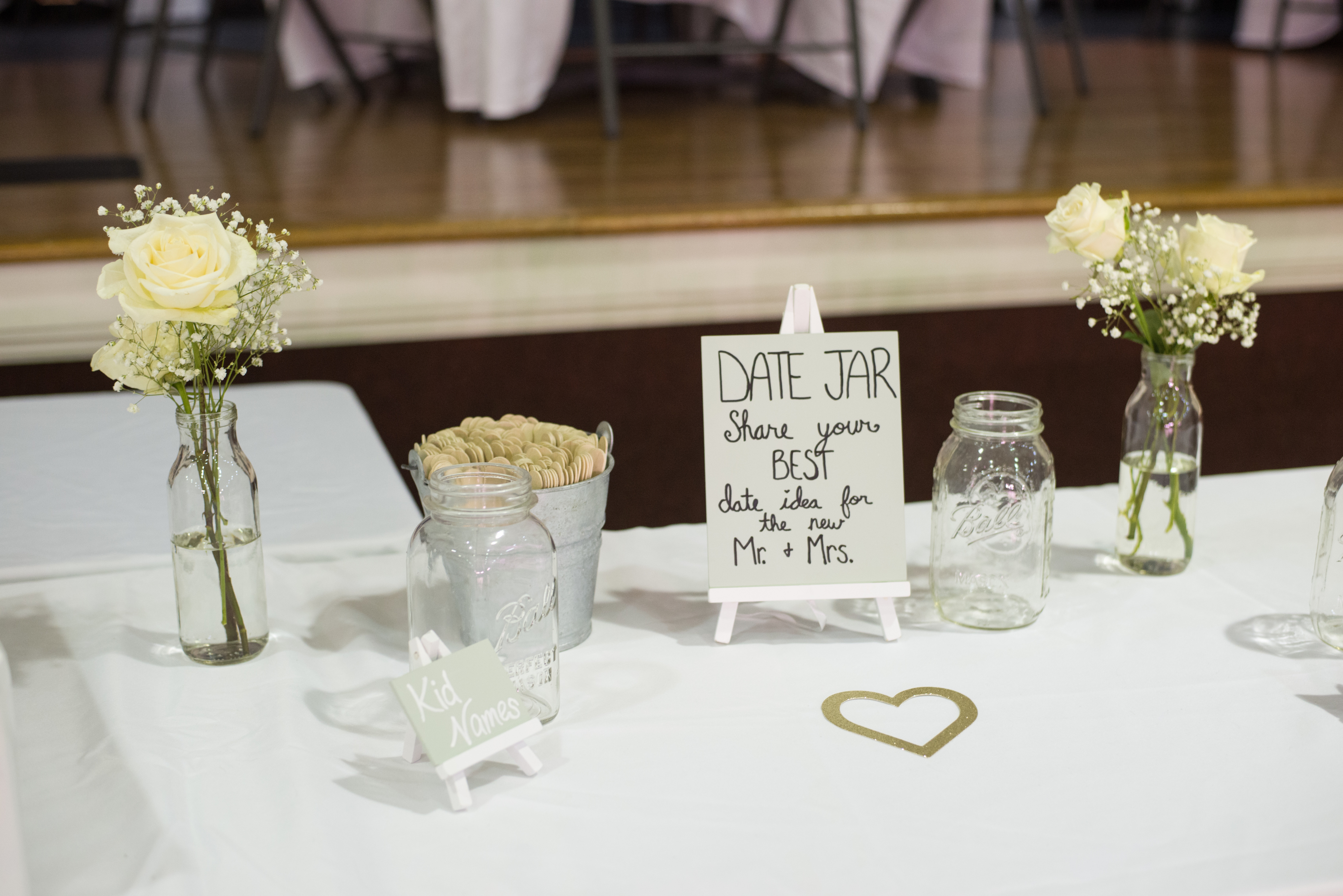 Centerpieces and Décor
Will and I printed pictures of us for each table centerpiece.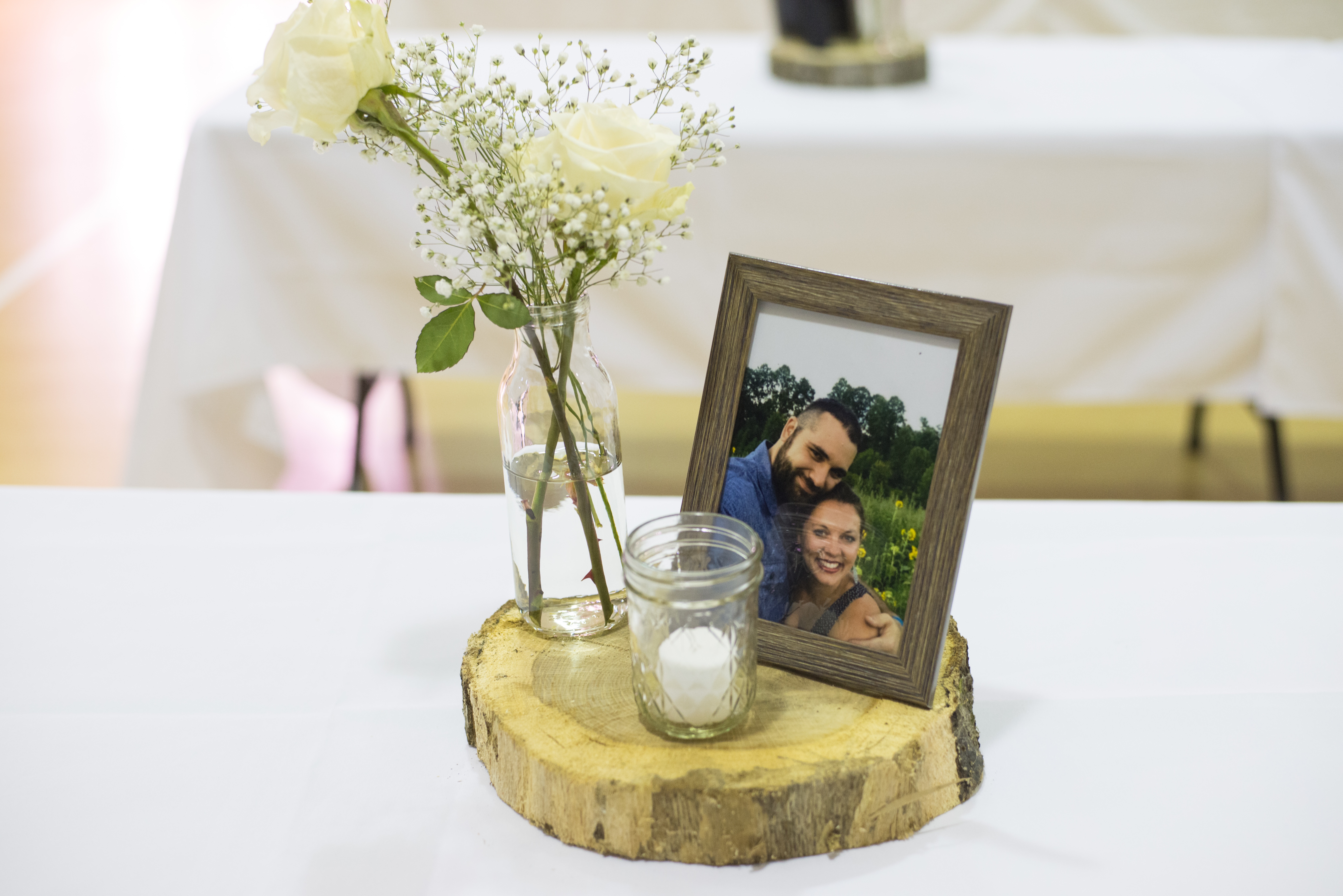 Anyone who knows me knows how much I love coffee so our favors were so fun for me! We packaged Fair Trade Coffee as our wedding favors with a cute little tag that said "Love is Brewing."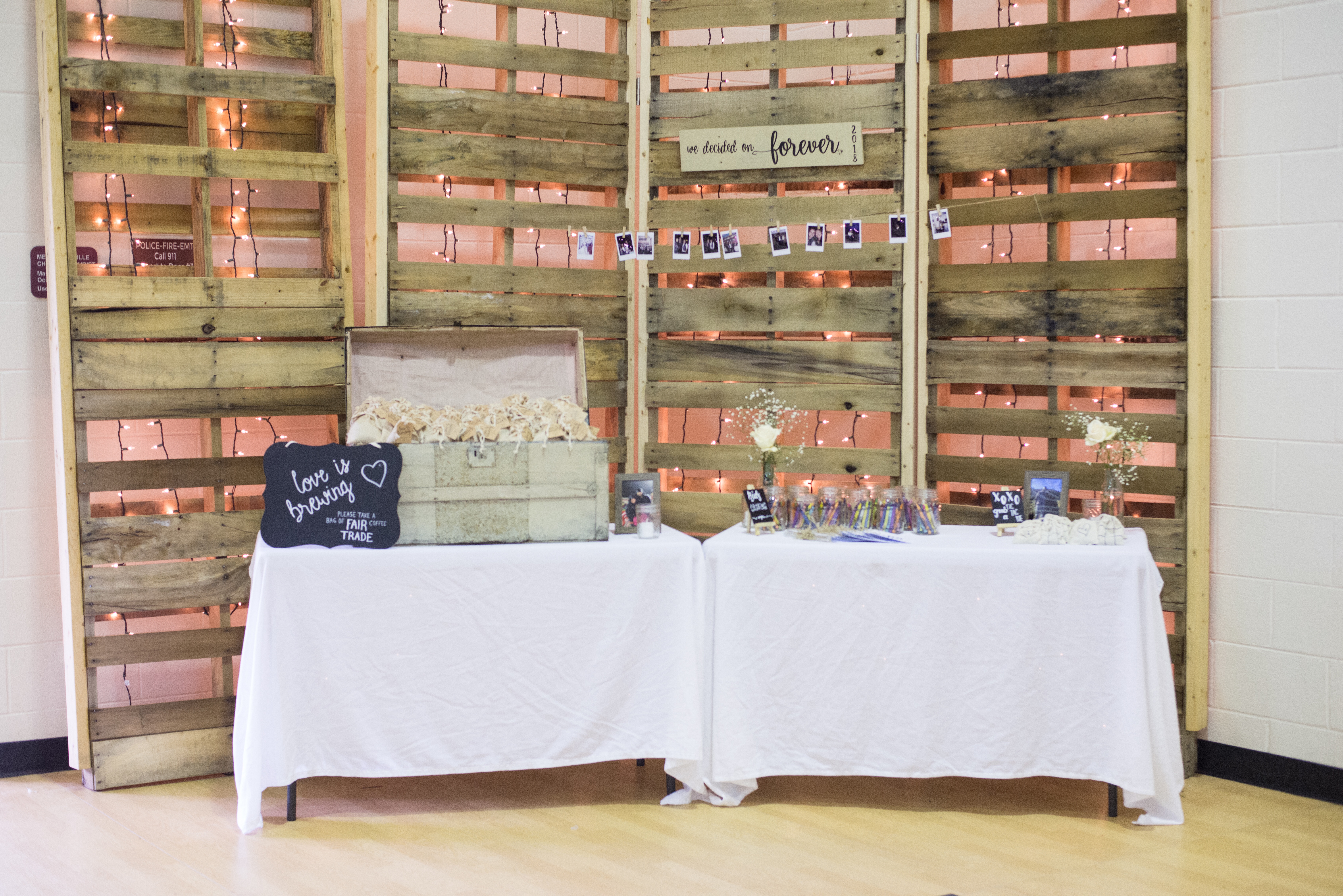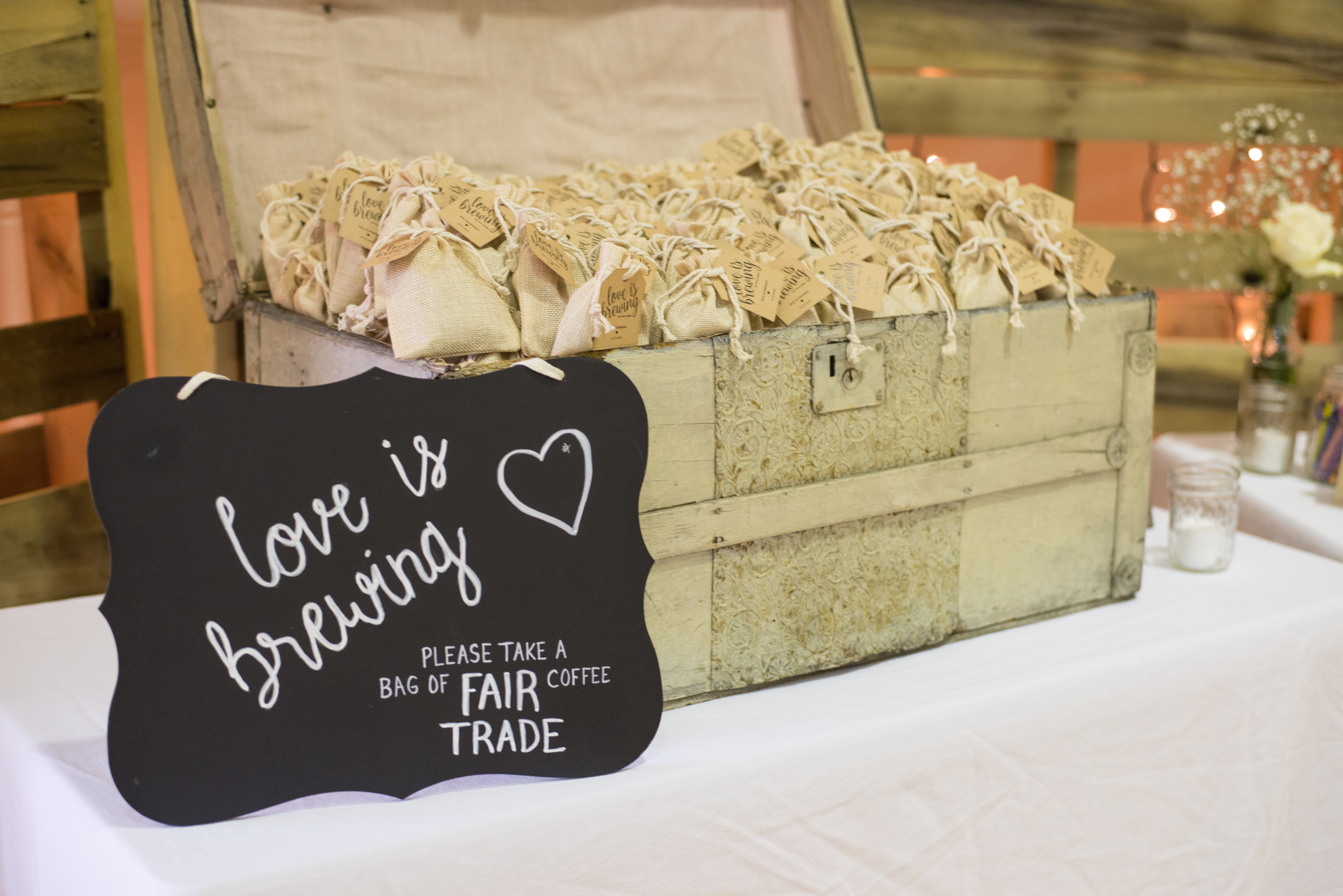 We invited a lot of families to our wedding and so we knew there would be a whole lot of kids. We wanted to make sure we included some fun elements for them so we made tic-tac-toe boards and coloring books to entertain the kids. They were a huge hit!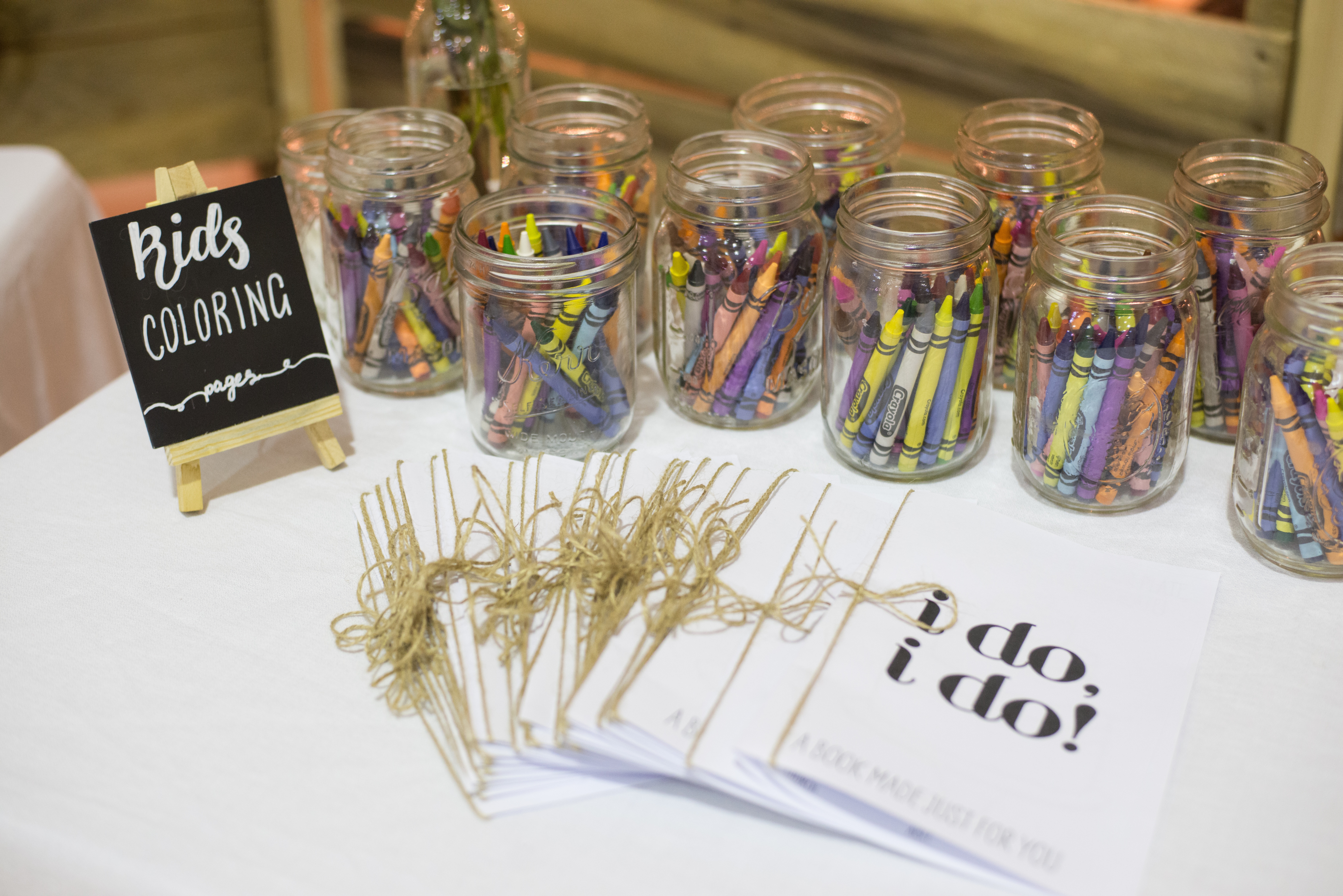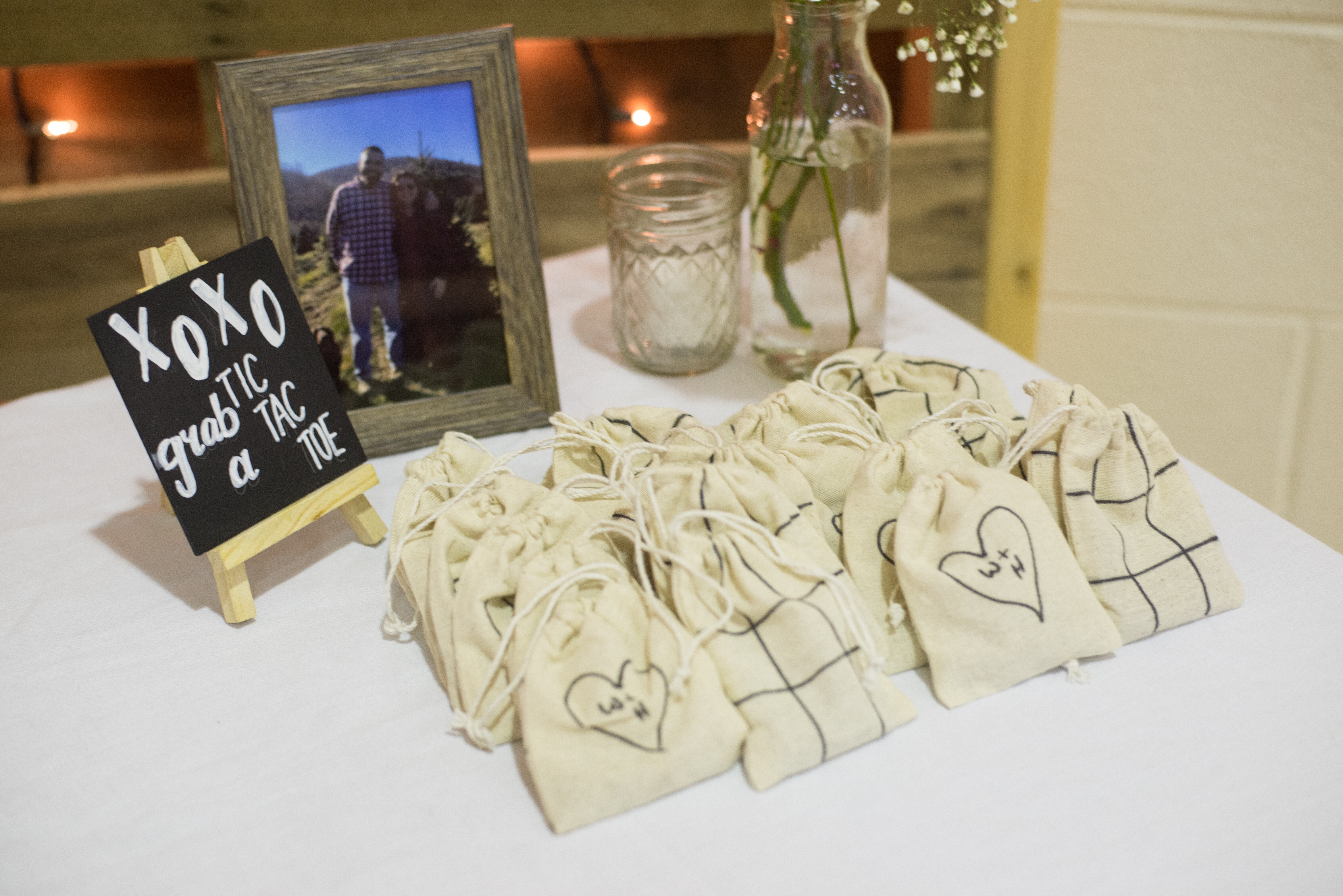 Toasts, One More Surprise, and the Exit!
We wrapped up our night with toasts from the wedding party and one last surprise from Will. He had been practicing the song Ends of the Earth by Brandon Ray.  After the toasts, he surprised me by singing it to me. It was the sweetest thing!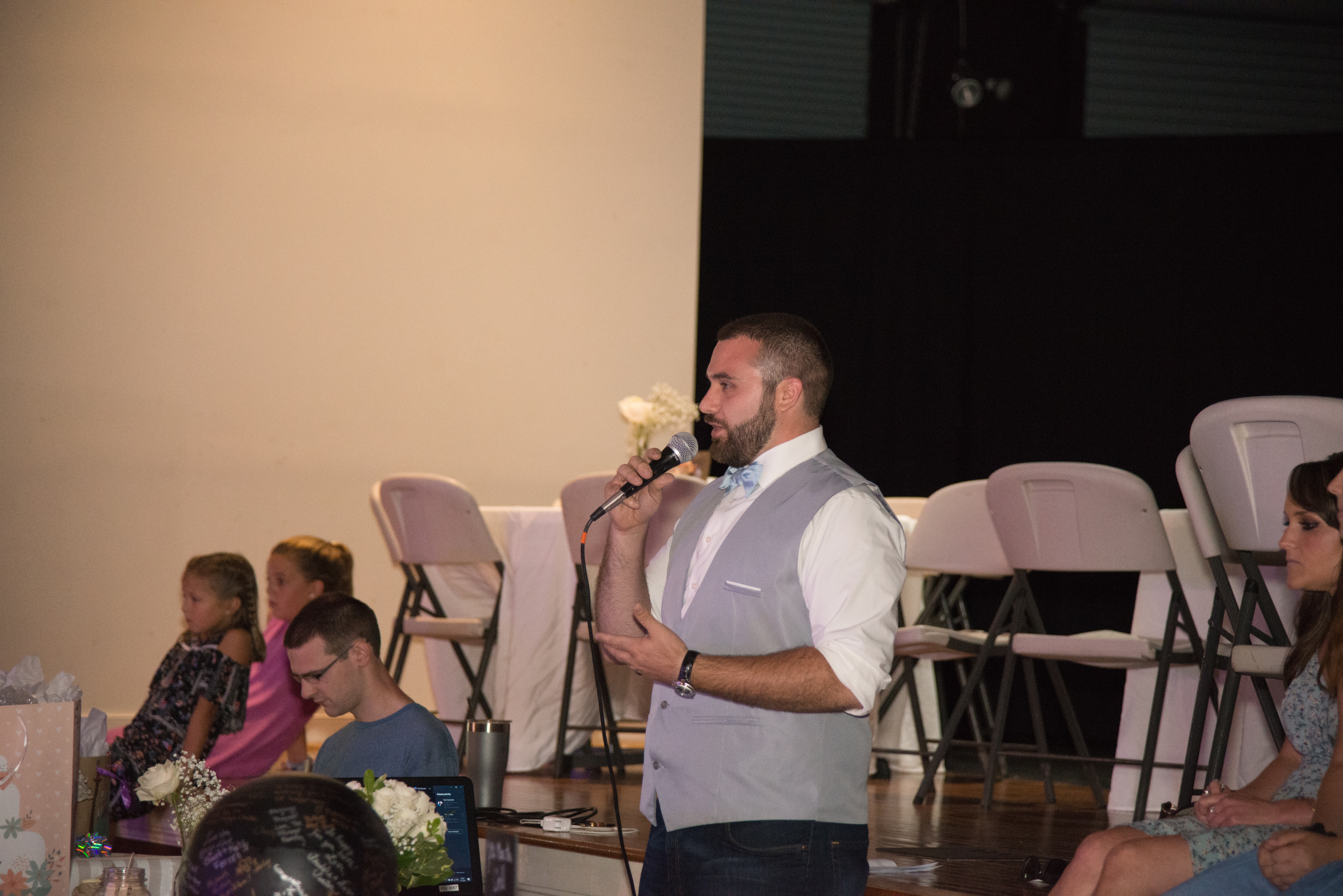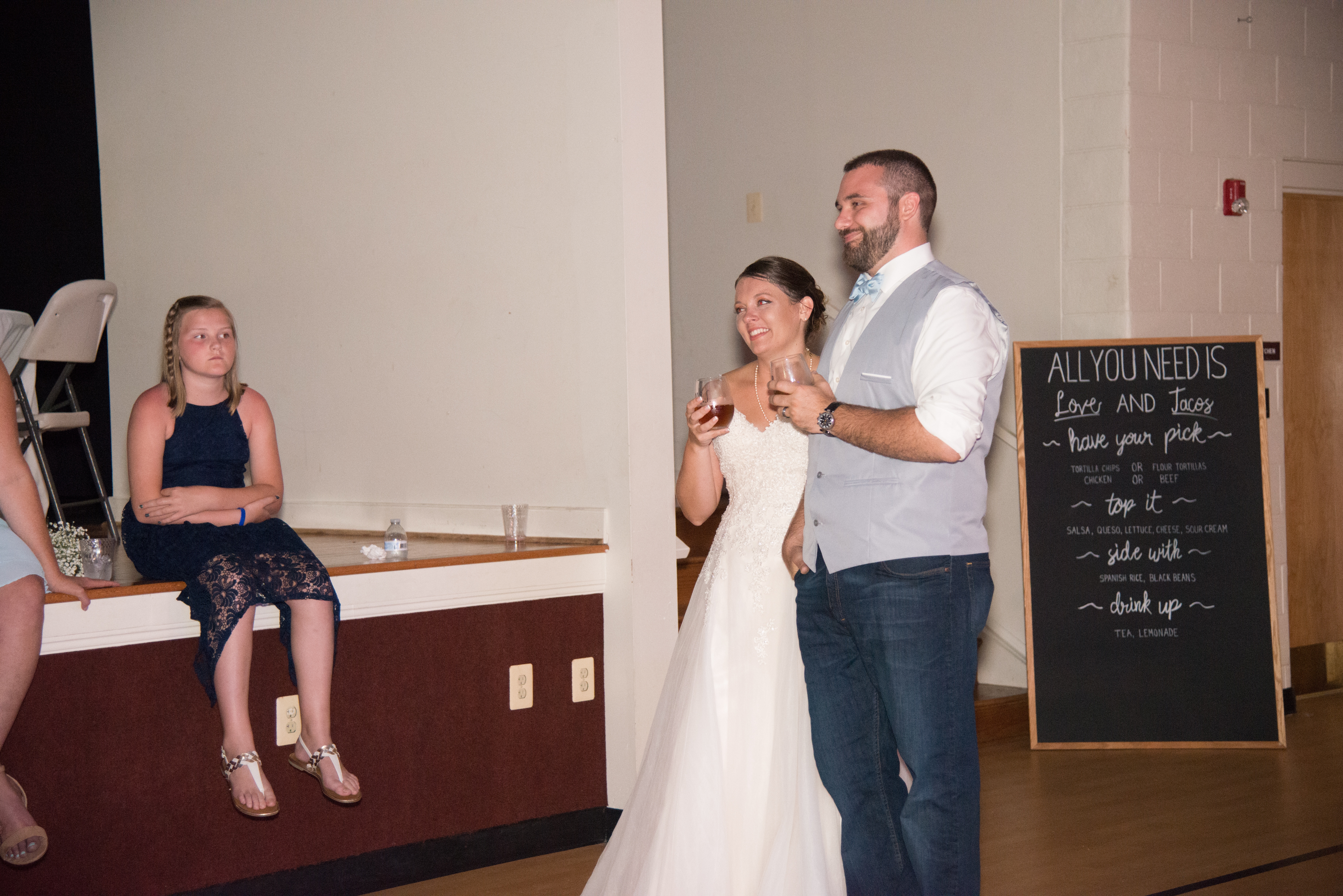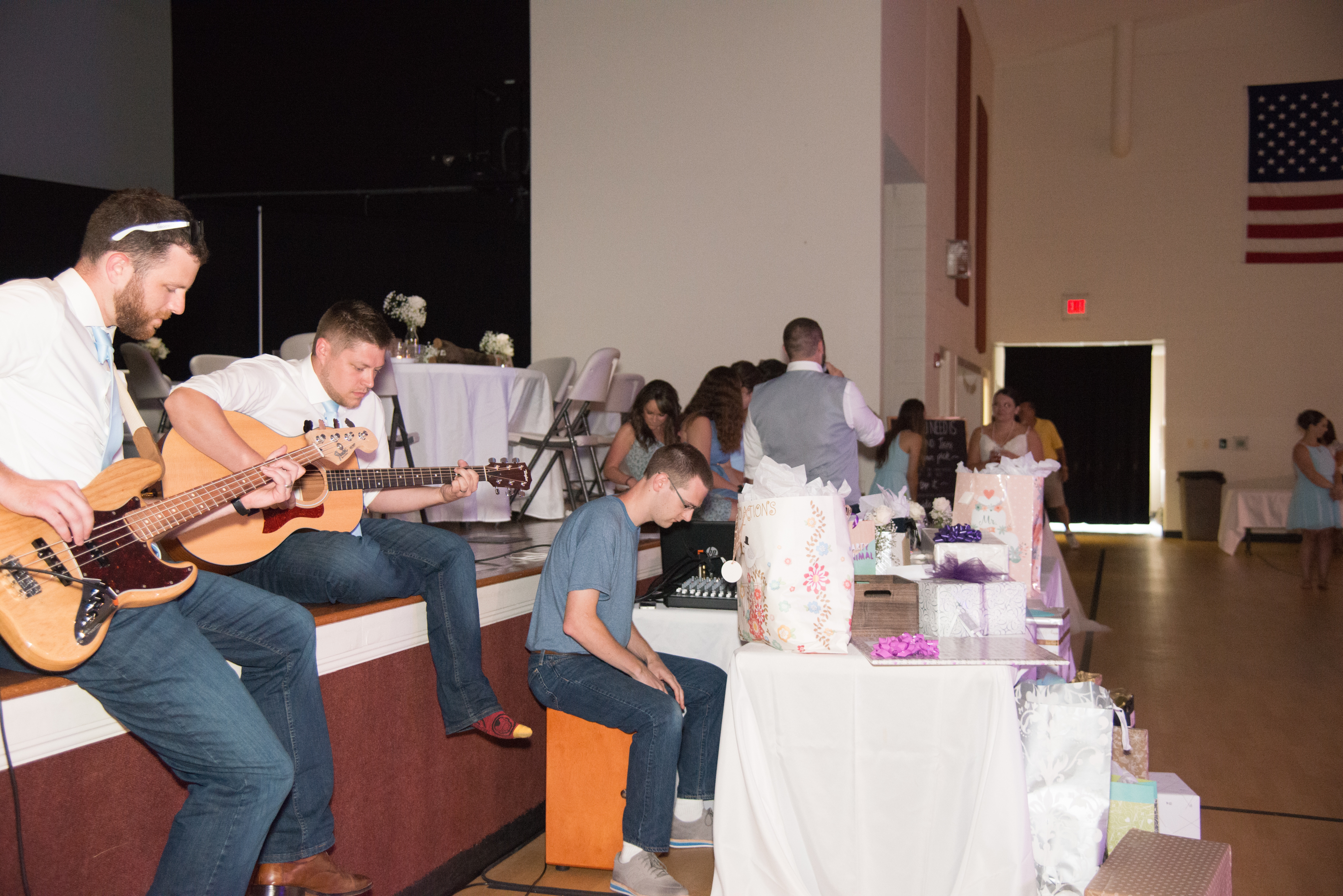 We closed out the night with a sparkler exit!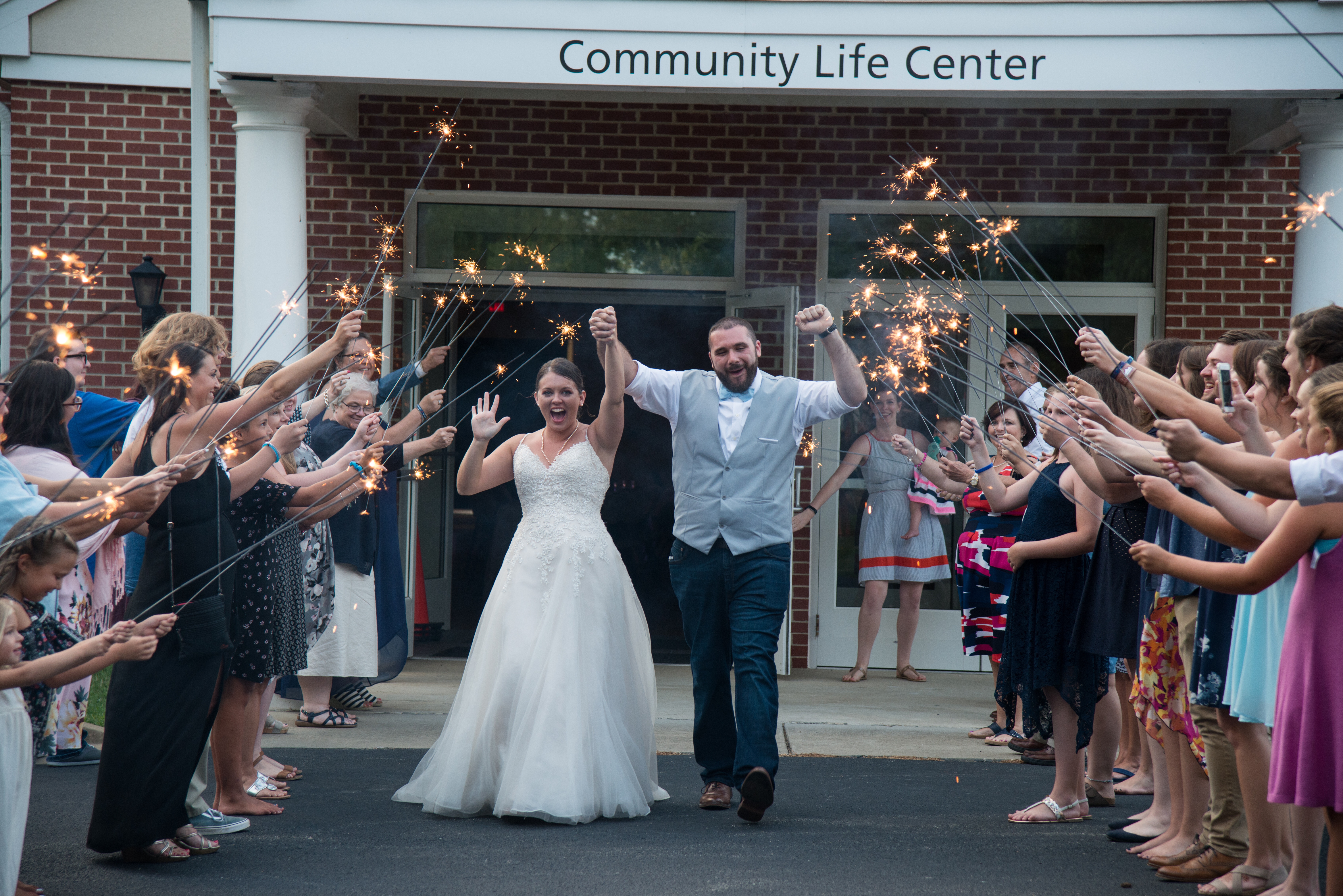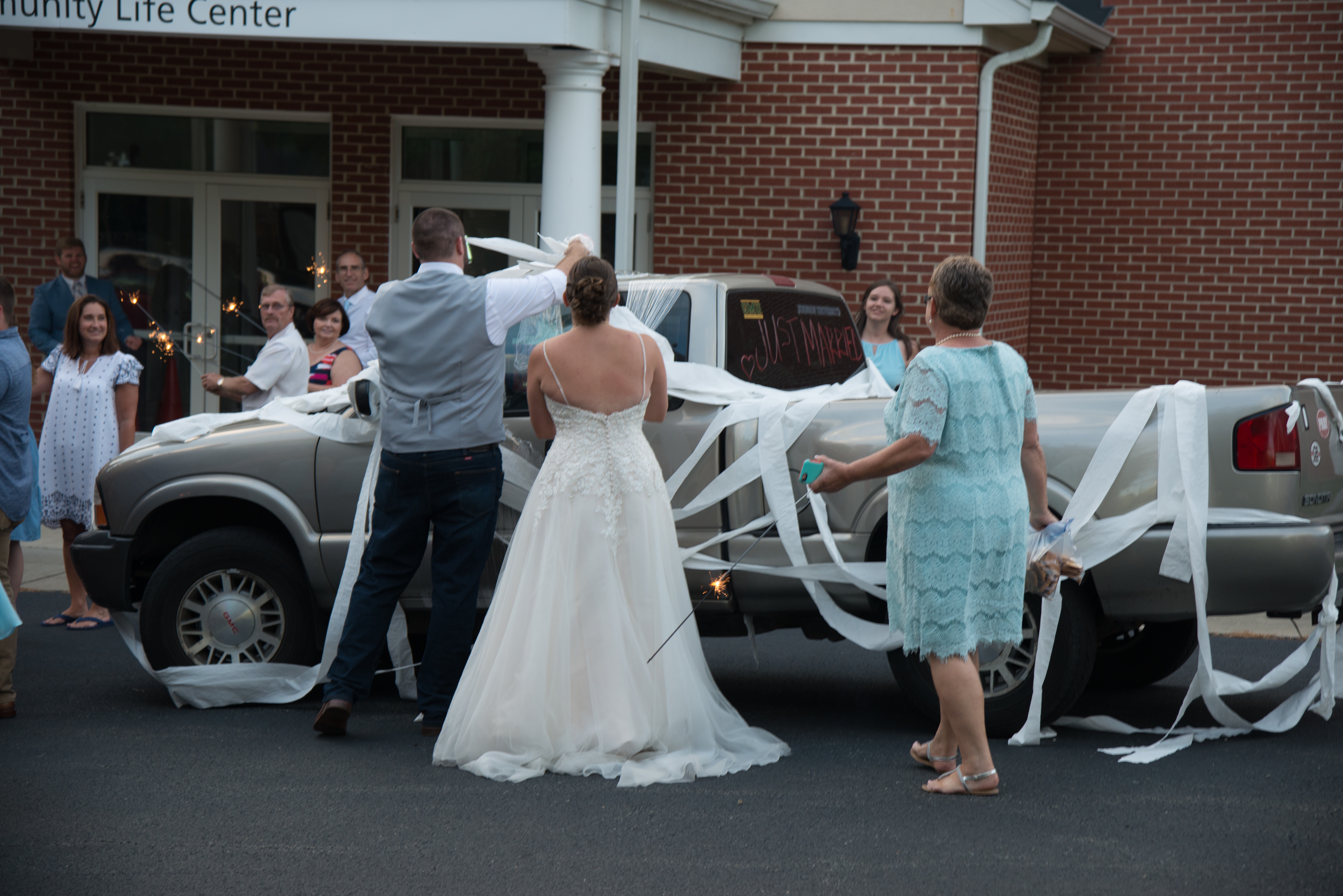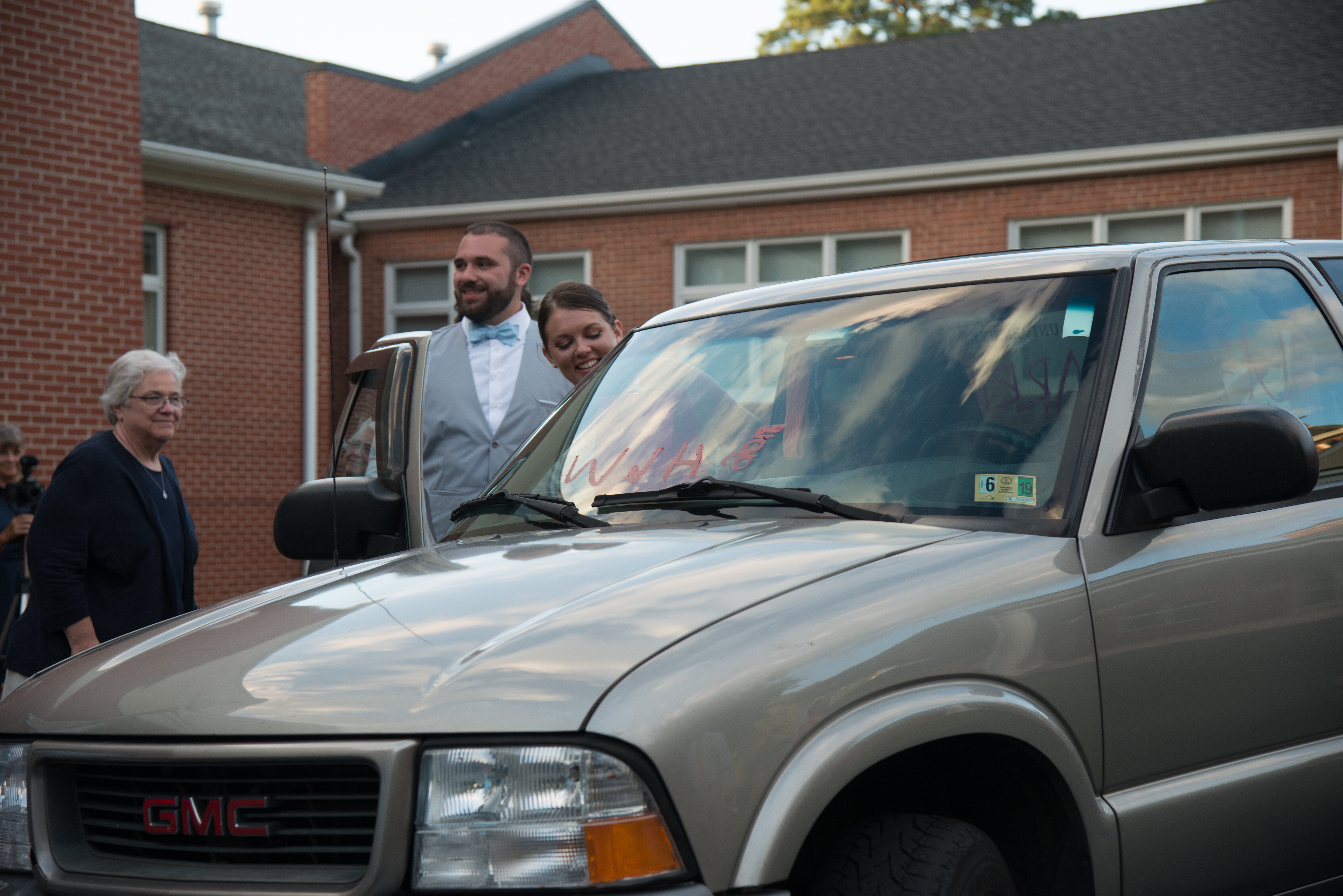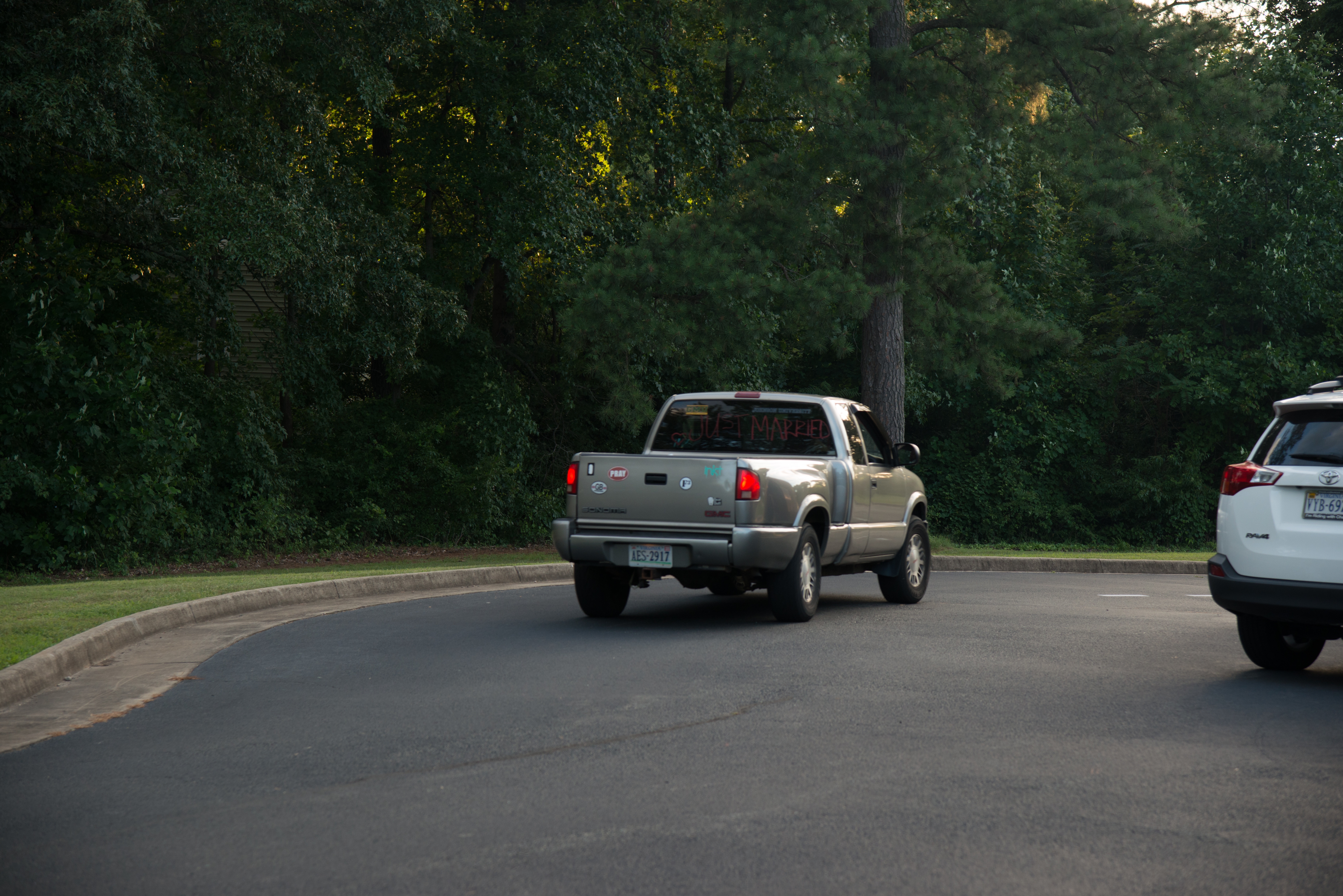 After we left the reception, Will realized we might still have time for one last surprise and he took me to our very favorite sunset spot downtown, Libby Hill. We had so much fun walking around in our wedding attire and watching the sun set over the city, we almost forgot to snag a picture. At the last minute we handed my phone to a couple of strangers and they snagged one of our favorite shots of the day. A beautiful ending to an amazing day.